Analysis
MLB Wild Card Best Bets, Odds, and Predictions for Phillies vs. Cardinals, Mariners vs. Blue Jays for October 8, 2022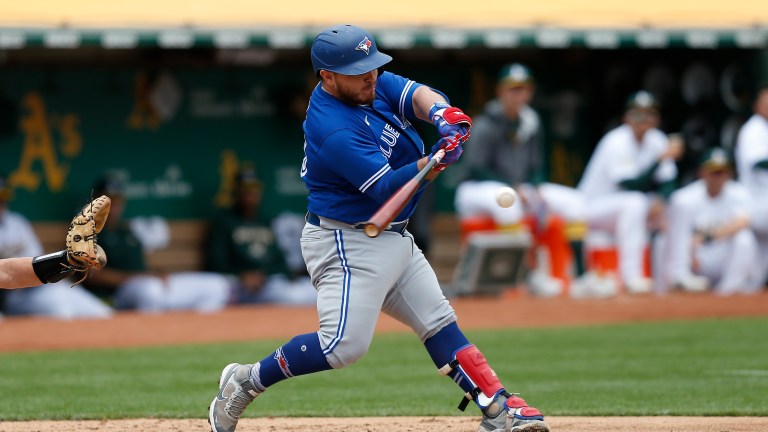 What a day yesterday was. We swept, capped off by some unbelievable finishes.
We took the Guardians, and shocker, they came back down 1-0 with a Jose Ramirez home run. We took the over in Phillies vs Cardinals, and I was spazzing in excitement once that hit. It was a complete miracle, but that's post-season baseball for you. Anything can happen.
I have two more picks for you today; let's stay hot.
2022 MLB Regular Season Record: 223-179 (55%), +43.89 Units
St. Louis Cardinals vs. Philadelphia Phillies: 8:37 pm EST
Aaron Nola (RHP, Phillies) [11-13, 3.25 ERA, 0.96 WHIP, 235 K]
Miles Mikolas (RHP, Cardinals) [12-13, 3.29 ERA, 1.03 WHIP, 153 K]
The St. Louis Cardinals were 93-0 in the post-season when leading by 2+ runs after the eighth inning going into yesterday's game. They had the 2-0 lead after a Juan Yepez home run, and then everything came crashing down. We witnessed a miracle, as the Phillies roared back with six runs on seeing-eye singles and they finished with a 6-3 win. Today, I'm not sure if they'll have the same luck.
Aaron Nola will get the ball for the Phillies in his first career playoff start. While the Cardinals have a lot of pressure in a must-win game, it's equally as pressure-packed to make your first career playoff start at Busch Stadium.
The Cardinals should be confident in themselves today. They have never been able to hit Zack Wheeler, and he dominated them through six innings. They've hit Nola before, and the Phillies bullpen still allowed three earned runs to them in the later innings. The Cardinals know they'll never be out of it.
Nola threw once against the Cardinals this season and it didn't go well. He allowed five earned runs on seven hits in seven innings. The Cardinals still have a solid offense against righties, they just don't hit high velocity well at this point. That's something I didn't factor enough into my play yesterday.
Nola doesn't beat you with velocity, he beats you with nasty off-speed stuff and pinpoint command. Nola only averages 92.8 MPH on his fastball. The Cardinals are a patient team that can mash within the zone. Nola also has reverse splits, which means he's been tougher on left-handed bats this season. Most of the mashers, Nolan Arenado, Paul Goldschmidt, and Albert Pujols, are all right-handed.
Following Nola will continue to be a suspect bullpen. We spoke about it yesterday, they rank 23rd in ERA and 11th in FIP because the defense has not done well backing them up. This should come into play again as I expect this game to be close entering the later inning. While the Cardinals' bullpen was to blame yesterday, we can't forget the Cardinals scored three of their own against the Phillies' top arms.
Miles Mikolas will get the ball for St. Louis who really only had one tough month this season. He was exceptional from April to June, solid in July, then had a really tough August before putting up a 2.32 ERA in September. He faced the Phillies once back on July 11 at home, tossing 7.1 innings while only allowing one earned run.
Mikolas has been dominant in the post-season in his career, but it was back in 2019. He made three starts that year, putting up a 1.50 ERA after getting batters to ground out consistently while keeping the ball in the ballpark. That's important against a Phillies offense that loves to rely on the big swing.
Ryan Helsley will most likely not pitch in this game, but Jordan Hicks and Giovanny Gallegos pitched really well yesterday. If it weren't for a blow-up by Helsley, the Cardinals would have won the game. Pallante allowed just a few ground balls that squeaked by, but the Phillies didn't do any actual damage against him.
Mikolas has also been much better at home this season. He's rocking a 2.38 ERA at Busch Stadium versus a 3.10 ERA on the road, and he's even been better during night games. Nola has been better on the road this season, but not by much.
He's been really good everywhere, in all honesty, one of the best pitchers in the game. However, I don't think that's enough of an edge when I believe the Cardinals hold everything else. Another small factor, Nola's ERA is almost a full run worse during night games.
The Cardinals have the better bullpen, better home offense, more experienced starter in the playoffs, and better defense, and they are on the brink of elimination. The Phillies did go 40-41 on the road during the regular season, but they were even worse as a favorite, going 48-60.
The Cardinals went 53-28 at home, and are 36-28 as an underdog. Money has piled on in the Phillies, but I'm rolling with the Cardinals to even the series. It's now or never Cardinals, if you lose, the season is over. With that said, I can't imagine the Cardinals getting swept at home.
The Pick: St. Louis Cardinals ML (+110)
1 Unit to Win 1.1 Units.
________
Seattle Mariners vs. Toronto Blue Jays: 4:07 pm EST
Robbie Ray (LHP, Blue Jays) [12-12, 3.71 ERA, 1.19 WHIP, 212 K]
Kevin Gausman (RHP, Blue Jays) [12-10, 3.35 ERA, 1.24 WHIP, 205 K]
If I'm a Blue Jays fan, I have to be upset after last night's performance. The Jays failed to score one run against Luis Castillo and then got shut out by Andres Munoz after Castillo exited. Castillo didn't exit quietly, he hit George Springer on the hand before he hit the showers. I'm sure leaves a bitter taste in both the locker room and across the Toronto fan base.
It's now or never Blue Jays. Toronto is on the brink of elimination, and they have almost no shot of beating the Mariners if they go down early. This Mariners bullpen is not only lethal, but it's rested with only Munoz pitching yesterday. Munoz is the nastiest, but he hasn't even been the best one. The Blue Jays are pretty expensive on the money line, but I think it's for good reason. They should win, but I'm not paying that price.
The Blue Jays have been struggling against lefties lately, but Ray seems like the pitcher that can help them right the wrongs. They know him well after he pitched for them and won the CY Young last season. They have all the data they need on him, and there is an important data point when it comes to Robbie Ray.
First off, Ray has had massive issues pitching on the road this season. He's thrown 18 starts at home, pitching to a 3.02 ERA. T-Mobile is one of the best pitcher's parks in MLB, so it makes sense considering he has a tendency to give up the long ball. On the road, he's been much worse, posting a 4.69 ERA through 14 starts with as many home runs as he's allowed at home.
Ray is a fly-ball pitcher, allowing a 41.9% fly-ball rate, one of the highest in the league. He's allowed the second most home runs in baseball at 32, just one behind Gerrit Cole who allowed 33. This is not a good recipe against Toronto, who hit the seventh most home runs in baseball and relies on the long ball for a lot of their offense.
Ray has also been susceptible to right-handed bats this season, allowing a .740 OPS to righties and a .647 OPS to lefties. The Blue Jays' offense is loaded with powerful right-handers; Vladimir Guerrero Jr, Bo Bichette, Teoscar Hernandez, Matt Chapman, Alejandro Kirk, and George Springer. Springer's x-rays on his wrist came back negative, and it's assumed he will be able to suit up in this one. Even if he doesn't, the Blue Jays have enough firepower to get to Ray.
Kevin Gausman will take the ball for Toronto, and I'm not exactly sure what we will get. Gausman pitched reasonably well against them in his only start against them, tossing five innings and allowing seven hits but just two earned runs. He's been terrible at home this season by his standards, rocking a 4.57 ERA through 16 starts. That start against Seattle was at home, so at least he has success at home against them.
The Mariners pounced on Manoah, will they pounce on Gausman? Only time will tell, but I just have a gut feeling he turns in a solid performance for them today. Seattle has been fantastic against righties lately, but Gausman has shown an ability to get these Mariners hitters out beyond just one start.
Through 108 PA against the Mariners' current roster, he's rocking a .312 xwOBA, a .271 xBA, and a .396 xSLG. Curt Casali has weirdly given Gausman trouble, but I doubt he plays with how good Cal Raliegh has been behind the dish.
The Mariners haven't faced many splitters this year, but when they have, the whiff rates are high and the run values are in the negative. That's Gausman's out-pitch, so we should see plenty of strikeouts. If Gausman can limit hard contact and get his strikeouts, we should be in for a good day.
I will be backing the Blue Jays through the first five innings. If they win this game, it has to be early, because I believe they have almost no shot of getting to the Mariners' elite bullpen. It's now or never, Blue Jays.
The Pick: Toronto Blue Jays First 5 Innings -0.5 (-110)
1.1 Units to win 1 Unit.