Analysis
NL Wild Card Series Playoff Preview: Phillies vs. Cardinals
St. Louis has the home field advantage, but the Phillies might have the best two starters in this series. Who will win this Wild Card matchup?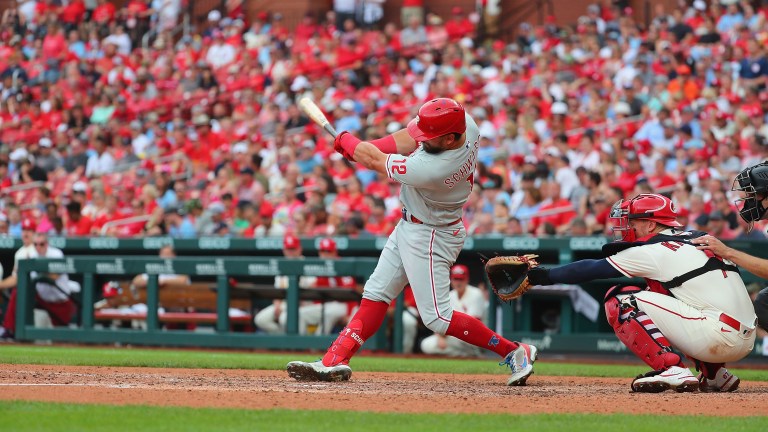 Our second matchup in the NL Wild Card is against two teams who have experienced different journeys this season. The Cardinals will be looking to commemorate one last ride into the sunset with veterans Albert Pujols, Yadier Molina and Adam Wainwright. The Phillies, however, are making their first postseason appearance since the Cardinals knocked them out of the 2011 NLDS.
This dangerous Cardinals team features likely MVP Paul Goldschmidt, and perennial Gold Glove winner Nolan Arenado. The Phillies on the other hand, will be able to showcase a plethora of incredible hitters with Bryce Harper, Kyle Schwarber and J.T. Realmuto. St. Louis came out as outright winners of the NL Central with 93 wins, and Philadelphia barely clawed their way in to claim the third Wild Card spot at 87 wins.
This might be the most electric matchup we will see this weekend. Plenty of home runs will be hit. With two of the most dangerous lineups in the entire sport going head-to-head, who will come out on top? Let's preview this weekend's action.
Season Series: Phillies Won 4-3
These two teams matched up against each other during the month of July, recording seven games over the course of eleven days. Philadelphia took two of a three game set, with the Phillies shut down in Game 2 due to a Nolan Arenado walk-off homer in the ninth inning. The following day, ace Zack Wheeler threw seven innings of four-hit ball, blanking the potent Cardinals lineup.
Just four days later, they began another series. This time in St. Louis. The first two contests saw Zack Wheeler and Kyle Gibson throw a combined 14 full innings without allowing a single run. The Phillies were able to sneak past, scoring just three runs over the course of two days. The teams split the four-game set, with Albert Pujols smacking three hits in Game 3, and Miles Mikolas throwing a seven-inning gem in Game 4.
Both series were ultra-competitive, as displayed by the ultimate score of 4-3 in favor of the Phillies. Wheeler had two incredible outings against the Red Birds, and Mikolas shoved when they needed him to the most. This could lead to a possible scenario we will see in this upcoming series.
Pitching Matchups
With both teams in complete desperation mode, we're due for some great matchups in this series. With St. Louis, we'll see some newer faces that are making early playoff appearances with the Cardinals. For Philadelphia, they're rolling with two of the best pitchers in the National League.
The Cardinals will send out veterans Jose Quintana and Miles Mikolas. Mikolas made three postseason starts with the Cardinals back in 2018, and Quintana is a newcomer to the squad, dealt to St. Louis at this year's trade deadline. Philadelphia will oppose with studs Aaron Nola and Zack Wheeler, two top-tier pitchers who will both be making their first playoff appearances. Here are the potential matchups for this weekend's series:
Jose Quintana (6-7, 2.93 ERA) vs. Zack Wheeler (12-7, 2.82 ERA)
Jose Quintana and Zack Wheeler will toe the slab for the Game 1 matchup tomorrow in St. Louis. Both pitchers have been incredible for their respective staffs, with both holding the lowest ERA totals for their respective clubs. The likeliness of this being an exciting pitching matchup seemed like a longshot just a few months ago, but recent developments have made this one more exciting than ever.
Quintana has been a revelation in this Cardinals' staff ever since coming over from Pittsburgh. Posting a 2.01 ERA over his eleven starts for the Cardinals, he's been their best pitcher over the past two months. Coming over from the Pirates, he was seen as a depth piece for this rotation in case of a deep playoff run. But with his recent performances, he's been given the ball in Game 1. Quintana has posted the lowest ERA (2.01) and FIP (2.60) of all Cardinals starters. Striking out hitters just 19.4% of the time, his elite 48.9% ground ball rate has led to his enormous success.
Zack Wheeler has once again dominated for this Phillies rotation. Some would argue that he deserved the 2021 Cy Young award. Well in 2022, he was incredible once more. Posting the lowest ERA (2.82) and second-best FIP (2.89) on the squad, he dominated opposing hitters with an elite 26.9% K rate. Wheeler has been key to this Phillies team down the stretch and should be trusted as this teams ace.
Both pitchers have been super dominant over the last few months and it will be a SHOW. Wheeler didn't allow a single run in his two starts against St. Louis this season over 14 innings. In Quintana's lone start against Philadelphia this season, he went 5.2 innings, allowing just four hits, while not surrendering a single run. It's safe to say that both pitchers have the ability to dominate each other's lineups. This could be an all-time pitching duel for the ages.
Aaron Nola (11-13, 3.25 ERA) vs. Miles Mikolas (12-13, 3.29 ERA)
Miles Mikolas and Aaron Nola are both set to start Game 2 of this series. Both pitchers come into the matchup sporting ERA's in the same ballpark to go along with a negative record on the season. However, both have the ability to steal a win from their opponent. This is another legitimately very good matchup.
Nola, the FIP king, has enjoyed a nice bounce-back year after a troubled 2021. The starter only allowed a 3.6% walk rate while posting the lowest FIP in his rotation at 2.58. The dominant righty will be making the first playoff start of his career. He seems to be back to his unhittable ways and could carve up this Cardinals lineup.
Miles Mikolas is enjoying his first good season since 2018, where he posted a 2.83 ERA over his 32 starts. His 2022 saw much improvement from previous seasons, even having a no-hitter bid spoiled in the ninth inning earlier this summer. Similar to Quintana, he possesses a 45% GB rate, which has been a staple over his big-league career. This will be the fourth start of his playoff career, after posting a 1.50 ERA in his three starts during the 2019 playoffs.
Nola was roughed up for five runs over seven innings in his lone start for the Cardinals this season. Mikolas' last start against Philadelphia was a dominant one, allowing just one run over 7 1/3 innings of work. Could we see a similar situation play out in Game 2? Only time will tell.
Ranger Suarez (10-7, 3.65 ERA) vs. Adam Wainwright (11-12, 3.71 ERA)
St. Louis hasn't named a Game 3 starter yet, but it has to be Adam Wainwright, right? It's surprising enough that he doesn't have a guaranteed appearance in the first two games, but if forced, he needs to be on the bump.
The 41-year-old has posted a multitude of vintage performances this season and has been a consistent playoff performer throughout his career. Posting a 2.83 ERA in his 16 starts, he's been a staple in this Cardinals rotation. The veteran threw twice against the Phillies this season, including a two-run complete game in Game 1 of their four game set. If needed, Wainwright can deliver a solid outing that can surely push the franchise towards another divisional round appearance.
Ranger Suarez was a pitcher that many Phillies fans had given up on by the end of the first half. He posted a 4.07 ERA, allowing 86 hits and striking out just 68 hitters. The idea of him being a Game 3 starter was completely out of the question. But in the second half, he's been a much-improved pitcher.
Posting a 3.15 ERA, he's provided multiple solid starts for this Phillies team. A 2.83 ERA August really helped his case, but he's struggled in September unfortunately. If he can lock it in and replicate his August outings, the Phillies should be set.
Who Has the Better Lineup?
The Phillies will be able to showcase their power bats this weekend with Harper, Schwarber and Realmuto. On the flip side of things, the Cardinals have an extremely deep lineup with two MVP candidates.
Philadelphia includes a good amount of hitters with a wRC+ over 120 on the year. Those being Harper, Schwarber, Realmuto and Rhys Hoskins. Complimentary pieces like Jean Segura, Brandon Marsh and Alec Bohm should contribute to this lineup a decent amount. Philly as a team ranked as the 10th best team according to wRC+ at 106. They also host the National League home run leader with Kyle Schwarber.
St. Louis is stacked with hitters. Goldschmidt, Pujols and Arenado all obtain above a 150 wRC+ on the year. Brendan Donovan and Laars Nootbaar also recorded above a 120 wRC+ in the category, with subsequent hitters like Tommy Edman, Dylan Carlson, and Tyler O'Neill. As a team, they've been the fifth-best offense in the entire sport with a 114 wRC+, better than the Houston Astros. This squad is no slouch.
A large amount of both offensive and defensive greatness will be on display during this weekend's series. Who knows who'll come out on top, but it will for sure be entertaining.