Analysis
MLB Picks Today, Best Bets, Odds, Predictions for Thursday, June 22, 2023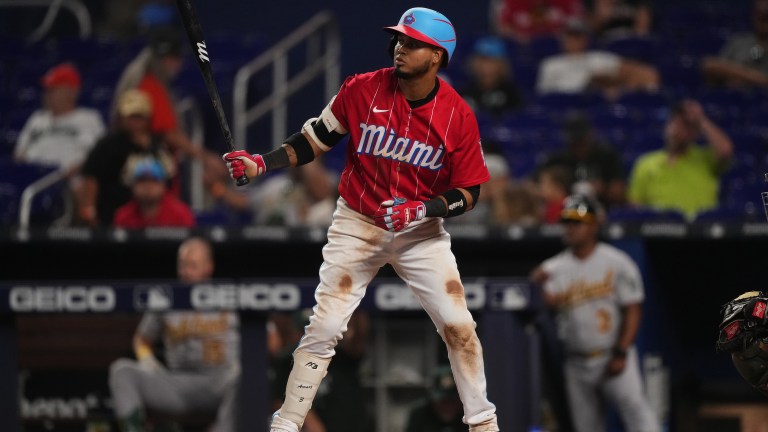 I'm 1-15 in my last 16 picks. Tail with extreme caution, but I love the slate, and a horrific stretch won't hold me back from playing what I like.
I pretty much always make my bets the night before. As I'm finishing the writeups, many lines have moved. Getting closing line value is nice, but it's not the end-all-be-all. If they have moved out of your price range, stay away. All I can do is give you what I'm playing for free.
And remember, they are all tracked for transparency purposes on Pikkit. It's synced from my sportsbook, so there are no inputting plays.
2023 Straight Plays Record: 91-86 (+2.15 U)
I'm using BetMGM lines only this year. Here's a link to get started with a risk-free $1000 bet.
All prop entries will be on PrizePicks: Here's a link to get a 100% deposit match.
All Bullpen Screenshots are courtesy of Rotowire.
Atlant Braves vs. Philadelphia Phillies @ 1:10 PM EST
Pitching Matchup: Bryce Elder vs. Aaron Nola
Yesterday, I loved the under through both halves. The Phillies were sizeable favorites against their division foes at -130, but the game was rained out. I wanted to go back to the under, but it quickly dropped to 8.5, which didn't make it worth it anymore with Bryce Elder on the mound. I then looked at the money line and saw the Braves flipped from +115 to -115 with Elder instead of Smith-Shawver. Why?
Most people might have Elder a full-notch above Smith-Shawver, but I would disagree. I think they are pretty similar. AJ Smith-Shawver has an 80 Stuff+ and a 90 Pitching+, while Elder grades out at a 75 Stuff+ with a 97 Pitching+. AJ sits with a 4.45 SIERA and a 2.64 xERA, while Elder has a 3.91 xERA and 3.88 SIERA. Both have current ERAs in the two's, which the public sees, but granted, AJ has far less time in the big leagues. I'm afraid I have to disagree with the complete line flip, so now the biggest edge belongs to the Phillies instead of the total.
This isn't your classic, "Elder is due for regression, let's fade him" play, this is simply an overreaction by the books, and the day game puts the Phillies in a better spot for multiple reasons.
For one, the Braves have this weird thing where they don't show up offensively much during the day. I was told this by Braves fans when I first started giving out picks publicly in 2021, and I didn't put a lot of stock into it until I watched it unfold over multiple seasons. In 2021, the Braves had a .707 OPS during the day compared to a .772 OPS at night. In 2022, they had a .724 OPS during the day and .778 OPS at night. This season, they have a .756 OPS during the day and a .847 OPS at night. We'd have to go back to 2018 to find a year they performed better during the day than during night games. Weird.
We might as well capitalize on it. I wrote about how Nola has solid numbers against the Braves but home runs and a velocity dip have been his issue this season. I prefer Nola in this spot with more rest, and we don't have projected wind conditions quite as strong as yesterday, but we do have some wind coming in, which should help the pitchers. This should help Nola far more than Elder, as Elder is much more of a ground-ball pitcher.
With the rest, both teams should have all their bullpen arms available. When both teams are at their best, the bullpen advantage is marginal. The Phillies' top-end bullpen talent is fantastic; the middling guys are the big issue. The Braves have a good bullpen because the middle guys are solid, and the top-end talent is great. With Nola healthy and giving plenty of lengths, it's doubtful we see anyone outside of Jose Alvarado, Gregory Soto, Matt Straham, or Craig Kimbrel. I would prefer not to see Kimbrel, but thankfully, he's been better this year.
The Phillies being plus money is a must-bet. The model has them priced at -127 favorites; anything up to -105 is completely playable at a unit. For anything above that, I would lower the risk to 0.75 U.
The Pick: Phillies ML (+100) 1 U to win 1 U
Oakland A's vs. Cleveland Guardians @ 1:10 PM EST
Pitching Matchup: JP Sears vs. Logan Allen
Instead of taking the obvious choice of the Guardians on the money line, I chose a different route.
JP Sears doesn't appear to have a good matchup at all today. He can pitch effectively in his home ballpark but has struggled mightily on the road. I would argue his competition has been better at home this season, putting up a 3.09 ERA compared to a 5.23 ERA on the road. He's also in his worst day/night split, pitching to a 4.73 ERA ERA during day games compared to a 3.99 ERA at night.
The Guardians have been sneaky good against left-handed pitching lately. Over the last 30 days, they sit with a 125 wRC+, placing them fourth in major league baseball. Overall, they've been an above-average offense in this span, putting up a 106 wRC+.
JP Sears's quality of contact against the Guardians is far below average. The opponent's average against is .429, his xwOBA is .375, and the xSLG is .513 with a 9% strikeout rate. Sears' redeeming quality is his lack of walking, but the Guardians don't. They rank 19th in walk rate during that span. They are an aggressive team who wants to swing at pitches in the zone more often than the average MLB team. JP Sears will throw his below-average stuff, and the Guardians should do damage.
At the same time, Logan Allen is taking a step back. His xFIP has been at least 4.79 in his last three starts, and his FIP is 5.11 or higher. What he does have working for him, and why the total is as low as it is, is due to the A's being garbage against left-handed pitching. They rank 29th in most metrics against left-handed pitching over the last 30 days.
What is working for the A's is the Guardians bullpen. What is normally one of the best in the league is not very well rested. They have some solid arms still ready to go, but Emmanuel Clase, Trevor Stephen, and Sam Hentges most likely won't be available with other arms not on good rest.
The model has this total priced near 8.5, so I see some solid value at 7.5. I would lower the risk if you can only find eight.
The Pick: Guardians vs. A's Over 7.5 (-120) 1 U to win 0.83 U
Pittsburgh Pirates vs. Miami Marlins @ 6:40 PM EST
Pitching Matchup: Mitch Keller vs. Braxton Garrett
I was staring at this game for a while last night because I couldn't figure out how to bet it. I liked the over initially, but the more I looked into Braxton Garrett, the more I became enamored with the Marlins.
The Pirates have one great quality about them, they walk. They are a very patient team, walking 10.8% of the time, putting them near the top five in the league in the last 30 days. They also rank dead last in Hard-Hit rate, so they've been enjoying free passes and one key hit to get them in.
Not so sure how that will work against Braxton Garrett. Garrett's worse quality is his propensity to allow hard contact, sitting in the 11th percentile, which the Pirates don't do. His best quality is his ability to fill the strike zone, limiting walks to a 4.8% rate, putting him in the 93rd percentile. This feels like a very good matchup for the young left-hander.
On the flip side, Mitch Keller is trending in the wrong direction. I still think he's an excellent pitcher, pitching to a 3.43 SIERA and 3.44 xERA. In his last three starts, he's pitching to a 5.19 ERA. He had one start between two rough ones that looked great from a results standpoint, tossing seven innings of one-run ball. In that start against the Mets, his FIP was 4.42, and his xFIP was 3.69. Pretty good, not great. He's also been at his worst on the road all season, pitching to a 4.44 ERA compared to a 2.78 ERA at home.
The Marlins don't have a great bullpen, but what they do have is their best arms rested and ready to go. Perdomo, De Los Santos, and Bednar all had to throw 22+ pitches yesterday. Now the Pirates must travel without an off day; it seems like a bad spot.
The one advantage the Pirates have is Mitch Keller. If he can will them to a win, so be it. The Marlins own everything else and are not only coming off a loss, but they didn't have to travel yesterday. Please give me the Fish to get it done.
The Pick: Marlins ML (-125) 1 U to win 0.8 U