Analysis
MLB Picks Today, Best Bets, Odds, Predictions for May 7, 2023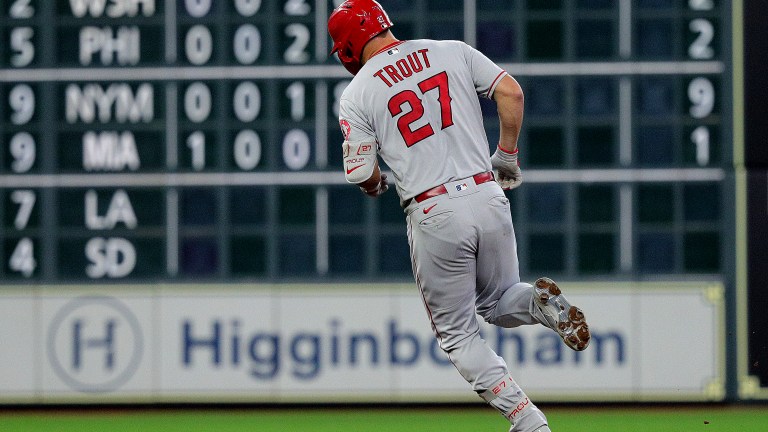 We were kicked in the teeth yesterday. Gut-wrenching losses. Seven runs in the ninth inning to lose us the over in the Angels game. A ninth-inning, two-run home run lost us the under in Braves vs. Orioles on the hook. That's baseball for you. It's painful in the moment, but I'm very excited about today's slate. Let's have a day.
2023 Straight Plays Record: 50-44 (+2.44 U)
I'm using BetMGM lines only this year. Here's a link to get started with a risk-free $1000 bet. You can also use code "JBFANS" if you're betting on MLB. Wager $10 on any MLB moneyline and receive $100 once the bet is settled.
All prop entries will be on PrizePicks: Here's a link to get a 100% deposit match.
Texas Rangers vs. Los Angeles Angels @ 7:15 PM EST
Pitching Matchup: Martin Perez vs. Jose Suarez
Is this not the grossest line of the day? The Rangers beat the Angels 10-1, and the ERA difference between these two starting pitchers is 2.41 for Martin Perez and 7.89 for Jose Suarez. The Rangers have the better record with the better pitcher on the mound. We have to take the Angels.
It does make sense from a baseball perspective. The Angels rank as one of baseball's best against left-handed pitchers. They rank 6th in OPS and 4th in wRC+ versus southpaws this year, and they've had some success against Martin Perez.
Through 126 PA against the Angels' current roster, Perez has posted a .398 xwOBA, a .310 xBA, and a .490 xSLG. Those numbers are far below average, and Perez's xERA sits in the 46th percentile at 4.26. Over the past two seasons, Perez's worst splits have been during the day and on the road, and he'll get an Angels offense due for a big rebound.
We generally love to fade teams coming off a big win like that, especially in a division game. Jose Suarez's ERA is so high because he was tipping pitches at the beginning of the year and was getting demolished. The Angels fixed the problem going into his last start, and he threw a five-inning shutout against Milwaukee. This pitcher has consistently had ERAs under four in each of the previous two seasons; he's a solid option for the Angels.
I could take the Angels through five, but I'm more confident in their bullpen than in the Rangers. After that beat-down they took last night, I think they bounce back and pull out the win.
The Pick: Angels ML (-125) 1 U to win 0.8 U
Miami Marlins vs. Chicago Cubs @ 2:20 PM EST
Pitching Matchup: Sandy Alcantara vs. Hayden Wesneski
The first two games in this series have been low scoring, as both offenses have struggled out of the gate. The problem hasn't been the Cubs' offense, scoring four runs in both; the Marlins have only put up three runs combined. The Marlins have a nice matchup offensively today, and I'm starting to get worried about Sandy Alcantara.
Sandy doesn't look even close to his former self. He's not getting his normal soft contact (48th percentile in Hard-Hit rate). He's rocking the lowest strikeout rate and highest walk rate since 2020. His changeup and sinker data are troublesome, especially the sinker, allowing a .443 xwOBA. The Cubs' favorite pitches to hit are changeups and sinkers, and Sandy is usually worse on the road. While the Cubs' better split is against lefties, they are still an above-average offense against righties by OPS, wRC+, and wOBA.
Hayden Wesneski will go up against a Marlins offense that hunts sinkers and fastballs. Nearly 51% of what Wesneski throws will be a sinker or a four-seamer, where the Marlins have plenty of hitters with positive run values against those pitches. The Marlins' better split this season is against lefties, but that's expected to regress, as they've always been a better team against right-handed pitching.
Wesneski could be the guy to help them snap out of their funk offensively. Wesneski's 6.10 xERA sits in the 15th percentile in Major League Baseball. The way to get the Marlins out is to get them to chase, and Wesneski sits in the 22nd percentile in chase rate. It's not a great matchup for him today.
I don't expect either of these starting pitchers to get bombed, but I expect runs against these bullpens, especially the Marlins. They had to use all of their arms in a bullpen game yesterday, and they haven't had the opportunity for an off-day since May 1. They've had to use their bullpen extensively, considering the lack of innings from the starting staff. The familiarity of the Marlins bullpen should bode well for the Cubs.
I expect three runs today from both starters and then the bullpens allow runs independently. We have 8 MPH winds blowing in, which could be a factor, but it's not enough wind to keep me off this total.
The Pick: Marlins vs. Cubs Over 7 (-120) 1 U to win 0.83 U
Colorado Rockies vs. New York Mets @ 1:40 PM EST
Pitching Matchup: Ryan Feltner vs. Joey Lucchesi
The Mets are playing lousy baseball right now, and I want to take advantage of it. The Mets were swept in Detroit, barely squeezed out a win against the Rockies in a game they should have clearly won, and then they lost yesterday to Colorado. Most people are backing the Mets to bounce back, but the pitching matchup favors the Rockies, and the Rockies look much more competitive at the plate.
We also see some reverse line movement. The Mets opened at -225 in most places but are down to -205 across the market with north of 75% of tickets on them.
Ryan Feltner is a better pitcher than his ERA would indicate. He does a great job of limiting hard contact (70th percentile) and keeping the ball on the ground (44.2%). While the Mets' normal better split is against righties, it's hard to differentiate this season. A point separates them in OPS; it's just a simple fact that the Mets are going through a rough patch.
The Rockies have an excellent matchup today against Joey Luchessi. Not only is the Rockies projected split much better against lefties, but they are also at their best against soft-tossing lefties. We've seen this repeatedly, and they'll face one today due for significant regression. His 6.30 xERA implies a very lucky start to the season for Luchessi, considering the Hard-Hit rate (46.8%) that should come today against this Rockies team.
I prefer the safety blanket of the +1.5, considering the bullpen advantage slightly leans towards the Mets. I don't see the Mets covering the run line after what they've been showing.
The Pick: Rockies +1.5 (-115) 1 U to win 0.87 U