Analysis
MLB Picks Today, Best Bets, Odds, Predictions for May 19, 2023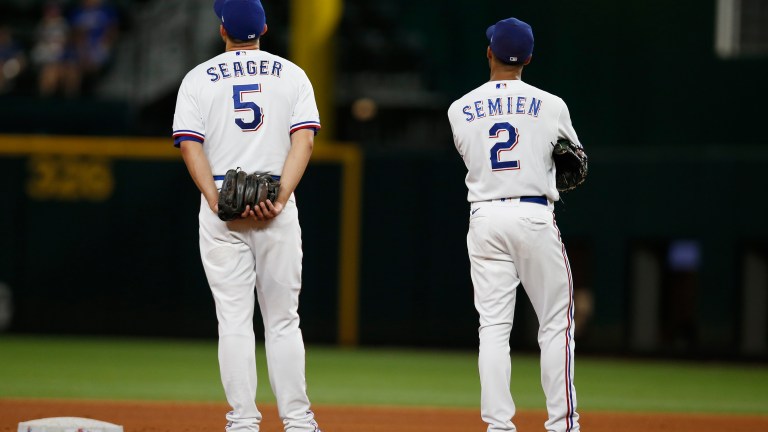 We took the day off yesterday because I didn't want to force anything. I didn't like the slate at all, so there was no need to overextend. The day before went well; we went 1-0-1. We cashed the Orioles vs. Angels under with ease as that game ended 3-1. We took the push on the White Sox vs. Guardians under at 9, with the game ending 7-2. We have really built momentum in May; let's keep it going.
2023 Straight Plays Record: 63-49 (+9.63 U)
I'm using BetMGM lines only this year. Here's a link to get started with a risk-free $1000 bet. You can also use code "JBFANS" if you're betting on MLB. Wager $10 on any MLB moneyline and receive $100 once the bet is settled.
All prop entries will be on PrizePicks: Here's a link to get a 100% deposit match.
Detroit Tigers vs. Washington Nationals @ 7:05 PM EST
Pitching Matchup: Matthew Boyd vs. Jake Irvin
I'll admit, even I think this game is disgusting. I want to apologize for making you watch this battle of below average teams. That's our specialty. We find value in places many people don't want or care to look.
Matthew Boyd is not nearly as bad as his 6.47 ERA would tell you. His 4.32 xERA and 4.92 FIP tell us that, and he pitched much better before his last start. His ERA skyrocketed after he allowed five earned runs in less than two innings against the Mariners in his last start. Before that, he allowed three runs or less in five of his six starts to start the year. He's a fine back-end pitcher but will have a relatively tough matchup today.
The Nationals' clear better split is against left-handed pitching, rocking a 115 wRC+. That's very solid, but the issue here for them is travel. Going from Miami to Washington DC, without an off day is not an easy task, so it's projected that they come out a bit slower than usual. That should be enough for Matt Boyd to be effective, as he's still limiting hard contact at a well above-average rate, sitting in the 83rd percentile.
The Nationals have produced against lefties but haven't hit the ball hard. They rank 26th out of 30 teams in Hard-Hit rate. The Tigers are also a top-ten defensive team by OAA, so those balls that sneak through the holes should be scooped up today.
On the flip side, we have Jake Irvin, who is a decent back-end starter in his own right. He's coming off his worst start of the season, allowing six runs in 4.2 innings. He put together 10.2 innings while only allowing one earned run before this start. In that start against the Mets, his ERA was 11.57, but his FIP was 2.01. He got incredibly unlucky, and I believe he's due to bounce back.
The Tigers feature baseball's worst offense against right-handed pitching with a 76 wRC+. They also have the lowest OPS in baseball against right-handed pitching with a .632 OPS. Not only will they face a right-hander on the mound, but all of the quality arms in the Nationals' bullpen are rested after not being used yesterday.
The Tigers' bullpen is above average. They rank 13th in ERA and third in WHIP in baseball. Not only did they have a rest day yesterday, but they didn't use really any of their best arms in the series against the Pirates.
The Nationals would be the pick on the ML if they didn't have to travel. Now I'm not sure who will win, but I'm very confident this game doesn't touch nine runs. The model has this at eight runs, which would be the line if both pitchers weren't coming off terrible starts.
The Pick: Tigers vs. Nationals Under 9 (-110) 1.1 U to win 1 U
Kansas City Royals vs. Chicago White Sox @ 8:10 PM EST
Pitching Matchup: Zack Greinke vs. Michael Kopech
I hate this pick just as much as you do. It has to be done.
Who are the White Sox to be favored here? Michael Kopech has a 7.59 xERA and is in the fifth percentile in Hard-Hit rate. Say what you want about the Royals, but this is the matchup for them. They hit the ball really hard, but the results aren't often there.
They really struggle against pitchers that limit hard contact, but they rank fifth in baseball in Hard-Hit rate against right-handed pitching. Considering Kopech is allowing some of the hardest contact in baseball, the Royals should jump on him.
Kopech threw against them three separate times last season with poor results. In 12 innings, he allowed eight earned runs to give him a 6.00 ERA. Through 39 PA against this Royals' current roster, he's rocking a .343 xwOBA and a .514 xSLG. I noticed that Michael Kopech's earned run prop is -115 towards the over, and Greinke's is -110.
Zack Greinke is not someone I love to tail on the road. At home, perfectly fine; on the road, not so much. However, I feel fine doing it today, considering his success against the White Sox over a large sample. Through 138 PA against the White Sox's current roster, Greinke is rocking a .313 xwOBA and a .432 xSLG. The White Sox rank 22nd in wRC+ and 24th in Hard-Hit rate against right-handed pitching. It's not an offense I'm afraid of.
Both bullpens are towards the bottom in most statistics, but the Royals bullpen is not only more well-rested, but they have performed better by ERA, FIP, xFIP, SIERA, and WHIP.
The Royals should win 60-65 games this year. These are the games they win. Matchups for them don't get much better than this. We have a White Sox team without rest going up against a rested Royals team in a picture-perfect matchup against Kopech. The model has them as -129 favorites.
The Pick: Kansas City Royals ML (+120) 1 U to win 1.2 U
Colorado Rockies vs. Texas Rangers @ 8:10 PM EST
Pitching Matchup: Karl Kauffmann vs. Martin Perez
We have multiple systems working in our favor here.
Karl Kauffmann is making his major league debut against the Texas Rangers. He throws with his right hand, so without looking at anything else, that's worthy of a fade. When we look deeper, it gets even better. When we factor in the Rockies coming off a homestand at Coors, it turns into an auto bet.
This season, Karl Kauffmann's ERA in Triple-A is rather inflated due to playing in the PCL. We won't completely hold it against him, but a 7.78 ERA is still pretty bad. What I do hold against him is the number of walks to strikeouts. In his last 101 innings in AAA, he has 57 walks and 86 strikeouts.
Brandon Pfaat is a much better pitching prospect and pitched in the same league and had no trouble with the strikeouts. He allowed seven earned runs in his first start on the road against the Rangers.
The Rangers rank fifth in baseball in wRC+ against right-handed pitching, and they just got back Corey Seager. This offense is rolling on all cylinders, and the Rockies decided to roll out a guy with no major league experience. They are throwing him to the wolves.
I keep waiting for the Rockies to kick it in gear against left-handed pitching. Now they are without CJ Cron and rank 26th in baseball in wRC+ against southpaws. Martin Perez will throw today for the Rangers. He has not had a good season so far, but he has been fantastic against the Rockies by the quality of contact. Through 47 PA, Perez is rocking a .223 xwOBA and a .292 xSLG.
We know how good the "fading the rookie on the road" system has been this year. The system is taking the first five ML, which is 4-1-1 this season. Last season it won at a 62% rate, which didn't include three pushes. Historically, fading the Rockies on the full game moneyline has a 68% win rate, going 88-42 with a 14% ROI. These are great systems, but the only way to take it and not spend a fortune on juice is to take the first five run-line. That's why you don't see me laying juice, but it is still well worth a play.
The Pick: Rangers First Five Innings -0.5 (-160) 1 U to win 0.63 U