Analysis
Philadelphia Phillies vs. San Diego Padres, NLCS Game 1 Best Bet for October 18, 2022.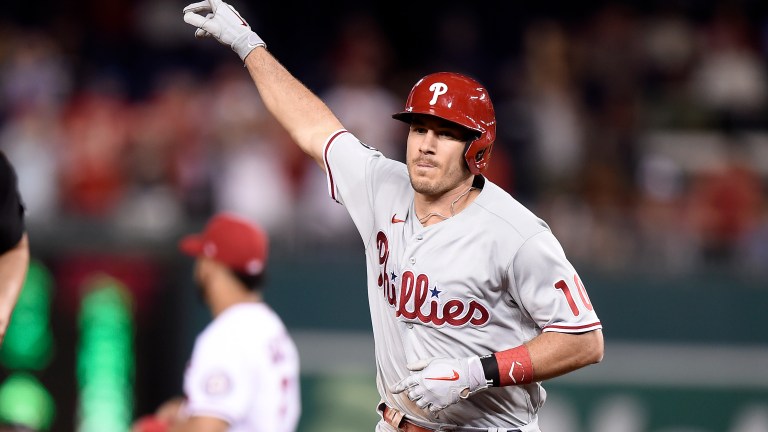 Yesterday was solid! We won our game pick for Monday Night Football on the Broncos, Wilson didn't throw an interception, but Joshua Kelly was a dagger. He got hurt on the game's first play and ultimately didn't return.
The Yankees vs. Guardians game was postponed until today at 4:07 pm EST, and now I won't have a play on it. I peg this game at seven runs, and now that the total has dropped to seven, I see no value. I like the Yankees to win, but the money line is too steep.
I'll have a play in the Phillies vs. Padres game, but I have plenty of props on the podcast.
2022 MLB Regular Season Record: 226-185 (55%) +42.09 Units
Philadelphia Phillies vs. San Diego Padres: 8:03 pm EST
Zack Wheeler (RHP, Phillies) [12-7, 2.82 ERA, 1.04 WHIP, 163 K]
Yu Darvish (RHP, Padres) [16-8, 3.10 ERA, 0.95 WHIP, 197 K]
We head to San Diego for Game 1 of the NLCS between the Padres and Phillies. How crazy is that sentence? No Dodgers, no Mets, no Braves; the two best teams in the National League are the San Diego Padres and Philadelphia Phillies. Now they go head-to-head with their aces on the mound.
There isn't much of an edge in this game. I think this line is about as accurate as they come. The Padres should be the slight favorite due to home-field advantage and the Phillies' road woes this season.
The Phillies have the better starting pitcher on the mound, so the edge is minuscule. I pegged this game as the Padres being -115 favorites with the total at seven before the line was accounted. I lean toward the Phillies due to the value on their side and how close it is, but I found a better deal.
My edge disappears when I peg these lines, and it's precisely what the books think. A pick on the money line would be a guessing game. I think the Phillies can score off Darvish, but this season, Wheeler's issues on the road are documented.
The total is massively juiced towards the over at 6.5, which I thought was a bit strange. I'll be attacking a team total, as that's the only true edge I see here. I will not be laying juice on the full game total; I'll just be attacking the reason I lean over in the first place.
Yu Darvish will get the ball for the Padres, who could be the only reason the Padres lose this game. He's very challenging to handicap because you never really know what you'll get. He could look like the best pitcher in baseball or allow enough home runs to consider a trip to Triple-A.
Darvish was dominant in his first start against Philadelphia, throwing seven shutout innings. He allowed three runs over six innings in his next start against Philadelphia. That's usually what you'll see from Darvish. You either get a dominant outing or one where he can't find his location and tends to leave pitches in the zone.
What we've seen from Darvish this postseason doesn't make me think he'll pitch all that well today. He's allowed four runs over 12 innings in the postseason on 13 hits. Both the Dodgers and Mets went 1-19 with RISP. The Dodgers and Mets came into the ice-cold series and showed their losses. They could still get to Darvish, and now he'll have to go up against the highest-rated offense in the postseason by OPS.
The Padres bullpen has been stellar this postseason, but over a larger sample in the regular season, it was still one of the weaker points on this team. They ranked 14th in bullpen ERA this season and third in bullpen ERA of the five teams left in the postseason. They have a great back-end, but the middle arms are not as lethal if Darvish struggles.
The weather is supposed to be excellent in San Diego. While Petco Park is predominately a pitcher's park, Ballparkpal calls for a 1% increase in runs. While that seems minor, you'll rarely see that at Petco. It will be around 80 degrees by game time; excellent baseball weather.
The Phillies' offense tends to show up big time, or it disappears. They put up at least six runs in every win, but they average 1.5 runs in losses. It can be a guessing game with the Phillies, but my lean here is they win. In wins, the offense comes through.
Considering the value on their team total is +115, and the money line is +105, I'll go with the better deal and why I think they end up winning.
The Pick: Phillies Team Total Over 3.5 (+115)
1 Unit to Win 1.15 Units