Analysis
MLB Picks Today, Best Bets, Odds, Predictions for June 8, 2023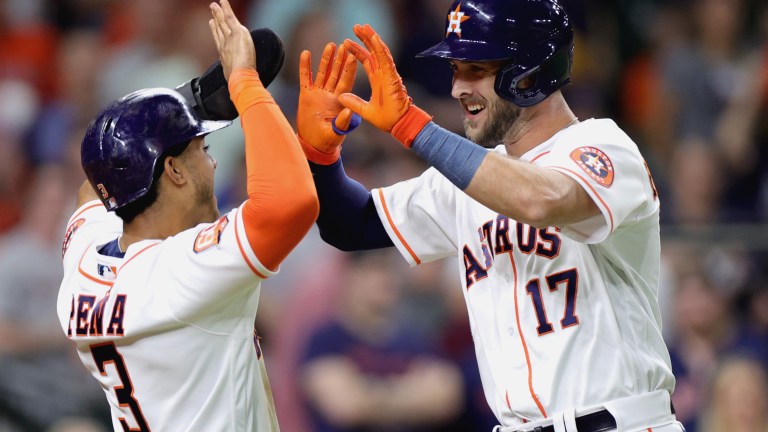 Sweep! We had some nice and easy winners yesterday. The Reds vs. Dodgers over was so much fun to watch. Not only did it hit in the third inning, but watching Elly De La Cruz was such a treat. The Braves vs. Mets over also hit relatively quickly in the sixth inning, after both pitchers allowed four runs each, and it fell over by the bullpens.
Today, we are going right back to what works, these totals. I have two more today on a limited Thursday slate. Let's keep building.
2023 Straight Plays Record: 87-65 (+17.59 U)
PrizePicks Record: -2.6 U
I'm using BetMGM lines only this year. Here's a link to get started with a risk-free $1000 bet.
All prop entries will be on PrizePicks: Here's a link to get a 100% deposit match.
Arizona Diamondbacks vs. Washinton Nationals @ 1:05 PM EST
Pitching Matchup: Merril Kelly vs. Josiah Gray
Before we even look at the pitching matchup, a weather system influenced me on the total from the get-go. Nationals Park is today's lowest projected run-scoring environment on Ballparkpal because the wind is blowing east to west. Nationals Park looks like a very different place than it usually is when the wind picks up like this, as it's extremely hard to hit for any power.
Merrill Kelly has a great matchup today against this Nationals offense. He already threw a gem against them on May 5th in Arizona, a much better hitting environment. He allowed just four hits and one earned run through seven innings, and now he gets to face them with weather in his favor.
The Nationals are a very aggressive offense that will try and beat you with a thousand paper cuts. That's precisely the approach Merrill Kelly wants you to take, as his goal is to limit the hard contact and get quick outs. He's a pitcher that relies on your aggression to do quick work, which is why his numbers overall against this team are so good. He's also been nails on the road, pitching to a 1.63 ERA.
Through 51 PA against the Nationals' current roster, he's rocking a .272 xwOBA and a .347 xSLG with a .245 opponent average. We saw it firsthand with Zach Davies yesterday. Pitchers like these can be very effective against the Nationals, but Kelly is far better than Davies.
On the flip side, we have Josiah Gray. Gray is due for home run regression based on his xFIP, but he'll have the wind on his side. He also faced the Diamondbacks on May 5th, allowing three runs in five innings. Even if he does the same thing, we are in an excellent position for this under.
Gray has struggled at home this season, pitching to a 4.10 ERA compared to a 2.43 ERA on the road. The issue has been the home run, allowing five of his eight at home is nearly half the innings. As stated before, hitting for extra bases today will be challenging.
I think he can pitch better today after one of those runs came off the home run. I don't expect him to dominate, I do like this Diamondbacks offense a lot, but I expect him to throw a quality start.
I'm not a big fan of their bullpen, but they are pretty well-rested across the board. If they weren't, I'd be targeting the first five. I respect them enough not to test the early innings and play the full game. The model has this capped closer to 7.5, and I think it should be at 8. We see value all the way down to 8.5 (-115).
The Pick: Nationals vs. Diamondbacks Under 9 (-120) 1.2 U to win 1 U
Houston Astros vs. Toronto Blue Jays @ 7:07 PM EST
Pitching Matchup: Framber Valez vs. Jose Berrios
These two pitchers have been pitching a little too well. It feels like a time when both pitchers leave with a worse ERA than they came in with. Also, both offenses are due to explode.
The Blue Jays' woes against left-handers recently don't make any sense. They have so many good right-handed bats that typically crush left-handed pitching. They were in the top ten in most metrics last year against Southpaws, and this month they have a wRC+ of 70. What??
It's been HORRIBLE lately. They have a 49 wRC+ against left-handed pitching, the worst in baseball over the last two weeks. They haven't faced many left-handers recently, so it's not a huge sample, but anything this low alarms me. The Blue Jays are due to punish a left-hander, but Framber Valdez will toe the rubber.
Valdez is excellent, no doubt about it. He's allowed a lot of hard contact, the most of his career, but he's done such a fantastic job of keeping the ball on the ground. On the surface, this may seem like a terrible matchup. We have a Blue Jays team that hasn't put it together against lefties facing off against one of the best in the game. However, the Blue Jays have always seen Framber well.
Through 50 PA against the Jays' current roster, he's rocking a .380 xwOBA, a .342 xBA, and a .485 xSLG. The average exit velocity against him is 93 MPH. The advanced stats look great, but with Framber, we have to look at the counting stats because he routinely outperforms the peripherals. The opponent's batting average is .304, and the wOBA against is .374. Those numbers are way above Framber's normal averages.
Framber has allowed more than two earned just once since May began, and now he's facing a struggling Blue Jays team, but he's -120 towards the over. Interesting…
Conversely, we have Jose Berrios, who also has terrible advanced data against the Astros, and it's a much larger sample. Through 149 PA, Berrios is rocking a .360 xwOBA and a .524 xSLG. That's even worse than Framber, and the Astros offense is good. Berrios has done a fantastic job limiting hard contact compared to last season, but he's still due to regress.
He's rocking a 4.58 xERA and a 4.04 SIERRA. I think he will finish this year with an ERA closer to 3.90, but he's improved from last season. He's throwing his sinker more instead of his fastball, which is still getting crushed. I'm not sure why he still throws it at all, but he does, and when he does, the Astros will hit it out of the park.
The model is a huge fan of this over, but it's on the backs of both starting pitchers. You could take the full game over, but I'm a fan of both bullpens, and they are both relatively well-rested. The first game went over, but the last two have been pitching duals. I like this one to look closer to the first game.
If it goes over, it's on the backs of these starters, and four is a very solid number. The model has both pitchers giving up three runs over 5-6 innings, so we need one of these guys to struggle. I like our chances.
The Pick: Astros vs Blue Jays First 5 Over 4 (-125) 1.25 U to win 1 U