Analysis
MLB Picks Today, Best Bets, Odds, Predictions for June 21, 2023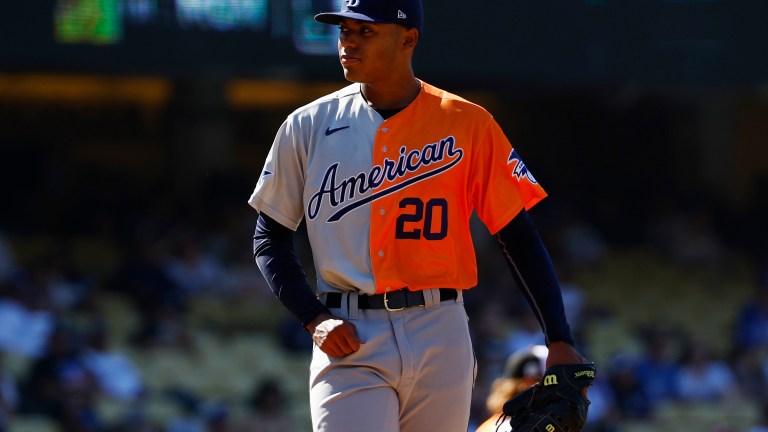 It can't get much worse than this. We could have gone 0-6 yesterday, that would have been the worst-case scenario, but 1-5 is not much better.
Back on the grind today. I have a pick for the early slate and two picks for the night slate with a corresponding PrizePicks entry.
2023 Straight Plays Record: 91-85 (+3.15 U)
I'm using BetMGM lines only this year. Here's a link to get started with a risk-free $1000 bet.
All prop entries will be on PrizePicks: Here's a link to get a 100% deposit match.
All Bullpen Screenshots are courtesy of Rotowire.
Baltimore Orioles vs. Tampa Bay Rays @ 12:10 PM EST
Pitching Matchup: Tyler Wells vs. Taj Bradley
At first glance, I was looking at the full game total for this one. The issue is that both bullpens used a lot of quality arms last night. They both had off days going into yesterday's game, but still, when both teams use good arms, I don't want to rely on them for a second game in a row.
The reason I was drawn to this game was the pitching matchup. Plenty of great games are on the board, but this pitching matchup, by xERA, is the second-best to the game I'm about to discuss.
Taj Bradley is a stud. I know he's been roughed up recently, but he's so due for a dominant outing. His 4.19 ERA is fine, but he's got some enticing peripherals. He's sitting with a 3.35 xERA, 3.19 SIERA, 2.68 FIP, and 2.86 xFIP. While the results haven't been fully shown yet, I believe the 22-year-old is destined for stardom in Major League Baseball, and I think he throws a gem today.
Bradley is especially tough on left-handed hitters this season, throwing his cutter/slider to both sides of the plate and mixing it in with his changeup that dives away from lefties. His fastball has an elite amount of induced vertical break, and he gets 61 inches of drop on his curveball. He's a tough pitcher to square up, and the Orioles' best bats right now are their left-handers, whether that be Adley, Gunnar, Santander, Hicks, and Frazier. Ryan O'Hearn is swinging a hot bat, so we must watch out for him from the right side.
Wells is also one of my favorite pitchers. He deserves his current 3.20 ERA, pitching to a 3.47 xERA and 3.72 SIERA. He's been the Orioles' ace this season, throwing strikes with above-average stuff. It's not an elite repertoire, but he mixes and matches with five different pitches, throwing the ball wherever he wants.
He's been extremely good against these Rays' bats in the past. Through 61 PA, he's rocking a .197 xBA, a .257 xwOBA, and a .288 xSLG. Harold Ramirez and Josh Lowe have had success with their results against him, but their quality of contact is low and doesn't project to continue to come through.
These are both good offenses and are coming off a 14-run game, but I think the bats are a bit slower today. Over the last 30 days, these two teams are between a 106-109 wRC+ against right-handed pitching. Both are solid but not prolific, and they have two tough pitchers to face.
Bradley is the model's favorite pitcher today, but they also have Wells turning in an excellent start. If it weren't for yesterday's offensive explosion, I could see this line being closer to four with juice on the under. The fact that we get the hook is huge, but I would still play it at four, lowering the risk.
The Picks: Rays vs. Orioles First 5 Innings Under 4.5 (-115) 1 U to win 0.87 U
Atlanta Braves vs. Philadelphia Phillies @ 6:40 PM EST
Pitching Matchup: AJ Smith-Shawver vs. Aaron Nola
I'm excited about this pitching matchup. AJ Smith-Shawver has been extremely impressive, and Aaron Nola should turn in one of his classic starts where he tosses seven innings of two to three-run ball.
AJ Smith-Shawver is as young as they come. He's just 20 years old but already carries himself like a veteran. We saw it in his debut, where he came in relief against a fantastic Diamondbacks offense and threw two-plus innings without allowing a hit. He had some relatively easy matchups, but I think he's the real deal. At least real enough to limit the damage.
The Braves didn't accelerate him through the minor leagues for no reason. He started this season in High-A, has vaulted up the system, and is now making consistent starts for the Braves. His peripherals are all over the place. xERA loves him (2.65); SIERA does not (4.45). It isn't easy to evaluate a pitcher with only 13 innings under his belt, but I trust the Braves' development that they know what they are doing with him. They've been pretty good with young players (have you seen their team).
Phillies bats are good, rocking a 112 wRC+ in June and a .776 OPS against righties, putting them just inside the top ten in baseball. They have a great lineup, no doubt about it, but they had a really tough time facing a fastball/slider combo pitcher yesterday, and they'll meet another one today with two other pitches he can throw at them. I think he goes five innings while allowing two runs.
On the flip side, we have Aaron Nola. Nola is better than his 4.66 ERA would tell you, as every ERA estimator has him in the mid-to-high threes. His stuff looks similar to last year; he's just been unlucky with some batted-ball luck. The one concerning thing is his strikeout rate is down, but it's not so low that I have any major concerns. He's an excellent pitcher.
The Braves' offensive numbers against righties are massively inflated after scoring a billion runs against the Rockies in Coors Field. They are in their worse split and are better against lefties. It's a pretty big switch-up, facing a pitcher like Ranger and then facing Nola. You get two sides with different arm angles and a different pitch mix.
Nola has an enormous sample to work with against the Braves, and he's been solid overall. Over 330 PA, he's rocking a 27% strikeout rate with a .311 xwOBA and a .448 xSLG with a .232 xBA. That's above average against a lineup this good. He faced the Braves once this season in Atlanta, and it didn't go so well, allowing five earned in six innings. He allowed three home runs in that game, so his xFIP was 3.53 if we expect his HR/FB rate to regress to normal.
It should be today, as we have 10 MPH winds blowing in from right field, and Nola's been better pitching at home for most of his career. His props are also looking pretty high against this Braves team. His hits and earned runs are juiced toward the under, with his strikeouts juiced toward the over.


I'm not the biggest fan of either bullpen, but I like how they line up today. Iglesias is a maybe, but every other quality arm on both sides should be available. The Phillies decided not to use any quality arms yesterday for some reason (thanks a lot), so they should today.
I'm not as confident in the starting pitching matchup as I am that this does not exceed the key number of nine runs. 4.5 through the first five should still be available, but I now see 8.5's in the market. 8.5 is worth 0.75 units, as nine is so key in baseball.
The Picks: Phillies vs. Braves Under 9 (-120) 1 U, Phillies vs Braves First 5 Under 4.5 (-105) 0.525 U
PrizePicks Entry 0.2 U to win 0.4 U
First Leg: Taj Bradley Over 6 Strikeouts
He's -160 to go over 5.5 strikeouts, and Baltimore strikes out around the league average rate against righties. They have a lot of high strikeout-rate guys in the lineup today, especially at the bottom, and with how good Bradley has been against lefties, I think six is more than attainable. I have him finishing with seven, but I think he has the possibility of 10+ today.
Second Leg: AJ Smith-Shawver Over 4.5 Strikeouts
Another pitcher with a juiced line towards the over. AJ is -135 on BetMGM to go over 4.5 strikeouts, and he has the wipeout stuff to do it. The Phillies are near the top ten in strikeout rate with plenty of hitters in their lineup with high strikeout rates. Smith-Shawver was a 30% strikeout rate pitcher in the minors, but it hasn't fully translated over yet. I think it does today.