Analysis
MLB Picks Today, Best Bets, Odds, Predictions for July 3, 2023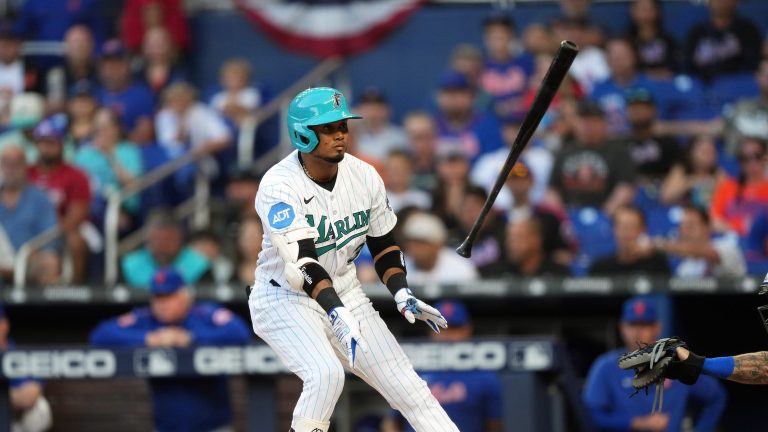 The weekend wasn't all that fun. We lost 1.5 units over Saturday and Sunday on some really tough beats. That's just been how the season has been for us, so no need to dwell on it.
Today, I have one pick for the limited slate, but I do have a lottery entry on PrizePicks with four props that I really do like. You can pick and choose your favorites or play them all on PrizePicks.
2023 Straight Plays Record: 104-100 (+2.31 U)
I'm using BetMGM lines only this year. Here's a link to get started with a risk-free $1000 bet.
All prop entries will be on PrizePicks: Here's a link to get a 100% deposit match.
All Bullpen Screenshots are courtesy of Rotowire.
St. Louis Cardinals vs. Miami Marlins @ 6:40 PM EST
Pitching Matchup: Miles Mikolas vs. Braxton Garrett
I was originally drawn to this matchup due to circumstances over the weekend. The Cardinals are coming off a series win against the Yankees, and the Marlins were just swept by the Braves. Almost automatically, I felt there would be a smidge of value on the Marlins. When I looked a bit deeper, not only do I see value on the model, I think the Marlins are the clear play.
We have a pretty sizeable starting pitching advantage for Miami. I was incredibly impressed with Garrett when he went into Fenway to face the Red Sox. For me, that seemed like a clear regression spot, so we took his under-fantasy score. He did go under, but with the help of a rain delay and a lack of strikeouts, he cashed for us. He still threw five innings of one-run ball to add to his impressive month of June, pitching to a 2.22 ERA. The most impressive aspect of this month is his 38:3 K/BB ratio. He's pitching like an ace right now, and he goes up against a less-than-formidable Cardinals offense.
The Cardinals' better split was clearly against lefties last season, but that's changed. Since May 1, the Cardinals have the 20th ranked wRC+ versus lefties. A redeeming quality for St. Louis is their patience against lefties, walking at the eighth highest rate. Garrett is in the 96th percentile in walk rate with just three walks this month; I doubt they'll be able to use that part of their game.
When we look at how the Cardinals have done recently, they drop to a 77 wRC+ against Southpaws in June. This is not quite that electric offense against lefties we are used to, and I think Garrett (4.14 xERA, 3.13 SIERA), can do enough to limit the damage.
On the flip side, we have Miles Mikolas, who is a below-average pitcher by any metric you'll find. His 5.25 xERA sits in the 15th percentile in Major League Baseball, and his SIERA is not much better, sitting at 4.75. He's allowing hard contact at the worst rate of his career while striking out just 16% of batters, his career low. He's facing a Marlins offense that is sitting with a wRC+ between 94-100, depending on how you queue is up since May 1st.
The Cardinals have also performed much better offensively at home this season, putting up a .773 OPS at home versus a .726 OPS on the road. They also have a 75-point drop in OPS during day versus night games.

The bullpen advantage leans toward the Marlins as well. They'll have Puk and Scott ready to go but can also bring in Chargois and Nardi if needed. All four are quality arms that have enough rest to be effective.
The Cardinals are running out of effective options in their bullpen as well. Pallante, Cabrera, and Matz are all underperforming, and Hick and Gallegos had some use yesterday. Even when both bullpens are equal, the Marlins' bullpen has performed better this year.
My price target for the Marlins was -120, and I grabbed it, but the model thinks the Marlins should be a -150 favorite. I put 1.2 units on the Marlins, but that was my cap. I would bet the Marlins for the full amount up to -125, but anything over that is a pass or a lower unit size.
The Pick: Marlins ML (-120) 1.2 U to win 1 U
PrizePicks Entry 0.2 U to win 2 U (Power Play)
First Leg: Gavin Williams Over 4.5 Strikeouts
Gavin Williams is one of the best young pitchers in baseball. He's a top pitching prospect that has thrown two games for the Guardians so far. I'm tempted to bet the Guardians' money line due to my belief in him, but I can't, in good health, fade this Braves team with Bryce Elder on the mound. What I can do is back Williams, who should not be at 4.5 strikeouts moving forward. He posted a 30% strikeout rate or better in the minors, but it took him a start to adjust against the A's. He went on to rattle off six strikeouts against the Royals, and I only think he'll improve on his current 22% strikeout rate. The Braves aren't a team that's prone to many strikeouts, ranking in the bottom five on strikeout rate, but 4.5 is just too low. This is also -125 on BetMGM.
Second Leg: Austin Cox Over 3 Strikeouts
I see a bit of value on the Royals, but this is the play I see the most value on. Cox has a 24.6% strikeout rate through his first stint in the big leagues, and he's facing the ultimate strikeout team. The left-hander puts the Twins in their worst split, and they have a 26.5% strikeout rate against left-handed pitching this season. This is +130 to go over 3.5 on BetMGM, which is worth a play, but on other books, he is -170 to go over 2.5. I'm very comfortable with the flat three number.
Bryan Woo Over 5.5 Strikeouts
I have too much respect for Logan Webb at home to fade the Giants, but I do like Bryan Woo today. The Giants also don't exactly fit our Sunday Night Baseball System due to them traveling home, but the strikeouts should be there for the young flamethrower. Woo is rocking a 33.3% strikeout rate in the early goings of his career so far, similar to what he was doing in the minor leagues. He's facing a Giants team that does have to travel across the country and has posted the fourth-highest strikeout rate against right-handed pitching. In his last five starts, the two times he went under this number were against the Rangers and Yankees, who rank in the bottom half of strikeouts against righties. This is -105 on BetMGM, so there is not great value here, but this is worth adding my entry.
Luis Garcia Over 1.5 Bases
Another spot where I want to bet the Nationals, but it's truly because of Luke Weaver, so I'd prefer to take my favorite bat against him. I was trying to find right-handed hitters, which has been Weaver's worse split, but I found that of all Nationals hitters, Luis Garcia has the best odds to go over his 1.5 base-line, anywhere from -115 to -125. Weaver isn't any good against lefties either, so I was intrigued. Weaver wants to attack lefties with his fastball, changeup, and curveball. Garcia is hitting .400 against curveballs and .338 against fastballs but struggles with the changeup, only hitting .205. If he can sit back and wait for a fastball or a curveball, I think he'll do real damage.