Analysis
MLB Picks Today, Best Bets, Odds, Predictions for August 28, 2023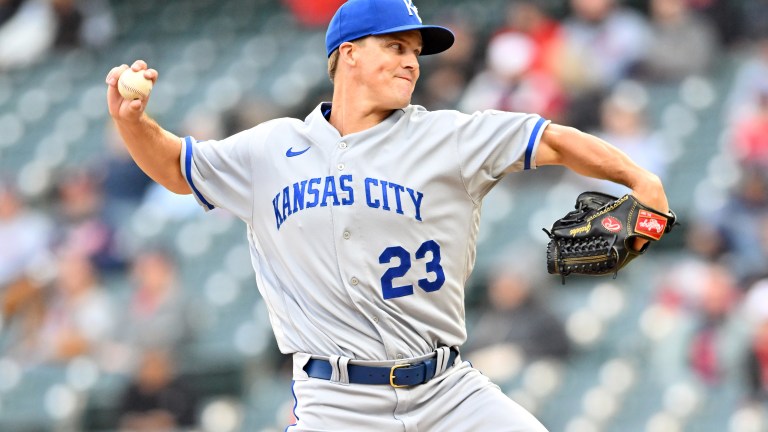 I felt so good after a 4-1 Friday. I had one pick on Saturday, and the baseball world reminded me to stay humble. A couple of errors led to Brewers' runs, and a garbage time two-run home run by Juan Soto landed the total at nine when we took the under 8.5. It's just one of those games and one of those years.
Not a bad beat, just a tough result for me. Whatever, it doesn't affect this play. Let's roll.
2023 Straight Plays Record: 146-154 (-7.43 U)
I'm using BetMGM lines only this year. Here's a link to get started with a first bet offer of up to $1000.
All prop entries will be on PrizePicks: Here's a link to get a 100% deposit match.
Atlanta Braves vs. Colorado Rockies @ 8:40 PM EST
Pitching Matchup: Bryce Elder vs. Austin Gomber
The Braves lost 8-5 last night on Sunday Night Baseball and now have to travel from San Francisco to Colorado without an off-day. The Rockies just finished a road trip where they played six straight games against the Tampa Rays and the Baltimore Orioles. They have to travel back from Baltimore to Colorado without an off day in between. This is a good spot for the pitching staff on both sides, and we should get slow bats in a friendly hitters environment.
Taking a Coors under is often scary, but these spots have often been profitable. It normally takes a game for the road team to adjust, and the Rockies bats don't come out of the gate strong after a road trip.
Bryce Elder will take the mound who's coming off back-to-back really strong starts. It's unclear how well he'll pitch at Coors because he's never thrown there, but he's facing an offense with an 81 wRC+, third last in baseball in the last 30 days against righties. His most used pitches, his sinker and slider, should be okay at high altitude. His sinker has less horizontal movement and much more vertical movement, meaning it sinks more than it runs. Coors field affects sinkers that rely on horizontal movement much more. Check out this chart.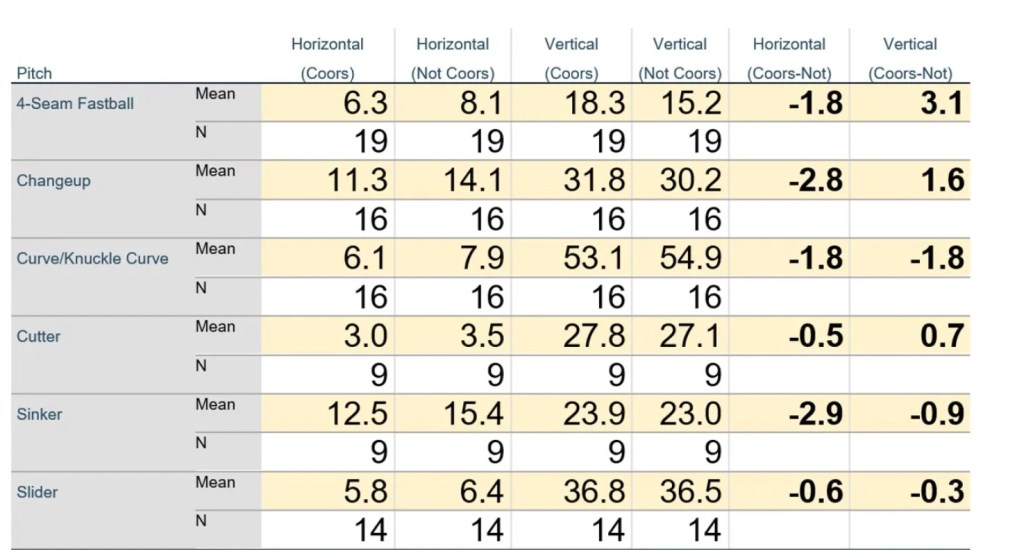 Sliders are the least affected pitch, so most pitchers in the Rockies staff are taught to rely on sliders. I don't expect Elder to dominate, but I expect him to lull the Rockies bats to sleep as they return home without an off day. Since June 1, the Rockies rank as the worst team in baseball against sinkers.
The Rockies will throw Austin Gomber, who has not figured out how to pitch at Coors Field. However, he gets a really good spot. Not only are the Braves coming off SNB, they have yet to play in Coors Field this year, and they won't have enough time to adjust fully. They clearly hit lefties well; they hit everyone, but they aren't far and away the best offense against lefties lately. They rank fourth in baseball in wRC+ in the last 30 days and fifth in the last 14 days.
Braves bats are 4-25 against Gomber (.160 BA) if we exclude Travis d'Arnaud, who is 3-3 with two home runs. He'll probably get his today, but it is interesting that the other Braves bats haven't done well against Gomber. Is he going to throw a shutout? No, the Braves should score, but we have plenty of runs to work with.

The Braves bullpen is in a good spot here. They rank third in baseball in SIERA, and they'll have Pierce Johnson, who knows how to pitch at Coors Field. They'll also have everyone available outside of Colin McHugh. Runs should be hard to come by for the Rockies in the later innings.
The Rockies bullpen is also in a solid spot. They can go to anyone they choose outside of Jake Bird. Realistically, they could still go to him. This is not a good bullpen, but at least they are rested.
Baseball is weird. Yes, it's the Braves, but this is a historically bad spot for offense. Knowing the Rockies are terrible against both righties and sinkers, and the Braves bullpen is rested, 12.5 runs is too many.
I would take this down to 12 at -105.
The Pick: Braves vs. Rockies Under 12.5 (-115) 1.15 U to win 1 U
PrizePicks Entry 0.2 U to win 0.4 U
Zack Greinke More 2.5 Strikeouts
This line is so funny. However, there is plenty of value on PrizePicks. He's -125 to go over this on BetMGM, and Greinke is much better pitching at home, rocking a 3.57 ERA at Kauffman Stadium. The Pirates strike out the seventh most in baseball in the last 30 days against righties. The model has him at 3.7. This is also not a great spot for Pirates bats as they just finished up a four-game series against a division rival and now travel to Kansas City without an off-day.
Taijuan Walker Less 17.5 Pitching Outs
Playing the odds here. His fantasy score on PrizePicks is dropping, and now it's down to 24.5. He's -120 to go under 17.5 pitching outs, but there is no reason for him to go long in this game. The Phillies bullpen is completely rested outside of Jose Alvarado. He has a 3.5 ER prop against an Angels team that can't hit, and he hasn't been nearly as sharp lately. Every win matters for the Phillies, so they can easily pull him if he shows signs of getting hit around. Six innings implies a pretty good start, and I don't know if I see that in the cards for him today.