Analysis
MLB Picks Today, Best Bets, Odds, Predictions for July 20, 2023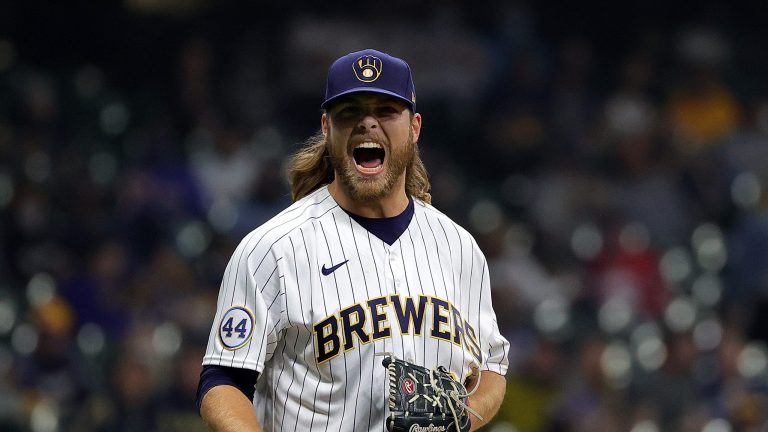 Sweep. That was awesome. The Twins made us sweat at the end, but they controlled the entire game outside of a Suarez game-tying home run.
The Blue Jays vs. Padres game was non-sweat. We took under nine runs, and it ended 2-0, and the game itself seemed like it took 45 minutes to end. We love those, especially after losing an under two days ago in the first inning.
I'm headed to Vegas for a trip I've had planned for a couple of months, so this will be my last article until Monday. Let's end this week with another underdog.
2023 Straight Plays Record: 109-116 (-5.47 U)
I'm using BetMGM lines only this year. Here's a link to get started with a risk-free $1000 bet.
All prop entries will be on PrizePicks: Here's a link to get a 100% deposit match.
All Bullpen Screenshots are courtesy of Rotowire.
Milwaukee Brewers vs. Philadelphia Phillies @ 12:35 PM EST
Pitching Matchup: Corbin Burnes vs. Taijuan Walker
Betting on Corbin Burnes can be a bit scary, not because of him, but because the line always seems too good to be true. I have to remember that he was a -115 favorite to Graham Ashcraft. He was a -120 favorite at home to Andrew Abbott. He was a -135 favorite against Johan Oviedo and the Pirates. He was a -110 road favorite against Aaron Civale and the Guardians. The Brewers won all four of those games. I think he's undervalued and still one of the best pitchers on the planet.
This line makes sense. Taijuan Walker has pitched out of his mind, and I assume many people believe that after a Brewers win yesterday, one of the hottest teams in baseball bounces back at home. However, just because it makes sense doesn't mean I think it's priced correctly.
I wrote about it the last time we backed Corbin Burnes; it's all about cutter velocity with him. Earlier this season, his cutter velocity was inconsistent, and a good illustration is two starts at the beginning of the season. Against the Mets, he allowed six earned runs in 4.1 innings while his cutter sat at 93.3 MPH. In his next start against Diamondbacks, the cutter velocity rose to 94.4 MPH, and his other pitches followed suit, and he threw eight shutout innings. He's so good that it's genuinely about him. Does he have his stuff, or doesn't he? He certainly has in his last four starts, averaging over 94 MPH on that cutter.
It's gambling at the end of the day, but a good gamble has been backing Burnes with the resurgence in stuff. His 3.57 xERA is encouraging, as is his ability to be consistently better in road starts, rocking a lower ERA and FIP in each of the last three seasons.
He's also been solid against the Phillies' current roster in the past. Through 46 PA, he's rocking a 32.6% K rate, with a .310 xwOBA and a .413 xSLG. Nick Castellanos and Trea Turner are the only batters with good numbers off him in the past. If they continue to hit him, so be it, but the rest of the lineup has almost zero success.
Taijuan Walker is who he is. He has a 4.00 ERA, a 4.00 xERA, and a 4.64 SIERA; his FIP and xFIP are all in the low-mid fours. He's a fine starter, but to his credit, all of his best starts have come in Citizens Bank Park. He's 5-0 at home with a 2.30 ERA. If you're betting on the Phillies, you assume he continues his extraordinary run, but I have my doubts.
The Brewers have not only hit Walker before in a small sample (.350 xwOBA, .438 xwOBA), but they are an extremely patient team. They are one of three teams with a walk rate above 10% against right-handed pitching since June started, and they are sixth in walk rate this season. Walker's main issue is that his walk rate has spiked to 9.8%, the highest of his career, placing him in the 29th percentile. He has eight walks in his last 12 innings, rocking a 4.50 ERA with a 4.45 FIP. The Brewers should have runners on base, and we need a few base hits to score them.
The Brewers' (91 wRC+) and Phillies' (94 wRC+) offenses' aren't much different in the last 30 days against right-handed pitching. The Phillies have a better offense over the entire season, but the Brewers have the superior starting pitcher.
The bullpen advantage doesn't swing one way or the other. The Brewers bullpen has less rest, but the Phillies have Alvarado and Dominguez on the IL. Without those two, the Phillies bullpen isn't quite as lethal. I don't see an edge either way, as the Brewers have been better this season but most likely won't have Devin Williams. Due to that, and the Phillies home-field advantage, this should be a pick-em.
Another small bit to the equation, Corbin Burnes is +130 to record a win, while Taijuan Walker is +235. Corbin Burnes is projected for two more pitching outs, yet Walker is more juiced towards the over 2.5 earned runs. Again, it's not something I put much stock into, but it's usually a good sign.
I capped the Brewers as -125 favorites through the first five innings and -105 through the full game. I'm getting plus money on both halves, but the most prominent edge is the first five ML. That's where I put the bulk of the bet. Let's hope Corbin Burnes' velocity turns up.
The Pick: Brewers First 5 ML (+100) 0.6 U to win 0.6 U, Brewers ML (+110) 0.5 U to win 0.55 U