Analysis
MLB Picks Today, Best Bets, Odds, Predictions for July 14, 2023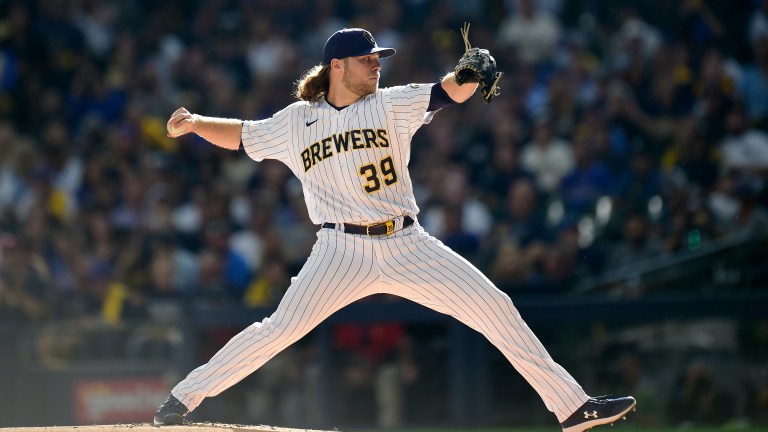 The first half of the MLB season will be remembered as the low point of my career betting publicly. After the All-Star break last season, we were up a cool 20.99 units. We have a lot of ground to make up to reach the 44-unit threshold of last season, and it starts today.
We can't make it all in one day, but over the course of the second half, you are getting my best shot. Let's get into it.
2023 Straight Plays Record: 106-109 (-1.94 U)
I'm using BetMGM lines only this year. Here's a link to get started with a risk-free $1000 bet.
All prop entries will be on PrizePicks: Here's a link to get a 100% deposit match.
All Bullpen Screenshots are courtesy of Rotowire.
Miami Marlins vs. Baltimore Orioles @ 7:05 PM EST
Pitching Matchup: Sandy Alcantara vs. Dean Kremer
This line was the first bet I placed around 5 pm EST on Thursday, and we've seen some line movement since I placed it. I'll talk about how to play the current line at the end of the write-up.
It's a good sign to start looking at overs when it gets hot at Camden Yards. It's a small edge that you can add to your overall handicap as the park plays toward the hitters when it starts creeping into the 80-degree range. Add in 5 MPH winds blowing out, and you have excellent hitting conditions. Ballparkpal has it at 13% above average. It's not the main factor for this bet, but it's enough to add a half-run to the projection.
Sandy Alcantara's first half was one of the year's more shocking storylines (4.35 xERA). He went from a unanimous CY Young Award winner in 2022 to one of the Marlins' worst arms. His strikeout rate dipped below 20%, his lowest since 2019. His walk rate jumped to 6.9%, the highest since 2020. His Hard-Hit rate, now over 40%, is the highest since his rookie season. Much of it concerns his changeup, which has gone from one of the best in baseball to one of the worst.
The Orioles have been a top-ten offense this season against right-handed pitching, sitting in ninth in wRC+ at 106 over the full season and a 108 wRC+ since June. The Orioles are also a solid bunch against both sinkers and changeups. Sandy should see 6-7 hitters in the lineup today with positive run values against both pitches.
He's also been weaker against lefties, and he'll face Mullins, Adley, Santander, O'Hearn, Gunnar, and Aaron Hicks. The Orioles can stack lefties who are positive hitters against his pitch mix against Sandy, who is notoriously worse on the road (3.01 ERA in 2022, 5.00 ERA in 2023)
On the flip side, we have Dean Kremer, who has not figured out how to pitch at home this season, rocking a 5.51 ERA. Kremer allows hard contact (45.1% HH, 16th percentile), which is not a good recipe when playing in a ballpark calling for offense. While Miami has been a league-average offense since June against righties (100 wRC+), they do one thing well; hit the ball hard. They rank seventh in Hard-Hit rate against righties during that span.
The Marlins' wRC+ is lower than expected due to low walk numbers, which heavily influences wRC+. They are an aggressive bunch facing a pitcher whose redeeming quality is his ability to fill up the strike zone. The Marlins have the fifth-lowest walk rate facing a pitcher in the 84th percentile. Kremer's 5.64 xERA should kick in today.
The Orioles must be upset with how their top arms were used in the All-Star game. Both Cano and Bautista threw 24 pitches, so they didn't get their normal break. They should be fine, but it certainly doesn't help.
The Marlins bullpen has been solid for the most part, but they aren't a group that scares me against an Orioles offense that has proven they can hit any arm in the big leagues. They also have plenty of right-handers off the bench they can sub in to face Tanner Scott or AJ Puk at the tail end of the game.
I lean toward the Marlins as the winner, so hopefully, we see a full nine innings of hitting. If the price ever gets there, I would bet the Marlins at +130 or higher. The model has this total at 9 (-102), so play this up to 8.5 (-105). If the price exceeds this, I would lower your unit size by 0.1 U for every five-cent interval up to -115 at 8.5.
The Pick: Over 8 Runs (-115) 1.15 U to win 1 U
Milwaukee Brewers vs. Cincinnati Reds @ 7:10 PM EST
Pitching Matchup: Corbin Burnes vs. Graham Ashcraft
Instead of dealing with any late-inning heroics by the Reds, I'm isolating this game to the starting pitching, the largest mismatch in this game.
Corbin Burnes, from a results standpoint, has been pretty disappointing. He's been one of baseball's best pitchers over the last three seasons, posting an ERA under three. This season, his strikeout rate has come down, and his walk rate has come up, leading to a 3.94 ERA. However, he's a pitcher I'm looking to target in the second half.
Burnes's cutter is key. It's been one of the best pitches in baseball over the past few seasons, but he saw the velocity dip to below 94 MPH. Last season, he averaged 95 MPH, which is a big difference, especially for a cutter.
We are starting to see that velocity return, averaging 94.8 MPH on the pitch in his most recent start against the Reds. Burnes ranks fourth in baseball in Stuff+, a pitch modeling stat that grades each pitch and has been one of the best predictors of future performance. He sits just behind Shohei Ohtani, Gerrit Cole, and Spencer Strider.
Burnes has been extremely profitable facing off against the Reds, going 5-1 since 2021. In two starts against the Reds last season, he tossed 12.1 innings while only allowing six hits and three runs. This season, he's allowed five runs over 12 innings but just five hits. Two home runs in those two starts have been the difference, one by Votto and one by Jonathan India.
Through 112 PA against the Reds' current roster, the opponent's batting average is .133, xwOBA at .245, and xSLG at .240. By far, the best stats against a current roster on the board today.
Graham Ashcraft will line up on the other side against the Brewers, who has had issues pitching at home and against NL Central opponents. We noticed it last season, and it has carried over this year outside of some early starts against the Pirates.
Ashcraft primarily relies on two pitches; his cutter and slider. Like Burnes, his cutter velocity is down (97.3 -> 96.1 MPH). However, his cutter velocity has not returned, sitting at 95.7 MPH in his last start against the Nationals.
He has turned in back-to-back solid starts, but his FIP in both starts was above four. I think he's better than his 6.28 ERA would indicate, but he's not much better, as shown in his 5.53 xERA.
Ashcraft allowed ten earned runs in his lone start against the Brewers this season. Last season, when he was better, he allowed 11 earned runs in 14.2 innings to give him a 6.75 ERA. Will he get blown up again? I assume he makes an adjustment, but I don't see such a huge improvement that we would take him over Burnes in this spot.
Taking the Brewers on the ML through the first five allows a push if these two teams are tied. I would not be surprised at all if the Reds play hero ball at the end and come away with a win, so I'm targeting the reason I like the Brewers in the first place. A tail of Burnes and a fade of Ashcraft.
The model has the first five-run line at -121, so I'd take this ML up to -140. However, my personal opinion in baseball is to not lay juice beyond -130, so I'd limit this bet to 1.25 U up to -140.
The Pick: Brewers First 5 ML (-125) 1.25 U to win 1 U
PrizePicks Entry 0.15 U to win 0.75 U
First Leg: Graham Ashcraft Under 4.5 Strikeouts
Ashcraft has a 16.4% strikeout rate this year, placing him in the 11th percentile. He's never been a strikeout pitcher and doesn't deserve lines this high, even though he routinely gets them. He has never struck out five batters against the Brewers in his career, and he's currently -140 juiced towards the under. I do not expect him to pitch well, and his pitching outs line is set at 15.5. Based on that math, his line should be set closer to 3.5 or 4. We have the hook at 4.5.
Second Leg: Alec Marsh Over 4.5 Strikeouts
The model shows plenty of value on the Royals today, but can we truly bet on the Royals to beat a Glasnow-led Rays team? I'm not so sure. What I can do is back Marsh in some format. Yandy Diaz is on the paternity list, which takes out a hitter with a tiny 15.8% strikeout rate. This Rays team has the ninth-highest strikeout rate against righties since June at 23.9%. Alec Marsh gives up a ton of hard contact, but he's in the big leagues because he has good stuff, resulting in a 23.8% strikeout rate this season. He opened at 4 and has been bumped to 4.5 for a reason, he's been a consistent five-strikeout pitcher, and I don't see a reason why he can't do it today. The Rays offense is worse on the road, and I expect regression from them anyway.
Michael Kopech Over 4 Strikeouts
It's the Braves, and he's returning from injury. That's why the line is a touch lower than usual. I think the extended break will do wonders for Kopech, who lives off velocity. It may not help his run prevention, but I think he can get five strikeouts today. He's at 4.5 strikeouts on BetMGM, juiced toward the under at -150, implying that he lands on four. Kopech is a 26% strikeout rate pitcher going into Truist, which ranks as the second-best ballpark for strikeouts on baseball savant. The Braves only strike out at a 19.1% rate, which is one of the lowest in the game. Four is just so low, and I feel we get a classic five-innings, four-runs, five-strikeout game from Kopech.