Analysis
MLB Picks Today, Best Bets, Odds, Predictions for August 10, 2023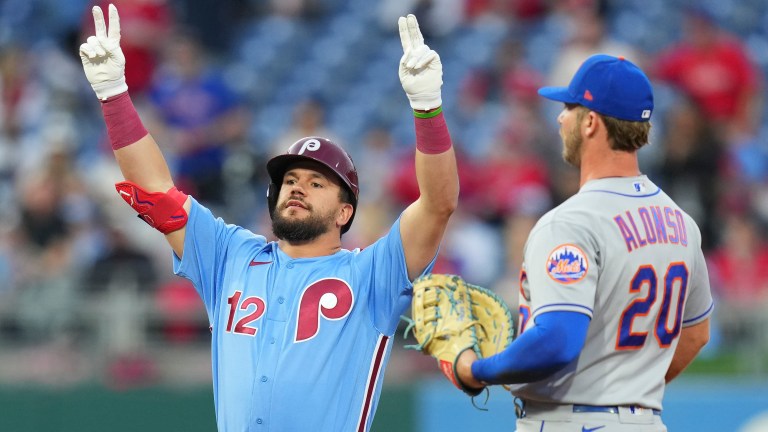 There were no picks yesterday due to a personal matter, but I'm still recovering from that Orioles game.
We won on the over in Pirates vs. Braves, which gave us an even day, but the Orioles losing was a 2.15 unit swing.
The Orioles took a 5-0 lead early on in the game, then cruised to a 6-3 lead going into the bottom of the ninth with the best closer in baseball on the mound. Jorge Mateo leaps for a ball in center hit by Yordan Alvarez, drops it, and loads the bases. Kyle Tucker comes up and hits a grand slam to give the Astros a 7-6 lead.
It's been that kind of year. Hopefully, we can write the wrongs and get that unit back today.
2023 Straight Plays Record: 128-135 (-3.84 U)
I'm using BetMGM lines only this year. Here's a link to get started with a first bet offer of up to $1000.
All prop entries will be on PrizePicks: Here's a link to get a 100% deposit match.
All Bullpen Screenshots are courtesy of Rotowire.
Washington Nationals vs. Philadelphia Phillies @ 6:40 PM EST
Pitching Matchup: Patrick Corbin vs. Aaron Nola
After Michael Lorenzon's no-hitter, I was particularly drawn to this game. These guys are professional hitters, and after not recording a hit, I have to imagine the preparation and attention to detail for Nationals hitters will be heightened. On the flip side, we have Patrick Corbin.
Before we get into the matchup, this is the best hitting-weather in a while at Citizen's Bank Park. On Ballparkpal, we are getting a +19% increase above average. This series has been hovering between 6-8% above average. When I say "a while," I mean since last season, as this is the highest projected run-scoring environment of the year at Citizens Bank Park according to that weather model. 19% is reserved for Great American Ballpark on a hot day, Fenway Park or Wrigley Field when the wind is howling out, or Coors Field.
Based on that alone, my projection for the game should be increased by at least a half run. I had this game projected at 9.5, making my projection ten runs for this game.
Aaron Nola has had a strange year. His velocity was down for most of the first half before regaining it lately. I had high hopes for him in the second half, especially considering this is his contract year. That velocity was there in his last start, averaging 0.8 MPH more than his average from the season, but he's still getting hit.
Nola's always going to be a nerd's favorite pitcher. He doesn't walk anyone and racks up strikeouts. His ERA estimators are always lower than his ERA, and occasionally he'll match those, but more often than not, we are left wondering why he isn't producing to the level we think he should be.
This season, in particular, has been tough on Nola. His 4.58 ERA is his worst since 2016. His strikeout rate is his lowest since his rookie season, and his ground-ball rate is at a career low. While the Nationals' offense is in the bottom ten against right-handed pitching this season, a team that doesn't strike out and puts the ball in play is not a great matchup for him.
Nola pounds the strike zone, which can make him an extremely effective hitter. That's what makes this a troubling matchup against the Nationals. They have one of the lowest strikeout rates in the league combined with one of the lowest walk rates.
They are a free-swinging bunch who makes the defense work. I spoke about that with Corbin Burnes, but I was confident the Brewers' defense would help him out, ranking second in OAA. The Phillies aren't a bad defense, they rank 16th in OAA, but they definitely won't help him much in this one.
The Phillies' offense against lefties at the beginning of the season wasn't great. They didn't have enough right-handed bats to platoon and fell below average. However, with more righties in the lineup now, they have been hitting lefties much better. In the last 30 days, they rank 8th in baseball in wRC+ at 118, and they'll get Patrick Corbin.
Corbin hasn't seen them yet this season, but he's seen them plenty of times in the past. In 146 PA against the Phillies' current roster, they are rocking a .344 opponent average, a .380 xwOBA, and a .486 xSLG. That quality of contact for the Phillies is far above average, and Corbin is still sitting with a 6.33 xERA, which sits in the 4th percentile.

The Nationals' bullpen behind Corbin is far below average. They could go to Kyle Finnegan today; he's not so bad.

The Phillies bullpen is solid, but if they go to Strahm or Soto, they put the Nationals in their preferred split against left-handed pitching. Dominguez has been too inconsistent to rely on, and if Kimbrel comes in, it will be in a save situation.
The model has this game capped at 10.5, but I think it should be at ten. Play this up to 9 at -120.
The Pick: Nationals vs. Phillies Over 9 (-115) 1.15 U to win 1 U