Analysis
MLB Picks Today, Best Bets, Odds, Predictions for August 7, 2023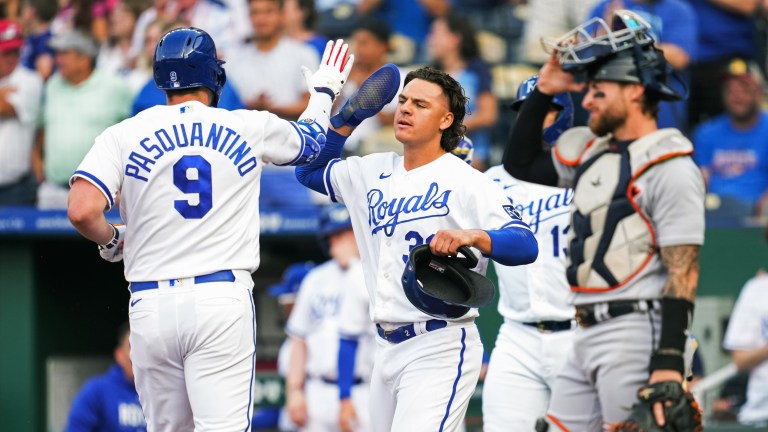 Are we…. heating up? In our last five days, we've had four of them in the green. It hasn't been much in the green as a 1-1 day with a big underdog has been consistent.
We still have a lot of work to do, but things are trending in the right direction. I have three plays today with two big underdogs on the slate. Let's continue to build.
2023 Straight Plays Record: 127-131 (-1.34 U)
I'm using BetMGM lines only this year. Here's a link to get started with a first bet offer of up to $1000.
All prop entries will be on PrizePicks: Here's a link to get a 100% deposit match.
All Bullpen Screenshots are courtesy of Rotowire.
Miami Marlins vs. Cincinnati Reds @ 6:40 PM EST
Pitching Matchup: Eury Perez vs. Brandon Williamson
This is a lopsided starting pitching matchup that I spent a while trying to figure out how to attack. I could roll with the first five, but BetMGM made it extremely expensive. I could go with the first five-run line, but it's nearly the same price as the full-game money line. I decided not to get cute and roll with the Marlins to win the game.
Both of these teams are heading in the same direction, downward. Both teams are 3-7 in their last ten games, and both were swept over the weekend. However, the Marlins get a small pass for getting swept by an elite Rangers team, while the Reds are in a free-fall after being swept by the Nationals. There is no real edge on a "hot team," and the Marlins shouldn't be fatigued much after playing a day game and traveling up to Ohio.
Eury Perez is a phenom. He proved he could be a mainstay in the rotation when he came up earlier this season, but the Marlins needed to limit his workload as he's still just 20 years old. They did just that, and now he should be fresh for a matchup against this struggling Reds team.
His 3.49 xERA is a full run worse than his ERA, but it still places him in the 74th percentile. He's elite at getting hitters to swing and miss, rocking a 28.4% strikeout rate. During this cold streak for the Reds, they have been striking out a ton, ranking second at 29.4%. He's projected to go 80 pitches in this one, but I expect him to be extremely effective and take advantage of a struggling Reds team.
The 2022 Reds were lefty killers, but this season it has reverted back to right-handed pitching with the emergence of Elly De La Cruz, TJ Friedl, and Jake Fraley. However, that's slowed of late to near bottom-of-the-barrel production. They have a 78 wRC+ against right-handed pitching in the last two weeks. I point to June 6th as being a key date for the Reds, the day they called up Elly De La Cruz. For a while there, they were a top-five offense against right-handed pitching. Since that date, they now sit in 15th due to being ranked 23rd since July 1.
Brandon Williamson will line up on the other side. In his last start, he performed well in July before getting crushed for five runs against the Cubs. I think he can be a back-end pitcher one day, but his early numbers are not ideal. His 5.71 xERA places him in the 6th percentile, making him one of the worst pitchers in baseball at the moment. His strikeout, walk, and hard-hit rates are below average, and he can't keep the ball on the ground. He's also been at his worst in night games, spinning three of his best starts of the year during the day.
While the Marlins have been losing, one area has held strong. Their ability to hit left-handed pitching. In the last two weeks, they have a 126 wRC+, ranking 8th in the league. Since July 1st, they have held a 126 wRC+, placing them fifth. Since Opening Day, they have the third-best offense in the league against lefties.
I expect the Marlins to continue this production moving forward, especially after adding one of the better lefty-killers in the league Jake Burger. Williamson has allowed a .829 OPS to righties this season,
I also like that they faced a left-hander yesterday; I believe that familiarity with handedness will bode well for this team. No wonder the first five innings are so expensive. The Marlins should cruise to an early lead, but the question is, can they hold it?

The Marlins bullpen is not very good, but it's extremely rested. Key arms like AJ Puk, David Robertson, Tanner Scott, and Huascar Brazoban are all lined up to pitch in this one. I'm not really high on any of them, but they are fine options late in the game.
The Reds have the superior bullpen overall, but they don't have the same luxury of rest as the Marlins do. We should we most of these pitchers today if need be, but I wouldn't be surprised if the Marlins get out to an early lead and the Reds decide not to waste any of their good arms.
The Marlins are the better team and in their better split. Both teams are trending in the wrong direction, but the Reds look far worse. I'm unwilling to lay the juice, but I expect a Marlins win here. I think the Marlins should be -150 in this game, and the model has them at -153. Bet the Marlins up to -140 for a unit if you agree with my analysis.
The Pick: Marlins ML (-130) 1 U to win 0.77 U
Kansas City Royals vs. Boston Red Sox @ 7:10 PM EST
Pitching Matchup: Cole Ragans vs. Brayan Bello
Who are the Red Sox to be favored by this much? They are also 3-7 in their last ten, and any Red Sox fan knows when the Sox are hot, they roll. When they aren't, this team can't do anything right. They are one of the most inconsistent teams in baseball. Sometimes they look like they could make a World Series run. Right now, they look like a last-place team fighting for a high draft pick.
We've been on Cole Ragans in some form over his last two starts, and it's treated us well. He tossed six shutout innings against the Mets and only allowed one run over five innings against the Rays on July 15th. Ragans has seen a huge velocity jump from 2022, where he was sitting at 92 MPH. This season, he's averaging 96 MPH.
He sat 97 MPH against the Rays and 95 MPH against the Mets. I think he slowed it down for the Mets because he felt bad for them. Kidding, but this overall increase in velocity is incredibly intriguing moving forward. A 96 MPH lefty with two secondary pitches with an xwOBA against under .240? Sign me up.
Over the entire season, the Red Sox haven't cared much whether they face a righty or lefty. They have a 104 wRC+ against righties and a 103 wRC+ against lefties. However, this team cannot hit anyone throwing with their left hand in the last two weeks. They rank 29th in baseball in wRC+ at 42. The only team worse is the Guardians in that span. In the last 30 days, they have a 100 wRC+. It's a fine offense against lefties, but it's been terrible lately. I don't see why that can't continue today.
The Royals' bats are hot! Even though they lost two out of three to the Phillies, the bats remained. In the last 30 days, the Royals have a 107 wRC+ against right-handed pitching. Over the last two weeks, that wRC+ has climbed to 116, ranking 8th in the league.
Bello is a solid starter, but there are areas that are concerning. He's getting hit hard, sitting in the 20th percentile in Hard-Hit rate. That's not a great recipe against a Royals team that, despite their struggles, always hit the ball hard. He has done a much better job at limiting free passes, but his strikeout rate is still in the bottom third among qualified starters.
Ragans sits with a 3.52 xERA, and Bello is at 4.14. That includes Ragans early struggles, but since he's been a Royal, he's been dynamite. You might think I'm crazy, but I give the Royals the starting pitching advantage and the slight offensive advantage.
However, there is a reason the Royals are +170. They are a horrific road team, sitting at 15-41 on the year, while the Red Sox are 30-26 at Fenway. The Royals are traveling in from Philadelphia, which is a very short trip, but the Reds Sox didn't have to travel.

The Red Sox bullpen has the advantage over the Kansas City, but as you can see, there is not much rest here. However, they do have Chris Martin, Josh Winckowski, John Schreiber, and Kenley Jansen ready to go.

The Royals have the luxury of rest, but it's not a great back-end. It ranks as one of the league's worst and doesn't give me much confidence in the later innings.
After reading that, you're probably considering jumping on the first five innings. I had the same thought, but then I looked at the price. It's +140 on the first five ML and +170 on the full-game ML. Is the Red Sox bullpen worth 30 points? I don't think so. I'm going for glory here.
I made the Royals +135 on the ML, and the model has them priced at +115. I would bet the Royals down to +155.
The Pick: Royals ML (+170) 1 U to win 1.7 U
Texas Rangers vs. Oakland A's @ 9:40 PM EST
Pitching Matchup: Dane Dunning vs. Ken Waldichuk
It doesn't get much grosser than this, but… are the A's hot?
Forming a baseball argument around this one will be challenging, but baseball is a weird game. Crap teams go on runs, and considering we've been on the right side of A's in back-to-back games, haven't they earned a half unit?
Check these systems out. These are courtesy of Action Network's Pro Systems, which have a long track record of profitability.
The system "Bad Team After A Win" is something we used for both the Royals and the A's in the past week, and it's worked out really well. It's a huge sample of over 4400 games. Those bad teams (40% win rate or lower on the season) have gone 2083-2397, netting bettors 137.94 units. They win at a 46% rate for a 3% ROI.
The system gets better when we look at division dogs. The system is called "Bad Team After a Win (Division Dogs)," and it's hitting at a 44% rate. In this scenario, teams like the A's are 679-869, netting bettors 106.27 units with a 7% ROI.
The Rangers are still very good against lefties, but Josh Jung (1.017 OPS vs LHP) just went down with a fractured thumb. Jonah Heim is also still on the IL (.832 OPS vs LHP).
The Rangers also don't have travel on their side; they had to hop on a plane from Texas to Oakland yesterday without an off day. Dunning is the superior pitcher, but the xERA isn't all that different. Waldichuk sits with a 5.04 xERA, while Dunning sits with a 4.56.
Realistically, the A's are priced correctly. I have them priced at +175; the model has them at +179. The Rangers are better in every facet of the game, but hey, if Rangers -220 were a safe parlay piece, we'd all be sipping cold adult beverages in the Cabo.
If you haven't been on this run with us on the A's, it's probably not worth taking it. I'm going to be on the A's until they lose.
The Pick: Oakland A's ML (+195) 0.5 U to win 0.97 U