Analysis
MLB Picks Today, Best Bets, Odds, Predictions for May 8, 2023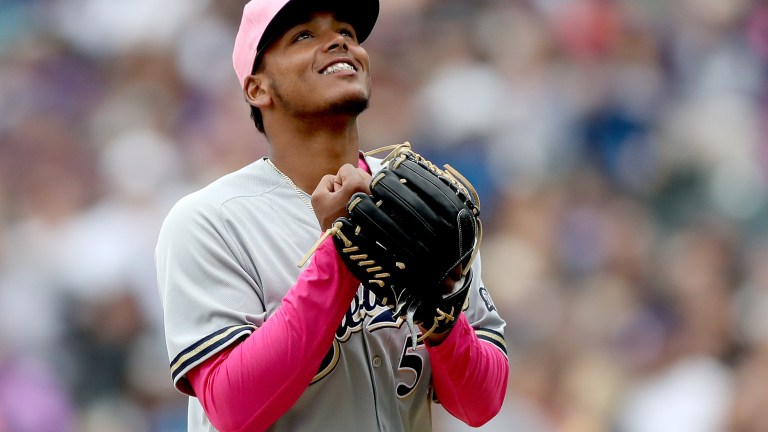 Nice bounce-back day yesterday, going 2-1 and making 0.7 units. It's not much, but it's an honest day. There isn't much to choose from today, but there is one play I have my eyes on and a PrizePicks entry that I like today. Let's win again today.
2023 Straight Plays Record: 52-45 (+3.15 U)
PrizePicks Record: -1.6 U
I'm using BetMGM lines only this year. Here's a link to get started with a risk-free $1000 bet. You can also use code "JBFANS" if you're betting on MLB. Wager $10 on any MLB moneyline and receive $100 once the bet is settled.
All prop entries will be on PrizePicks: Here's a link to get a 100% deposit match.
Los Angeles Dodgers vs. Milwaukee Brewers @ 7:15 PM EST
Pitching Matchup: Tony Gonsolin vs. Freddy Peralta
Sunday Night Baseball system! We fade the road team coming off Sunday Night Baseball, and I love it even more that the Dodgers won in an extra-innings battle. The system is 3-1 this season, and if you tailed the system last year, you went 19-11 on the ML (+14.83 U), winning at a 63% rate. In my articles, I haven't explained why I tail this system without thinking twice, so here's why.
Sunday Night Baseball is the game that most people turn on the TV to watch. It's usually a high-profile game between two good teams and often the last game of a rival series. A perfect example is this Padres vs. Dodgers series. Both teams fought hard all series, using up many of their bullpen arms in the process. We usually see a team playing on a back-to-back, rest important starters in their lineup as well. Will Smith, one of the best catchers in the league, has caught four straight games, including three consecutively. There is a chance we don't even see him in the lineup today.
There is also a significant travel component. After a big game like this, the winning team usually has media appearances. These can be long and drawn out; they must immediately jump on a plane after. They are at a scheduling disadvantage, as the Dodgers must fly from San Diego to Milwaukee without the proper time to rest. They usually come into the game with less sleep and a weary demeanor, leading to slower offense. The four teams that have qualified for this system have scored nine runs between them in four games.
There is also a public perception involved. A perfect example was the Padres vs. Braves game, where the Padres won 10-2. The Mets opened as -150 favorites but moved down to -130 after that big game. The Mets won that game 5-0. The public sees a big win by a team on Sunday Night Baseball and hammers them on Monday. We are seeing that exact formula play out today after the Dodgers' big win; the Dodgers opened at -110 but are now -120 on the ML, north of 65% of the tickets coming in on the Dodgers.
Now let's get to the baseball reasons the Brewers should win this game. Freddy Peralta has been great to start the year and has had plenty of success against the Dodgers. Through 69 PA against the Dodgers' current roster, opponents have only mustered a .133 batting average, a .279 xwOBA, and a .323 xSLG. The Brewers have also been very solid at home, going 9-6, versus the Dodgers, who have been struggling on the road at 9-8.
The Brewers will also have a full complement of bullpen arms, while the Dodgers have used their two best, Caleb Furgeson and Evan Phillips, on back-to-back days.
Tony Gonsolin has a command issue. Since returning from injury, he's posted a 14.3% walk rate with five walks in eight innings. The strikeout stuff hasn't been there either, recording only four strikeouts in those eight innings. The Brewers can't hit a lefty, but they can certainly hit a right-hander, ranking 11th in wRC+.
They also have the fourth-highest walk rate against righties; Gonsolin won't have much wiggle room. The Brewers have the starting pitching advantage by an entire run in xERA, they have the rest and bullpen advantage and home field advantage, but the Dodgers have the overall offensive advantage. In this game, however, the Brewers' offense should prevail.
The Brewers should be more significant favorites in this one, but the majority is lowering the price. I'm happy to jump on at even money.
The Pick: Brewers ML (+100) 1 U to win 1 U
PrizePicks Entry
First Leg: Jake Irvin Over 3.5 Strikeouts
Jake Irvin is not a huge strikeout guy, but the Giants are. The Giants have the highest strikeout rate in baseball against right-handed pitchers and the second-highest against left-handers. They are a strikeout-prone team, and Irvin's line on books is upwards of -135 to go over 3.5. He had three strikeouts in his last outing against a Cubs team with the sixth-lowest strikeout rate. Irvin should get 4+ strikeouts today.
Second Leg: Freddy Peralta Over 6 Strikeouts
Freddy is undoubtedly a strikeout pitcher. He's recorded 18 strikeouts in his last two starts, and now he'll go up against a Dodgers team with slow bats off Sunday Night Baseball. While the Dodgers have an excellent offense against right-handed pitching overall, they strike out the 11th most among all teams this season at 24.1%. Peralta is rocking a 24.6% strikeout rate against the Dodgers' current roster, and his strikeout rate this season is 27.9%, putting him in the 74th percentile in baseball. His pitching outs are juiced towards the over, and his strikeout line on BetMGM is 6.5 at +105. Give me the over.