Analysis
MLB Picks Today, Best Bets, Odds, Predictions for August 1, 2023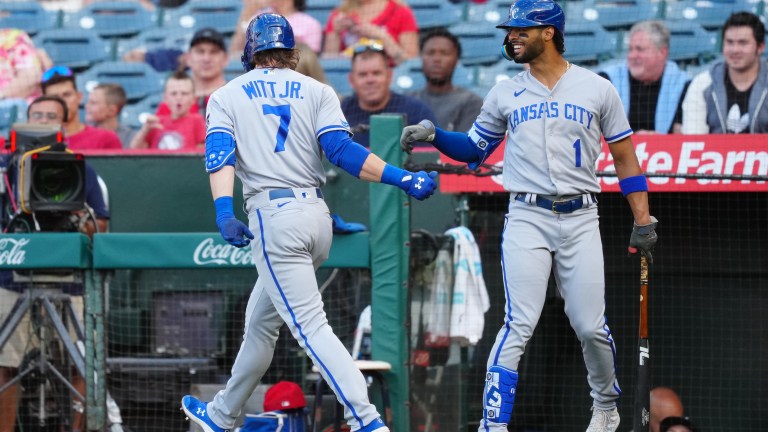 One of those days when we watched baseball, and our bank accounts didn't budge much. The loss of the day was a 0.2 unit loss on PrizePicks. Our game picks went even, with the Blue Jays never showing up, but the under in both halves hitting in Washington.
It's August 1st, so today marks a new month and the trade deadline. I always cut my unit size in half today; it tends to get weird. Players are sent off before the games start, and you never know the atmosphere in the clubhouse. However, these four spots show value today, and I'm excited to put last month behind us.
2023 Straight Plays Record: 120-124 (-3.40 U)
I'm using BetMGM lines only this year. Here's a link to get started with a first bet offer of up to $1000.
All prop entries will be on PrizePicks: Here's a link to get a 100% deposit match.
All Bullpen Screenshots are courtesy of Rotowire.
Philadelphia Phillies vs. Miami Marlins @ 6:40 PM EST
Pitching Matchup: Ranger Suarez vs. Sandy Alcantara
Is Sandy Alcantara back? The line tells us they think he might be because Ranger Suarez is on a slide, so a 7.5 total must mean that Alcantara throws a gem. I'm not so sure.
He's coming off his second complete game of the season while only allowing one earned run against the Rays. A very impressive performance, but he should have a tougher time with the Phillies today.
For one, the Phillies have seen plenty of Sandy. He's logged over 250 PA against the Phillies' current roster, and it hasn't exactly gone well. This also dates back to NL CY Young Award winner Sandy, which we haven't seen much of this season. The Phillies' batting average against Sandy in those plate appearances is .323, and the contact quality is strong, posting a .353 xwOBA with a .463 xSLG.
Sandy has never fared that well against the Phillies, and it's carried over into this season as he has allowed ten earned runs in 10.1 innings of work this season. Nine of those came in one start, and he rebounded on July 7th and only allowed one earned run. Sandy's issue is against lefties this season because his patented changeup hasn't been close to the pitch it was last year.
He used to destroy lefties with that offering, but it's much more hittable this season. The Phillies load up their offense with lefties from Schwarber, Harper, Stott, Marsh, and Jake Cave.
The Phillies offense has struggled in July, putting up a 88 wRC+ against right-handed pitching. They were possibly the best offense in June but have cooled off significantly. Will Sandy get the best of them? With a 2.5 earned run line and this being his third time around against them, I think they'll be able to knock him around enough to get us close.
Ranger Saurez will line up on the other side who is in the midst of a really rough stretch. We were basically blind tailing him earlier in the season, but over his last five starts, he has failed to look good in any of them. He's facing a Marlins offense that kills left-handed pitching, putting up a 124 wRC+ in July, and is among the top ten in baseball this season.
He's faced the Marlins once this season, allowing three earned runs on eight hits in 5.2 innings in Miami on July 8th. He's also rocking a 2.5 earned run line juiced towards the over, but it's not all that strange considering he's been dreadful in July. With a total this low, we only need about five runs through the first six innings before the bullpens come in.

The Marlins bullpen improved by acquiring David Robertson, but they are still being overworked. Edward Cabrera didn't last long yesterday, and they had to use the bulk of their bullpen. They haven't had an off day in a while, so the only arms that are rested today are Lopez, Chargois, and Robertson. They don't have much rest, but enough to prepare for today. Not much faith in this Marlins bullpen if things don't go really well with Sandy.

The Phillies don't have much that they can go to today, and the bullpen itself hasn't been great. Kimbrel has been their guy, and he's thrown in three of the last four days. Gregory Soto will be available but keeps the Marlins in their better split. Marte could pitch, but he has a 5.10 ERA. We should see Andrew Velasquez, one of the Phillies' best arms. It's not a bullpen I have faith in today.
The total is too low. This is a battle of starters with xERA's in the mid-fours with less than desirable bullpens at the moment. The model is obsessed with it, capping this game at nine runs. I thought this should be at 8, with juice towards the over or 8.5 at +100. I would play this up to 8 at +100.
The Pick: Marlins vs. Phillies Over 7.5 (-110) 0.55 U to win 0.5 U
Detroit Tigers vs. Pittsburgh Pirates @ 7:05 PM EST
Pitching Matchup: Matt Manning vs. Johan Oviedo
When I cap games the night before, I set my own lines by doing my research, then look at what the sportsbook set it at to see if I'm off on anything. Then, I'll go to Ballparkpal and see what they think. The model doesn't have much of an opinion on this one, setting the total at nine. Maybe I'm way off here, but I thought this total would be at 9.5. When I saw 8.5, I had to jump on it.
I thought I might be a Matt Manning guy last year, but he's been pretty disappointing. He's still got some potential; it just hasn't carried over this season. He's allowing harder contact, striking out fewer batters, and walking more hitters, resulting in a 4.93 xERA.
Manning is a fastball/slider/curveball guy; weirdly enough, that's a good matchup for the Pirates. They are not a good offense, but they are top ten over the last 60 days against two pitches; fastballs and curveballs. The Pirates can't hit much, but this is the matchup for this offense to feast.
The Tigers' terrible offense against righties might be able to hit Oviedo today. The one pitch the Tigewrs are above average at hitting is sliders. That's Oviedo's main pitch, throwing it 40% of the time. I'm also not a Johan Oveido guy; he has an xERA in the mid-fours and is below average in strikeouts, walks, and Hard-Hit rates. His one redeeming quality is his ability to keep the ball on the ground, but even that number is down from last season.

This is why betting on deadline day can be a bit difficult, but I'm willing to risk it. These are two below-average teams looking to sell off bullpen arms. Pirates might send Bednar away, and the Tigers may sell multiple high-leverage arms. Even if they all stay, I still like this over, but there is a strong possibility that the bullpens look nothing like they do now by game time.

Mix in 5-10 MPH wind blowing out to right field, and you have an over.
Play this up to 9 at -105.
The Pick: Tigers vs Pirates Over 8.5 (-115) 0.575 U to win 0.5 U
New York Mets vs. Kansas City Royals @ 8:10 PM EST
Pitching Matchup: Jose Quintana vs. Zach Greinke
Don't let the Royal's offense get hot. A crazy sentence, I know, but it's the truth!
The Royals have a 113 wRC+ against left-handed pitching in July, placing them near the top ten in baseball. They have always been a better offense at home, and it's showing up this month. They have a 133 wRC+ at home against lefties and a 90 wRC+ on the road. They are a young team that loves hitting in Kauffman, and they face Jose Quintana, who doesn't look like the same guy that he was with the Cardinals.
It's early, but his fastball velocity is down from 91.2 MPH last year to 90 MPH. His sinker velocity is also down, from 91.4 MPH to 90.4 MPH. His Stuff+ has dropped from 86 last season to 79 this season. He's rocking an xERA at 4.10 compared to his 3.27 ERA. The books don't seem to think much of him today, juicing his earned run prop towards the over, his outs line towards the under at 6.5, and his strikeouts at 4.5 at -160 towards the under.
He hasn't allowed more than two earned runs in a start yet, and he just struck out five batters in six innings. I think they are trying to tell us something, and it fully checks out based on the matchup.
I'm taking the over and Royals ML because, with all due respect to the potential HOF'er, it's Zack Greinke in 2023. I hope he pitches well, but I can't really count on it. The Mets have been doing one thing really well lately, hitting right-handed pitching.
They have a 129 wRC+ against right-handed pitchers in July. If this were Greinke on the road, you wouldn't see me on the Royals to win this game. He does have a 3.74 ERA at home and a 7.40 ERA on the road, and it's been like that for most of his career. He's an odd guy and clearly prefers pitching at home.

The Mets may not have some of these bullpen arms at the end of the deadline. I've been looking for a good spot to fade the Mets, and this is it. The post-game press conferences are depressing, and now Verlander is expected to be moved. I think the only part of the Mets that shows up today are the bats, which should help this over.

The Royals may end up keeping these guys, as with all due respect, not sure who wants them. They are a below-average group, but the Royals are underdogs for a reason.
I'll take the Greinke over Quintana now, and I think the bullpen advantage will be even come game time. The Mets are the better offense, but the Royals can hang with them with how hot they've been. Factor in beautiful weather, the second-best projected of the day on ballpark pal at +10%, and we have an underdog and a total. Take the over at 9.5 to -115, and play the Royals down to +130.
Something kinda funny which may make your contrarian brain love this or make you stay far away from the Royals, depending on your betting style.
The Royals are 4-20 in Zack Greinke starts.
Go Royals!
The Pick: Royals ML (+135) 0.5 U to win 0.63 U, Over 9.5 (-105) 0.525 U to win 0.5 U
Chicago White Sox vs. Texas Rangers @ 8:05 PM EST
Pitching Matchup: Jesse Scholtens vs. Andrew Heaney.
In no way, shape, or form should Andrew Heaney be a -250 favorite against a team that can hit lefties. I won't stand for it. I've seen enough of Andrew Heaney to know he doesn't deserve that price tag. I assume they are pricing in the possibility of the White Sox selling off pieces, but I assume it will be Dylan Cease or Tim Anderson, who won't affect this game much anyway. That's mean to Tim Anderson, but he's among the worst-qualified hitters in baseball this year.
If they trade Luis Robert or Eloy Jimenez, maybe this isn't worth a bet. However, I think it's doubtful either of those guys are traded, which is why I saw a lot of value on the White Sox today.
Andrew Heaney is nowhere close to the pitcher he was with the Dodgers. Last season, he rocked a 3.39 xERA compared to this season at 4.78. His strikeout rate is way down, and his walk rate is way up. Say what you want about the White Sox, but they can still hit lefties. Similar to the Mets, they still have one strength.
They have a 110 wRC+ against lefties this month, and over the full season, they sit with a 100 wRC+. It's an above-average lineup against lefties, and they are facing a below-average left-hander with his worst starts coming at home. The Rangers have a 125 wRC+ against righties this month. 15 points in wRC+ with the worse pitcher should not make the line -250.
Jesse Scholtens isn't even that bad. He's rocking a 3.32 ERA and a 3.93 xERA. He rarely goes long, averaging about 2-3 innings per start. The White Sox had an off day yesterday, so everyone is ready to go. Please don't trade away Middleton or Santos, please.

On the flip side, we have a solid Rangers bullpen, but many of the best arms are left-handers, which keeps the White Sox in their best split. From Smith to Burke to Chapman, all lefties. If it were all right-handers at that level of those three, I'd go for the first five. However, the first five innings aren't as heavily juiced, and I'm going for glory.
I capped this game at +160 for the White Sox. I rarely see 45 points of value on the money line. The model likes it even more, making the White Sox +125 underdogs. Maybe the books are right, and the Rangers blow them out. I will say that the Rangers ML will be in every parlay in America, so you can fade me and take Rangers -1.5 if you like. I would take the White Sox down to +185.
The Pick: White Sox ML (+205) 0.5 U to win 1.03 U