Analysis
MLB Picks Today, Best Bets, Odds, Predictions for April 6, 2023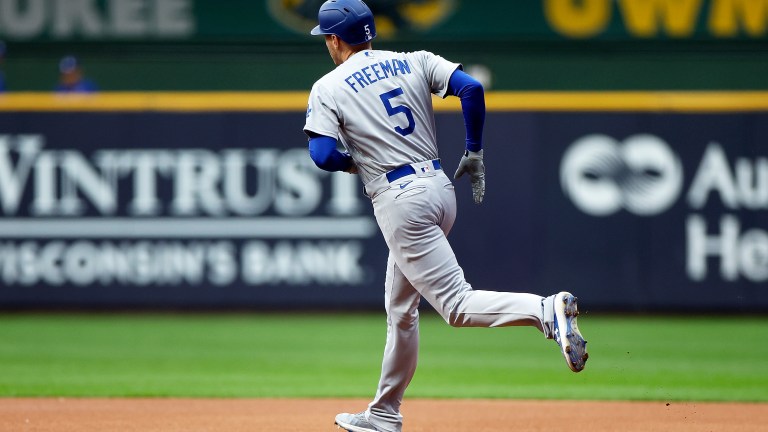 Yesterday ripped our hearts out. I'm still sitting here believing I should have been 5-0, but instead, we finish 1-2, down 1.05 units. I loved that Cubs vs. Reds over; it steamed up an entire run from eight to nine. We win the system play if Marcus Seminen doesn't drop that routine grounder. If Terry Francona doesn't get cocky and leave in a left-hander against Jesus Aguilar, who can only hit lefties, we are sitting here with an easy under. We cashed on the Braves vs. Cardinals under and had a push on a Royals first five innings even though they had runners on first and third with one out and their best hitters coming up.
That's baseball. Sometimes I wouldn't say I like this sport, but as soon as the dust settled, I snapped out of it. I love this game. It's the beauty of baseball; bonehead moves and plays always happen. That's why this sport is challenging to handicap, but it is so much fun. Let's get back on track today.
Just so we all know, I'm using BetMGM lines only this year. Here's a link to get started with a risk-free $1000 bet. You can also use code "JB200" if you're betting on MLB. Wager $10 on any MLB game and receive $200 instantly.
All prop entries will be on PrizePicks: Here's a link to get a 100% deposit match.
2023 Straight Plays Record: 12-9 (+3.03 U)
2023 PrizePicks Entries: 0-3 (-1.25 U)
I will track both records separately so you can track how I'm doing on game picks and PrizePick entries!
Detroit Tigers vs. Boston Red Sox @ 1:10 PM EST
Pitching Matchup: Chris Sale vs. Spender Turnbull
When I first looked at this game, I thought to myself, is Chris Sale as bad as he showed against the Orioles? My answer is yes and no, for a couple of reasons.
First, Chris Sale allowed seven runs on eight hits in three innings against Baltimore. The wind was blowing out, and his location was terrible. He was leaving balls in the middle of the zone for Orioles hitters to launch into the air that carried out of the park. Luckily for him, conditions at Comerica will impact the offenses much more than the pitchers. According to ballparkpal, it's the lowest run-scoring environment of the day, calling for a 23% run drop. This will undoubtedly help him, but the Tigers can hit lefties.
They didn't show it against Jeffrey Springs but put up nine hits against Framber Valdez. Last year, the Tigers put up a 100 wRC+ against left-handers but were historically bad against right-handers (74 wRC+). This year, they don't have a large sample, but they do have plenty of right-handed bats whose better split is against lefties (Matt Vierling, Javier Baez, Spencer Torkelson, Eric Haase, Miguel Cabrera, Jonathan Schoop, Jake Rodgers, Ryan Kreidler). That's the entire lineup outside of Riley Greene, hitting .348 this year and performing better against left-handed pitching last season (.747 OPS vs. .656 OPS vs. righties).
Why not fade the Red Sox right now? Red Sox should not be this big of a favorite on the road against anybody. The Tigers are a league-average team against lefties and historically bad against righties, which is good for us. Red Sox were better against lefties last year and this year to date. They'll face a righty in Turnbull, who was solid in 2021, had an injury, then got smoked by a far superior Rays team. I think he bounces back in conditions that fit his profile.
The Red Sox put up a .841 OPS this season against left-handers but a .760 OPS against right-handers. Roansy Contreras and Mitch Keller, both right-handers, combined for 12.2 innings and two runs in Fenway Park. This Red Sox offense has gone cold, and I want to fade them.
This season, the Tigers rank fourth in baseball in Hard-Hit rate while the Red Sox rank 27th. Vastly different, but the Red Sox have scored more because they had the wind in their backs in that Orioles series. Now they won't and must travel and play on the road in bad weather conditions.
The model likes the Tigers up to -115 and the under at 7. Saw some of that value last night but didn't play it, as I needed to see where the money came in. It came in all Red Sox and all on the over, yet the total didn't budge, and the Tigers ML got shorter. I tend not to put an entire unit on plays in the same game, so I'm spacing it out between the Tigers ML and the Under.
SIM Value: Tigers ML (-116) Total: 7 (+100)
The Pick: Tigers ML (+125) 0.5 U, Under 8 (-110) 0.55 U
Nationals vs. Rockies @ 4:10 PM EST
Pitching Matchup: Josiah Gray vs. Kyle Freeland
The first series in Coors Field! I love an excellent Coors Field series with two bad teams that should unleash bats.
Both the Rockies and National's better splits are against lefties. Kyle Freeland is a solid pitcher on the road but has been terrible in his career at Coors Field. He threw six shutout innings in his last start, but that was on the road at Petco, a notorious pitcher's park. Last season, he put up a 6.00 ERA over 16 starts at Coors Field. In 2021, he put up a 4.83 ERA in 11 starts at Coors Field. In 2019, he put up a 9.25 ERA in 10 starts at Coors Field. I think we get the point.
I liked the fight the Nationals put up against the Rays, especially against Shane McClanahan. They destroyed Josh Fleming, who I rate similarly to Kyle Freeland. They scored five runs off Fleming, but I'm more impressed with them putting up two runs on five hits against one of the best left-handers in the game. The Nationals project as one of the worst lineups in the game against right-handers but a slightly below-average offense against southpaws.
Not only is this game being played at Coors Field, but the wind is also blowing out to left field, the best recipe for right-handed bats. The Nationals' lineup is full of them, and after facing two straight lefties, they should have a better feel for the arm slot. There should be plenty of runs; my model shows a slight value of over 10.5. (Line: 11 (-105)). The line has moved to 11, and I still think it has a strong shot of going over.
I went to bet the Nationals ML at +125, and by the time I finished typing the play for my subscribers last night, it dropped to +115 with a lot of early money on the Rockies. So I decided to scrap the ML because I like the Nationals to put up 6-7 runs. I'm unsure how a fly-ball pitcher like Gray will do in that park. Gray is a pitcher with tons of variance. He has lots of upside, but the downside is catastrophic. It lost a chunk of value, so I'm sticking with the matchup I want to target the most. I still think the Nats will win, and if it gets back to +125, I'd consider it. I like it because the Nationals will rake, so give me their team total.
SIM Value: Nationals Score 5.27 Runs (-103 to Win)
The Pick: Nationals Team Total Over 4.5 (-125) 1.25 U to win 1 U
Los Angeles Dodgers vs. Arizona Diamondbacks @ 10:10 PM EST
Pitching Matchup: Dustin May vs. Merrill Kelly
We just saw this game in Dodger Stadium a few games ago, and with the familiarity, I believe runs will be scored in a hitter-friendly environment.
Another matchup I'm excited to target is this Dodgers team against Merrill Kelly. I'm not trying to pay juice or deal with a run line, but I like the road team, as they are guaranteed nine innings of hitting.
Drey Jameson is the only Diamondbacks reliever I respect, and he threw two innings two days ago, throwing 38 pitches. We'll unlikely see him, and this Diamondbacks bullpen beyond him is suspect. Even if we do see him, the Dodgers also just saw him for four innings a couple of games ago.
The Dodgers own Merrill Kelly. He went 0-5 last year with an 8.25 ERA last season, and they just saw him last week when he threw 74 pitches in 3.2 innings, four walks, and three hits, and was removed immediately. He was removed due to a lack of command, but the Dodgers were about to jump on him, and this game was played in pitcher-friendly weather conditions.
We saw this total rise from 8.5 to 9, and I can't see it being because of Dustin May. While the Diamondbacks just saw him, he's an incredible pitcher. He has ace upside when he pitches, but the familiarity bodes well for Arizona. I have a hard time believing the total goes over because Arizona wipes the floor with an ace on the mound and an elite bullpen. l I have a much easier time believing it's because the Dodgers put up 5-6 runs, or maybe even more. They should get to Kelly early and often and then feast on a far below-average Diamondbacks bullpen.
I sent this play out last night to my subscribers when the model accounted for a closed roof. Chase Field decided to open the roof, which shot down the prediction. I disagree with the model's adjustment; it went too far. The Dodgers were projected 5.17 runs with the roof closed and 4.44 open. It's supposed to be in the 70-degree range by game time with no wind. I'd be nervous if the total moved down, but it moved from 8.5 to 9. Give me the Dodgers to unleash the bats today.
The Pick: Dodgers Team Total Over 4.5 (-110) 1.1 U to win 1 U