Analysis
2022 College Baseball Super Regionals Best Bets, Predictions, Odds for June 11, 2022.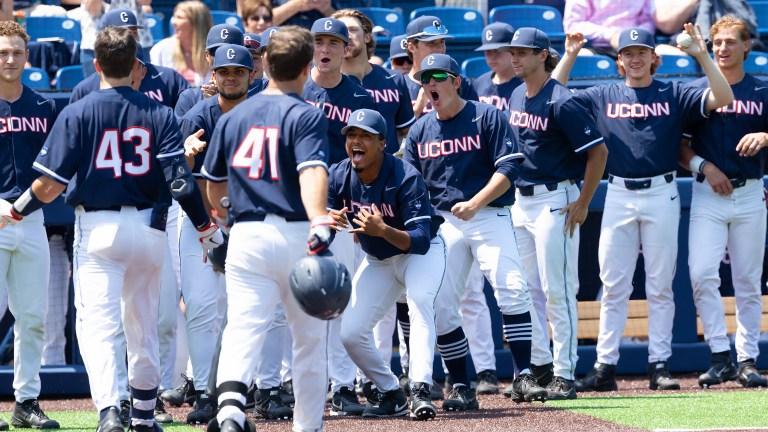 After watching my Hokies melt on day one of the college baseball super-regionals, it took guts to come back and do another college baseball write-up.
It doesn't hurt that I love the Saturday slate, either. I hope everyone got the chance to enjoy the first day of the "Sweet 16."
Expect more energy and offense throughout the weekend as the players settle in. That's enough small talk; let's get to business… we have bets to place and winners to watch.
(13) Arkansas (+100) vs. (11) North Carolina (-130) O/U 10.5
ARK: Connor Noland – Senior [4.13 ERA]
UNC: Max Carlson – Sophomore [3.61 ERA]
On paper, these are two very similar teams with above-average pitching with a relatively underwhelming offense. They couldn't be moving in different directions.
UNC is coming off an ACC tournament win, and Arkansas couldn't have finished their season any worse. Although some might say the Arkansas arms are better overall, this isn't the case tomorrow. Back the younger arm in Max Carlson to record plenty of strikeouts and get the job done against an Arkansas offense that doesn't scare me. Expect upperclassmen Danny Serretti and Angel Zarate to lead by example and get the bats going for the home Heels.
Don't overthink this one, and back the team that's trending upward. UNC already has the advantage in this one before the game starts, as Arkansas is throwing a reliever.
The Pick: UNC ML (-130)
__________
(15) Ole Miss (+100) vs. Southern Miss (-130) O/U 9.5
Ole Miss: Dylan DeLucia – Junior [4.68 ERA]
Southern Miss: Tanner Hall – Sophomore [2.60 ERA]
Fading the big name in Ole Miss against a small school with the superior team is already a system play for me, regardless of the matchup.
Don't fall victim to the popular name of "Ole Miss." Southern Miss is the better team and is favored for a reason. This isn't your typical Ole Miss powerhouse, which will cause severe issues against one of the best pitchers in the nation Tanner Hall.
I don't think this one will be close; back the Golden Eagles to take care of business at home behind the power-hitting trio of Paetow, Sargent, and McGillis, combining for 53 home runs this season.
Don't be surprised if Ole Miss gets swept.
The Pick: Southern Miss ML (-130)
________________
(25) Auburn (+140) vs. (3) Oregon State (-170) O/U 10.5
Auburn: Trace Bright – Junior [4.80]
Oregon State: Cooper Hjerpe – Sophomore [2.40 ERA]
Although Auburn has an excellent pitching staff, I'm not sure it will be enough to silence the Beavers at home.
It almost looks like Auburn is looking ahead to game 2 of this series, going with Trace Bright instead of some of their more dominant arms. Are they conceding to Cooper Hjerpe, one of the best pitchers in the country?
I honestly expect more out of Bright in the opening game of this series and expect runs to come at a premium. I'm not sure Hjerpe will give up a run; the lefty is that good.
The Pick: Under 10.5
________________
UConn (+155) vs. (2) Stanford (-195) O/U 10.5
UConn: Austin Peterson – Senior [3.30 ERA]
Stanford: Joey Dixon – Sophomore [3.53 ERA]
What kind of college baseball article would this be if I didn't include an underdog on the card?
Seeing the #2 nationally ranked team in the country sitting shorter than -200 to an unranked Big East team is a huge red flag for the home Cardinal. This Uconn pitching staff is legit, especially Senior Austin Peterson, who already pitched a gem earlier this year against Wake Forest.
They know they're good, including their pitching coach, who stated earlier this week that Uconn is an "underdog my ass." After beating the respectable Maryland Terrapins in College Park, this Huskies team is capable of beating anyone.
If Peterson and this Uconn bullpen can avoid giving up the long ball, which is how Stanford manufactures most of their runs, I see them winning outright.
There is excellent value on this Huskies team going against a streaky Stanford offense that barely squeaked out of regionals at home against Texas State. I also love the angle in this one where no one on earth will be on Uconn against the #2 ranked team in the country.
Uconn doesn't think they're an underdog, and they're going to play like that tomorrow.
The Pick: UConn ML (+155)
Bonus Pick: the Hokies aren't going down without a fight; expect them to put on an offensive clinic in Blacksburg tomorrow. Virginia Tech -1.5 (+105)