Analysis
MLB Picks Today, Best Bets, Odds, Predictions for April 25, 2023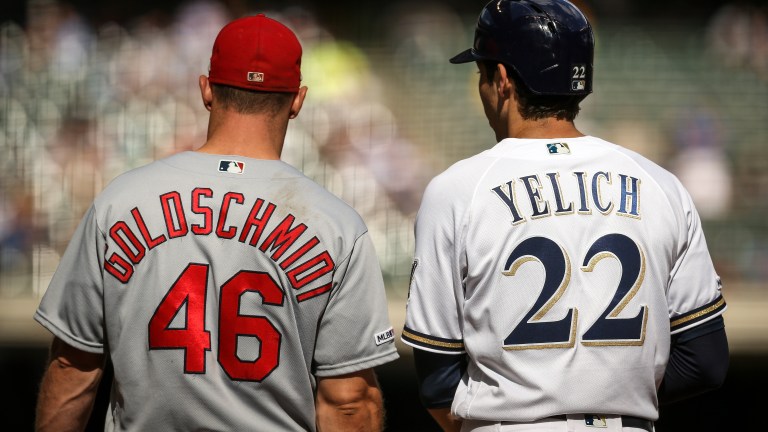 Rough day yesterday. We lost both game picks, and both weren't even close. The under we took in Reds vs. Rangers was a disaster, as Nick Lodolo gave up enough runs to make the Reds offense not matter towards the total. The Rangers' defense did not help Eovaldi either, and it was over in a few innings. The Astros had value against a rookie, but it didn't work out for us. They took an early lead, it was close, then the Rays blew it open. Tough day, but our previous four days were awesome. It's the pendulum of baseball; let's swing back with four-game picks and a PrizePicks entry.
I'm using BetMGM lines only this year. Here's a link to get started with a risk-free $1000 bet. You can also use code "JBFANS" if you're betting on MLB. Wager $10 on any MLB moneyline and receive $100 instantly.
All prop entries will be on PrizePicks: Here's a link to get a 100% deposit match.
2023 Straight Plays Record: 39-30 (+6.73 U)
2023 PrizePicks Entries: 3-9 (-1.3 U)
I will track both records separately so you can track how I'm doing on game picks and PrizePick entries!
Milwaukee Brewers vs. Detroit Tigers @ 7:40 PM EST
Pitching Matchup: Spencer Turnbull vs. Eric Lauer
These two starting pitchers are exciting matchups for these opposing offenses. Both pitchers aren't terrible, but the matchup fits like a glove.
If I were the Tigers' pitching coach, I'd tell Spencer Turnbull to throw his changeup more. It has the highest whiff rate of any of his three main secondaries, and it produces an 80.9 MPH average exit velocity at a -12 degree launch angle this year. Luckily for us, he only throws that pitch 13.8% of the time, and his three main pitches are exactly what the Brewers lineup likes to see.
Right-handed pitchers who rely on fastballs, sinkers, and sliders usually get torched by the Milwaukee Brewers, especially at home. Garrett Whitlock, Logan Gilbert, and Carlos Carrasco throw a similar pitch mix, Gilbert less so, but all three of them struggled against the Brewers in the last two weeks. All gave up at least four earned runs, and Turnbull is the worst version of the three pitchers.
His 7.86 ERA is concerning, but his 6.46 xERA combined with his struggles on the road throughout his career. Following him will be a below-average Tigers bullpen that will be without their best reliever, Alex Lange. The Brewers might be able to hit this over by themselves.
The Tigers should contribute plenty. They'll face Eric Lauer and his 83 Stuff+, by far the worst of any Brewers starting pitcher. While the Tigers have had a rough start against left-handed pitching, it was easily their best split last season, and they project to be a league-average offense against southpaws. Eric Lauer is the perfect pitcher to get them on track.
Lauer has routinely outperformed his xERA, but that xERA is currently sitting at 5.45, the worst of his career outside 2020. His fastball, cutter, and slider have all fallen off a cliff velocity-wise, which has resulted in a 45.5% Hard-Hit rate, easily the worst of his career. Following him will be a Brewers bullpen that is very solid but has had plenty of work over the past few games.
Considering they are playing in a hitters' park that's calling for runs today, ranking fourth on ballparkpal, I'm confident in playing this over up to nine runs.
The Pick: Tigers vs. Brewers Over 8.5 (-115) 1.15 U to win 1 U
Atlanta Braves vs. Miami Marlins @ 6:40 PM EST
Pitching Matchup: Bryan Hoeing vs. Charlie Morton
This would be my favorite play of the season if Bryan Hoeing didn't make adjustments from last year. He's off to a very nice start in the minor leagues, pitching to a 2.08 ERA over 17 innings. If this were last year's Hoeing, we'd be looking at a two-unit, maybe three-unit play on this first five over. Instead, we are sticking with a normal unit structure.
Bryan Hoeing's stuff has looked better in the minors this season than it once was. He rarely goes over a few innings but should be stretched out today. He posted a 12.08 ERA in the majors last season, which included 2.1 innings against the Braves, where he allowed three earned runs. Hoeing's sinker has gained velocity since last year, but relying on it could hurt him. The Braves' favorite pitches to hit this season are fastballs and sinkers.
Hoeing is also a reverse splits pitcher. Even with his improvements in the minors, righties have performed better both in the major and minor leagues. The Braves are filled with right-handed bats; Ronald Acuna, Austin Riley, Sean Murphy, Vaughn Grisson, and Marcel Ozuna. They should all do plenty of damage today.
Charlie Morton appears to be a ticking time bomb. His curveball is still his main pitch, and it's the only thing keeping him afloat. His four-seam, sinker, and changeup allow a ton of hard contact and do not get any whiffs. He's allowed 26 hits and ten walks in 22 innings, so he's been walking on a tightrope to post his 3.22 ERA. His 6.10 xERA screams that negative regression is coming. Luis Arraez should be back in the lineup today to give them a boost after almost getting no-hit yesterday. I would play this at five if it were to get there.
The Pick: Braves vs. Marlins First 5 Over 4.5 (-120) 1.2 U to win 1 U
St. Louis Cardinals vs. San Francisco Giants @ 9:45 PM EST
Pitching Matchup: Jake Woodford vs. John Brebbia
I know it's simple to say, "Just look at these starting pitchers." But… look at these starting pitchers.
The Giants have a bullpen game today with a below-average bullpen. The Cardinals are throwing their worst starting pitcher, whose 6.05 ERA doesn't tell the full story. His 8.04 xERA sits on the back of a 60.4% Hard-Hit rate, the lowest in all of baseball. The Giants got some reinforcement in Mitch Haniger last night, so I upgraded this offense slightly.
The Giants can't hit a lefty, as seen against Jordan Montgomery. They can certainly hit a right-hander, as seen against the Cardinals bullpen, where they put up four runs to win it. The Giants rank fourth in baseball in wRC+ against right-handed pitching, and they'll go up against one of their easiest matchups to date.
On the flip side, we have John Brebbia, who will face a Cardinals lineup that was shut out the night before. Brebbia's allowing a 55.6% Hard-Hit rate this season puts him in the third percentile in baseball. His strikeouts have spiked this year, but the Cardinals rank 23rd in strikeout rate against right-handed pitchers (the good kind).
Ballparkpal is also calling Oracle Park the best run-scoring environment of the day. We have ten MPH wind blowing out to center field, and it should be in the low 60s by game time. It will be nice baseball weather today in the bay area.
This is a no-brainer play, but I wasn't interested in paying a ton of juice. I grabbed it for one unit at 4.5 and would play up to 5.
The Pick: Cardinals vs. Giants First 5 Over 4.5 (-125) 1 U to win 0.8 U
San Diego Padres vs. Chicago Cubs @ 7:40 PM EST
Pitching Matchup: Blake Snell vs. Justin Steele
I apologize to those who don't currently subscribe to my picks package, where you get the plays as soon as I place them. I gave out the Cubs vs. Padres Under 8.5 at -120, and since I started writing out all of my plays, the line has crashed to 7.
Honestly, at 7, it's a very risky under. I played it because both starters rate as above-average arms, especially Justin Steele. Also, both teams had an off day, so the bullpens are fully rested. We have strong winds (15 MPH) blowing straight in, and the temperature in Chicago will be in the low 50s or high 40s. This is an auto-play for me, not just based on the weather but based on the pitchers in this game.
It's tracked for my subs; if you can find 7.5, that's still playable. I'd consider 7; I would lower your unit.
The Pick: Padres vs. Cubs Under 8.5 (-120) 1.2 U to win 1 U
PrizePicks Entry
Spencer Turnbull Under 15.5 Pitching Outs
As stated above, this is a match made in heaven for the Brewers. Considering Turnbull's pitch mix and playing on the road in a hitter-friendly environment, I would be shocked if he threw more than five innings today.
Ronald Acuna Jr Over 8.5 Fantasy Score
The current front-runner for MVP is better against right-handed pitching, mashes sinkers, had a bad day yesterday, is the leader in stolen bases, and Hoeing struggles most against right-handed bats. After only scoring two fantasy points yesterday, I'm going back to the well with the lead-off man of the offense I expect to roll.