Analysis
MLB Picks Today, Best Bets, Odds, Predictions for April 17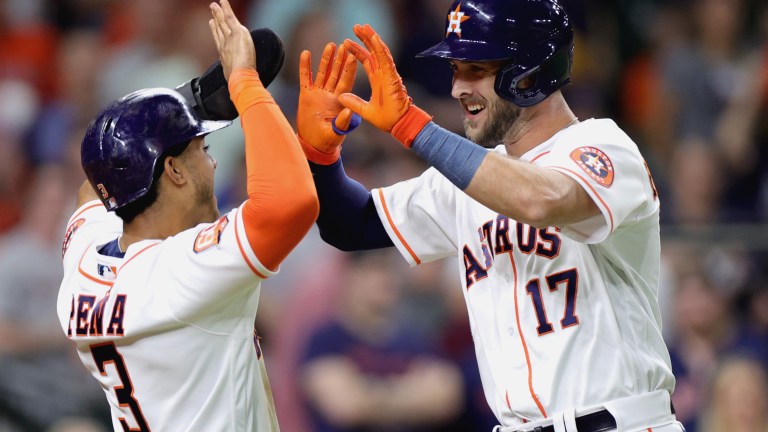 Gross pays! We won on the Pirates' first five innings money line and had a push on the A's first five innings ML. It's crazy that we won a unit, considering both teams lost in the end. I'm getting crap about first five innings bets, but I promise it cashes in the right spots!
No PrizePicks entry today, but I have enough disgusting plays to get us started on the right foot. We are slowly heating up, gaining about three units in the past few days. The more data I get, the better the plays will be. Let's start the week off right with three underdogs.
Just so we all know, I'm using BetMGM lines only this year. Here's a link to get started with a risk-free $1000 bet. You can also use code "JB200" if you're betting on MLB. Wager $10 on any MLB game and receive $200 instantly.
All prop entries will be on PrizePicks: Here's a link to get a 100% deposit match.
2023 Straight Plays Record: 30-24 (+3.38 U)
2023 PrizePicks Entries: 2-6 (-1.05 U)
I will track both records separately so you can track how I'm doing on game picks and PrizePick entries!
Toronto Blue Jays vs. Houston Astros @ 8:10 PM EST
Pitching Matchup: Kevin Gausman vs. Cristian Javier
I love that the Astros got blown out on National TV last night. Everyone is selling their Astros stock after getting bounced by the Rangers in two out of three games. The Blue Jays finished an excellent series against the Rays, snapping their 13-game win streak. All eyes are on Toronto, and that's when we buy the defending champs.
If this game was played in June, and both teams were doing what they were supposed to, the Astros would be -125 to -130 in this spot. The fact they are underdogs is an overreaction by the market, considering the opening line was -110 on both sides. I was watching the line, and once the Rangers blew them out, it flipped to the Astros at plus money. Why? Because the Astros lost on Sunday Night Baseball, and everyone saw it?
Cristian Javier is still a fantastic pitcher. He's seen his velocity tick down slightly, but in a game like this, where the Astros need a win, we should see him regain it. There is no injury or wearing down in age to point toward him, and he makes up for it with induced vertical break. That's how Javier threw a six-inning no-hitter in the World Series; hitters swing under his fastball because it has that perceived rising action.
I'm a huge fan of Kevin Gausman, but the Blue Jays' offense often doesn't show up for him. Ask Blue Jays fans about it; it's a weird phenomenon. For reference, Jose Berrios went 12-7 with a 5.23 ERA, and Gausman went 12-10 with a 3.31 ERA. It's weird, and I want to bet against Gausman in this spot.
The Astros got blown out yesterday, so they didn't use their best relievers. They still own a top three, at the worst, bullpen, and the Blue Jays have had to use their best arms against the Rays.
We also have travel on our side. The Astros slept in their beds while the Blue Jays had to fly from Toronto to Houston without an off day. That's an hour longer than a flight from Miami to NYC. These aren't great conditions for the Blue Jays, and I want to bet on an angry Astros team at home at plus money.
The Pick: Houston Astros ML (+105) 1 U to win 1.05 U
Texas Rangers vs. Kansas City Royals @ 7:40 PM EST
Pitching Matchup: Jacob deGrom vs. Jordan Lyles
How gross is this? Don't you get that feeling in your stomach that it's so disgusting that it might work?
Yes, we are on the Royals today. No way the Rangers lose with Jacob deGrom after a great series…. right? WRONG. IT'S ALL ROYALS.
We saw this matchup a week ago. The Rangers started Jacob deGrom against Jordan Lyles, and it was in Texas. The Rangers won in the bottom of the tenth inning, but the Royals kept it close the entire game.
Is the pitching matchup incredibly lopsided? Yes. Do the Rangers have the better lineup? Absolutely. Do I care? Not even a little bit.
It's the Sunday Night Baseball system. We fade the team that has to travel after playing Sunday Night Baseball. The Rangers flew from Houston to Kansas City late last night, and spirits are high off a big win. Normally, you don't use four of your five best relief pitchers in a blowout. The Rangers did just that, getting 20+ pitches out of Brock Burke and Will Smith. Hernandez and Sborz also threw 15 pitches, and Sborz threw 26 the night before.
The Royals bullpen is saved up, and Jordan Lyles will bring us home. Crazy sentence, I know, but it's hitting.
The Pick: Kansas City Royals ML (+180) 1 U to win 1.8 U
Tampa Bay Rays vs. Cincinnati Reds @ 6:40 PM EST
Pitching Matchup: Jalen Beeks vs. Hunter Greene
Ready for another play that'll make your stomach turn?
It's all Reds. Especially early. The Rays tend to struggle against high velocity outside of Yandy Diaz. We saw Hunter Greene throw six innings of one-run ball against the Rays last season at home. They ended up winning the game even though Drew Rasmussen was on the mound and didn't allow a run through four innings. That Reds lineup was objectively worse than it is now, and the Reds are in their better split.
The opener for the Rays will be Jalen Beeks, a left-handed pitcher. He's done decently well in this role for the Rays against this season's below-average competition. He allowed one run against the Tigers, then shut out the Nationals in two innings. He followed that up with another two-inning shutout of the Red Sox, then came right back around and allowed one earned in one inning to the Red Sox in his last appearance.
The Reds will stack their lineup with right-handers, and Beeks has allowed a .905 OPS to right-handed bats this season compared to a .286 OPS against left-handers. Cooper Criswell will likely be called up and follow Beeks, who put up a 20.25 ERA with the Angels in 2021, then a 3.70 ERA with the Rays in a few innings in 2022. He's a 26-year-old career minor leaguer, and I'm not afraid to fade him if he does follow. Outside of him, I'm not totally sure who the Rays would go to. They've used many of their "bulk" pitchers, guys who follow the opener.
The Reds didn't have to travel, while the Rays had to go from Toronto to Cincinnati without an off day. It's the shortest flight of any games we are on today, only about a 95-minute flight. It's not much, but it's a small edge.
The Reds have the clear starting pitching advantage early, but I won't want the full game. Knowing the Rays' bullpen depth beyond the early innings is terrifying, and the Reds' bullpen is not something I wish to tail. I want the Reds early and often.
The Pick: Reds First 5 Innings ML (+115) 1 U to win 1.15 U