Analysis
MLB Picks Today, Best Bets, Odds, Predictions for June 11, 2023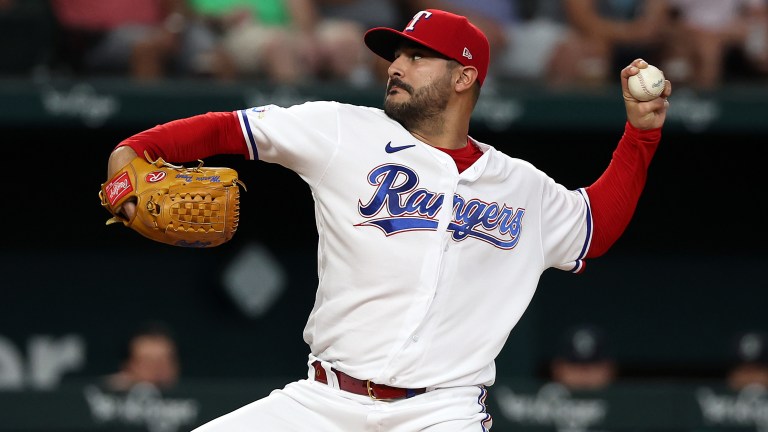 Friday was not a success. We went 1-2 on our game picks and lost our college baseball play. It is our worst day of the month, but I'm not too worried about it. We are back today with two of my favorite picks to end the week.
2023 Straight Plays Record: 89-67 (+17.34 U)
PrizePicks Record: -2.6 U
I'm using BetMGM lines only this year. Here's a link to get started with a risk-free $1000 bet.
All prop entries will be on PrizePicks: Here's a link to get a 100% deposit match.
Texas Rangers vs. Tampa Bay Rays @ 1:40 PM EST
Pitching Matchup: Martin Perez vs. Shane McClanahan
This game jumped out at me immediately. I'm upset that I wasn't quick enough to grab the opening total of 7.5, but 8 is fine by me.
For one, you are probably all aware of my opinion of Martin Perez. I've won plenty of times by just taking the over in his games, but when I bet against him for the opposing team, I donate to the Martin Perez fund.
The Texas Rangers come to play when Martin Perez is on the mound. In the National League, Spencer Strider leads in run support when he pitches at 7.33 runs per nine innings. Rich Hill of the Pirates is also in the sevens, but most pitchers are between 3-5 runs per nine innings. In the American League, Martin Perez trounces all. Perez gets, on average, 9.13 runs of support per nine innings. That's so much higher than everyone else, including Zach Eflin, who ranks second in the AL at 7.70. Do you know who ranks third? Shane McClahanan.
Martin Perez is due for regression. I will keep saying it until I turn blue in the face. His 4.93 xERA has him sitting in the 26th percentile in baseball. He's doing an average job of limiting hard contact, but his 14th-percentile strikeout rate and 10th-percentile whiff rate tell me this contact will continue to get the best of him. Today, he's dealing with Rays' contact.
The Rays are very good against lefties, but they are a juggernaut at home when facing a southpaw. This season, they are rocking a 170 wRC+ against left-handers. The only other team that comes close is the Cardinals, at 150. Next up are the Braves and the Rangers in the 140-ish range. The Rays are simply on another level. Also, as noted before, they show up offensively for Shane McClanahan's starts.
Shane is very, very good. Jack McMullen just wrote a piece on why he's the best pitcher in baseball. That's why this total is lower; we have two pitchers with ERA's under 4.00. I'm not here to tell you why Shane McClanahan is due for some blow-up, but there are a few things working against him.
For one, his xERA is 3.59, almost a full run higher than his 2.79 mark last season. His 3.51 FIP is the worst of his three-year career, as is his 3.58 xFIP and his 19% K-BB%. He's facing a Rangers team with a 131 wRC+ against lefties on the road this season, good for third in baseball. Shane also has an issue with allowing free passes, and the Rangers are one of three teams with a walk rate above 11% against lefties.
The bullpens do not scare me in the slightest. The best arms in the Rangers bullpens are lefties, putting the Rays in their preferred split. With Pete Fairbanks out due to hip injury and Jason Adam and Colin Poche throwing in two of the last three games, the Rays bullpen leaves much to be desired.
The model has this game capped at nine runs; take the over up to 8.5 (-105).
The Pick: Rangers vs. Rays Over 8 (-105) 1.05 U to win 1 U
Cincinnati Reds vs. St. Louis Cardinals @ 2:15 PM EST
Pitching Matchup: Hunter Greene vs. Adam Wainwright
Adam Wainwright has turned in an amazing career, but I do feel this is the end of his dominance, and it's already started to show. His 5.97 ERA is troublesome, but his advanced data shows that even more regression is coming.
Finding a metric that isn't the worst of his career is challenging. His velocity is down across the board, and batters are taking full advantage. He now sits with a 6.63 xERA and 5.40 SIERA. He's not a big fan of facing the Reds, as Great American Ballpark has been his kryptonite his entire career. He will pitch at Busch Stadium, his favorite place to pitch, but the Reds have seen him so often that they know what to expect.
With the emergence of Elly De La Cruz, this lineup can get on you quickly. They have plenty of solid bats at the top of the lineup combined with this new speed element. With a 40-year-old on the mound, this fast team can give him fits. You can expect them to run at will with how many base runners he's allowing.
This is a pretty large starting pitching mismatch. Hunter Greene has not only been fantastic on the road (2.16 FIP), but his 3.51 xERA puts him in the 70th percentile among the well-above-average pitchers in the game. He's also given the Cardinals issues. The Cardinals don't love facing high velocity, especially from the right side, and Greene is setting records for starters hitting 100 MPH.
Busch Stadium is the lowest projected run-scoring environment, which plays more into Greene's hands. He's had a home run issue, but the parks are playing toward the pitchers.
Through 64 PA against the Cardinals' current roster, Greene is rocking a .308 xwOBA, a .192 xBA, and a .352 xSLG. Through 57 PA against the Reds' current roster, Wainwright is rocking a .327 xwOBA, a .313 xBA, and a .430 xSLG.
I'm not trying to decide which bullpen will perform better after each starter exits. I'm going to attack the mismatch, the starting pitchers. The model has the Reds winning through the first five innings 2.5 to 2.1, and considering the first five ML is plus money, I have to take it.
If they are tied after five, we have a push. I don't think we will; I think the Reds take the early lead. Play this to -105; anything beyond that, lower unit size.
The Pick: Reds First 5 ML (+105) 1 U to win 1.05 U