Analysis
MLB Best Bets: Predictions, Odds for, Padres vs Pirates, Diamondbacks vs. Cardinals, Nationals vs. Giants (4/29/22)
Three MLB Best Bets for April 29, 2022.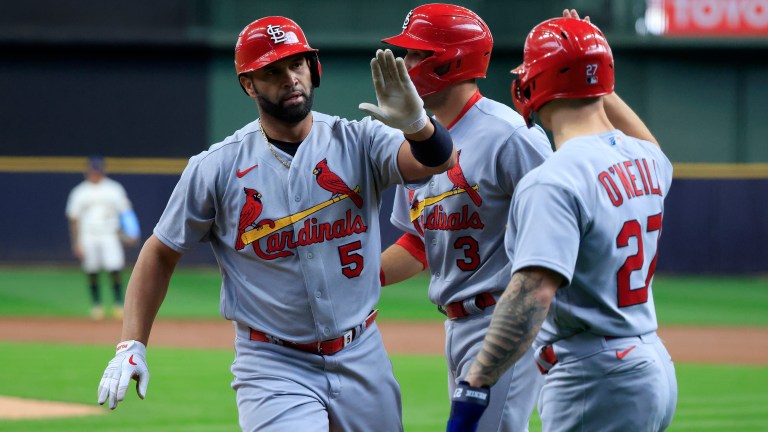 We had our second-straight positive day and seven positives in the last ten days. The Cardinals and Padres' first five innings bets hit easily, but the Guardians could not pull through as an underdog (+135). We have three more picks today, plus a bonus pick you can find on my Twitter.
Peter's 2022 MLB Regular Season Record: 42-22 (66%) +20.19 units
Subscribe to my new Gambling/Fantasy Baseball Podcast: Not Gambling Advice.
San Diego Padres First 5 In -0.5 (-115)
Yu Darvish (RHP, Padres): [1-1, 4.43 ERA, 1.08 WHIP, 20.1 IP, 20 K, 9 BB]
Zach Thompson (RHP, Pirates): [0-2, 10.80 ERA, 2.70 WHIP, 10 IP, 9 K, 7 BB]
The Padres and Pirates begin game one of a three-game series tonight at 6:35 PM EST. After sweeping the Reds in their building, the Padres hop on a short flight to Cincinnati. The Pirates are amidst a homestand, dropping three-straight to the Brewers. Something has to give here, and I think it'll be the Pirates today.
In his last start, Darvish was dominant against the Dodgers, while Thompson was the opening pitcher in the 21-run loss against the Cubs in his previous start. There is a clear starting pitcher and offense advantage for the Padres, and even with them being on a travel day, I still think this is the play.
Darvish is coming off an excellent start, but he also has great numbers against the Pirates. Through 62 PA against the Pirates' current roster, he's rocking a 2.67 FIP, .190 opponent batting average, a .210 xWOBA, and a .257 xSLG. The Pirates' best hitter, Bryan Reynolds, is just 1-for-10 against Darvish with four strikeouts. Darvish faced the Pirates twice last season, winning both starts. He threw 12.2 innings, allowing just three runs on nine hits with 14 strikeouts.
Thompson, on the other hand, has struggled against current Padres hitters. It's a smaller sample with just 25 PA, but he's pitched to an 8.32 FIP, a .350 opponent batting average, a .355 xWOBA, and a .425 xSLG. He faced the Padres twice last year, allowing seven runs over nine innings. The Padres have scored at least seven runs in their previous three games, and I think they get to Thompson early and often.
Thompson has looked more like a minor league pitcher to begin the 2022 season, and I don't think he will look any different tonight. Darvish should be able to shut down the Pirates if he has command of his arsenal. That, combined with a formidable Padre offensive front, will be the difference. Manny Machado has been playing like an MVP this season, and this Padres ball club has been able to get the scoring going early. I would take the Padres up to -125 through the first five innings.
St Louis Cardinals First 5 In -0.5 (-120)
Madison Bumgarner (LHP, Diamondbacks): [0-1, 1.00 ERA, 1.22 WHIP, 18 IP, 13 K, 10 BB]
Adam Wainwright (RHP, Cardinals): [2-2, 3.86 ERA, 1.57 WHIP, 21 IP, 22 K, 7 BB]
The Cardinals and Diamondbacks begin game two of their three-game series tonight. The Cardinals trounced the Diamondbacks 8-3 in game one. We quickly hit our first five-inning bet, and I'm willing to go again.
However, anyone who bet on the Cardinals' run line must have been sweating as the Diamondbacks had the bases loaded, down five, and a grand slam would have been such a bad beat. Thankfully Nick Wittgren froze Daulton Varsho with a sinker down and away to end the ballgame. Today we have a matchup between two ageless wonders: Adam Wainwright and Madison Bumgarner.
Wainwright takes the ball for the Cardinals, and we all know how good he is at Busch Stadium. He has one start at home this year, where he didn't allow a run over six innings. Last season, he rocked a 2.74 ERA at home versus a 3.58 ERA on the road. He'll face one of the worst lineups in baseball. Not only is the lineup terrible, but Wainwright has also had success against them. Through 63 PA, he has a 2.34 FIP, a .246 opponent batting average, a .267 xWOBA, and a .351 xSLG. The best hitter in Arizona's lineup, Ketel Marte, is 0-for-9 with two strikeouts against Wainwright. I don't even know how the Diamondbacks will score in this one.
Madison Bumgarner is enjoying a great start to the season, but that ends today against a team with his number. He faced the Cardinals one last year at home, allowing six earned runs in just four innings. Through 253 PA, Bumgarner has a 5.93 FIP, a .290 opponent batting average, a .446 xWOBA, and a .667 xSLG. Five hitters in the Cardinals lineup are hitting over .300 in their career against Bumgarner.
The Cardinals are playing with confidence, putting up 18 runs in their last two contests. The Diamondbacks, on the other hand, couldn't hit a beach ball, scoring only three runs against garbage time relievers. I would take the Cardinals through the first five innings at about any value below -140. I am considering taking their spread on the whole game as well.
San Francisco Giants First 5 In -0.5 (-135)
Aaron Sanchez (RHP, Nationals): [0-1, 8.31 ERA, 1.62 WHIP, 4.1 IP, 1 K, 1 BB]
Alex Wood (LHP, Giants): [2-0, 2.51 ERA, 1.19 WHIP, 14.1 IP, 16 K, 4 BB]
The Giants take on the Nationals in the first game of a three-game set. The Giants will be sending Alex Wood to the mound, and Washington will counter with Aaron Sanchez. Sanchez was on the Giants last year so San Francisco will have a full scouting report on him. Not only that, but the Nationals played in Washington last night and now have to travel across the country to play a Giants team in the middle of a homestand. NOT ONLY THAT, the Giants had an off-day yesterday, so they are ready to roll.
Alex Wood is off to a great start, but he admittingly doesn't have sparkling numbers against the Nationals' current roster. Through 66 PA, he's pitched to a 3.99 FIP, a .288 opponent batting average, a .354 xWOBA, and a .499 xSLG. Once we dig a bit deeper, we see why. Cesar Hernandez is 5-for-16, but Patrick Corbin (the pitcher) is 4-for-7 off Alex Wood.
The hitters that could cause damage, Juan Soto, Nelson Cruz, and Josh Bell, are a combined 1-for-11 against Wood with four strikeouts. In his last start, he faced the Nationals, throwing five innings of a two-run ball. That was on the road, and now he gets them at home. The Nationals have been dreadful against left-handed pitching this year. Wood should dominate at home, where he prefers pitching anyway.
Aaron Sanchez has solid numbers against the Giants' current roster in a tiny sample. Through 25 PA, he's rocking a 3.20 FIP, a .273 opponent batting average, a .328 xWOBA, and a .428 xSLG. Joc Pederson will probably not play due to a groin injury, but the rest of the lineup should be ready. I love that Sanchez was on the Giants last year; I am confident the Giants will get to their former teammate after fully understanding his arsenal.
The Giants pounded Washington pitching last weekend, scoring 24 runs, and they had scored 36 runs in their five games before Wednesday's loss. The Giants will bounce back substantially early in this one. I would take the Giants through the first five innings up to -150.