Analysis
MLB Best Bets, Odds, Predictions for Reds vs. Cardinals, Padres vs. Giants for August 29, 2022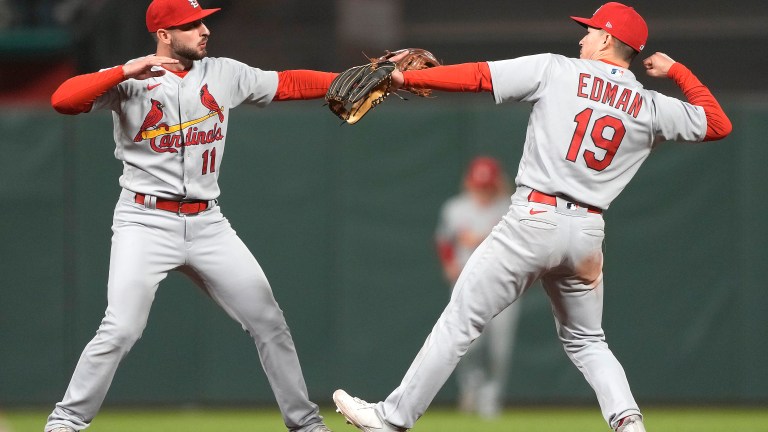 Overall, we ended the week positively. We did however mix in one of the worst days of the year on Saturday, going 0-4. We rebounded with a positive day yesterday, which we needed or we would have had our first negative week in a long time.
Today, I have four MLB Picks for you along with two player props that are only available on the podcast. Let's start the week off with a bang.
2022 MLB Regular Season Record: 185-154 (55%) +32.19 units
St. Louis Cardinals vs. Cincinnati Reds: 6:40 pm EST
Miles Mikolas (RHP, Cardinals) [10-10, 3.35 ERA, 1.02 WHIP, 164 IP, 121 K, 29 BB]
Chase Anderson (RHP, Reds) [2022 Debut]
It's a system play! We've played it over and over again this season, and outside of Cal Quantrill, it's our most profitable system during the MLB season.
The system is fading the offense of the team that plays on Sunday Night Baseball. Unfortunately for St. Louis, the Cardinals fit the bill today. This game will be played in Great American Ballpark, which is one of the scarier ballparks to play an under. It's a huge hitters park and the weather is supposed to be nice.
We have Miles Mikolas, one of the better pitchers in the National League, facing off against Chase Anderson who will be making his first start of the season. He's spent the year with two different teams in triple-A, posting a 4.20 ERA in 80 innings with a 1.33 WHIP. He has not been very good and he's not a prospect. He's a 34-year-old who's played in the majors, for now, on five different teams and has not pitched in the bigs since 2021.
This is a gross pick because the Cardinals' offense is incredibly elite. They rank near the top of every stat since August began against both lefties and righties, and now they face a journeyman pitcher in a hitters ballpark. This could be the opportunity where the system fails, but we've faced similar circumstances without fail.
I'm sure Cardinals fans can appreciate this, as I've been told this and seen it first-hand, they come out slow against pitchers they've never seen before. It's a weird phenomenon, as they can beat up on basically anyone but the pitchers they are supposed to beat. It's doubtful Anderson dominates them, but I wouldn't be surprised if he turns in a decent start.
On the other side, we have Miles Mikolas, who has had some issues on the road this season. He's rocking a 4.21 ERA on the road with a higher walk rate and lower strikeout rate. At home, his ERA drops to 2.45, but he'll face a Reds offense that struggles against everyone.
Mikolas has had some rough outings in Great American Ballpark in his career, but they were before this trade deadline where the offense looks very different. The first four hitters in the lineup on July 24th, where he got crushed, are not even on the Reds anymore. Since the trade deadline, the Reds rank 29th in wRC+ against righties, and in the last two weeks, they rank 21st.
Mikolas has decent advanced numbers against the Reds, rocking a .327 xwOBA, a .257 xBA, and a .477 xSLG. Nick Senzel has had some success against him, but it's currently unclear whether he will suit up today as he's day-to-day.
Be careful when jumping on the Reds, because it's not as if they have great playing conditions either. They didn't have the luxury of an off day either, and now they have to travel from Washington to Cincinnati. It's not a long flight, but they won't be fully ready to rock either.
We aren't exactly sure who's pitching yet for the Reds, but it doesn't really matter. I'll take the first five under as my favorite play, but I do want to sprinkle on the Reds money line. I know it's gross, but it's so gross, that it just might work.
The Picks: Cardinals vs. Reds First 5 Innings Under 5 (-110), Reds First 5 ML (+165)
1.1 Units on First 5 Under to win 1 Unit, 0.5 U to Win 0.82 Units on Reds ML
_______
San Diego Padres vs. San Francisco Giants: 9:45 pm EST
Mike Clevinger (RHP, Padres) [4-5, 3.59 ERA, 1.16 WHIP, 80.1 IP, 70 K, 26 BB]
Carlos Rodon (LHP, Giants) [12-6, 2.81 ERA, 1.03 WHIP, 147.1, 189 K, 41 BB]
We head to San Francisco for the first game of a three-game set. I'm giving you another boring pick because this game is more than likely going to be extremely low scoring. Plenty of factors here working towards a pitcher's dual.
Let's start with Carlos Rodon, the league leader in fWAR and one of the best pitchers in the National League. Rodon will face a talented Padres offense that hasn't had much success against him. Through 63 PA, Rodon is working with a .327 xwOBA, a .243 xBA, and a .406 xSLG. The opponent average is .204 and the wOBA is .284, so the advanced metrics show that Rodon has been a bit lucky, but still dominant.
Rodon will probably be "lucky" again, as it's hard to find a better spot for him to pitch well today. He's been incredible pitching at Oracle Park this year, rocking a 1.86 ERA in 63 innings with a higher strikeout rate and lower walk rate than on the road.
While this Padres offense looks different, it's important to note that the Padres have faced him twice this season over 15 innings, and they've only mustered three earned runs on eight hits. The Padres are also at a disadvantage as they just played in Kansas City, and now have to travel to San Francisco without an off day.
Rodon will be aided by one of the best pitcher's parks in the league and bad weather for hitting. According to ballparkpal, Oracle calls for a 7% decrease in runs, the lowest of the day. The game-time weather calls for 58-60 degrees, only to get colder throughout the night.
On the other side, we have Mike Clevinger, who will be facing a beat up Giants offense that hasn't had much success against him in the past. It's only been through 20 PA, but it's against the meat of the Giants lineup. Wade Jr, Crawford, Longoria, Yastrzemski, and Flores are a combined 2-17 against Clevinger with six strikeouts.
Brandon Belt is on the IL, Joc Pederson, Luis Gonzalez, and Evan Longoria are all day-to-day and it's unclear whether they will be able to suit up. It certainly doesn't help that they just played in Minnesota, and now have to travel to San Francisco without an off day.
Even if they were at 100%, they rank 28th in wRC+ in the past two weeks against right-handed pitching at 58. They have been 42% below league average. That's just not good.
The Giants saving grace is they have a strong bullpen, but I doubt they'll need it much when Rodon throws a gem. If they do, they'll have Doval, Brebbia, Leone, and others with enough rest to be ready. On the Padres side, they'll have Hill, Martinez, Suarez, and others ready to come in after Clevinger, who should also pitch very well today.
This is an all-out war on the under, and I can't wait to watch this boring game unfold. The full game under can be found at 7.5, but I want the seven number at plus money. I don't think this game goes beyond six runs.
The Picks: Giants vs. Padres First 5 Innings U 3.5 (+100), Giants vs Padres Under 7 (+105)
1.0 Units First 5 Under to win 1 Unit, 1 Unit to Win 0.83 Units Full Game Under