Analysis
MLB Best Bets: Predictions, Odds for Guardians vs Angels, Cubs vs. Braves, Diamondbacks vs. Cardinals (4/28/22)
Three MLB Best Bets, April 28, 2022.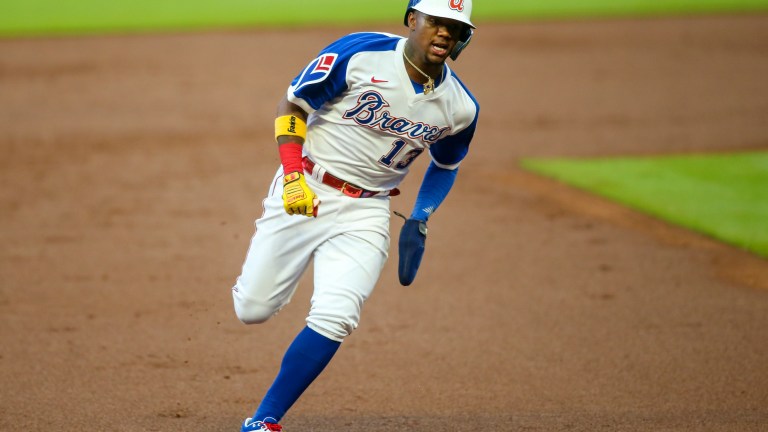 Great day yesterday. We went 2-1 and hit a NRFI bet that I dropped in our free baseball groupchat. It wasn't an official play, but we went positive. We hammered the under through the first five and the whole game in Marlins vs. Nationals, and that game ended 2-1. It hit with flying colors, but our under in White Sox vs. Royals did not have the same luck. If we bet them through the first five, we would have won. We learn from our mistakes and move on to today.
Peter's 2022 MLB Regular Season Record: 40-21 (66%) +19.19 units
Subscribe to my new Gambling/Fantasy Baseball Podcast: Not Gambling Advice.
Atlanta Braves First 5 In -0.5 (-125)
Drew Smyly (LHP, Cubs): [1-1, 2.45 ERA, 1.02 WHIP, 14.2 IP, 9 K, 2 BB]
Kyle Wright (RHP, Braves): [2-0, 1.06 ERA, 0.76 WHIP, 17 IP, 26 K, 2 BB]
The Braves take on the Cubs in game two of their three-game series. The Cubs won yesterday's game 6-3 after a Patrick Wisdom home run in the tenth put them over the top. Not only will Ronald Acuna Jr be making his long-awaited return, but Kyle Wright is the real deal, and I'll be tailing him today.
Drew Smyly takes the ball for Chicago, and although off to a great start, I'm not sure how long this will last. He had a 4.48 ERA last year, and this year, he's faced the Pirates twice and the Rockies. Not the best competition. He'll face a Braves lineup beating up on left-handed pitching to a .755 OPS compared to a .684 OPS against righties. Ozzie Albies is an MVP candidate as a right-handed bat and pedestrian as a lefty. He'll lineup right-handed against the lefty in Smyly. On the road against a formidable lineup coming off a loss makes me think Smyly will be exiting early in this one.
Kyle Wright takes the ball for Atlanta, and if you want to dive deeper into what has led to the breakout, check out the article linked above. The Cubs have a solid offense, but Wright should be able to quiet the bats early, especially pitching in his home ballpark. I think the Cub's offensive numbers are inflated after putting up a 21-run performance. Coming off a win last night in extras, I think they come back to earth. I'm tailing the Braves through the first five, and I would take it to -130. Ronald Acuna Jr is back, baby; go Braves.
St Louis Cardinals First 5 In -0.5 (-110)
Humberto Castellanos (RHP, Diamondbacks): [1-0, 3.00 ERA, 1.25 WHIP, 12 IP, 8 K, 5 BB]
Dakota Hudson (RHP, Cardinals): [1-1, 3.95 ERA, 1.17 WHIP, 13.2 IP, 10 K, 6 BB]
The Cardinals begin game one of a series against the Diamondbacks, who just took two of three games against the Dodgers. The Diamondbacks now have to travel from Arizona to St. Louis without an off-day to play a Cardinals team on a homestand. Not only that, but the Cardinals are coming off a commanding win, while the Diamondbacks are due for regression.
Humberto Castellanos gets the nod for the D-Backs against Dakota Hudson tonight. The 24-year-old has been solid this season in limited work. He has just one start over five innings this year, allowing four hits and two earned runs. Castellanos has only seen starters in the Cardinal's lineup over 9 PA, so his stats are difficult to weigh in. Of the 8 ABs against Castellanos, Goldschmidt, O'Neil, and Edman have a hit. The weather should be warm in St. Loius; I think the bats will come to play today.
Dakota Hudson didn't pitch much in 2021 but is off to a nice start with the Cardinals. Hudson has found success against this current Diamondbacks roster in another tiny sample. In 19 PA, he's pitched to a 4.66 FIP, .288 xWOBA, a .133 opponent batting average, and a .233 xSLG. The Diamondbacks' offense is terrible. They had one game where they put up 11 runs this year, but they haven't scored more than five runs in a game. The Cardinals beat up Carrasco last night, and Castellanos is a worse pitcher. Castellanos averages 89 MPH on his fastball, but he throws many curveballs and sliders.
The Cardinals are ready to take care of business, and they'll be fired up after that bench-clearing brawl last night. The Diamondbacks have indeed shown flashes of an improved roster on the defensive end, but they still have been pitiful at the plate in 2022, batting .178 as a team. Dakota Hudson is not the ace of this Cardinal's pitching staff, but he is capable of keeping balls in the yard and giving his offense a chance. Arizona was lucky enough to take two games from the Dodgers thanks to defensive miscues, but that's not repeatable. The Cardinals will also get the bats going early against an unproven pitcher on the road. I am backing the Cardinals through the first five innings, and I would take it up to -115.
Cleveland Guardians ML (+135)
Cal Quantrill (RHP, Guardians): [1-0, 3.94 ERA, 1.19 WHIP, 16 IP, 6 K, 7 BB]
Reid Detmers (LHP, Angels): [0-1, 6.57 ERA, 1.30 WHIP, 12.1 IP, 12 K, 4 BB]
Alright, I've had enough. Vegas does not value Cal Quantrill as I do. He's one of the pitchers I most commonly bet on because I always find value with him on the mound. The Angels have won the first three games of this four-game series, and I have a hard time believing they sweep this Guardians team with Quantrill on the mound.
I like this game for several reasons. The Angels are playing well, but it's challenging to pull out a four-game sweep after winning three straight. The starting pitching matchup favors the Guardians, and the bullpen favors the Guardians. The Angels have a better offense and are at home, but with all of these factors, +135 is fantastic value.
Cal Quantrill is off to a solid start, even if the strikeout and walk numbers aren't ideal. Quantrill's peripherals don't look great as a result, but he outperformed those last year, and I'm expecting him to do it again. He doesn't allow a lot of hard contact and keeps the ball on the ground. He'll face an Angels lineup that just put up nine runs yesterday. He faced the Angels once out of the bullpen and once out of the rotation last year. Overall, he's thrown 8.1 IP while allowing five hits and one earned run. This is a different Angels lineup than last year, so let's look at how he is against the current roster. Through 22 PA, he's rocking a 0.70 FIP, a .192 xWOBA, a .190 opponent batting average, and a .192 xSLG. It's a tiny sample, but those are great numbers.
Reid Detmers takes the ball for the Angels, and he's off to a plodding start. He's averaging about four innings a start while allowing three runs. The Guardians have struggled off left-handed pitching this year, but Detmers feels like the guy to balance out those stats. I say this isn't just because Detmers is off to a rough start, but because of the success of the Guardians. Detmers threw five times last year, and one was against Cleveland. He threw 3.2 innings while allowing seven hits and three earned runs. Against the Guardians' current roster, through 18 PA, he's pitched to a 10.47 FIP, a .391 xWOBA, a .467 opponent batting average, and a .497 xSLG. Again, tiny sample, but those numbers are beyond dreadful.
The Guardians will have most of their bullpen arms available, and they have performed better than the Angels bullpen (3.52 ERA vs. 4.19 ERA). The Angels could take their foot off the gas in this one, while the Guardians will do everything to avoid getting swept. I would take the Guardians down to +125.
____________________________
I've written up a quick guide with critical terms and helpful advice if you choose to tail my daily picks. This daily column is updated every day between 9:00 AM – 12:00 PM EST.