Analysis
MLB Best Bets, Predictions, Odds for Padres vs. Rockies, Brewers vs. Giants for July 14, 2022.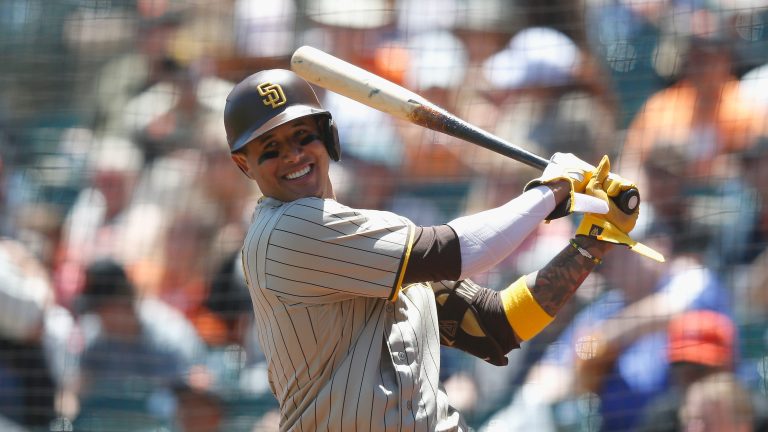 I'm not much of a superstitious person, but I think the gambling gods punished me for complaining about being mid. We got whipped into shape last night, going 0-3 on our picks. Granted, two were underdogs and we took an over, but nonetheless, they are losses in the books.
Today, I'm backing my baseball mind. I have three MLB Best Bets for you today with two being in the same game.
Short memory, no excuses, not gambling advice.
2022 MLB Regular Season Record: 131-109 (55%) +15.19 units
Milwaukee Brewers vs. San Francisco Giants: 9:45 PM EST
Corbin Burnes (RHP, Brewers) [7-4, 2.20 ERA, 0.89 WHIP, 106.1 IP, 134 K, 26 BB]
Carlos Rodon (LHP, Giants) [8-5, 2.70 ERA, 1.06 WHIP, 100 IP, 124 K, 32 BB]
Only once in a blue moon do we get a pitching matchup as good as this one. This game might end in the first tie since 2016. That game was between the Cubs and Pirates, where the game ended 1-1 after the sixth inning due to rain, and the game was eventually canceled. This game could end 0-0 when it's all over today. That was a long-winded joke with a baseball fact to let you know that runs will not be scored today.
We have two of the front runners for the NL Cy Young matching up against each other with below-average offenses. Each offense overall is not below average, but if we look at the splits, they certainly are.
The Brewers are rocking the seventh lowest OPS against left-handed pitchers this season and they'll go up against the train engine that is Carlos Rodon. Rodon has been fantastic all season, but he's at his best at home this year, rocking a 2.08 ERA in 39 innings at home versus a 3.10 ERA through 61 innings on the road. This will be his last start before the All-Star break, so he'll give you everything he's got.
Since July began, the Brewers rank 20th in wRC+ against southpaws with a .213 batting average, and few lefties are as good as Rodon. I also just watched them hit like shit yesterday, to say it lightly.
On the other side, we have Corbin Burnes, who is even better than Rodon in my eyes. That's not a diss on Rodon, as I believe Burnes is the best pitcher in baseball not named Jacob deGrom. The Giants have proved they can hit a left-handed pitcher, but they are league average against right-handed pitching in OPS. The Giants can get to high-velocity four-seamers, but the cutter/sinker combo should keep the bats at bay.
Since July began, the Giants rank 27th in wRC+ against righties with a .193 batting average. Again, there are few righties that are as good as Corbin Burnes. Burnes has also been better on the road this season, posting a 1.62 ERA through 50 innings versus a 2.72 ERA at home through 56 innings.
I also love that this game is being played at Oracle Park. Oracle ranks as a slightly below-average park for hitters, giving a slight advantage to the pitchers.
The total is incredibly low for a reason currently sitting at 6.5. We will rarely see totals lower than this, and I honestly think this total should be at 5.5. The Brewers will have to travel from Minnesota to San Francisco without an off-day to face off against the best version of Rodon. I think the Giants win this game but not enough to go against Corbin Burnes.
I think this game ended 2-1 in the Giants' favor, so I'll be on the super low total in the first five innings and on the full game to spread out the units.
The Pick: Brewers vs. Giants First 5 Innings Under 3 (-110), Full Game Under 6.5 (-110)
.82 Units to Win 0.75 Units on Each. Total 1.64 Units to win 1.5 Units
________
San Diego Padres vs. Colorado Rockies: 3:10 PM EST
Blake Snell (LHP, Padres) [1-5, 4.66 ERA, 1.38 WHIP, 46.1 IP, 61 K, 25 BB]
Kyle Freeland (LHP, Rockies) [4-7, 4.70 ERA, 1.37 WHIP, 97.2 IP, 105 K, 29 BB]
We head to Colorado for the final game of a four-game set. The Padres won the first game before losing two straight. Today I will be tailing Blake Snell, who looked fantastic in his last two starts and this is what I had to say about him on Twitter.
Blake Snell went into Los Angeles and threw five innings while striking out 12 Dodgers on July 1st. In his next start, he went into San Francisco, who has a very strong offense against lefties, and threw six innings of one-run ball while striking out 11. While Snell started off the season terribly, he's beginning to find his groove. Although he was touched up by the Rockies at Coors Field, I do like that he pitched there recently. He should adjust today.
In 130 PA against the Rockies' current roster, Snell has some solid numbers. He's rocking a 30.8% K rate with a .254 opponent batting average, a .234 xBA, a .298 xwOBA, and a .368 xSLG. Freeland's numbers against the Padres don't look quite as good. In 129 PA against the Padres' current roster, he has a 13.2% K rate, a .259 opponent batting average, a .350 xwOBA, a .279 xBA, and a .449 xSLG.
The Rockies can hit a left-handed pitcher, ranking near the top of the leaderboard this season in OPS against southpaws. They have not been very good recently, however, ranking 26th in wRC+ against lefties since July began. Freeland has also been worse at Coors Field throughout his career.
The Padres admittingly have been worse against lefties this season than the Rockies overall, and since July began. It's razor thin, sporting a 76 wRC+ since July began placing them one spot below the Rockies.
CJ Cron should return from injury today as he entered last night's game. He's done major damage off Snell in his career, so if he doesn't play, I love the Padres even more. I do expect him to suit up, however.
I am expecting this to be a split series, as four-game series often are. Give me the Padres money line today.
The Pick: San Diego Padres ML (-135)
1.35 Units to Win 1 Unit
____________
I've written up a quick guide with critical terms and helpful tips.