Rankings
College Baseball Top 25 (March 7th)
Just Baseball's top 25 NCAA baseball teams through the first week of March.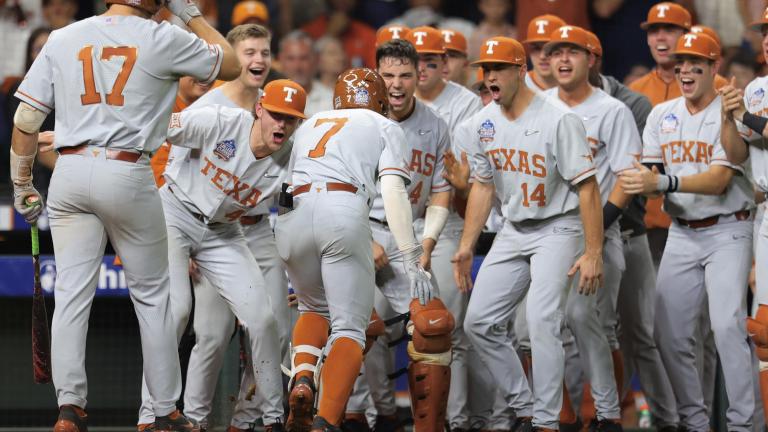 Welcome to the Top 25. This college baseball season has already had its fair share of upsets, exciting moments, and competitive rivalries. In the past week alone, we have seen Tulane move into the rankings after beating up on Mississippi State, along with NC State continuing a lengthy losing streak.
Below, we look at the top teams in the sport, and how they have done recently. On this week's episode of The Boys of Spring, we will go in-depth about the rankings and things to expect moving forward.
All game times in EST.
25. Maryland Terrapins (9-2)
Last 3 Games
3/4 vs Michigan – 4-7 L
3/5 vs Indiana State – 12-6 W
3/6 vs East Carolina – 3-6 L
Next 3 Games
3/8 vs VCU – 4 PM
3/9 at VCU – 3 PM
3/11 vs Georgetown – 4 PM
24. Tulane Green Wave (10-2)
Last 3 Games
3/4 vs Mississippi State – 2-19 L
3/5 vs Mississippi State – 11-10 W
3/6 vs Mississippi State – 5-4 W
Next 3 Games
3/9 at Southern Mississippi – 6 PM
3/11 vs Evansville – 6:30 PM
3/12 vs Evansville – 2 PM
23. Virginia Cavaliers (11-0)
Last 3 Games
3/4 vs Penn State – 10-1 W
3/5 vs Penn State – 10-4 W
3/6 vs Penn State – 13-1 W
Next 3 Games
3/8 vs George Washington – 3 PM
3/11 at Duke – 4 PM
3/12 at Duke – 4 PM
22. Wake Forest Demon Deacons (11-0)
Last 3 Games
3/1 vs Elon – 10-2 W
3/4 vs UMass Lowell – 13-3 W
3/5 vs Central Michigan – 4-2 W
Next 3 Games
3/8 at Coastal Carolina – 4 PM
3/9 vs George Mason – 6 PM
3/11 vs Florida State – 6 PM
21. Texas Tech Red Raiders (10-2)
Last 3 Games
3/5 vs Merrimack – 21-5 W
3/5 vs Merrimack – 20-2 W
3/6 vs Merrimack – 12-4 W
Next 3 Games
3/8 vs Mississippi State – 7 PM
3/9 vs Mississippi State – 6 PM
3/11 at Rice – 8 PM
20. Mississippi State Bulldogs (6-6)
Last 3 Games
3/4 at Tulane – 19-2 W
3/5 at Tulane – 10-11 L
3/6 at Tulane – 4-5 L
Next 3 Games
3/8 vs Texas Tech – 7 PM
3/9 vs Texas Tech – 6 PM
3/11 vs Princeton – 7 PM
19. Clemson Tigers (11-0)
Last 3 Games
3/4 at South Carolina – 3-2 W
3/5 vs South Carolina – 10-2 W
3/6 vs South Carolina – 5-2 W
Next 3 Games
3/8 vs East Tennessee State – 4 PM
3/9 vs Michigan State – 6 PM
3/11 vs Northeastern – 4 PM
18. Georgia Bulldogs (9-2)
Last 3 Games
3/4 at Georgia Tech – 7-11 L
3/5 vs Georgia Tech – 0-7 L
3/6 vs Georgia Tech – 12-3 W
Next 3 Games
3/8 vs Georgia Southern – 6:35 PM
3/9 at Georgia Southern – 6 PM
3/11 vs Lipscomb – 5 PM
17. North Carolina Tar Heels (11-1)
Last 3 Games
3/4 vs Coastal Carolina – 4-3 W
3/5 vs Coastal Carolina – 4-0 W
3/6 vs Coastal Carolina – 4-3 W
Next 3 Games
3/8 at Liberty – 4 PM
3/9 vs Georgetown – 4 PM
3/11 vs Pittsburgh – 6 PM
16. Arizona Wildcats (9-3)
Last 3 Games
3/4 vs Texas State – 7-2 W
3/5 vs Texas State – 2-6 L
3/6 vs Texas State – 3-7 L
Next 3 Games
3/8 vs New Mexico – 8 PM
3/11 at California – 8:05 PM
3/12 at California – 6:05 PM
15. Liberty Flames (10-1)
Last 3 Games
3/4 vs Canisius – 4-1 W
3/5 vs Canisius – 14-3 W
3/6 vs Canisius – 14-5 W
Next 3 Games
3/8 vs North Carolina – 4 PM
3/11 vs Campbell – 4 PM
3/12 vs Campbell – 2 PM
14. NC State Wolfpack (8-4)
Last 3 Games
3/4 vs Northeastern – 1-6 L
3/5 vs Northeastern – 5-8 L
3/6 vs Northeastern – 0-6 L
Next 3 Games
3/8 at UNC Greensboro – 3 PM
3/11 vs Notre Dame – 6 PM
3/12 vs Notre Dame – 2 PM
13. Georgia Tech Yellow Jackets (10-2)
Last 3 Games
3/4 vs Georgia – 11-7 W
3/5 vs Georgia – 7-0 W
3/6 vs Georgia – 3-12 L
Next 3 Games
3/8 at Mercer – 6 PM
3/11 vs Virginia Tech – 6 PM
3/12 vs Virginia Tech – 4 PM
12. Notre Dame Fighting Irish (8-1)
Last 3 Games
3/4 vs Illinois – 6-1 W
3/5 vs Michigan State – 2-1 W
3/6 at Minnesota – 3-1 W
Next 3 Games
3/8 at Elon – 4 PM
3/11 at NC State – 6 PM
3/12 at NC State – 2 PM
11. Florida Gators (10-3)
Last 3 Games
3/4 at Miami – 2-5 L
3/5 at Miami – 8-1 W
3/6 at Miami – 11-3 W
Next 3 Games
3/8 vs Jacksonville – 6 PM
3/9 vs Jacksonville – 6 PM
3/11 vs Seton Hall – 6:30 PM
10. Florida State Seminoles (7-4)
Last 3 Games
3/4 vs California – 4-3 W
3/5 vs California – 7-4 W
3/6 vs California – 3-5 L
Next 3 Games
3/8 vs Florida Gulf Coast – 6 PM
3/11 at Wake Forest – 6 PM
3/12 at Wake Forest – 1 PM
9. Oklahoma State Cowboys (6-4)
Last 3 Games
3/2 at Arizona State – 11-6 W
3/4 vs Gonzaga – 3-4 L
3/5 vs Gonzaga – 1-2 L
Next 3 Games
3/7 vs Gonzaga – 3 PM
3/8 vs Missouri State – 5 PM
3/10 vs Brigham Young – 5 PM
8. Tennessee Volunteers (10-1)
Last 3 Games
3/4 vs Texas – 2-7 L
3/5 vs Baylor – 10-5 W
3/6 vs Oklahoma – 8-0 W
Next 3 Games
3/8 vs James Madison – 7:30 PM
3/9 vs James Madison – 7:30 PM
3/11 vs Rhode Island – 7:30 PM
7. Vanderbilt Commodores (10-2)
Last 3 Games
3/5 at Hawaii – 12-1 W
3/5 at Hawaii – 13-1 W
3/6 at Hawaii – 2-1 W
Next 3 Games
3/11 vs Wagner – 5:30 PM
3/12 vs Wagner – 3:00 PM
3/13 vs Wagner – 2:00 PM
6. Oregon State Beavers (9-1)
Last 3 Games
3/4 vs UC Irvine – 7-2 W
3/5 vs UC Irvine – 9-5 W
3/6 vs UC Irvine – 2-3 L
Next 3 Games
3/11 at Washington State – 6:05 PM
3/12 at Washington State – 5:05 PM
3/13 at Washington State – 4:05 PM
5. Stanford Cardinal (8-3)
Last 3 Games
3/4 vs Cal-Northridge – 3-9 L
3/5 vs Cal-Northridge – 6-2 W
3/6 vs Cal-Northridge – 3-2 W
Next 3 Games
3/11 vs Oregon – 9:05 PM
3/12 vs Oregon – 5:05 PM
3/13 vs Oregon – 3:05 PM
4. Louisiana State Tigers (9-3)
Last 3 Games
3/4 vs Oklahoma – 5-4 W
3/5 vs Texas – 1-6 L
3/6 vs Baylor – 6-9 L
Next 3 Games
3/8 vs McNeese – 7:30 PM
3/11 vs Bethune-Cookman – 7:30 PM
3/12 vs Bethune-Cookman – 3 PM
3. Arkansas Razorbacks (7-3)
Last 3 Games
3/4 vs Southeastern – 7-3 L
3/5 vs Southeastern – 4-2 W
3/5 vs Southeastern – 11-1 W
Next 3 Games
3/10 vs Illinois-Chicago – 4 PM
3/11 vs Illinois-Chicago – 4 PM
3/12 vs Illinois-Chicago – 3 PM
2. Ole Miss Rebels (10-1)
Last 3 Games
3/4 at UCF – 8-7 W
3/5 at UCF – 0-1 L
3/6 at UCF – 9-1 W
Next 3 Games
3/8 vs Memphis – 7:30 PM
3/9 vs Alcorn State – 7:30 PM
3/11 vs Oral Roberts – 7:30 PM
1. Texas Longhorns (11-1)
Last 3 Games
3/4 vs Tennessee – 7-2 W
3/5 vs LSU – 6-1 W
3/6 vs UCLA – 1-5 L
Next 3 Games
3/8 at Texas State – 7 PM
3/9 vs Texas State – 7:30 PM
3/11 at South Carolina – 7 PM