Analysis
Fantasy Baseball Picks: Best DFS Targets for June 22nd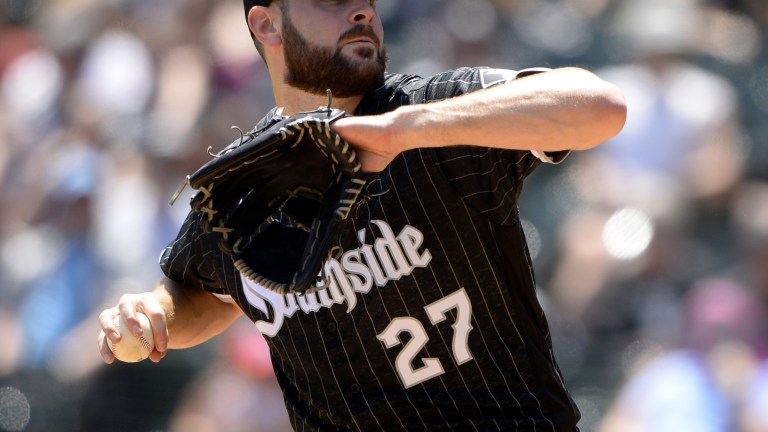 All 30 MLB teams are in action today, which should make for a really fun DFS slate. There were a lot of options to go with at each spot, but these guys are the best choices for June 22nd.
Starting Pitchers:
Lucas Giolito vs. Pirates ($9,400)
I don't have to spend much time convincing you how bad the Pirates are, they have been taking care of that for me since April. The Pirates rank last in baseball with a .651 OPS and have scored the least runs in baseball.
As for Lucas Giolito, he has been regaining his form over his last seven starts, pitching to a 3.33 ERA while striking out 60 in just 46 IP. Giolito has posted more than 20 fantasy points in five of his last six starts and I don't expect him to slow down against a lowly Pirates team. There should not be six pitchers more expensive than Lucas Giolito today.
Sandy Alcantara vs. Blue Jays ($8,700)
If Freddy Peralta wasn't $1,300 more than Alcantara, I would probably lean his direction, but $8,700 for Sandy is just too much of a bargain to pass on. Yes, the Blue Jays are a tough offense for any pitcher to face, but Alcantara is coming off of one of the best starts of his season (8.1 IP, 0 ER) and has gone at least eight innings in three of his last five starts.
Alcantara has been especially tough at home, pitching to a 2.38 ERA in seven starts inside of the cavernous loanDepot Park. If the Blue Jays lineup scares you too, much you could side with one of the more expensive pitchers, but Sandy Alcantara at $8,700 could put you over the top.
Catcher:
Max Stassi vs. Giants ($3,900)
The catching position is the definition of feast of famine. If you are not paying a premium for one of the best catchers in the game, you are usually throwing a dart. Right now, Max Stassi is much better than a blind dart throw, though his price implies that he isn't.
Stassi has been one of the hottest catchers in baseball, raking to a .367/.446/.694 clip with 4 HR and 11 RBI over his last 15 games. I don't know what the hell has gotten into Max Stassi in his age 30 season, but I love it. Who needs that Trout guy anyways?
Premium option: Gary Sanchez ($5,300) – I can't believe I put the word premium next to Gary Sanchez, but look at the numbers right now.
First Base:
Bobby Dalbec vs. Rays ($2,700)
Dalbec is always going to be a boom or bust option for your lineup. If he booms you are likely to be in great shape because he is generally pretty cheap due to his inconsistencies at the plate (9 HR, 36 K%). If there is one thing that you can rely on with Dalbec it is that when he is hot he is HOT. Right now happens to be one of those times for the 25 year-old.
Slashing .342/.390/.711 over his last 10 games with three homers, Dalbec has been a force. Lets hope the wave doesn't crash just yet for Bobby Barrels, but at $2,700 it's a risk I'm willing to take.
Premium option: Matt Olson vs. Rangers ($5,600)
Second Base:
Jazz Chisholm Jr. vs. Blue Jays ($3,500)
I'll be honest, this is the one spot where nobody really stood out to me. When that happens, you just have to chase value and Jazz Chisholm Jr. is value at $3,500.
Jazz can fill up the stat sheet in a lot of different ways thanks to his power, speed combo (8.5 FPPG). The electric rookie has been a bit up and down this season, but despite only homering once in his last ten games is still averaging eight FPPG in that span.
The Marlins second baseman has enjoyed hitting at home more this season, posting an OPS nearly 100 points higher than on the road. High velocity has given the young left-handed hitter trouble at times this year, but Ross Stripling is just in the 31st percentile in average fastball velocity.
Premium option: Jonathan Schoop vs. Cardinals ($4,800)
Shortstop:
JP Crawford vs. Colorado ($3,700)
Another value play? Yep. You'll see why when we get to the outfield and third base. The crazy thing is the defensive-minded JP Crawford has been absolutely raking in June. Over his last 15 games, Crawford is slashing .361/.420/.557 with 10 RBI.
Opposite of Crawford is southpaw Kyle Freeland. Whatever you think Freeland's ERA is, double it. The 28 year-old has struggled to a 9.58 ERA in five starts this season and to sweeten things for Crawford even more he is a reverse splits guy meaning he hits better left on left (.848 OPS vs LHP, .687 OPS vs. RHP).
Premium Option: Trevor Story ($5,400)
Third Base
Jose Ramirez vs. Cubs ($5,700)
Now, we are reaching the point where you see why we were frugal with some of the infield selections. Not only is J-Ram one of the best hitters in baseball, but he has had success against Kyle Hendricks in a limited sample size. The Cubs pitching staff has struggled from the rotation to the bullpen besides Craig Kimbrel. I expect Jose Ramirez to pile on.
Bargain: Starlin Castro vs. Phillies ($3,300)
Outfield
Mookie Betts vs. Padres ($5,400)
After a slow start to his season, Mookie Betts is starting to return to his MVP form. Betts has hit four home runs in his last 10 games and any time Betts and the Dodgers meet up with the Padres the intensity level rises from the stars of each team.
Betts already homered in the first game of the series last night and was on just about every pitch he pulled the trigger on, just missing a multi-home run game a couple times. I'm expecting another bomb tonight against a struggling Blake Snell.
Mitch Haniger vs. Rockies ($5,000)
Remember all of that stuff I said about Kyle Freeland? Well, that is exactly why you MUST start the Mariners best hitter against him. I don't typically jump out of bed eager to stack Mariners in my lineup, but this is a rare occasion where it will suit you well.
Gerardo Parra vs. Phillies ($2,000)
I am guessing you probably had the "He is still around?!" reaction to seeing Gerardo Parra's name here, but just hear me out. Parra had been raking in Triple-A which earned him a promotion back to the Big Leagues for the Nationals yesterday where he provided a double in his first game back against the Mets.
Be sure to check that Parra is in the lineup today for the Nationals, but there is no reason he shouldn't be. Parra is 10 for 20 in his career against Zack Wheeler without a striking out once. I have no idea what is going on between Parra and Wheeler, but as literally the cheapest player on the slate this is an absolute steal.