List
College Opening Weekend: What to Watch
These are some of the most exciting matchups to tune into when college baseball finally returns on Friday.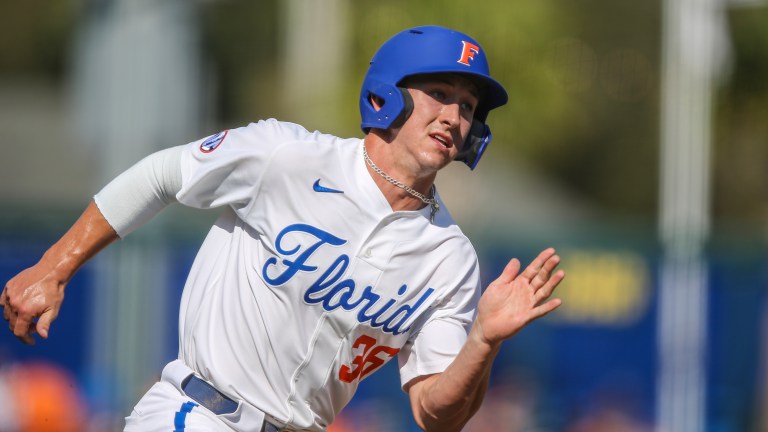 It is finally here. College baseball is back and will kick off this Friday, February 17th with high-profile action all day long. Traditionally, some big programs participate in events at a neutral site, playing different teams all weekend. I've been asked what the best way to watch games this season is, and without a doubt, I say ESPN+. For any sports fan, this $9.99 monthly subscription gives you access to documentaries, premium content, and any game you could think of.
Picking what to watch this weekend can be a daunting task, as so many teams are playing daily. Below, I'll make your decisions a bit easier, showcasing some of the top matchups to tune into.
College Baseball Showdown
Streamed on FloBaseball
The College Baseball Showdown is taking place at the newly built Globe Life Field in Arlington, Texas, with a talented lineup of participants. This year's showdown will feature the Vanderbilt Commodores, Oklahoma State Cowboys, Missouri Tigers, TCU Horned Frogs, Texas Longhorns, and Arkansas Razorbacks. The only con? The games aren't on TV or ESPN+, rather they will be streamed on FloBaseball, which costs $30 a month. Obviously, if affordable, you could watch some of the brightest teams and players in our game.
Schedule (All Times in CST):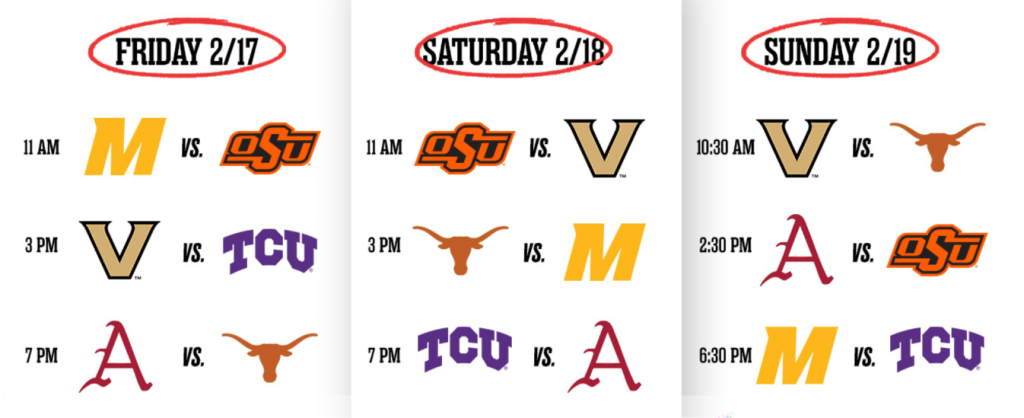 MLB Desert Invitational
Broadcast on MLB Network and MLB.com
Another exciting opening weekend event, the MLB Desert Invitational will take place from Friday to Monday with all games being broadcast on MLB Network and streamed on MLB.com. Games will take place at multiple locations across Arizona, including MLB spring training sites. This year's lineup features the juggernaut that is Tennessee, along with some exciting draft prospects.
Of course, Tennessee may have the best rotation in college baseball, headlined by Chase Dollander, who will presumably start on Friday. Arizona has a flamethrower of their own in TJ Nichols, which should make for a fun matchup.
For Grand Canyon, shortstop Jacob Wilson has received glowing reviews across the scouting industry and will figure to be a top-half first-rounder this July. Another shortstop to watch is Michigan State's Mitch Jebb, who tore up the Cape Cod League this past summer and is also getting first-round buzz.
Notable Games:
Friday, Feb. 17 – 8 PM EST: Arizona vs Tennessee
Saturday, Feb. 18 – 8 PM EST: Grand Canyon vs Tennessee
Monday, Feb. 20 – 1 PM EST: Grand Canyon vs Michigan State
Louisiana State vs Western Michigan
Streamed on SEC Network+ (ESPN+)
You would tune into this matchup for the Tigers, who are college baseball's best team. We can expect to see all of LSU's top dogs on the hill, including All-American Paul Skenes, who will start on Friday. At the plate, the Tigers' lineup features a star-studded cast of Dylan Crews, Tommy White, and Tre' Morgan, among others. The scores may be a bit lopsided, but getting to see this Louisiana State team in action will be fun.
Schedule:
Friday, Feb. 17 – 7:30 PM EST
Saturday, Feb. 18 – 2:30 PM EST
Sunday, Feb. 19 – 1:30 PM EST
Florida vs Charleston Southern
Streamed on SEC Network+ (ESPN+)
Much like the LSU-Western Michigan matchup, the main attraction here is the Florida Gators. The Gators have a talented rotation, and they will likely go with transfer flamethrower Hurston Waldrep on Friday. At some point this weekend, we can expect to see Pierce Coppola, who I ranked as the best left-handed pitcher in college baseball. On offense, Florida's lineup is headlined by outfielder Wyatt Langford, who is an early candidate to go first overall in this year's draft.
Schedule:
Friday, Feb. 17 – 7 PM EST
Saturday, Feb. 18 – 4 PM EST
Sunday, Feb. 19 – 1 PM EST
Campbell vs Rutgers
Streamed on ESPN+ Friday and Sunday
Campbell seems to always have a really good pitcher, and this year that guy is Cade Kuehler. He has drawn first-round buzz and will be facing a talented Rutgers lineup including outfielder Ryan Lasko, first baseman Chris Brito, and infielder Tony Santa Maria. Personally, I will most likely tune in on Friday, when Kuehler takes the ball for the Fighting Camels.
Schedule:
Friday, Feb. 17 – 5 PM EST
Saturday, Feb. 18 – 3 PM EST (Radio Only)
Sunday, Feb. 19 – 12 PM EST
Wake Forest Tournament
Streamed on ACC Network (ESPN+)
Here is a fun event to start the year, featuring the Demon Deacons, Illinois, and Youngstown State. Wake Forest is one of my personal favorites coming into 2023. This team features a strong lineup and rotation that should do damage all year long (and beyond). Since Wake Forest is the highlight of this weekend tournament, let's look at their schedule.
Schedule:
Friday, Feb. 17 – 4 PM EST: vs Youngstown State
Saturday, Feb. 18 – 4 PM EST: vs Illinois
Sunday, Feb. 19 – 8:30 AM EST: vs Youngstown State (Not Televised)
Sunday, Feb. 19 – 12:30 PM EST: vs Illinois