Analysis
MLB Best Bets, Odds, Predictions for White Sox vs. Mariners, Guardians vs. Royals for September 5, 2022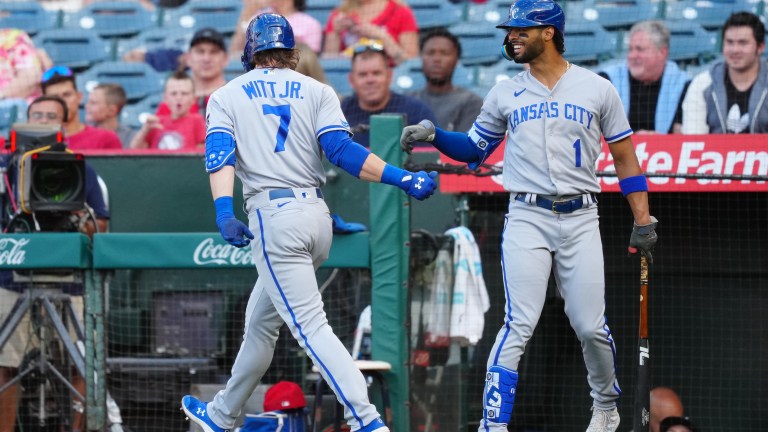 We had our first losing week in a month, and we had a terrible day yesterday. It's important not to overreact, as it's just one bad day after three straight winning days. We have two picks today to start the week off, along with props only available on the podcast.
2022 MLB Regular Season Record: 192-165 (54%) +27.69 units
Chicago White Sox vs. Seattle Mariners: 6:40 pm EST
Lance Lynn (RHP, White Sox) [4-5, 4.70 ERA, 1.14 WHIP, 84.1 IP, 91 K, 13 BB]
Marco Gonzales (LHP, Mariners) [10-12, 3.99 ERA, 1.38 WHIP, 146.2 IP, 80 K, 44 BB]
This may be a bad idea to unban the White Sox, but this spot is so up my alley that I can't help myself.
First, let's talk about line movement. The Mariners opened as short favorites at home at around -130, and at the time of writing, that has come down to -105. You'd think that everyone would be hammering the White Sox with this line movement, but all the money has come in on the Mariners.
We were on the Mariners vs. Guardians game last night, and I thought, if these two teams play tomorrow, they are due for let-down games. I feel bad for these teams; they had to suffer a four-hour rain delay and use the bulk of their bullpens.
The game didn't even stop after nine innings; it went into the 11th. The Mariners won the game, but now they have to travel from Cleveland to Seattle and play at 6:40 pm EST, which in Seattle is 3:40 pm EST.
The line is adjusting because it's assumed that some Mariners hitters will have an off day, and the White Sox are in a good spot here. The Mariners are the better team, and I do not doubt they have the magic, but the White Sox are also gunning for this division, and they get to face a left-hander where most of their offense this year comes from.
That left-hander is Marco Gonzales, who has some of the highest discrepancies in baseball between his ERA and his advanced metrics. His 4.82 xERA sits in the 16th percentile, and his 4.93 FIP and xFIP are the worst in the league among those who qualify. That's right, worst in the company. To put this in perspective, Patrick Corbin has a 4.92 FIP and a 4.17 xFIP.
At some point, this must normalize, and it would make sense that it could happen against these White Sox whose only saving grace is facing a left-hander. Since August 15, the White Sox rank third in wRC+ against lefties, and since the deadline, they have ranked seventh.
The Mariners bats have had almost zero success against Lance Lynn in their careers. Through 93 PA, the Mariners' current roster holds a .236 xwOBA, a .177 xBA, and a .214 xSLG while striking out 28% of the time. Lynn hasn't faced the Mariners this season, but he's starting to look like the old Lance Lynn, putting up a 2.45 ERA in August, and he hasn't allowed more than two runs in his last four starts.
The White Sox are banned for a good reason; at the end of the game, they'll find a way to blow it. Knowing this, I'm willing to play them at plus money through the first five innings in hopes they get off to a hot start.
The Pick: White Sox First 5 Innings -0.5 (+110)
1 Unit to Win 1.1 Units.
________
Cleveland Guardians vs. Kansas City Royals: 8:10 pm EST
Triston McKenzie (RHP, Guardians) [9-11, 3.18 ERA, 0.97 WHIP, 152.2 IP, 149 K, 39 BB]
Brady Singer (RHP, Royals) [7-4, 3.33 ERA, 1.15 WHIP, 121.2 IP, 124 K, 30 BB]
The Guardians are in a hole. They've lost eight of their last ten games and are now tied with the Twins for the division lead, and they sit just two games above the Chicago White Sox. Unfortunately, they are in another tough spot today, forced to travel from Cleveland to Kansas City after a four-hour rain delay and a game that went into extras where they were forced to use the bulk of their bullpen.
Let's talk about line movement. The Guardians opened as high as -160 favorites on some books, and that line has plummeted to -130. On PointsBet, the line opened at -160 and now sits at -130. On DraftKings, it opened at -155 and moved to -135. All books are different, but the line has made it easier to put money on Cleveland. At the time of writing, about 70% of the tickets, according to Action Network, are on the Guardians.
Similar to the last pick, the Guardians and Mariners are just in callous spots. Yesterday's game started at 2:40 pm EST, and I watched it until 10:45 pm EST. Not only did they suffer through an incredibly long delay, but they also played the game into the 11th inning. Now the Guardians must get on a plane and take a trip to Kansas City.
Luckily, the Guardians are in a slightly better spot than the Mariners. They don't have to switch time zones and at least get their game played later against an inferior team. The issue here is they are on the road and in a tailspin as a team.
Will they snap out of it against Brady Singer? I'm not sure they do, especially with how fantastic he's been lately. He's rocking a 2.92 ERA in August, which doesn't quite do him justice as his last start allowed four earned runs in 4.2 innings against the White Sox. He's been better at home this season, and although he's suffered some tough starts against the Guardians, his lone rough one was his first start of the year.
Singer's advanced numbers look strong against Cleveland. Through 69 PA, Singer has a .298 xwOBA, a .251 xBA, and a .345 xSLG. All those numbers, including average exit velocity and launch angle, are better than McKenzie's numbers against the Royals' current roster.
McKenzie is a good pitcher but can be beaten on the road. He's got a 3.43 ERA on the road versus a 2.84 ERA at home. He also has a 4.35 ERA during night games compared to a 2.13 ERA during day games.
The Royals will have Dylan Coleman and Scott Barlow available after Singer, who should give them six solid innings. The first five innings are a solid play here, but give me the value with the full game as the Guardians don't seem to have the same magic as the Mariners do and they don't have home-field advantage.
The Pick: Kansas City Royals ML (+115)
1 Unit to Win 1.15 Units.