Analysis
MLB Best Bets, Odds, and Predictions for Diamondbacks vs. Rockies, Guardians vs. Blue Jays, Brewers vs. Cardinals for August 12, 2022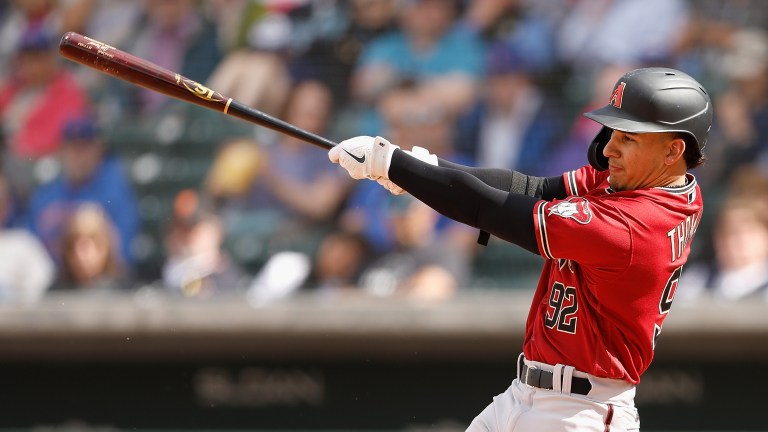 We went 1-1 yesterday which is better than losing, but certainly not better than sweeping as we have done in two of the four days this week.
We got fooled on the Field of Dreams over, but we smacked the Coors Field over. It's okay, I like the board much better today. We are 7-3 this week, let's make it 10-3.
2022 MLB Regular Season Record: 162-135 (54%) +28.59 units
Cleveland Guardians vs. Toronto Blue Jays: 7:07 PM EST
Cal Quantrill (RHP, Guardians) [8-5, 3.88 ERA, 1.28 WHIP, 123 IP, 79 K, 35 BB]
Jose Berrios (RHP, Blue Jays) [8-4, 5.19 ERA, 1.35 WHIP, 118 IP, 107 K, 29 BB]
I missed you, Cal Quantrill. It's only been five days, but I miss him. Sue me. I'll be targeting the first five innings in this one so I can isolate the king against the Blue Jays.
Opposing Cal Quantrill will be Jose Berrios who is one of the most inconsistent pitchers in Major League Baseball. It's difficult to predict his performance, but he has been much better pitching in Canada than pitching in the United States. He enjoyed a very solid July, and things looked like they were turning around. He then decided it was too good to be true and was blown up by the Twins in his first start in August.
What will we get from Berrios today? It's hard to tell, I'll be real with you. What we do know is the Guardians specialize against right-handed pitchers who rely on a curveball or slider. Berrios's breaking ball is labeled as a curveball, but it's more of a slurve that's in between those two pitches. Most teams struggle against these types of pitchers as they often strike out more than usual. The Guardians don't strike out, and they use this to their advantage.
The Guardians already used this to their advantage against him this season. They put up six earned runs in 4.2 innings in Cleveland. Again, that was in Cleveland, so it's challenging to predict what kind of performance we'll see from Berrios today.
Cal Quantrill has his troubles on the road. His 4.96 ERA on the road is certainly concerning, but his advanced numbers against the Blue Jays' current roster are very solid. It's a smaller sample of just 41 PA, but a .158 opponent batting average, a .238 xwOBA, and a .284 xSLG are fantastic. Whit Merrifield takes up 18 of those PAs, and he only has one hit to show for it. Quantrill hasn't faced the Blue Jays yet this season, and they won't know what hit them.
I'll be riding the Guardians through the first five innings on the money line in case of a push. Fade at your own peril.
The Pick: Guardians First 5 Innings ML (+145)
1 Unit to Win 1.45 Units.
______
Arizona Diamondbacks vs. Colorado Rockies: 8:40 PM EST
Zach Davies (RHP, Diamondbacks) [2-4, 4.03 ERA, 1.22 WHIP, 87 IP, 66 K, 30 BB]
Antonio Senzatela (RHP, Rockies) [3-6, 4.68 ERA, 1.68 WHIP, 84.2 IP, 50 K, 20 BB]
We have been very successful with Coors Field's over lately but now feels like the day that trend reverses. Zach Davies for Arizona tends to pitch well against the Rockies, and Antonio Senzaleta weirdly delivers solid outings at Coors Field. While the wind has been blowing out lately, it's blowing in today. This is always a dangerous bet, but the total is a bit too high for what these pitchers should deliver.
Zach Davies defies the laws of physics. He had alarming peripherals but continues to defy them and they have started to normalize as he lowered his Hard-Hit rate by a drastic amount. He now ranks in the 92nd percentile in Hard-Hit rate and the 90th percentile in average exit velocity. He's done a fantastic job of keeping the ball on the ground. While his pitch mix doesn't exactly fit well in Coors, he should deceive Rockies hitters similarly to how Dakota Hudson did through five innings yesterday.
He's been fantastic against the Rockies this season, throwing 11 innings without allowing a run. Both of those starts were at home, so the trend of shutouts should stop today. With all that said, he should give up much. Through 138 PA against the Rockies' current roster, he's rocking a .190 opponent batting average, a .352 xwOBA, and a .463 xSLG. The quality of contact against Davies is not bad, but the average exit velocity of 86 MPH shows why he defies physics.
Facing off against Davies is Antonio Senzatela who, for some reason, loves pitching at Coors Field. Dating back to 2020, he's had an ERA in the mid-threes at Coors Field and often gets blown up away from altitude. He's faced the Diamondbacks twice this season, throwing nine innings and allowing five earned runs. The top of the lineup for Arizona has demolished him, so we could see him struggle in the early goings.
The Diamondbacks haven't been striking out against righties, which somewhat falls into Senzaltela's plan. He'll make you put the ball in play, and with Arizona's 15th-ranked ISO since the All-Star break, I don't think it'll be for much power.
The Rockies have a very bad bullpen, but at least most of their better arms will be ready for today's matchup. Arizona is in the same boat, but their bullpen is a bit better.
The line opened at 12.5 and I took that under this morning and now as this article is being published, the line has moved down to 12. I'll still take it at 12, but the extra 12.5 is making me feel very good.
The Pick: Diamondbacks vs Rockies Under 12.5 (-115)
1.15 Units to Win 1 Unit.
_________
Milwaukee Brewers vs. St Louis Cardinals: 8:15 PM EST
Eric Lauer (LHP, Brewers) [8-3, 3.59 ERA, 1.22 WHIP, 112.2 IP, 111 K, 40 BB]
Jordan Montgomery (LHP, Cardinals) [4-3, 3.53 ERA, 1.08 WHIP, 119.2 IP, 98 K, 24 BB]
We head to St. Louis for the first game of a three-game set. We have two strong left-handers on the bump with an interesting trend that makes me lean towards a pitcher's dual in this one.
The line opened at 8 and has since moved down to 7.5 for the full game with everyone piling on the over. That's the first sign of a trap, but it makes a lot of sense why this game would go under.
Jordan Montgomery will get the ball for the Cardinals who had a fantastic first start for his new team against his old Yankees teammates. He threw five shutout innings and now he'll face a familiar foe for the Cardinals, but not familiar with him. He has faced a few hitters on the current roster over the years, but the Brewers as a team haven't seen him.
Since the All-Star break, the Brewers rank 20th in wRC+ with a .201/.305/.312 slash line with the 25th ranked ISO in that span. They don't hit the ball out of the ballpark against lefties, so if they score, they'll have to manufacture plenty of hits. The Cardinals are the best team in baseball on defense, so they'll really have to shoot balls into the gaps with authority to do so. Montgomery is in the upper quarter of baseball in Hard-Hit rate and the 65th percentile in average exit velocity. All of these factors tell me that Jordan Montgomery should provide a very solid start today.
Opposing Montgomery will be Eric Lauer who will face one of the best offenses in baseball against left-handed pitching. The only problem for them is they are coming off a series in Coors Field, and the altitude effect usually affects the offense early in games without a day to adjust. Lauer has not pitched very well against the Cardinals this season, allowing seven earned runs in 11 innings against them. Interestingly enough, Lauer has some very solid advanced numbers. In 82 PA against the Cardinals' current roster, he's rocking a .257 opponent batting average, a .322 xwOBA, and a .375 xSLG. The average exit velocity is also below 90 MPH.
The Cardinals are the number one offense since the All-Star break against left-handed pitching. I am discounting this due to the Coors effect without an off-day. I think the Cardinals bats come out slow out of the gate Jordan Montgomery makes quick work of the Brewers bats. Combine this with an off-day for the Brewers bullpen and enough high-quality arms in the Cardinals bullpen, we are riding this under.
The Pick: Brewers vs. Cardinals Under 7.5 (-110)
1.1 Units to Win 1 Unit