Analysis
KBO Picks and Predictions: Korean Baseball Betting for July 30, 2022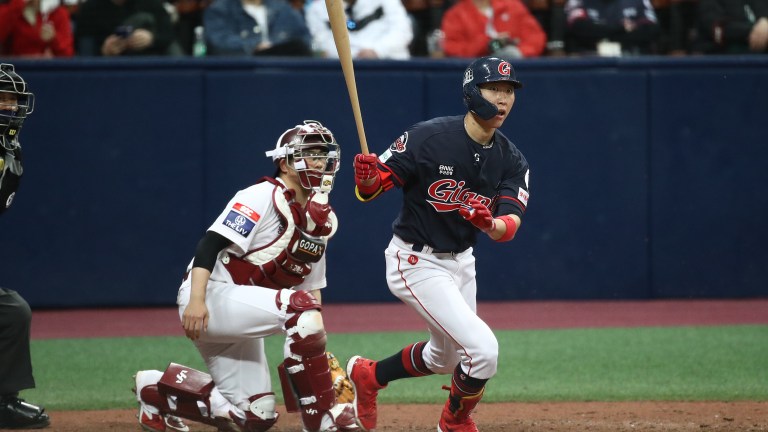 They said it couldn't be done. The people shouted from their rooftops for hours, emphatically proclaiming that one cannot be sharp betting the KBO. To all the doubters, the haters, and non-believers, open your mind. On Saturday, we go for a perfect 6-0 record, and there's still room on the KBO Krabs train.
I apologize for the delay in KBO plays. There is a method to my madness. I like to see a week or so of Korean baseball before I dive back in post-all-star break, which is fair, in my humble opinion. There is finally an overnight winner I am confident in giving out, and there is no better cure to a Friday night hangover than waking up to a KBO winner; it's better than coffee.
Doosan Bears vs. Hanwha Eagles – 5 AM EST
Pitching Matchup: Park Shin-zi vs. Felix Pena
Do you remember when I told you a few weeks ago that the Hanwha Eagles are the laughing stock of the KBO, and you should never put your hard-earned money on their team? Well, erase that memory from your mind because everything has changed. Hanwha has played some competitive baseball since returning from the All Star Break, sitting at 3-4-1. For the Eagles, this is like going undefeated. Could there be new life for Hanwha after a much-needed All Star break?
Hanwha is also throwing their newly imported ace Felix Pena, who opted out of his contract with the Mets mid-season, to join the Eagles. He pitched outstanding in the Dominican Winter League and decent enough with the Mets Triple-A affiliate to sign a $500,000 contract with Hanwha. Pena has yet to record a win in his four starts with the Eagles this season. It's safe to say that Pena has yet to live up to his new contract in the KBO. 
Hanwha's opponent tonight, the Doosan Bears, have won four games in a row, sitting just a few games out of the fifth and final playoff spot. Doosan has thirteen more wins than the lowly last-place Eagles, so why are they barely the favorite against them?
Doosan sits at a surprisingly short (-130) to defeat Hanwha on Saturday, which I think is the KBO trap line of the day. Any time you see Hanwha at this small of an underdog against a decent KBO opponent is a red flag for the Eagles' opponent. On a Friday night (where the KBO tends to see the most betting action), slightly intoxicated individuals may find themselves down units after a tricky MLB slate.
The public will be all over Doosan as a short favorite against the worst team in the league. Do they know that Doosan SP Park Shin-zi carries a 15.75 ERA against Hanwha this season? Probably not. The Eagles seem to have Park's number this season, and although there's a chance he gets pulled early as a starter/reliever hybrid, I'm willing to take my chances.
Hanwha's closer Hang Si-hwan has blown saves in two consecutive appearances, which is my only worry. Have no fear; I have found a simple solution to the Hanwha bullpen woes. If we think Hanwha will get to Park Shin-zi early, and the real advantage lies in "buying low" on Felix Pena to shove, let's eliminate Hanwha's bullpen from our bet altogether. The Eagles' bats have been significantly better since returning from the all-star break, led by ex-Yankees OF Mike Tauchman in the leadoff spot.
I'd be lying to you if I said my contrarian senses weren't tingling in this matchup, as Hanwha has lost their previous three home games, and Doosan enters on a four game winning streak. If teams like Doosan won every game against Hanwha, Vegas wouldn't be able to build such beautiful and extravagant resorts and casinos. Trust your KBO source to stay undefeated, and back the Hanwha Eagles to get it done early on Saturday.
The Pick: Hanwha First 5 Inning +0.5 (-125) 1 Unit