Analysis
Best Bets for World Series Game 5: Houston Astros vs Philadelphia Phillies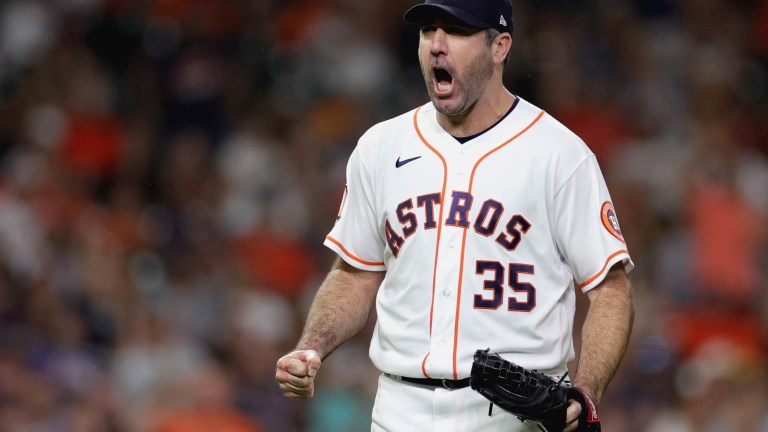 My picks stunk yesterday—no real way around it. I took the Phillies, and they got no hit. We took Schwarber to go over his fantasy score, and although he was inches away from a double and drew one of the walks, he did not get there.
It's a tough road in this World Series, as anything can happen. I'm confident I can turn the ship around today. We have football and baseball on today, plus plenty of props you can find on my podcast.
2022 MLB Regular Season Record: 231-191 (55%) +42.05 Units
Houston Astros vs. Philadelphia Phillies: 8:03 pm EST
Justin Verlander (RHP, Astros) [1.75 ERA, 175 IP, 27.8% K, 2.66 xERA, 2.49 FIP, 3.23 xFIP]
Noah Syndergaard (RHP, Phillies) [3.94 ERA, 134.2 IP, 16.8% K, 4.43 xERA, 3.83 FIP, 4.29 xFIP]
Both teams have been punched in the mouth the past two days. The Phillies trounced the Astros 7-0 in Game 3 to take the 2-1 series lead as massive boos from the crowd rained down on the away team. The Astros showed their toughness, coming back to win 5-0 yesterday and throwing a combined no-hitter behind Cristian Javier and their elite bullpen.
Both teams showed what they could look like at their peak, and now they'll play in a decisive Game 5 before returning to Houston. Let's evaluate each facet of the game.
Starting Pitching
Justin Verlander has an issue in the World Series. Overall, he's not a bad postseason pitcher, recording an ERA near three in the ALDS and ALCS in his career. There is something about the World Series that leads to trouble for him.
Justin Verlander has a 6.07 ERA in the World Series in 43 innings. This isn't a large enough sample to fully claim that he can't pitch in the World Series, but at the same time, how can I argue he'll pitch well today?
It's difficult to doubt Verlander, even with his struggles in the World Series. He got bombed in Seattle, then turned around and threw a six-inning masterpiece with 11 strikeouts against the Yankees in his next start. He knows how to adjust, and it isn't easy to fathom him blowing up again in a spot where his team needs him to deliver. He's a future first-ballot Hall-of-Famer.
As we saw from Cristian Javier and the Houston bullpen last night, anything is possible. We still know that the Phillies have performed well against fastball/slider pitchers, and that's what Verlander offers. Javier's slider and fastball were more well-located and, at this point, might be better overall offerings than what Verlander gives you.
This could also be Verlander's last career start for the Astros. He's a free agent at the end of the year, so he has every incentive not just to prove the doubters wrong but to prove he's worth another big payday. This has all the makings of a bounceback for him.
Similar to how the Astros bounced back after putting up a goose egg, it's assumed the Phillies will do the same after the combined no-hitter. At the same time, you assume Verlander adjusted from the last time he got hit up. I think the Phillies will be able to score, but it won't be at the same level we saw in Verlander's first outing.
Facing off against Verlander will be Noah Syndergaard, who isn't projected to go beyond 3-4 innings. It's difficult to project how well he'll pitch in a limited outing, but his history against the Astros is solid.
In 9.1 innings against the Astros this year, he put up a 2.89 ERA. His best start of the season was his first one, putting up 5.1 innings of shutout baseball. He allowed three runs in four innings in his last start. He'll be sure to have a quick leash today if he gets into trouble.
Lean: Astros
Offense
Now this one is tough. It depends on what version of each starting pitcher we will get. Will we see a Justin Verlander who makes the proper adjustments? It won't matter how the Phillies match up if he's locating his three pitches. If he's leaving pitches in the middle of the zone as he did in the latter part of his start, we see what the Phillies can do, especially at home.
What version of Noah Syndergaard will we see? Will we see a rested, adrenaline-filled Syndergaard who is locating five pitches that he throws over 10% of the time, or will we see a pitcher who isn't right for this moment?
Syndergaard's best quality this season was his command and ability to limit hard contact. While his xERA of 4.43 wouldn't tell us that the contact he allowed was soft, we see him in the 79th percentile in hard-hit and 80th percentile in max exit velocity. His job is not to strike you out but to get the batter to get himself out.
Another storyline that makes me worry for the Phillies' offense. How well would they have done if Lance McCullers Jr wasn't tipping pitches? They appeared to have an idea when McCullers Jr threw a fastball or a breaking ball and jumped all over him. They scored seven runs against him but were blanked against the bullpen. Then they were no-hit against the Astros in the next game. This is an offense that feeds on momentum. This could be a long game if they don't get to Verlander early.
At the same time, the Astros' offense hasn't been that great lately, especially on the road. While they put up five runs last night, it was on the backs of one big inning. After that, the Phillies bullpen shut them down, as they have for the entirety of the series.
This game depends on both starting pitchers, so I don't see a real offensive advantage on either side.
Lean: Push
Bullpen
Both bullpens are not at full strength, but they are pretty close. Due to the postponement of Game 3, both bullpens had an opportunity to rest their best arms. The Astros used three of their best, as did the Phillies, but everyone should be available for tonight's game.
Bryan Abreu, Ryan Pressly, and Rafael Montero threw less than 20 pitches each last night, and neither pitched in game three. They're expected to be ready to go with Ryne Stanek also available.
Jose Alvarado may not pitch after throwing 22 pitches, but he also didn't throw in game three, so we should see him in a lefty-lefty matchup. Seranthony Dominguez hasn't pitched since Game 2, and none of the high-quality relievers in the Phillies bullpen threw more than 15 pitches yesterday.
These bullpens have been fantastic, and I have no reason to believe they'll allow more than a few runs between them. I will give the slight edge to the Astros because, as well as the Phillies have done; there is no doubt about the Astros when you consider their track record as the best in the sport.
Edge: Astros
Umpire
The umpire for today's game is Jordan Baker, who has some interesting trends. He's much more valuable for the pitcher. Not only does he have an inconsistent strike zone, but he's been favorable to the under in games where he's been behind the plate. According to Action Network, Baker is 53.7% to the under, going 154-133-17.
Ballpark
Citizens Bank Park ranks as the fourth-best ballpark for hitters by Baseball Savant Park Factor. According to Ballparkpal, the environment calls for a -1% increase in runs. That's the second lowest of the series so far and very similar to last night's temperatures, which should be in the high 50s. The ballpark plays toward the hitter, but the weather certainly doesn't.
My Pick
I think this pick is a trendy over. We see Verlander's struggles in the World Series, and we view Noah Syndergaard as the worst starting pitcher in this series. I'm going the other way.
I truly believe we see a bounceback vintage Justin Verlander performance. While his World Series numbers are alarming, I don't put a ton of stock into a start that happened in the past. We saw him dominate the Phillies early before the wheels fell off late, and with how good the Astros bullpen is behind him, I'm assuming he'll have a short leash.
Syndergaard's main problem is in the first inning this season. He has a 6.08 ERA in the first inning but settles down later in the ballgame. If he can get three quick outs, we should see four solid innings before he hands it to a fantastic Phillies bullpen.
We have an umpire that leans towards the under, lousy weather, and two starting pitchers I have more confidence in than most. I also find it fascinating that they offer the first five over at plus money when it hits in every game.
While the first five over has hit in every game, the under is 3-1 in this series. I believe it goes to 4-1.
The Picks: Astros vs. Phillies Under 7.5 (-110)
1.1 Units to Win 1 Unit