News
Mets-Phillies Rivalry To Take Global Stage in London Series
The Philadelphia Phillies and New York Mets will face off in the MLB London Series next season.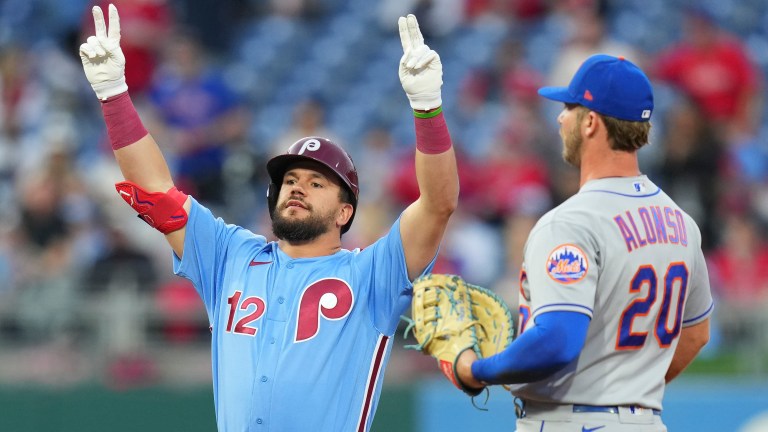 Update: Major League Baseball and the MLB Players Association have officially announced the 2024 London Series. As expected, the Philadelphia Phillies and New York Mets will face off at London Stadium on June 8 and 9 in 2024.
---
According to reports from Tom Verducci of Sports Illustrated and Matt Gelb of The Athletic, the Philadelphia Phillies and New York Mets will travel across the pond next summer to compete in the 2024 MLB London Series.
The London Series first took place in 2019, when the New York Yankees and Boston Red Sox brought their famous rivalry abroad. Major League Baseball put the event on pause due to the COVID-19 pandemic, but it will resume this summer when the Chicago Cubs and St. Louis Cardinals, another pair of rivals, face off in late June.
Given the teams chosen to compete in the first two London Series, it's no surprise that the Phillies and Mets were selected to face off in 2024. These two clubs have been rivals for decades, although they've rarely been competitive at the same time. Their rivalry came to a head in 2007 when Philadelphia overtook New York in the NL East on the last day of the season.
The Mets took 14 of 19 contests from the Phillies last season and finished 14 games ahead of Philadelphia in the standings, but it was the Phillies that won the NL pennant while the Mets were eliminated in the Wild Card round. The two teams have yet to face one another in 2023.
Chase Utley, a beloved former Phillie (and an enemy to Mets fans everywhere), is currently living in London and serving as MLB's ambassador to Europe. In Utley's own words, his goal is "to promote [baseball] and talk it up and try to get more Europeans involved."
The 2024 MLB London Series will take place June 8 and 9 at London Stadium, home of West Ham United Football Club. Major League Baseball is expected to formally announce the series in the coming weeks.