Analysis
Top Rule 5 Eligible Prospects Ahead of Wednesday's Draft
A look into some of the best players left off their teams' 40-man rosters ahead of the first Rule 5 Draft in two years.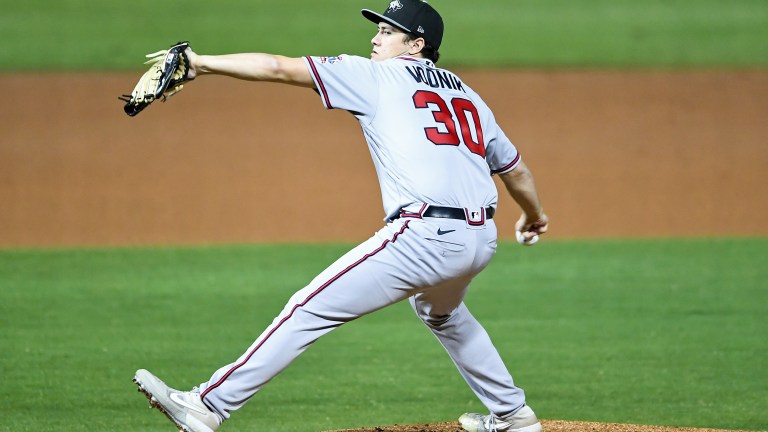 This year's Rule 5 Draft is exceptionally unique; due to the MLB lockout last offseason, the draft was canceled in 2021, kickstarting a backlog of Rule 5-eligible prospects. Now, MLB teams have a crop of players that were not 40-man protected after the 2021 season and this past season to choose from.
With even more players susceptible to being plucked from their current organization, the talent pool in this year's Rule 5 Draft clears that of any pool that we've seen in recent years. Top-30 prospects within organizations, Major League-ready relievers, and impactful utility bats are all there for the taking.
Ahead of the draft of Wednesday night, we've compiled a list of names that may be called and may be getting their first taste of big league ball with a new club.
Hitters
Dominic Canzone – OF – Arizona Diamondbacks
2022 Stats (AA/AAA): 106 G, .300/.367/.541, 25 2B, 22 HR, 89 RBI, 15-17 SB
A 25-year-old that already has the plate discipline and offensive maturity of a multi-year big league veteran, Canzone could immediately provide competitive at-bats at the bottom of a Major League lineup while filling a couple different outfield spots.
While the home run total may dissipate when he gets out of favorable conditions like he experienced in Amarillo and Reno, his sub-20% strikeout rate will stabilize any drop off and his above average exit velocities add some validity to his slugging output. A sneaky plus about Canzone is his base running acumen; across three Minor League seasons, Canzone is 39-46 in the stolen base department.
Cam Devanney – INF – Milwaukee Brewers
2022 Stats (AA/AAA): 128 G, .264/.342/.492, 32 2B, 23 HR, 68 RBI
An impressive and versatile defender, Devanney bounced back from a rough 2021 with a power onslaught last season. The 25-year-old more than quadrupled last year's home run total while cutting his strikeout rate to just 21%.
Devanney is an above average defender at shortstop and registered starts at third base, second base, first base and even left field. Double-A Biloxi is a hitter friendly environment for right-handed bats, but Devanney saw a 3 mph jump in his 90th percentile exit velocity and actually had better splits on the road. He should be a name atop many team's boards.
Matt Gorski – OF – Pittsburgh Pirates
2022 Stats (A/A+/AA/AAA): 81 G, .280/.358/.598, 11 WB, 24 HR, 66 RBI, 21-24 SB
A former two-sport standout in both baseball and soccer in the Indianapolis area, Gorski has the athleticism to complement his massive power with more-than-adequate defense in either corner outfield spot.
The main calling card for Gorski is the pop; in just 81 games in 2022, Gorski hit 24 home runs and slugged .598. Despite being limited by a nagging quad injury this past season, Gorski managed to swipe 21 bags in 24 attempts. The question is not if he's a good enough player to be selected or not; it's merely if a team deems him truly "ready" to occupy a 26-man roster spot.
Darius Hill – OF – Chicago Cubs
2022 Stats (AA/AAA): 133 G, .314/.359/.453, 36 2B, 9 HR, 53 RBI
One of the more impressive bat-to-ball guys in the minors, Hill sprays the ball with the best of them and only struck out 13% of the time in the upper levels last season. Hill has gap to gap power and can play all three outfield spots. His high offensive floor and ability to play center should make him an intriguing target for teams.
Corey Julks – OF – Houston Astros
2022 Stats (AAA): 130 G, .270/.351/.503, 21 2B, 31 HR, 89 RBI, 22-27 SB
Even in the PCL, Julks could not have done much more to earn himself a spot on the 40 man roster of the defending champs. The 26-year-old boasted a 90th percentile exit velocity of 105.4 mph while supplementing that with a solid 85% zone contact rate. Breaking balls gave Julks fits over the course of the season which is an understandable red flag, but with decent defense in either corner and solid batted ball data to back up an impressive 2022 campaign, Julks could be one of the first names off of the board.
Jake Mangum – OF – New York Mets
2022 Stats (AA/AAA): 72 G, .306/.363/.441, 15 2B, 4 HR, 35 RBI, 14-17 SB
An elite defensive centerfielder who can hit from both sides is rarely available in the Rule 5 Draft making Mangum one of my favorite targets. He will be 27 years old by Opening Day, but an above average season at the upper levels and defensive tools that scream fourth outfielder, Mangum could be nice pick up for a team that needs one.
Devin Mann – INF – Los Angeles Dodgers
2022 Stats (AA/AAA): 118 G, .264/.380/.464, 21 2B, 16 HR, 61 RBI
Mann's phenomenal approach and good bat to ball skills helped him to a .380 on base percentage last season. The batted ball data points towards the home run total taking a hit outside the PCL, but Mann made starts at six different positions last season and has a high floor offensive profile.
Ryan Noda – 1B/OF – Los Angeles Dodgers
2022 Stats (AAA): 135 G, .259/.396/.474, 23 2B, 25 HR, 90 RBI, 20-24 SB
Noda has done nothing but hit since entering professional baseball as made evident by his 145 wRC+ in 555 pro games. Noda struggled with velocity last season which may have been one of the driving forces to him being left off of the Dodgers loaded 40 man roster, but he has an extremely patient approach, strong splits and impressive exit velocities. The fact that he can play a little bit of outfield helps his case too.
Blake Sabol – C/OF – Pittsburgh Pirates
2022 Stats (AA/AAA): 123 G, .284/.363/.497, 26 2B, 19 HR, 75 RBI, 10-12 SB
A sure-fire selection in the Rule 5 Draft, Sabol proved everything he needed to that he's worthy of a Major League roster spot in 2023 with a strong '22 season. After spending the spring and summer in Double-A Altoona, Sabol finished the season in Triple-A and somehow managed to get better.
The power may not be eye-popping, but his 6'4″, 215 pound frame packs a punch in the barrel. He moves exceptionally well for a bigger catcher, and has shown that he can survive in a corner outfield spot when he's not in a crouch. Defensive versatility and offensive maturity and production could sweep this guy out of the Pirates' system very early in the Draft.
Ronny Simon – 2B/SS – Tampa Bay Rays
2022 Stats (A+/AA): 109 G, .260/.303/.479, 19 2B, 22 HR, 76 RBI, 34-42 SB
The best "draft and stash" option amongst hitters, Simon has a chance to be this year's Akil Baddoo if a team is bold enough. The 22-year-old was acquired by the Rays in the Jordan Luplow deal last year and really impressed after his promotion to Double-A.
Simon is a good defender up the middle with frame-defying pop from both sides of the plate and plus speed. He is still raw and struggles with high chase rates, but Simon has big time upside and could be worth the shot for a team deep in a rebuild…I'm looking at you Nationals.
Jimmy Herron – OF – Colorado Rockies
2022 Stats (AA/AAA): 95 G, .262/.363/.451, 17 2B, 13 HR, 44 RBI, 14-17 SB
Herron enjoyed a great stretch in a pitcher-friendly Double-A Hartford before getting the bump up to the launch pad that is Triple-A Albuquerque where his numbers didn't quite jump as much as some may have hoped. Herron still turned in a 116 wRC+ while striking out just 18% of the time at the upper levels.
A plus runner with sneaky pop who can play all three outfield spots, Herron may get buried in this Rule 5 Draft by guys with louder PCL numbers, but he may have one of the better skillsets.
Pitchers
Victor Vodnik – RHP – Atlanta Braves
2022 Stats (AA/AAA): 31 G, 34.2 IP, 2.34 ERA, 1.41 WHIP, 12.2 K/9, 4.9 BB/9
Arguably one of the most intriguing arms left unprotected, Vodnik has an electric fastball that can flirt with triple digits and a changeup that flashes above average. Vodnik just turned 23 years old and already has 27 2/3 innings of Triple-A baseball under his belt where he pitched to a 2.93 ERA.
Vodnik could likely plug right into a big league bullpen in some capacity, but there's reasonable hope that he could blossom into a high leverage arm. Vodnik could be one of the first names off of the board.
Thad Ward – RHP – Boston Red Sox
2022 Stats (A/A+/AA): 13 GS, 51.1 IP, 2.28 ERA, 1.15 WHIP, 11.6 K/9, 3.3 BB/9
A surprising omission from Boston's 40 man roster, Ward finished his 2022 season with 32 strikeouts over his last four starts and kept the momentum rolling into a solid Arizona Fall League performance. Ward's calling card is his plus slider, which held opponents to a .130 batting average this season. He can manipulate his low 80s slider to an upper 80s cutter which is a difficult pitch for left-handed hitters.
The 25-year-old spent most of last season starting games, but the lack of fastball quality gives him a swingman/reliever profile.
Elvis Alvarado – RHP – Detroit Tigers
2022 Stats (A/A+/AA): 49 G, 28 GF, 10 SV, 59.2 IP, 2.72 ERA, 1.11 WHIP, 9.5 K/9, 2.7 BB/9
One of the higher risk/higher reward options in the Rule 5 Draft, Alvarado has absolutely electric stuff. Originally signed as a position player, Alvarado made the switch to the mound in 2018 and had struggled to get his feet under him at the lower levels until last season.
The 23-year-old has a plus fastball that can touch 101 mph and a low 90s slider that flashes plus as well. Alvarado climbed three levels last season, holding his own in Double-A and has been lights out in the Dominican Winter League so far. His limited track record makes him riskier than other options, but Alvarado easily has as much upside as any unprotected reliever.
Nic Enright – RHP – Cleveland Guardians
2022 Stats (AA/AAA): 48 G, 19 GF, 11 SV, 65.2 IP, 2.88 ERA, 0.96 WHIP, 11.9 K/9, 1.9 BB/9
Enright may not light up the radar gun, but his fastball shape is as impressive as any. Averaging more than 22 inches of induced vertical break on his low 90s heater from a funky release point, the pitch has elite ride and floats over barrels. Despite going to his fastball 60% of the time, upper level hitters slashed just .154/.201/.289 against the pitch with a 36% strikeout rate.
He will also mix in an average slider that plays up thanks to his deception and elite command. The 25-year-old walked just 5% of hitters last season, pitching in mostly high leverage between Double-A and Triple-A. Enright is one of the safer picks out there.
Antoine Kelly – LHP – Texas Rangers
2022 Stats (A+/AA): 24 GS, 109.2 IP, 4.43 ERA, 1.30 WHIP, 11.7 K/9, 5.8 BB/9
Traded for reliever Matt Bush at the deadline from the Brewers, Kelly was a second round pick in 2019 and has shown flashes of being an extremely exciting prospect. Injuries and command issues have plagued the 6-foot-5 southpaw, putting up impressive numbers in High-A before running into major command issues in a handful of Double-A innings after the trade.
The newly-turned 23-year-old has a plus fastball and slider and has been working on a changeup. Kelly would have to be hidden in a big league team's bullpen, but could be worth the inconvenience given his high ceiling.
Jose Lopez – LHP – Tampa Bay Rays
2022 Stats (A+/AA/AAA): 42 G, 30 GF, 10 SV, 59.1 IP, 2.43 ERA, 1.23 WHIP, 14.4 K/9, 5.8 BB/9
Lopez is a nightmare for left-handed hitters and saw his fringy command improve as the season went on. His fastball/slider combination is ready for a big league bullpen tomorrow and he will even mix in a changeup. Lopez will sit 94-96 mph with his fastball, touching 98 with a devastating low 80s slider. Opponents hit just .101/.184/.112 with 63 strikeouts in 98 plate appearances against the slider.
Despite only throwing two innings in Triple-A, Lopez's stuff from the left-side should draw plenty of attention.
Anthony Maldonado – RHP – Miami Marlins
2022 Stats (AA/AAA): 42 G, 62.1 IP, 3.03 ERA, 1.06 WHIP, 12.4 K/9, 2.9 BB/9
Another reliever with a decent fastball and elite slider, Maldonado improved as the season went on. After posting solid numbers in Double-A, the 24-year-old dominated at the Triple-A level, pitching to a 1.74 ERA in just over 20 innings. Madonado is a big dude at 6-foot-4, 220 pounds and has a closer's attitude on the mound.
Erik Miller – LHP – Philadelphia Phillies
2022 Stats (AA/AAA): 32 G, 7 GS, 48.1 IP, 3.54 ERA, 1.45 WHIP, 11.5 K/9, 5.8 BB/9
The Phillies are likely hoping that Miller's major command struggles at the Triple-A level will be enough to deter teams from selecting him, but his strong Double-A numbers and intriguing stuff may just be enough for a team to snag him.
The 6-foot-5 southpaw features a mid 90s fastball, upper 80s slider and mid 80s changeup that all have the chance to be average or better big league pitches (the change could be plus). Miller's command and health issues accentuate his bullpen risk, but his true three pitch mix give him back of the rotation upside. With a fastball that can touch 97 from the left side and a changeup that flashes plus, Miller could be stashed in a bullpen and groomed to eventually start.
Andrew Misiaszek – LHP – Cleveland Guardians
2022 Stats (AA/AAA): 42 G, 61.2 IP, 2.04 ERA, 1.20 WHIP, 13.1 K/9, 3.6 BB/9
Misiaszek was comically good in Double-A, surrendering just two earned runs in 32 innings before running into a bit more trouble in Triple-A, but still holding his own (3.64 ERA). The left-hander saw his walk rate more than Double as he jumped levels though he still missed bats at an impressive clip.
A funky delivery to supplement an above average fastball/slider combination, Misiaszek is extremely tough of lefties and capable against righties.
Jayden Murray – RHP – Houston Astros
2022 Stats (AA/AAA): 22 GS, 108.0 IP, 3.50 ERA, 1.21 WHIP, 8.3 K/9, 2.8 BB/9
One of the few true starters on this list, Murray's ceiling may not be the highest, but his floor is strong. Murray was part of the three-team deal that sent Trey Mancini to Houston and Jose Siri to Tampa Bay at last season's deadline, struggling a bit after the trade. The right-hander still turned in another impressive season as he has each year since being drafted in the 23rd round by the Rays in 2019.
Murray has an average fastball with good shape, an above average slider and fringy changeup, but backs it all up with plus command. Likely a swingman/spot starter, Murray has a chance to stick as a five starter, especially if his stuff ticks up slightly or he continues to build on his already impressive command.