Analysis
Top Prospects Who Could Make a Big League Impact Soon
Following the promotion of highly-touted prospect Matt Mervis, here is the next wave of top prospects who could make a big league impact soon.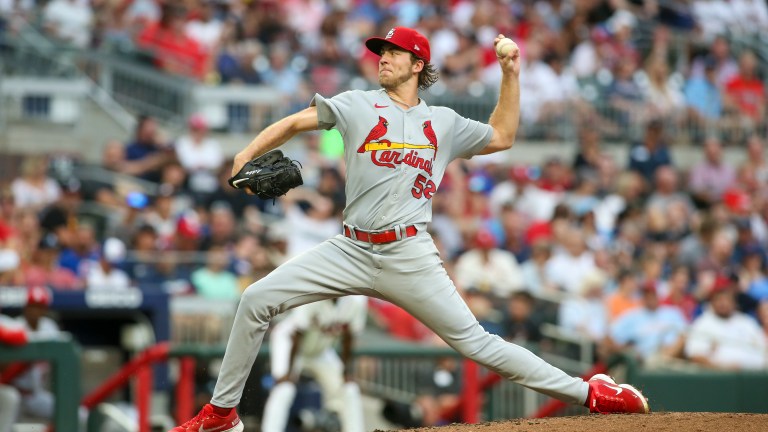 It's only been a little over a month of the Major League season and it has already provided us with so many surprises that it is tough to keep track.
Even so, the excitement has been living up to all of the lofty expectations we set on it as it approached. What's even better? Everything happening down at the Minor League level since it began.
Prior to the season, I put together an article that highlighted some of the top pitching prospects in both the National and American Leagues that could make a major league impact for their organizations this season.
With the way this season has transpired so far, and the recent update to Just Baseball's Top 100 Prospects List, I wanted to now bring up a new group of players who have shown they can be the answer to a question their organization is looking for at the big league level.
While this first player has already had their cup of coffee in the Majors already, he does still qualify as a prospect and would definitely provide a spark to his team who currently finds itself in a whole lot of turmoil. While he is not going to be THE answer for everything going on, he could definitely be someone to help right the ship.
Pitchers
Matthew Liberatore (LHP) – St. Louis Cardinals
Traditional Stats: 7G, 3-1, 2.77ERA
Advanced Stats: 11.77K/9, 3.46BB/9, 3.11FIP, 3.10xFIP
Matthew Liberatore has been off to an incredible start for the Triple-A Memphis Redbirds.
The issues currently ongoing at the Major League level have been well-documented in multiple stories across JustBaseball.com. While much more goes into a team's success, finding an answer for their struggles in the pitching rotation could go a long way to helping this team find themselves this season.
Libby went into this year with a re-shaping to his pitching repertoire from last year after struggling in the big leagues. So much so that Cardinal fans were ready to move on from him after only 34.2 innings pitched in St. Louis.
Now, they're waking up each day hoping to get the news that he is on his way back to help inject this pitching rotation with some energy. Even with the return of Waino to the starting rotation, there should not be anything holding the Cardinals' front office back from bringing Liberatore back up to the big leagues.
Eury Perez (RHP) – Miami Marlins
Traditional Stats: 6G, 3-1, 2.32ERA
Advanced Stats: 12.19K/9, 2.61BB/9, 3.85FIP, 2.91xFIP
The Marlins have been known for two things over the past couple of seasons. One is their ability to develop pitchers throughout the organization. Two is the depth that they seem to always have at the position.
The first is still very much true. The second, not so much.
This offseason had them ship Pablo Lopez to Minnesota for Luis Arraez. They did it because they trusted their ability to continue to develop starters when they needed to. Now, with injuries to Trevor Rogers and Johnny Cueto creating a lot of concern surrounding their return, they are finding themselves scrambling.
In step the highly-anticipated Major League debut for Eury Perez.
Much like how Marlins' fans were clamoring for Max Meyer last year, Perez's name has been trending around Marlins' Twitter for quite some time. He has done nothing but dominate at the Double-A level so far and, the latest rumor is that he could be slotted into Miami's rotation sooner rather than later.
Miami is an organization that could be considered as "lucky" because of their record in one-run ballgames, but that should not deter fans from the fact that they are in it right now and Eury could surely help that continue to be the case.
Ben Brown (RHP) – Chicago Cubs
Traditional Stats: 5G, 2-0, 0.70ERA
Advanced Stats: 13.0K/9, 2.8BB/9, 2.11FIP, 2.96xFIP
The Cubs seemed to have made out like bandits in their David Robertson swap last summer with the Phillies. After being acquired, he put up decent numbers to finish off 2022, but 2023 has been a completely different story for the right-hander.
In 20 innings to begin the season, he allowed just one earned run in Double-A and was quickly promoted to Triple-A.
He made his Triple-A debut last week against the Columbus Clippers and continued to showcase the talent he possesses that will have him pitching on the north side of Chicago in no time.
His final line was 5.2IP, three hits, one earned run, two walks, and seven strikeouts. Oh, and he also generated 13 whiffs with a 31% CSW% during the outing.
Even if he is not a starter from the very beginning, his arsenal, and ability to miss bats with his fastball and breaking pitches, will make him a great multi-inning option for the Cubs as they make a push for the post-season.
Kyle Harrison (LHP) – San Francisco Giants
Traditional Stats: 7G, 0-1, 3.20ERA
Advanced Stats: 15.56K/9, 9.61BB/9, 3.89FIP, 5.13xFIP
The beginning of this season did not go according to plan for Harrison, especially not from what we had heard from the Giants' Front Office.
Before the season began, there were a lot of reports on how aggressive the Giants were willing to be with Harrison, early in the season, if he was able to continue progressing the way he had coming in.
Unfortunately, three starts into the season, his ERA was north of 7.00, and had a BB:K ratio of 10:7. Even with the struggles out of the gate, the Giants kept the faith in Harrison, knowing he would be able to make the adjustments needed and turn his season around in quick fashion.
The faith in him looks to be paying off. In his last four outings, he has only given up two earned runs and has struck out 27 batters. The walks are still a bit of a concern, but the confidence built up should help him return back to form.
The recent success has instilled confidence in Harrison which is being noticed throughout the organization. While it is not clear how the rest of the Giants season will pan out, Harrison's debut could be a bright spot for the team and give Logan Webb a running mate at the top of their rotation for years to come.
Hitters:
Christian Encarnacion-Strand (1B/3B) and Matt McLain – Cincinnati Reds
CES:
Traditional Stats: 13G, .404/.433/.807 7HR/14RBI
Advanced Stats: 1.7%BB%, 21.7%K%, .404 ISO
McLain:
Traditional Stats: 13G, .404/.433/.807 7HR/14RBI
Advanced Stats: 1.7%BB%, 21.7%K%, .404 ISO
The Reds are well on their way to being a fun team to watch in the near-future.
With young talents like Jonathan India, Spencer Steer, and Tyler Stephenson on the field each night, and Hunter Greene, Nick Lodolo, and Graham Ashcraft toeing the rubber every fifth-day, You would think there isn't much left in the pipeline ready to make an impact for them at the highest level.
Well, you are wrong.
Christian Encarnacion-Strand and Matt McLain entered the system via trade with the Twins and as first-round draft picks, respectively. While the journey to where they are now isn't really important, it's the fact that they're about to reach the same destination together, looking to help bring a winning culture back to the Cincinnati-faithful.
CES has been able to dominate the Triple-A level in just 57 at-bats this season. His positional flexibility to play the corners on the infield provides him a clear path to everyday playing time for the Reds, even more so with the implementation of the DH.
Like CES, McLain also provides some flexibility. He was drafted as a second baseman, but with India looking to hold down that position long-term, his ability to slide over to short will provide the Reds with a great amount of value on both sides of the ball.
The Reds farm system, in general, is an incredibly fun follow. Even when these two make their debuts, they have even more talent, possibly the number one prospect in all of baseball, coming behind them.
Colton Cowser (OF) and Jordan Westburg (3B/SS) – Baltimore Orioles
Cowser:
Traditional Stats: 30G, .304/.448/.509 5HR/23RBI
Advanced Stats: 18.9%BB%, 21.7%K%, .205 ISO
Westburg:
Traditional Stats: 26G, .333/.395/.593 8HR/29RBI
Advanced Stats: 8.4%BB%, 24.4%K%, .259 ISO
Just like the Reds, the O's are chock-full of young talent at the Major League level that is taking the league by storm. They surprised a lot of people by making a deep run towards nearly making a postseason berth last year, but are now showing that it was no fluke.
Right now, an arm would likely provide them with a bigger boost, but the bats of Colton Cowser and Jordan Westburg are just too hot to ignore. They also have nothing left to prove at the Triple-A level and should be getting the call-up soon.
Cowser is currently leading all of the International league in runs scored, is fourth in On-Base Percentage, and showing no signs of slowing down at all. Even after hitting .295 in the month of April, the month of May has brought him even more success thus far.
Westburg is also no slouch and can now see his opportunity with the recent injury to Ramon Urias. Not only does his versatility provide the Orioles with a viable option as a replacement, Mike Elias has recently hinted at the possibility of his promotion.
While Jorge Mateo has been a great player for the Orioles, Westburg would easily be an improvement over Adam Frazier, who has slowed considerably since his strong start to the year.
The Orioles are getting better a lot faster than many anticipated. Look for these young guys to be the next wave of big-time impact for them.