Analysis
Young Arms Ready To Make an Impact: American League
Whether it's in the rotation or the bullpen, these AL pitchers are getting ready to showcase their talent to baseball fans everywhere.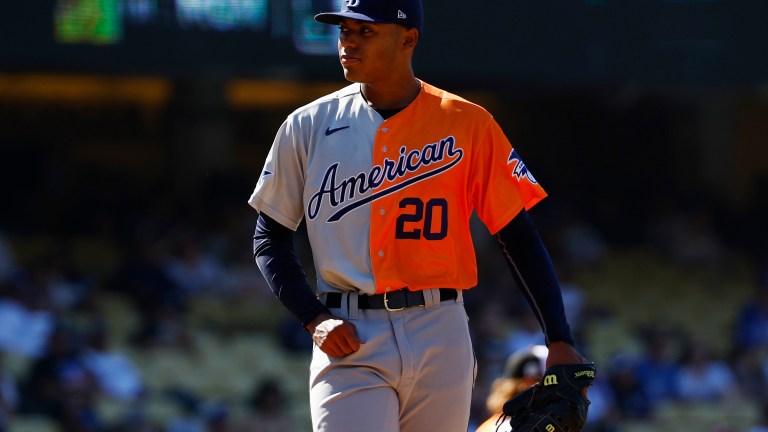 Baseball fans everywhere are ecstatic.
After what was an electric World Baseball Classic, the start of the 2023 season is here. Due to all eyes being on the WBC, for good reason, you might have missed out on some of the pitching prospects that made significant strides during spring training and now look to make an impact for their respective organizations.
Whether it will be in the starting rotation or the bullpen, these pitchers are about to showcase themselves to baseball fans everywhere. There are even some who, even though they aren't breaking camp with the big league team, could have their teams looking to bring them up sooner rather than later following a strong spring.
Let's take a look around the league and see where these young arms are hoping to continue to make strides in their development.
AL East
Baltimore Orioles
Grayson Rodriguez and DL Hall
One of the biggest pieces of news has to be the Orioles' decision to hold Grayson out of the Opening Day rotation. With everything he has been able to accomplish throughout his minor league career, it was thought by many that he was ready to join his batterymate Adley at the major league level.
However, his spring stats did not jump off the page, and the Orioles noted reports that they were concerned about him not getting through the fourth inning in any of his outings. Thus, you can justify Baltimore's decision to send him back to Triple-A in order to build him up for the long haul that is the MLB season.
Like Rodriguez, Hall will also be starting in Triple-A for the Orioles. However, unlike Grayson, his future for this team is still very much uncertain.
While DL Hall possesses all the talent to dominate in the big leagues, his command is a huge concern and makes him a risk to be relegated to the bullpen in his big league career.
The move to send Hall down to Triple-A is to, hopefully, build him up via workload and iron out the command issues so that he is a part of the rotation when he does make his way back to Baltimore.
Boston Red Sox
Bryan Mata
I'll admit, coming into the spring, I thought Mata was going to break camp with the team. With all the question marks throughout spring training surrounding the construction of the Red Sox rotation, my belief grew even stronger.
After making his way back from Tommy John surgery, Mata was able to showcase the same talent that had him as a highly-ranked pitching prospect in baseball. As spring progressed, he continued to have strong outings, and, with the injury concerns of Sale, Bello, Whitlock, and Paxton combined with the uncertainty around what the Sox will get from Corey Kluber and Tanner Houck, I thought there was no doubt Mata would be, at least, starting in the Red Sox bullpen.
The move to send him to Triple-A could just be to continue to help him develop as a starting pitcher for the Red Sox in the future. Either way, Mata has proven to be a dependable starter and should be back up in Boston shortly into the season.
New York Yankees
Jhony Brito and Clarke Schmidt
The Yankees entered the spring feeling really confident about what could have been the best starting rotation in all of baseball. After serious injuries to Carlos Rodón, Frankie Montas, and Luis Severino, all of whom could be out for a significant time, the Yankees were scrambling to figure out how to piece together a starting rotation heading into Opening Day.
Then stepped up the likes of Jhony Brito and former top pitching prospect Clarke Schmidt, both of whom showed enough throughout spring to give Yankee fans a glimmer of hope to hold things together until their big-time starters return to the rotation.
Tampa Bay Rays
Taj Bradley
While it should not be a surprise that Bradley did not crack the starting rotation, he has solidified himself as yet another impactful prospect that will play a big role for the Rays once he does make his debut in Tampa.
When Tyler Glasnow was diagnosed with his oblique injury, many thought that Taj Bradley would be the next man up if he held his own in spring. He absolutely did.
However, we all know how the Rays treat their starting rotation. Being sent back down to Triple-A, where Bradley can continue to build himself up in preparation for being a regular starter in the majors, means he will not fall victim to the "opener" status that many find themselves in when they pitch in Tampa Bay.
His spring performance proved to any doubters that Bradley will be ready once he does get his opportunity.
Toronto Blue Jays
Brandon Barriera
You may not know his name now, but you will soon.
Ricky Tiedemann's name has headlined the Blue Jays farm system for quite some time now, and for good reason, but Barriera could very well be this year's Tiedemann.
Coming into the 2022 draft, there was a lot of variance as to where he would get taken. From being rumored around the top 10, he fell to the Blue Jays in the latter part of the first round and took it personally coming into the spring.
While he did not pitch with the big league club, there are many reports that he came in working just as hard as the others that were a part of major league camp – so much so that there were established major leaguers lauding his work ethic.
He isn't going to impact the major league team this season, but I would not be shocked to see him rise through Toronto's system fairly quickly.
AL Central
Chicago White Sox
Noah Schultz
Schultz is one of those prospects that is going to be tough to miss. Sure, he's a 6'9" lefty with a funky lower arm slot, but it's the upper-90s fastball and plus command that will be the real reason baseball fans will find themselves watching a lot of Schultz this year.
He came into spring with high hopes throughout the White Sox organization. As he progressed through minor league camp, he continued to showcase his plus-slider that he is able to command just as well as his fastball.
One of the most impressive things is his ability to repeat his "funky" delivery with ease. In an organization that has been hoping to build up its minor league depth, the selection of Schultz makes it seem as if the White Sox are headed in the right direction.
Cleveland Guardians
Hunter Gaddis
This might not be the name you anticipated when you came across the Guardians, but that's just how impressive this organization is when it comes to its pitching department. They continue to pump out productive arms left and right, leaving the McKenzie injury pill a little easier to swallow right now.
Hunter Gaddis beat out the likes of Xzavion Curry, who I also like a lot coming into this season, for the final rotation spot for the Guardians. With Triston McKenzie and Cody Morris starting the season on the injured list, it provided Gaddis an opportunity to break camp with the team after debuting in late August last year.
Detroit Tigers
Mason Englert and Brendan White
The Tigers are in a time where there are many question marks surrounding their pitching staff. With the injuries to Casey Mize and Tarik Skubal, Spencer Turnbull making his return from missing 2022 with Tommy John, and the shuffling around in their bullpen, president of baseball operations Scott Harris finds himself in a good spot with young arms like Englert and White heading into 2023.
After being selected by Detroit in the latest Rule 5 Draft, Mason Englert produced well enough to stay on the roster and make an impact for the Tigers from Opening Day.
While he does not currently possess any plus pitches in his repertoire, Englert has the ability to generate outs with solid command of a mid-90s fastball to pair with a good changeup and a mid-to-upper 80s slider with some bite to it.
For White, his story is one to follow.
After being selected in the 26th round of the 2020 MLB Draft, Brendan White has shown a knack for being able to "out-whit" his opponents while on the mound. Oh, he also has an above-average slider that generates over 3000 rpm.
While the command of his pitches is still a work in progress, he showed plenty of flashes throughout spring training that will likely provide him an opportunity to get the call-up to Detroit and pitch meaningful innings out of their bullpen in 2023.
Kansas City Royals
T.J. Sikkema
Coming over from the Yankees in the Andrew Benintendi deal last spring, Sikkema was sent to the AFL by Kansas City just to get more looks at what the long left-hander has to offer them heading into 2023.
He got a cup of coffee with the big-league team this spring as part of a call-up from minor league camp to fill out the split-squad roster, but the optimism has been from what he's been showcasing on the backfields this spring.
Sikkema missed all of the 2021 season dealing with a lat injury but bounced back strong in 2022, pitching to a 2.48 ERA with a 54:9 K:BB ratio across 36.1 innings.
The lefty has a shot at getting a promotion to the big leagues in the latter part of the season, should all fare well for him. In an organization searching for all the pitching help it can get, his arrival would be a sight for many Royals fans' sore eyes.
Minnesota Twins
Connor Prielipp
Connor Prielipp was taken with the 48th pick in the 2022 draft with true front-of-the-rotation type stuff.
Prielipp possesses three truly above-average pitches in a mid-90s fastball, a tight spinning slider spinning well above average, and a tumbling changeup that works off of the other pitches so well.
That being said, it will be some time before Twins fans will see him in Minnesota, but he will definitely be one to monitor this season. With the traits he already has, it would not be a surprise to see him up early in 2024.
AL West
Houston Astros
Jayden Murray
The road to Murray arriving in Houston is one that not many people are aware of. Jayden Murray was acquired in a three-team trade between the Orioles and Rays that also netted them Trey Mancini at last year's deadline. While he was more of an unknown then, Astros fans will come to know him fairly soon.
Murray was dominant in the Grapefruit League for the Astros as a non-roster invitee. He has a three-pitch repertoire, and all three pitches are all graded at least average across multiple scouting platforms. However, it is his ability to command the strike zone with ease that will have him in Houston soon.
Jayden is going to be yet another weapon in the bullpen for the reigning World Series champions this year.
Los Angeles Angels
Jhonathan Diaz and Victor Mederos
Everyone knows how desperate the Angels have been for pitching over the years. With the additions of Diaz and Mederos to their organization, they might have found some well-needed depth for their big league club.
Jhonathan Diaz was recently reassigned to minor league camp, but it was known coming into the spring that would be the case. After he missed much of last season with an injury, Diaz is looking to continue working his way back to full strength. If he continues to progress, he will likely be recalled as one of the first pitchers up this year should the Angels have a need at the beginning of the season.
Mederos impressed a lot of Angels brass throughout spring training. However, while he showed plenty of ability to get outs in significant spots, the realistic outcome going into the spring was that he would start off in Double-A for the Angels organization.
His 2022 season numbers weren't great, but he made tangible changes to his pitch mix during the winter that have proven to show promise heading into 2023.
Oakland Athletics
Mason Miller
I wanted to include Ken Waldichuk here as well, but what Mason Miller showed us this spring was something worth highlighting on its own.
Throughout minor league camp, Miller's name was mentioned consistently by the A's organization for how good he looked – so much so that he got the opportunity to showcase his stuff on the big league side of camp. Miller left manager Mark Kotsay in awe after his outing on March 24.
His ability to bounce back and make changes as his outing progressed was the most impressive part of it all, as he was firing upper-90s fastballs consistently in that outing. The young righty is going into 2023 looking for his first full season in pro ball, so he's still some time away. However, if he continues to progress like this, the A's look to have knocked this pick out of the park.
Seattle Mariners
Prelander Berroa
After dominating two different levels in 2022 with a lethal fastball/slider combination, Berroa was able to carry it over with ease into his first major league spring training for the Mariners.
The Mariners' bullpen already looks to be one of the stronger parts of the team heading into 2023, but with the likely mid-season addition of Berroa, it could actually be much stronger.
According to team president Jerry Dipoto, Berroa's metrics are "lighting up" all of the Mariners' data systems when they have him throw in their labs. Prelander has a devastating two-pitch combination that has shown to be backend-type stuff; Pitching Ninja is likely to be all over Berroa once he makes his debut.
Texas Rangers
Tekoah Roby
If you look at the surface numbers, you likely won't be too impressed with Roby's 2022.
Yet much of his struggles came at the beginning of the season, and once he settled in, he ended the season striking out 10.8 batters per nine innings.
Rangers' brass has mentioned Roby's name a few times throughout spring as someone who has come in on a mission to take a leap. With his ability to generate whiffs at a high rate, I look for Roby to take that next step in his progression.