Analysis
Young Arms Ready To Make an Impact: National League
From Ryne Nelson to Jared Shuster, the National League has plenty of pitchers who can make an impact at the major league level in 2023.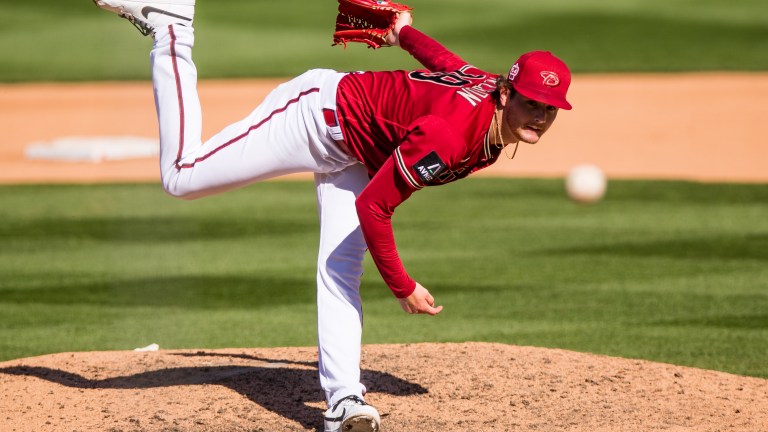 Initially, I was going to have one article with all the young arms, but I needed to give each league their flowers. (You can read about young arms in the AL here.)
With the amount of young pitching talent about to take the league by storm, I wanted to make sure that we did not miss out on any names to look out for during the 2023 season. Whether it's at the MLB level or throughout the minor leagues, these players are ready to make a name for themselves.
NL East
Atlanta Braves
Jared Shuster and Dylan Dodd
This Braves roster is loaded from top to bottom. While the rotation looked to be the "weakest" part of the team, Jared Shuster and Dylan Dodd had electric springs to shore up the starting five for Atlanta, even with the injury to Kyle Wright and the inconsistencies from Ian Anderson.
For a little bit, it was a battle between Dodd and Shuster for the final spot. Who would have guessed that they would both dominate to a point where they were both deserving of a spot?
The top southpaw prospects have surely made a name for themselves this spring. The interesting thing to follow going forward is to see which one stays throughout the season once Wright is healthy and ready to return.
Either way, let's just enjoy the battle and let the talent prevail.
Miami Marlins
Zach McCambley and Franklin Sanchez
The Marlins are one of the few teams in the league that continue to churn out high-end pitchers throughout their minor league system. Zach McCambley and Franklin Sanchez are just more examples of this.
McCambley wasn't a part of big league camp, and the primary reason why was that the Marlins wanted him to focus on the continued development of the organization-famous changeup. From all reports, he has done so.
Throughout the 2022 season, McCambley produced incredible strikeout numbers but found himself struggling with command when he tried to nibble at the corners. Even so, with the talent he possesses, McCambley can take a Dax Fulton-like jump for the Marlins this year.
Unlike Zach, Franklin profiles as more of a reliever. While that might not sound "sexy," the Marlins do need all the help they can get in the 'pen.
Coming over from the Mets organization in the Elieser Hernandez trade, Sanchez has flashed a strong upper-90s fastball with a sharp low-90s slider that profiles to work well at the back end of a major league bullpen. If he is able to continue to dominate quickly in the minors, I can see him being a late-inning option for the Marlins toward the end of this season.
New York Mets
Blade Tidwell
After he made quick work of the lower levels of the minor leagues, the Mets assigned Tidwell to High-A Brooklyn to begin the 2023 season.
Why? Well, the strong right-hander put together a 1.93 ERA between Rookie and Single-A ball after being taken in the second round of the 2022 MLB Draft. The Mets have continued to do a great job at building a strong farm system under new ownership, and Tidwell looks to be another piece of their bright future.
Some say his delivery is a little aggressive and could be hard to replicate long-term, but it has worked for him thus far. Being that he is a control-over-command type of pitcher, his overall aggressive approach, electric above-average fastball, and a full array of plus secondaries make Tidwell a name you should know now.
Philadelphia Phillies
Andrew Painter
By this point, we all know who Andrew Painter is. As much as I wanted to highlight someone else, what he was able to do this spring, prior to his injury, was impressive.
From his first showing on the big stage, he was dominant. He was quick to show the baseball world what his electric upper-90s fastball is all about, not to mention how imposing, and composed, he looked on the mound.
What's more, he is only 19 years old and was already being talked about as an option for the Opening Day rotation.
Painter was shut down with arm issues a few weeks ago, but if he is able to return soon and the Phillies are still dealing with injury issues with their starters, I am sure we will start to hear his name come up again.
Washington Nationals
Jarlin Susana
As far as expectations go for the Washington Nationals, we can all likely agree they're looking at building for the future. That was confirmed when the Nats traded Juan Soto last year at the deadline for a huge haul.
Jarlin Susana is the piece of that trade no one batted an eye at, but in due time, no one will be able to get his name out of their heads.
The young right-hander has plus stuff. Just look at any of his outings and there is no way to deny it. The 18-year-old pitcher pumps a triple-digit fastball consistently and makes it look so easy with a smooth delivery that he is able to replicate with ease, even late into his outings.
It will be a few years before he takes the bump for the Washington Nationals, but if he is able to continue developing the way he has, it will be right on time for when the Nationals are looking to compete for their next World Series title.
NL Central
Chicago Cubs
Hayden Wesneski and Ben Brown
Hayden Wesneski entered this spring murmuring one word: "compete."
He did just that once. So much so that it earned him his first Opening Day roster appearance and secured him a spot in the Cubs starting rotation to start the season.
The Cubs had their eyes set on Wesneski when the Yankees came calling for Scott Effross last season. As of right now, it looks like this is one move that is going to pay huge dividends for a team looking to climb back up toward the NL Central crown.
Ben Brown won't be starting in Chicago this season, but he isn't too far behind.
Since being acquired from the Phillies for David Robertson, Brown's name has been one that many have been excited to see develop for the Cubs. Once he was added to this organization, he made it a priority to develop a strong slider/changeup combination to add to his repertoire.
Both of these guys might have been brought in from other teams, but the Cubs seem to have something brewing in that system to continue to pump out arm talent like this.
Cincinnati Reds
Brandon Williamson
After he was acquired from the Mariners in the Jesse Winker and Eugenio Suarez trade, the Reds were hoping they would be able to unlock something in Williamson that would revert him back into the former top prospect he once was while ascending through Seattle's farm system.
Well, they might have found something.
Coming into this spring, Reds fans just wanted to see Williamson show some flashes in the right direction. He did much more than that. So much more, in fact, that he was being considered for a rotation spot at some points through the spring.
With a four-pitch mix, all of which rate from average to above average, Williamson has all the talent to profile as a strong back-of-the-rotation type starter. The one thing that holds him back is his inability to consistently command his pitches.
With the strides he seemed to make this spring, he might have figured out how to do so and should have us monitoring him throughout the 2023 baseball season.
Milwaukee Brewers
Gus Varland
The Brewers starting rotation can arguably be the best in all of baseball. With that being said, it's going to be hard to make the rotation if you aren't a next-level arm. However, that leaves the door open for talented arms to impress enough to join the bullpen.
Gus Varland took the opportunity to win a bullpen job and ran with it with his strong performance throughout spring training.
Even though he was a Rule 5 pick from the Dodgers in December, there was no guarantee he would make the team. Though he struggled a bit at times through spring, he showed the poise to overcome those issues and bounce back strong.
Varland has produced high strikeout numbers throughout his professional career in the minors and will now look to help vault the Brewers' bullpen back to the upper-echelon status it once held when Josh Hader was a part of the crew.
Pittsburgh Pirates
Kyle Nicolas and Anthony Solometo
There is a lot of buzz around Pirates camp with some of the young arms they have coming up through the pipeline. While the system is highlighted by guys like Mike Burrows and Quinn Priester, Kyle Nicolas and Anthony Solomento deserve some of your time as well.
Since coming over from the Marlins in the Jacob Stallings swap, Nicolas has shone for the Pirates, and even though it was a trade from a surplus, he has Marlins fans regretting the trade. After a strong 2022 in Double-A, Nicolas got a chance to be a part of big league camp, where he threw three scoreless innings before being reassigned to the minor league side.
With Solometo, there's a chance he could soon take a big leap in prospect rankings across the board.
His whippy delivery is going to attract attention no matter what the numbers show. The fact that he is able to repeat it consistently gives him the ability to create a lot of deception with his pitches.
His velo sits in the mid-to-low 90s right now, but his projectable frame leaves a lot of room for optimism. While he continues to work on developing his secondaries, watch out for a breakout season for Solometo in the Pirates system.
St. Louis Cardinals
Connor Thomas and Kyle Leahy
Connor Thomas isn't going to blow anything by hitters at the big league level, but his ability to command the corners of the zone and utilize his pitch mix effectively is going to end up paying huge dividends for a Cardinals team that is looking for help in the rotation.
Up until recently, he was fighting for a spot in the Cardinals rotation before they sent him down to Triple-A Memphis to start off the season. If injury issues continue to persist in St. Louis, Thomas could be the next man up.
Kyle Leahy is a name that popped up after his showing off in this past year's Arizona Fall League. After a disappointing regular season in 2022, Leahy looks to build off his AFL performance to catapult him into the Cardinals' plans going forward.
With a high-90s fastball, paired with a curveball producing nearly 4ft of vertical break and a tight slider with a late bite to it, Leahy can be an effective piece in the bullpen for the Cardinals later in the year.
NL West
Arizona Diamondbacks
Ryne Nelson and Carlos Vargas
The Diamondbacks are coming into 2023 as one of the most exciting teams, if not the most exciting team, in all of baseball.
This young team is led by top prospect Corbin Carroll in center field, but their pitching staff needs to be followed just as closely. There was a battle for the final spot in the rotation between a couple of top prospects, and Ryne Nelson proved to a lot of people why he has been so highly regarded throughout many rankings.
Throughout all of spring, Nelson has been electric. He spent the offseason trying to perfect his pitch mix and came into spring mentioning that he felt like he finally pieced it all together. He'll now get the chance to showcase his plus-fastball and above-average curveball, slider, and changeup arsenal in a big league rotation.
Another interesting development was the promotion of Carlos Vargas to the Opening Day roster as the final piece of Arizona's bullpen.
This 6-foot-4 right-hander was initially a starter as he was coming up through the minor leagues, but after suffering an elbow injury, he made the transition to the bullpen and ran away with the opportunity.
His fastball sits in the upper 90s consistently, and his slider profiles close to that of Emmanuel Clase, leaving hitters looking foolish at the plate. With Mantiply starting the year off on the IL, I'd keep an eye on Vargas winning the closer's job for this exciting team in 2023.
Colorado Rockies
Noah Davis
Noah Davis came over to the Rockies organization in the deal that sent Mychal Givens to Cincinnati.
He did not have a strong start to the 2022 season, but he really honed in and jumped back up on prospect rankings down the stretch. Davis sits around the mid-90s, and he features a combination of two distinct breaking balls and an occasional changeup. Though nothing jumps off the page, he does have the ability to keep hitters feeling uncomfortable in the box with his ability to mix his pitches effectively.
With all the question marks that surround the Rockies organization each year, it would not be a surprise to see him play a decent role for this organization soon.
Los Angeles Dodgers
Ronan Kopp
The Dodgers are the organization that all fanbases wish their team could be more like. They have an aggressive front office that spends when they need to but is also able to develop top-level talent consistently. Last year, we saw Gavin Stone ascend at an astronomical rate throughout the minors. While Emmet Sheehan is a prospect-followers darling, I'll be watching Ronan Kopp.
Listed at 6-foot-7, Kopp is going to stand out no matter what. But let's take a look at the numbers.
The young left-hander posted a 2.74 ERA, striking out 108 (!) batters over only 62.1 innings last season. He has a crossfire delivery that closely resembles that of Bumgarner but is more deceptive to hitters because of the physicality with which he delivers the ball.
Everyone, meet this year's Ricky Tiedemann.
San Diego Padres
Efrain Contreras
Efrain Contreras is an interesting name to follow.
After being non-tendered by the Padres, he returned to the team and was a part of big league camp throughout spring training. Through three spring appearances, he was able to hold all opponents scoreless, showing promise as someone who can possibly deliver for the Padres bullpen at some point later this year.
He has not pitched above High-A yet, but the 23-year-old has the chance to ascend quickly if he can continue to build off his strong spring performance.
San Francisco Giants
Carson Whisenhunt
There is a lot of buzz surrounding Whisenhunt that has not faded since he was taken in the second round of the 2022 MLB Draft.
While the sample size is not big, that is not deterring the Giants' front office from getting excited about what they have seen so far. He got a little bit of work last summer before being sent to the AFL to get more work in; the Giants were concerned about the long layoff from when he had last pitched.
He came into camp looking noticeably more muscular, and the lefty already possesses a lethal changeup that generated a 59% whiff rate back in 2021. If he is able to command his mid-to-upper-90s fastball more consistently and continue to develop a true curveball, Whisenhunt can continue to work his way back from the layoff and live up to the same hype that his farm-mate Kyle Harrison had throughout his development in San Francisco.