Analysis
Top MiLB Players of the Week: Ceddane Rafaela, Gavin Stone
Boston Red Sox prospect Ceddane Rafaela hit five home runs this week, while Dodgers pitching prospect Gavin Stone pitched six no-hit innings.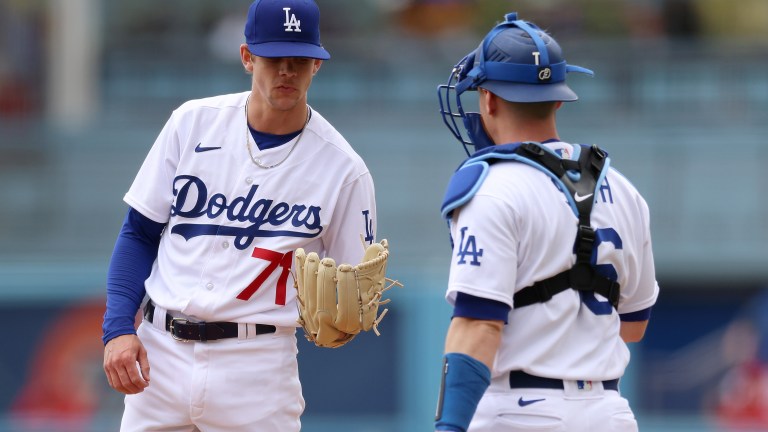 Today we introduce a new series for Just Baseball, highlighting the top performers in Minor League Baseball. Once a week, we will highlight one hitting prospect and one pitching prospect who have performed well during the week and give them the recognition they deserve.
These prospects do not always have to be top 100 prospects or top prospects in general.
Like this week, Griffine Conine went bonkers, but he's not our top hitting prospect of the week. Neither is Ricky Tiedemann, who is an easy top 100 prospect and struck out nine batters in his three innings of rehab work. The fastball was reaching 98 and the slider showed good movement. I just wanted to give those two prospects their shine, as they performed well enough to possibly be mentioned in next week's edition of the Just Baseball Prospect of the Week.
Ceddane Rafaela, OF Boston Red Sox
A little background on Rafaela's profile is that this dude can really go get in center field. We are talking about a potential 70-grade glove. He is more likely a 60 defender in center field, but that is just my tendency to be more conservative when evaluating prospects.
He's also an impact runner with a touch of power here and there. The problem is that he has a horrific plate approach, so much so that the Red Sox reportedly told him he had to take a pitch during spring training. On the season across both Double and Triple-A, Ceddanne Rafaela is hitting .306/.348/.525 with 18 homers and 33 stolen-bases. He is hitting to the tune of a 124 wRC+.
But that is enough about Ceddanne Rafaela's profile.
He had quite an eventful week, as the kids would say. He hit .375/.448/1.042 slash line over the following week and even added five home runs for good measure. What is even more impressive is that Rafaela, our lord and savior, hit a home run in FIVE-straight games.
There is average game power in Rafaela's game, and this outburst of power is a welcome addition to what has been a good season for the talented Red Sox outfield prospect. For fun, he even stole a base because, of course, he did.
With the Red Sox being very much in the Wild Card hunt, maybe a late-season call-up of Rafaela.
Gavin Stone, RHP Los Angeles Dodgers
Now we are onto our Pitcher of the Week, and Gavin Stone delivered a fantastic game on 8/4. He pitched six innings, striking out 10 batters and only walked two. He recorded 13 swinging strikes in this outing, which is a rare pitcher double-double (10 strikeouts and 10 swinging-strikes) especially in the minors. The changeup and slider were working effectively. The changeup is the true highlight of the package, but this is already well-known. The changeup even topping out at 36 inches of vertical break during the evening.
Stone has been a quick riser through the minors and has emerged as one of the most promising pitching prospects. He has recently made his debut this year. To say his major league debut thus far hasn't been impressive would be an understatement.
Across 12 innings of Major League work, he has only recorded eight strikeouts, along with eight walks and a 12.75 ERA. This isn't the pitcher that Gavin Stone is, and he will adjust to this. There is a stark difference between Triple-A hitters and the best hitters in the world. This is just a minor setback in what should be a successful career for Stone in the major leagues.
I mean, just look at this changeup it will play at the highest level.