Analysis
Top MiLB Players of the Week: Hurston Waldrep, Tai Peete
Righty Hurston Waldrep and infielder Tai Peete take home Just Baseball's minor league player of the week honors.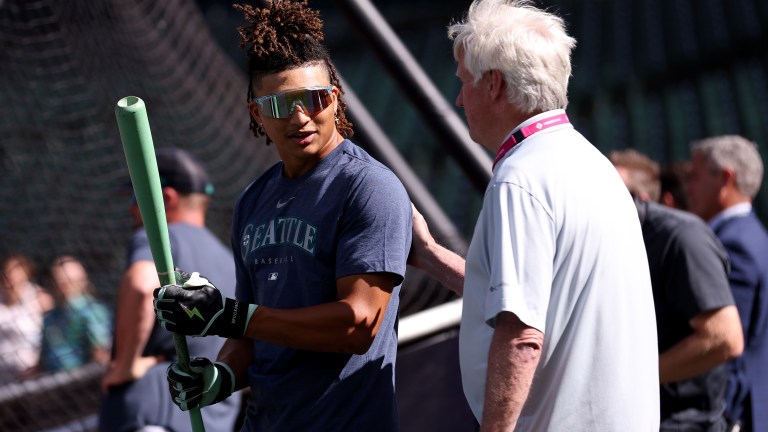 This past week saw a few notable performances across the minor leagues, and now we are here to discuss them in this week's edition of the Top MiLB Players of the Week series. The goal here is to highlight one pitching prospect and one hitting prospect who performed well last week. Think of this as perhaps the prestigious way to give a prospect their flowers.
Just a reminder that these don't always have to be the most well-known prospects. This week, we have a pitcher who is so nasty he could easily join the Braves bullpen and a hitter who achieved the remarkable feat of hitting not one, but two grand slams in a single game.
Hurston Waldrep, RHP, Atlanta Braves
Waldrep was one of the best pitchers in the recent crop of college arms and appears to have found the perfect situation for himself. His fastball and splitter combination is absolutely disgusting, and frankly, as I alluded to earlier, it could play for the Braves right now. 
The command is interesting and will ultimately determine whether he will be a starter or a reliever. Kudos to him as well! After this dominant outing, he was promoted to Double-A.
He went out there on Saturday and looked even better than Paul Skenes. However, he isn't dating Livvy Dunn, so who is the real winner? 
Waldrep threw 65 pitches, which is to be expected (there is no need to add unnecessary wear and tear on a recently drafted college arm), and collected an outstanding 12 swings and misses. Hitters were having a hard time with him, as he got two strikeouts looking and eight strikeouts swinging. 
He ended the day with ten strikeouts and three hits allowed. I know it's a small sample size, but how did he fall to the Braves? Even though he is only a reliever, he can be nasty in one-to-two-inning spurts.
Tai Peete, 3B, Seattle Mariners
When you achieve something as impressive as hitting two grand slams in one game, you can be sure that you will be named the hitter of the week. 
What's even more impressive for Tai is that he accomplished this feat in consecutive innings. Across the week, Peete is hitting .323/.387/.607 with two home runs and a stolen base for good measure. 
He did strike out a bit more than others in consideration, but the two grand slams for his first two Single-A homers push him ahead of the likes of Colt Keith (CALL HIM UP!!!) and Jasson "The Martian" Dominguez.
Tai Peete has crazy raw power, potentially reaching 70-grade power to his pull side. He is also capable of hitting the ball hard up the middle. 
Defensively, it remains to be determined whether he will stay at third base or have to move to right field. He has enough athleticism to play either position. The upside here is immense, and he demonstrates solid bat-to-ball skills as well.