Analysis
Myles Naylor, One of Three Canadians at the MLB Draft Combine
In it's third year, the MLB Draft Combine will feature three Canadians this year, led by #59th ranked Myles Naylor.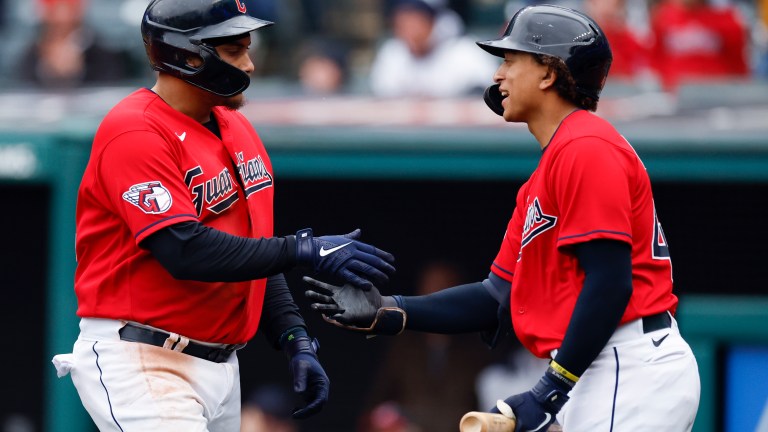 This year, the MLB Draft Combine took place at Chase Field, home to the Arizona Diamondbacks. Featuring some of the top high school and college players across the country who are draft eligible this year, three Canadians found themselves invited to join in the festivities; Myles Naylor (Mississauga, ON), Connor O'Halloran (Mississauga, ON), and Sam Shaw (Victoria, BC).
The highest ranking Canadian via MLB Pipeline at #59 heading into the summer, the Naylor name is one many might find familiar, as his brother Josh and Bo are currently playing pro baseball with the Cleveland Guardians organization and are also former first-round picks as well (with Bo recently rejoining the active roster).
The youngest Naylor is currently suiting up for the Ontario Blue Jays and with the Canadian Junior National Team and possesses a lot of similar traits to his brothers.
A right-handed batter, the only Naylor hitting from that side of the plate, he has plus power in the batter's box and an easy and repeatable swing that is trying to separate himself from his brother's shadows. Naylor impressed on his first day at the combine as well, as he hit the sixth-longest ball out of groups 1 and 2 at 401 feet and also took home a special honour from Prep Baseball Report, earning the Canada Player of the Year Award.
At 18 years old, Naylor has seen his exit velocity crack triple digits and defensively, he spends most of his time at shortstop, although scouts believe that he will move to the hot corner as he matures and continues to grow into his 6 foot 2 frame.
Naylor enters the draft with a commitment to Texas Tech and with two brothers already in Cleveland's organization, could we see a third brother join the Guardians organization this year? Take note, ranked at #59, Cleveland holds the 58th pick in this year's draft as well.
Connor O'Halloran – LHP
The highest-ranked Canadian pitcher and also sitting second in the rankings (#162), southpaw Connor O'Halloran is one name to watch come draft time.
The University of Michigan product has been a mainstay at the National level with the Junior squad at numerous tournaments, including the U18 World Cup. While he only made six relief appearances as a freshman, the former Ontario Terrier made 18 starts through 19 outings last year while posting a 5.44 ERA with 104 strikeouts on the season, the highest on the Wolverines.
O'Halloran returned to Ann Arbor for his Junior season and put forth an even better campaign, seeing his ERA drop to 4.11 through 17 outings while pitching in a career-high 103 innings while adding 110 strikeouts (another career-high). This strong campaign resulted in the 6 foot 2 left-hander taking home the Big Ten Pitcher of the Year honour and Big 10 First Team honours as well.
Projected to be a back-end starter at the big league level, O'Halloran doesn't have overpowering velocity but uses deception in his delivery and his offspeed pitches to strike out opposing batters and generate weak contact with his fastball, slider, and changeup mix.
Sam Shaw – INF
While unranked on MLB Pipeline, Victoria Eagles infielder Sam Shaw is currently ranked as the ninth draft-eligible Canuck via the Canadian Baseball Network heading into the summer.
Shaw is no stranger to tough competition, as he too is a product of the Junior National Team and recently spent some time in Florida at TNXL Academy. Swinging from the left side, Shaw has the raw tools one looks for in a prep athlete, with the ability to hit for both contact and power. He impressed at the Canadian Future's Showcase in 2022 (.364 average with one RBI) and also posted a 1.321 OPS with three home runs with the Victoria Mariners last year as well.
Slotting at either shortstop or second base on the field, the B.C. product currently has a commitment to Xavier should he choose to attend post-secondary following the draft.