Analysis
The Great, The "Meh", and The Ugly: Triple-A Pitching Performance Edition
Some of the best pitching prospects in baseball toed the rubber during Triple-A's Opening Weekend. Here's how they fared.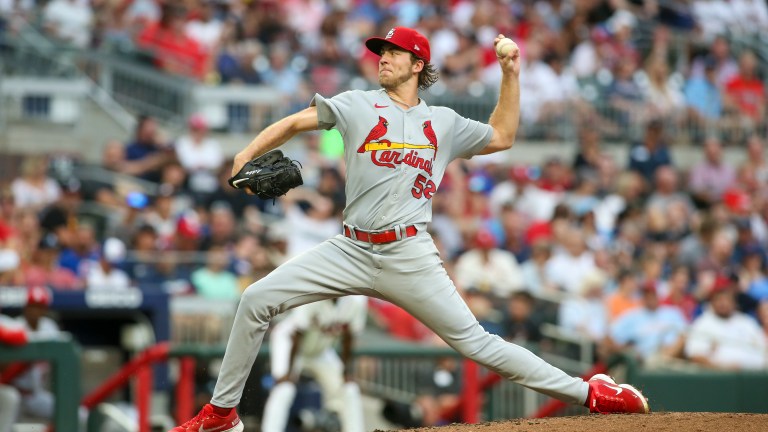 Weekend Number One of Minor League Baseball is now in the books and it's now time for #OverreactionSZN.
We had a variety of notable arms make their season debuts in Triple-A for their respective organizations this weekend. Most of them stood out, whether it was good or bad. At the end of the day, results were surprising for some, so it is time to take a look and see what might have changed in their first outings when we compare them to their performances last season.
DISCLAIMER: I know it's only been one start. It is okay to take this with a grain of salt. However, it doesn't dismiss the fact that it's still #OverreactionSZN and we need to break it down.
The Great:
Matthew Liberatore (LHP) – St. Louis Cardinals
Wow.
Matthew Liberatore took the mound for Triple-A Memphis on Friday and gave all Cardinals fans hope for what may be on the way to St. Louis in short order.
Coming off of a strong end to his spring, Liberatore fired off five scoreless innings, striking out seven batters on 82 pitches. The most impressive part was his final pitching clocking in at 97.7 MPH to notch the final strikeout of his outing.
After carving through a predominately right-handed hitting Charlotte lineup, let's take a look at the changes he made from last season.
The first, and probably most obvious, is the uptick in his fastball velocity. He was up a whole MPH average velocity on the pitch in his first start. To pair with that was the over 10% uptick in usage rate from what he was averaging last season.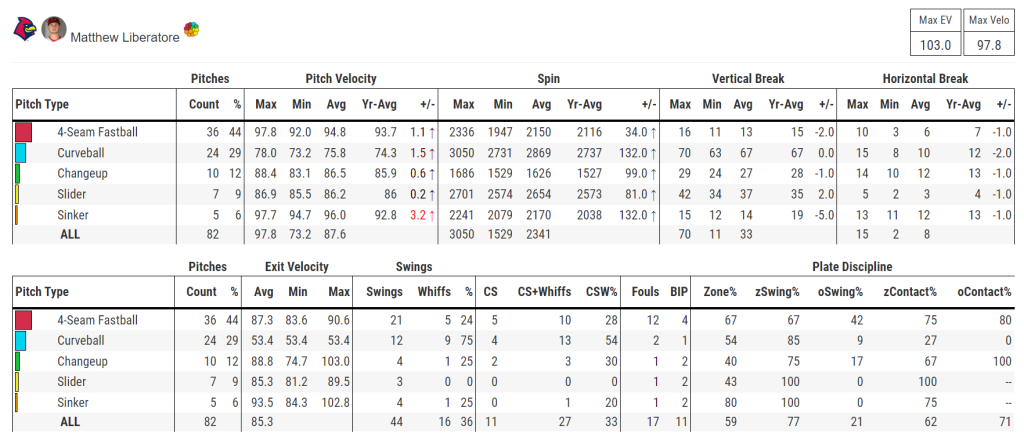 He generated a 36% whiff% on all his pitches during his start, most of them coming off of the curveball he is most known for. While the term "throw your best pitch most often" doesn't seem to get through to many pitchers, Liberatore made sure to carry over the success he was having in spring to the Triple-A regular season.
Now, what I found to be the most impressive was his ability to establish the inside part of the plate with all of his pitches. Other than the backup breaking balls, he was very effective in getting in on the hands of the right-handed hitters, and the results showed for themselves.
As you can see from the diagram above, he was able to establish each one of his pitches, most notably the FB/CB combination, in on the right-handed hitters. This explains why they were having trouble with him during his five-inning performance.
If Liberatore is able to continue carrying these changes from start to start and do so effectively, there is no reason why Liberatore's stay in Memphis wouldn't be short-lived.
The "Meh"
Luis Ortiz (RHP) – Pittsburgh Pirates
As we inched closer to the start of the season, I thought a team building for the future, like the Pirates, would give an arm talent like Luis Ortiz the opportunity to start the season in the rotation. However, here we are discussing his "meh" start in Indianapolis this weekend.

While the outing isn't too impressive, what did stand out was his ability to execute pitches when he needed to. The hard-throwing righty had his three-pitch mix going for him, for the most part. Throwing almost an even amount of both his fastball and slider, 27 and 20 respectively, it was the changeup usage that had me intrigued.

When you look at the usage%, and compare it to the usage of the changeup last season, it's a decent-sized difference. In 2022, out of the 275 pitches thrown at the Major League level, he only threw it 5.1% of the time.
While the FB/SL combination he already had coming in was plenty "good enough" to put away hitters, the implementation of an at least average third pitch is going to bode well for him going forward in his career at the Major League level.
3 1/3 innings in his first start, along with three walks in that work, is not the ideal start you look for in terms of box score watching, but if Ortiz is able to continue mixing in a third pitch at a high rate and effectively, he could take that next step into entrenching himself in a big league rotation soon.
Luis Patiño (RHP) – Tampa Bay Rays
The curious case of Luis Patiño continues.
As he was coming up through the Padres organization, it seemed as if he had a rocket strapped to his feet with how fast he was rising. Now, when we look back, it could be that it might have been too quick of an ascension. Yet, the Rays took a chance and it could have been a blessing in disguise for his chance at a lengthy big league career.
The start of Patiño's season was not good, and now you might wonder why he's not in The Ugly column of this article. Let me justify.
Luis Patiño, even at such a young age, might have seen his days of being a consistent starter come to an end. While much of that could be his durability issues, I believe it is because of the organization he finds himself in and the likely role he will have for them going forward.
We know what the Rays do when it comes to pitchers. If they think you are a starter, they will develop you as such. For example, Shane McClanahan came into the organization as a reliever out of South Florida. After a season, they decided he had what it took to be a starting pitcher in this league.
What I believe to be a main issue with Patiño is that he is predominantly a two-pitch pitcher.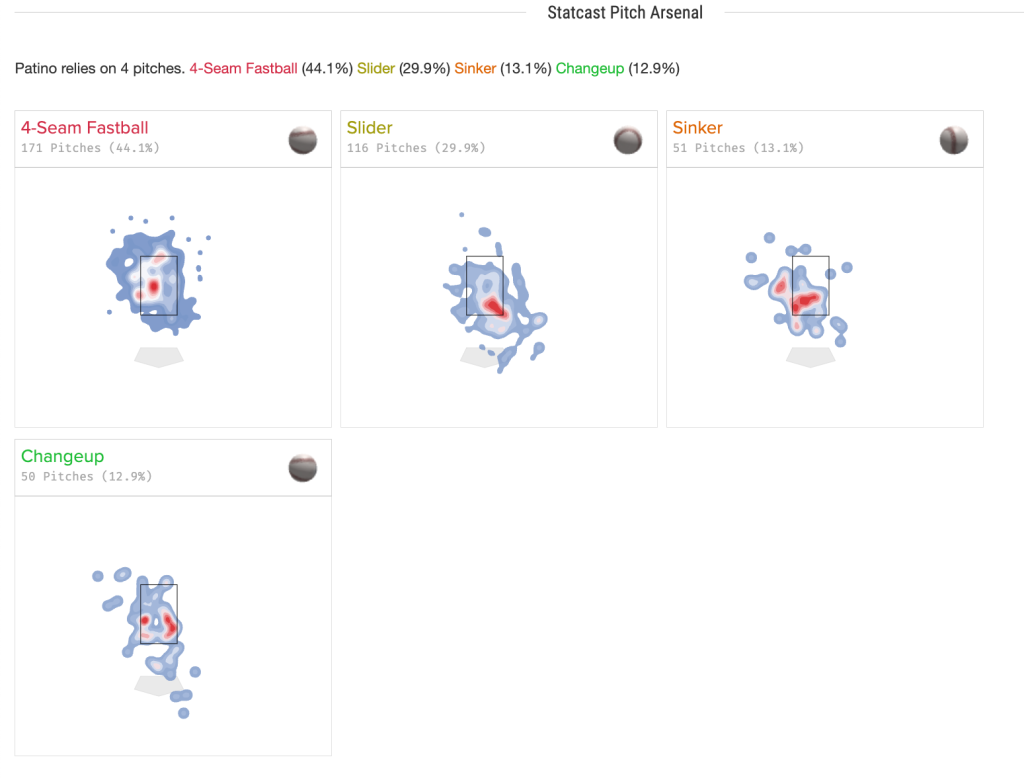 While the image above shows four, he relies on two versions of the same pitch in his fastball and a sinker. Since his time in the Padres system, he has never had success developing a change up.
During his start at Norfolk, you had two things. First, it was encouraging that he was able to miss bats, only allowing three hits. The bad part about that was that two of them were home runs. He was able to execute pitches at times to limit more damage. While the home runs aren't great, I think the most discouraging sort of contradicts what I said about executing pitches, but he did have five walks and command has almost always been his main issue.
As I said previously, it wasn't a great start. But for what the Rays will look to do with him when he does make his way back to Tampa, him coming out of this start healthy has to be a positive outcome for this front office.
The Ugly
Gavin Stone (RHP) – Los Angeles Dodgers
Consider me concerned with Stone in his first outing.
Unlike spring training, and really all of the 2022 season, Stone faced a ton of adversity on the mound for Oklahoma City.
The tweet above from Aram should tell you all you need to know about this start. All of the trouble came in the second inning, where the traffic on the bases just never seemed to end.
On top of noticeably nibbling at the corners when he found himself getting into trouble, he gave up a decent amount of hard contact throughout that had me wondering what had changed from spring. Upon further review, Stone was just a two-pitch pitcher this weekend.

While he does have a plus changeup, solely relying on that off of his fastball is very unlike him. In 2022, even back in spring. he was throwing a lot more sliders, effective at that, to make hitters uncomfortable in the box.
Another noticeable stat from that game was the lack of whiffs generated on his pitches. The 17% whiff% on his fastball is well-below what he was generating last season in the minors.
Perhaps this is just a small blip in the radar for Stone, but if he isn't able to comfortably continue throwing a third pitch consistently, it will be hard for him to establish himself as the successful starting pitcher than many have penciled him in as at the Major League level.
Brandon Pfaadt (RHP) – Arizona Diamondbacks
This one was worrisome. Probably the one I am going to monitor the most going forward. Maybe it was him pitching out of frustration seeing MadBum still making starts for Arizona, but the positive results just weren't anywhere to be found.
In his first inning of work, he was dominant. He got all three of his outs via the strikeout and seemed to be well underway to prove why he should have been in Arizona to start the year. It was after that where all of the troubles started.
The seven strikeouts in 3 2/3 innings are incredible. The four (!) home runs given up are not great, Bob.
Pfaadt had a strong spring training for the Diamondbacks and just was not able to carry that over into his first start in Reno. Why?

Predominantly relying on a fastball can only carry you so far. When you don't have a feel for your other pitches, you are in for some trouble against hitters at this level. That is exactly what happened here.
From the beginning, it was noticeable that he did not have a great feel for his off-speed. Once the Aviators' hitter saw that, they jumped all over him.
He left it over the heart of the plate all game and it got punished, one of them came off of Tyler Soderstrom's bat at 113.5mph.
The minimal use of his other off-speed pitches was interesting because of how well they profile. This wasn't something he struggled with during spring so, while it might not be too alarming to some, for it to be this ineffective in his first start is.
Taj Bradley (RHP) – Tampa Bay Rays
Another Rays pitcher finds himself on this list, but this one has a lot more optimism going forward.
Taj Bradley took the mound for his first start this year against Norfolk and allowed three runs on four hits and three walks in only two innings of work. It was both alarming and concerning for those hoping he would break camp with the team as part of their starting rotation.

As a pitcher that has three average-to-above-average pitches, the fact that he relied solely on his fastball-cutter combination is very alarming.
What surprises me more is the classification of the cutter, as opposed to the slider it was classified to last season. His changeup has been a work in progress, but the fact that he just stayed away from it doesn't seem smart considering he is still in the development part of his young career.
The first inning was electric, getting three of his four strikeouts in the frame. That first inning showed us the flashes that could possibly make him special in the big leagues, but the mistakes began to snowball once he entered the second inning of his start.
The mistakes were hit HARD as shown in the tweet above of Connor Norby teeing off for a massive three-run home run that cemented the rough outing for Bradley.
Like Stone, Bradley cannot go into this season relying on a two-pitch mix, especially with how hitters are developing with all of the information they have handy for them. Let's hope he incorporates his other offerings in his next start.
Grayson Rodriguez (RHP) – Baltimore Orioles
Likely the biggest piece of news in terms of prospect assignments was the move to have Grayson start the season in AAA for the Baltimore Orioles. After his first outing, can you blame them?
There is always the narrative of "spite" pitching where these frustrated aces go out to try and force the issue and end up on the wrong side of it. The spring struggles that led to his reassignment continued to follow him into his first start with Norfolk this past weekend.
The trouble began in the very first inning when he walked a batter with two outs and subsequently gave up a two-run homer. Then, in the second, he found himself in a bases-loaded situation after giving up a single and two free passes. Lucky for him, he was able to get out of it without any damage. The third inning, while not all on him, led to another run scored after an error and two singles given up.
Even through the struggles, the positive was that he did not shy away from utilizing his pitch mix near his normal rate.
Other than the ineffectiveness, there isn't much else to take away from this start. Improper execution was his issue here. I'm not worried about Grayson because the "stuff" was still there. If he can minimize the mistakes going forward, we will see the same G-Rod we have seen in years past.