Rankings
San Diego Padres Top Prospects
Not quite the system it once was, the San Diego Padres still feature some exciting prospects paired with some high upside fliers.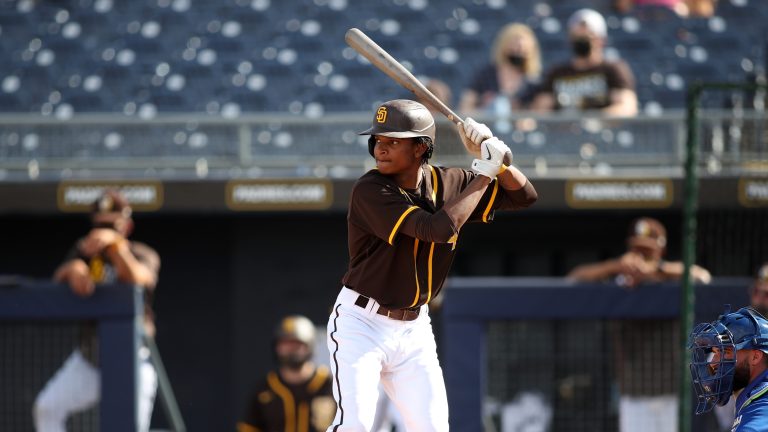 The Padres farm system is a shell of what it once was due to the trade aggressiveness of General Manager A.J. Preller, but there is still elite talent at the top of this group paired with some high risk, high reward prospects in the back end.
Many of the higher floor prospects in this system are infielders, and with the litany of infielders at the big league level for the Padres right now, it is worth wondering if some of the infield prospects outside of Abrams could be dangled as trade bait.
You can listen to a full breakdown of the Padres system on the latest episode of our prospect podcast, The Call Up as well as ask any questions you may have on Twitter, as my DMs are open.
1. CJ Abrams – SS – (Double-A)
Age: 20 | Height/Weight: 6'1′, 220 | Bat/Throw: L/R | 1st Round (6), 2019 (SDP) | ETA: 2023
| | | | | | |
| --- | --- | --- | --- | --- | --- |
| HIT | RAW POWER | GAME POWER | RUN | FIELD | FV |
| 55/65 | 45/55 | 40/50 | 80/80 | 50/55 | 60 |
The crown jewel of this system, Abrams made the leap straight to Double-A with great success. A knee injury unfortunately cut his season short, but Abrams has top of the scale speed with sneaky power that should continue to develop.
2021 Stats (AA): (42 G) .296/.363/.420, 2 HR, 16 XBH, 13 SB, 112 wRC+, 19.7 K%, 8.2 BB%
Offense
Upright set-up with small hand load and minimal leg kick. Extremely quick to the ball, could negatively impact his power output but make his hit tool very exciting. Swing is advanced for his age and level, and has excellent feel for the barrel. Simple and repeatable mechanics bode well for his chances to continue raking throughout his minor league career.
Has the potential to add to his power profile if he continues to add weight. Abrams made a concerted effort to get his lower half more involved in his swing and we started too see him generate some more natural carry, even launching a few backside homers. Before being lost for the season with a sprained MCL, Abrams was enjoying a great year despite an aggressive Double-A assignment to start the season.
The 20-year-old made improvements to his already solid approach, walking more than 8% of the time and leveraging his hitter's counts a bit better rather than just looking to put the ball in play and trusting his speed.
Defense/Speed
Once viewed as a likely candidate to move to center field, Abrams' 80 grade athleticism has helped him make major strides at shortstop. His range is unsurprisingly great and his actions have come a long way as well. Abrams has an above average arm which complements his range nicely, but could also accommodate a move to center field if needed where his 80 grade speed could play huge.
For now, it seems like the Padres are keen on keeping Abrams in the infield and the hope is he'll be an above average shortstop or plus defensive second baseman. Abrams is a threat to lead baseball in stolen bases if he is aggressive enough. In 43 games last year, Abrams was successful in 13/15 SB attempts.
Outlook
Abrams is an elite athlete and runner. Combined with his potentially plus hit tool, we could be looking at a top of the order table setter and a perennial All-Star. Abrams is an extremely exciting young and dynamic prospect with an extremely high ceiling. While he may not be a 30/30 threat, we believe in Abrams being able to tap into at least average power as he matures. Abrams is a rare high floor, high ceiling prospect who could debut as soon as next season.
2. Robert Hassell III – OF – (High-A)
Age: 20 | Height/Weight: 6'2, 195 | Bat/Throw: L/L | 1st Round (8) – 2020 | ETA: 2023
| | | | | | |
| --- | --- | --- | --- | --- | --- |
| HIT | RAW POWER | GAME POWER | RUN | FIELD | FV |
| 45/55 | 50/55 | 45/50 | 55/55 | 45/55 | 55 |
Hassell lived up to expectations in his professional debut, crushing Low-A pitching and flashing some of the power that scouts were unsure how much of which they would see. There was a learning curve for Hassell in High-A, but the youngster showed fantastic flashes in his brief stint there as well.
2021 Stats (A/A+): .302/.393/.470, 11 HR, 48 XBH, 130 wRC+, 19.2 K%, 12.8 BB%
Offense
Simple and easy swing, quiet, repeatable mechanics. Buggy whip in the swing, twitch throughout his body. Extremely fast hands and hips should create plus power as his body fills out. Currently struggles to get separation with his lower and upper half, as they don't constantly sync up. Has a tendency to get on his front foot, cutting him off and leading to occasional top spin to right field. Very common in young hitters, and it should be cleaned up with consistency at bats. Hassell raked during all the major high school showcases.
It looks like Hassell could put on anywhere between 20 and 30 pounds of muscle over the next couple of years. He reminds me of a young Austin Meadows, as Meadows filled out, some of his speed and athleticism declined, but the result was a monster at the plate. I think we could see something similar happen to Hassell.
Defense/Speed
He's currently a fringe plus runner who takes long strides and has great closing speed in the outfield. If Hassell slows down a bit due to added strength, there is a chance he moves to a corner where his arm would more than play. I still think that there is a good chance that Hassell can stick up the middle and was impressed with his range out there.
Outlook
Hassell has the potential to be an impact, middle of the order force once he fills out. If he doesn't fill out like we project and ends up somewhere around 200 pounds, he could be a dynamic corner outfield player in the form of a Michael Brantley if all works out, with the bat as the carrying tool accompanied by solid output in all other parts of the game.
3. Luis Campusano – C – (MLB)
Age: 22 | Height/Weight: 5'10, 230 | Bat/Throw: R/R | 2nd Round (39) – 2017 | ETA: 2022
| | | | | | |
| --- | --- | --- | --- | --- | --- |
| HIT | RAW POWER | GAME POWER | RUN | FIELD | FV |
| 45/55 | 55/60 | 50/55 | 40/35 | 45/50 | 50+ |
2021 Stats (AAA): .295/.365/.541, 15 HR, 39 XBH, 122 wRC+, 20.2 K%, 8.3 BB%
Offense
Starts slightly crouched over and follows it with simple mechanics, not a lot going on in his load and gets to launch consistently on time. Big time bat speed and quickness, mashes fastballs in all parts of the zone. Has a tendency to get big and sway away from his approach, especially with quality breaking stuff. Big time hitting tools with advanced bat-to-ball skills and a great feel for the barrel. Carrying tool is the bat, with the potential to hit for both average and power at the highest level.
Defense
Well-proportioned muscular build, physically filled out. Despite his weight, moves surprisingly well behind the plate. Presently a decent blocker and mobile defender. Big time arm strength behind the plate that, combined with his quick release, should help shut down the running game. His framing needs work and projects as average at best. Should be an average overall defensive catcher when all is said and done.
Outlook
Campusano has huge upside; above average hitters don't grow on trees in today's MLB, especially at the catching position. The 22-year-old had his development stunted by an over-aggressive, desperation call-up to the big leagues, but he has settled back into his rhythm in Triple-A. If he stays within himself on a consistent basis, we could be looking at a future All-Star and a mainstay for years to come as the Padres starting catcher.
4. MacKenzie Gore – LHP – (Triple-A)
Age: 22 | Height/Weight: 6'2, 197 | Bat/Throw: R/R | 1st Round (2) – 2018 | ETA: 2022
| | | | | | |
| --- | --- | --- | --- | --- | --- |
| FASTBALL | CURVEBALL | SLIDER | CHANGEUP | COMMAND | FV |
| 50/60 | 55/55 | 45/55 | 50/60 | 35/45 | 50 |
2021 was a roller coaster for MacKenzie Gore. The once top pitching prospect has dealt with command issues that have set him back a bit. The good new is Gore is just 22 years old, but next year will be a definitive one for the highly touted lefty.
Arsenal
I'll be honest, nobody really knows what to think when it comes to MacKenzie Gore right now. The 22-year-old has already showed us that he is capable of carving up High-A hitters to the tune of a 1.02 ERA in 79 innings back in 2019.
2021 was a different story for Gore. The southpaw quickly made the 2019 version of himself seem distant as he struggled to find the strike zone and had a different look every few times we saw him on the mound. 28 walks in 50 innings is something that nobody ever thought they'd see from the athletic pitcher who once boasted plus command.
Gore's fastball played as a plus pitch in 2019, boasting a ton of life and earning swings and misses up in the zone. Part of the reason why the pitch played up so well was Gore's comfortably plus changeup, which he was comfortable throwing to both lefties and righties thanks to its late drop and fade. Most importantly, he was extremely comfortable throwing it. In 2019, opponents had an OPS below .300 against the pitch.
As Gore lost feel for his pitches in 2021, his changeup was no exception. Through his struggles, Gore worked to tweak his mechanics and changes to his arm action impacted his feel for his best pitch. An offering that so many pitchers desperately try to discover, Gore had lost.
At certain points, Gore's arm action was messy and inconsistent. His fastball velocity dipped as low as 89 and reached as high as 97 mph on many occasions in the Arizona Fall League (our most recent look at him).
Interestingly enough, Gore's slider–which was viewed by most as his fourth pitch–was the offering that he found some success with in the Fall League. The pitch sits 86-88 mph and was comfortably above average when he located it.
Gore's curveball has always been an aesthetically pleasing pitch with sharp downward bite. In 2019, the pitch sat more in the upper 70s, but last season Gore actually threw it in the 80-82 mph range while also losing some vertical break, causing it to blend a bit more with his slider. The vertical break on Gore's curve is what made it effective to both lefties and righties and also worked well off of his fastball.
Outlook
It is nearly impossible to project MacKenzie Gore because we know what he is capable of when everything is working, yet we have no clue if he can get back there. Gore has showed us four above average to plus pitches which is what made him one of baseball's best overall prospects not long ago.
Mechanical changes to try to rectify command issues have impacted his feel for his pitches making it difficult to grade out offerings that were once easily plus. Gore is an insanely athletic pitcher with a history of success and is still just 22 years old. Concern is valid, but it would be crazy to give up on a pitcher as talented as Gore at this point.
5. James Wood – OF – (Complex)
Age: 19 | Height/Weight: 6'7, 230 | Bat/Throw: L/R | 2nd Round (62) – 2021 | ETA: 2025
| | | | | | |
| --- | --- | --- | --- | --- | --- |
| HIT | RAW POWER | GAME POWER | RUN | FIELD | FV |
| 35/45 | 65/70 | 50/65 | 45/40 | 45/55 | 50 |
James Wood could wind up being one of the steals of the 2021 Draft. Signed away from Mississippi State for twice the slot value at $2.6M. He has top of the scale power potential in a surprisingly athletic XXL frame.
2021 Stats (Complex): (26 G) 372/.465/.535, 3 HR, 8 XBH, 166 wRC+, 31.7 K%, 13 BB%
Offense
Wood has a quiet upright set up and doesn't have much going on with his swing. In fact, Wood's swing is often times too armsy, lacking incorporation of his lower half. Wood is so big and strong that he is able to run into baseballs even with an uninvolved lower half, however his weak base causes inconsistencies with his swing and a struggle to stay back on off speed.
For a longer limbed hitter, Wood controls the bat really well and will surprise with his ability to get to tough pitches. When he is under control, Wood has shown an ability to backspin baseballs and get easy carry. A 70 raw power projection is easy when looking at the 19-year-olds frame, athleticism and sneaky strength. One can only imagine the type of power he could tap into once gets his lower half incorporated.
Defense/Speed
A good athlete, Wood played basketball as well before moving down to Florida to focus on baseball (smart move). Wood moves very well for a player of his size, producing above average 60-yard dash times, though he does take a little bit to get going. An above average arm with long strides which help him close in on the baseball in the outfield, Wood should be an above average defender in a corner.
Outlook
Given the fact that he was drafted seven short months ago, it is extremely early in Wood's development. With the kind of upside Wood offers, I am surprised more teams were not in on the somewhat under-the-radar prospect. A good feel for the strike zone and the barrel for a player of his profile, Wood hedges his extreme risk a little bit.
If he continues to fill out a bit and develops his swing, the sky is the limit for Wood offensively. There will likely always be a decent amount of swing and miss in his game, but Wood should boast power and walk numbers to make it palatable. There's a wide range of outcomes with the high end being an All Star.
6. Jackson Merrill – SS – (Complex)
Age: 18 | Height/Weight: 6'3, 195 | Bat/Throw: L/R | 2nd Round (62) – 2021 | ETA: 2025
| | | | | | |
| --- | --- | --- | --- | --- | --- |
| HIT | RAW POWER | GAME POWER | RUN | FIELD | FV |
| 45/55 | 40/50 | 30/45 | 50/45 | 45/55 | 45+ |
An under slot first round pick, the Padres followed their trend of scooping up pop up prospects with the selection of Merrill. The shortstop saw his stock rise in the months leading up to the draft with the Padres not being the only team that considered him in the first round.
2021 Stats (CPX): .280/.339/.383, 9 XBH, 92 wRC+, 22.5 K%, 8.3 BB%
Offense
Having just turned 18 years old on draft day, Merrill was one of the younger players in the 2021 class. Teams were intrigued by his maturity at the plate for a pop up prep prospect with some balanced tools across the board. Merrill keeps things simple, starting pre-stacked on his back side a bit and using a toe tap for timing. He has a great feel for his swing and can spray the ball all over the field.
Merrill projects as an above average hit tool guy, and enjoyed a growth spurt in the months leading up to the draft, bumping up his power projection a bit. That said, there is still some question as to how much power Merrill will be able to hit for.
Ultimately, Merrill's development in the power department will determine his true ceiling, however he is a higher floor prep prospect who should hold his own against older competition out of the gate.
Defense/Speed
While just an average runner, Merrill moves his feet well at shortstop and has the goods to potentially stick there. If he slows down a step there is a chance that Merrill could move to second base or third, but for now he looks like he should get every shot at shortstop and could develop into an above average defender if he can maintain his quickness.
Outlook
When it comes to upside, 2021 second rounder James Wood is of course in a different ballgame, but the selection of Merrill for more than $700k under slot allowed the Padres to go overslept and snag Wood. The Padres often look to capitalize on prospects who emerge onto the draft radar late, and Merrill's physical development leading up to the draft was enough to make them feel like they were getting a potential steal who is on the rise.
Without a true plus tool, there's going to be a level of pressure on Merrill's hit tool and/or ability to tap into power, though at just 18 years old, he could continue his already impressive development over the last year. On the higher end, Merrill sticks at short and is a Dansby Swanson type, on the lower end Merrill could be a nice left-handed hitting utility infielder.
7. Robert Gasser – LHP – (Low-A)
Age: 22 | Height/Weight: 6'1, 190 | Bat/Throw: L/L | Comp B (71) – 2021 | ETA: 2023
| | | | | | |
| --- | --- | --- | --- | --- | --- |
| FASTBALL | SLIDER | CURVEBALL | CHANGEUP | COMMAND | FV |
| 55/55 | 55/60 | 40/45 | 45/55 | 40/55 | 45+ |
Gasser bursted onto draft radars with a lights out junior year at Houston, which included seven shutout innings against Ty Madden and the Texas Longhorns. A velocity bump and built in deception have made Gasser a really intriguing prospect.
2021 Stats (A): 14 IP, 1.29 ERA, 0.93 WHIP, 25.5 K%, 3.9 BB%
Arsenal
Early in his collegiate career, Gasser operated in the upper 80s, using deception to get guys out from a low three-quarters release point. Now, Gasser operates more in the 93-96 mph range, using his low vertical attack angle along with the riding life on his fastball to make for a tough pitch up in the zone.
Gasser has a sharp slider in the upper 80s which is already above average and flashes plus. The offering is a nightmare for lefties because of its late horizontal bite and when Gasser is really feeling the pitch, he can backdoor or even run it in on right-handed hitters.
Gasser's changeup is the pitch that he goes to a bit more against righties. Because of his difficult to pick up release point, hitters struggle to differentiate Gasser's fastball from his changeup until it is too late, helping it play up. The pitch is presently average with a chance to be comfortably above average because of the way it plays. The southpaw will also mix in an average upper 70s curveball to steal strikes on occasion.
Outlook
One of the names that can really rise up this list, Gasser could wind up being a steal for the Padres at 71st overall in last year's draft. Gasser's above average fastball gives him a strong baseline along with a slider that is already flashing plus and a present feel for his changeup. An underrated aspect of Gasser is his above average command as well.
The 22-year-old has shown plenty of comfort throwing all four of his pitches for strikes and has the upside of a solid rotation piece if it all works out and a lower end projection of an effective left-handed bullpen arm.
8. Joshua Mears – OF – (Low-A)
Age: 20 | Height/Weight: 6'3, 230 | Bat/Throw: R/R | 2nd Round (48) – 2019 | ETA: 2024
| | | | | | |
| --- | --- | --- | --- | --- | --- |
| HIT | RAW POWER | GAME POWER | RUN | FIELD | FV |
| 30/40 | 70/75 | 60/65 | 50/45 | 40/50 | 45 |
Mears has some of the most impressive raw power in the Minor Leagues, launching numerous jaw-dropping homers in his full season debut last year. With his big time power has come a ton of whiffs, which is what holds back the 20-year-old masher from his big time potential.
2021 Stats (A): .244/.368/.529, 17 HR, 31 XBH, 131 wRC+, 39.2 K%, 12.4 BB%
Offense
Hitting several home runs 115+ mph last year, Mears has top of the scale power with shockingly minimal effort. Of course, the 39% K-rate sticks out like a sore thumb and is the obvious hurdle for Mears. What's interesting is that Mears does not expand the zone as much as one might expect, recording average chase rates last season. This is in part encouraging, but also discouraging because it means Mears is swinging through a lot of pitches in the zone.
It's worth noting that Mears was a high school prospect who missed out on an important year of development in 2020. He looks like a player still feeling himself out at the plate and understand which moves work for him. Another wild thing with Mears is that there is almost no load or stretch going on in his torso. His hands just sit in the same place then he pushes from there which makes it even more absurd that Mears is able to produce the kind of power that he does.
Mears also utilizes a leg kick which he struggles to time up and does not serve that much of a purpose due to his lack of load. Quieting the leg kick and getting himself to a place where he is not just going from stagnant to forward with his hands could make all the difference for a 20-year-old who has 40 home run power.
Defense/Speed
An above average runner, Mears will likely slow down a tick given that he is built like a linebacker, however he moves well enough to fill in up the middle in center field as well as play an above average corner outfield. Mears will need to develop with his reads and routes, but he is surprisingly quick and has a strong arm.
Outlook
The strikeout rate for Mears is without a doubt concerning, but the power he has been able to produce with the swing deficiencies he has is in a way encouraging. Mears has a good feel for the strike zone and it is important to note that he has only played 114 professional games.
Mears athleticism and absurd strength make him worth following as he could be a few swing adjustments away from exploding. As we know, that can be easier said than done.
9. Euribiel Angeles – INF – (High-A)
Age: 19 | Height/Weight: 5'11, 175 | Bat/Throw: R/R | IFA: $300K – 2018 | ETA: 2023
| | | | | | |
| --- | --- | --- | --- | --- | --- |
| HIT | RAW POWER | GAME POWER | RUN | FIELD | FV |
| 50/55 | 40/50 | 30/45 | 50/45 | 45/55 | 45+ |
An extremely advanced hitter for his age, Angeles dominated Low-A pitching and earned a call-up to High-A Fort Wayne alongside Robert Hassell III.
2021 Stats (A/A+): .329/.392/.445, 4 HR, 36 XBH, 125 wRC+, 15.7 K%, 8.1 BB%
Angeles has a level swing geared for line drives and a ton of contact, boasting high-end zone contact rates. Angeles' barrel seems like it lives in the zone, with a direct, short path to the ball that allows him to get to elevated high velocity/spin fastballs that have become en vogue.
At just 19 years old, Angeles is an extremely mature hitter with the ability to spoil difficult pitches with two strikes, seemingly like he can at least get a piece of anything. Though Angeles will probably never hit for much more than 10-15 homers, his gap to gap approach resulted in plenty of doubles and triples (32). While there is not a ton of projection on his frame, Angeles is still a teenager who could develop a bit more strength as he ages.
Defense/Speed
Angeles has excellent instincts in the field and can play all over the infield. Don't mistake his versatility as an inability to play shortstop though, as Angeles committed only two errors in 49 games at shortstop and showed off his sneaky range. Angeles is an above average runner which can be seen all over the diamond and in his occasional willingness to swipe some bags.
Outlook
A high-floor prospect who should climb up through the Minor Leagues quickly, Angeles may never be a superstar, however I am extremely confident in his likelihood of developing into a big leaguer. Angeles reminds me a lot of Donovan Solano with more defensive ability. If the bat doesn't quite get to Solano's level of production at the big league level, his defensive versatility and contact skills should make him a solid utility-man.
10. Ethan Elliott – LHP – (Double-A)
Age: 24 | Height/Weight: 6'3, 180 | Bat/Throw: L/L | 10th Round (293) – 2019 | ETA: 2023
| | | | | |
| --- | --- | --- | --- | --- |
| FASTBALL | SLIDER | CHANGEUP | COMMAND | FV |
| 40/45 | 50/55 | 45/55 | 40/55 | 45 |
A pitcher who defies much of what is looked for in pitching prospects nowadays, Elliott has found a way to make his upper 80s fastball work so far in professional baseball.
2021 Stats (A+/AA): 70.2 IP, 3.06 ERA, 1.10 WHIP, 30.3 K%, 6.6 BB%
Arsenal
A fastball that sits 87-89 mph, Elliott is able to get swings and misses on the pitch thanks to a unique delivery and a high spin fastball which boasts high spin rates and riding action. Elliot also gets more than seven feet of extension at release, allowing for the fastball to play up a couple mph.
Elliott's best off speed pitch is his above average slider, which has a ton of horizontal sweeping movement in the 78-82 mph range. From his low three-quarters release point, the pitch looks like it is flying at the hip of left-handed hitters and Elliott does a good job of making the spin difficult to pick up out of his hand. As a result, lefties hit just .186/.247/.326 against him.
Elliott will mix in a changeup which features good arm side fade. At times, Elliott's arm lag will cause him to lose the changeup arm side, however righties cannot burn him with those kid of misses so it is not necessarily the worst thing, especially since he is comfortable using the slider to back door righties on occasion.
Outlook
It is extremely rare for a pitcher to make 87-89 mph work, but it seems like if anyone could, it would be Ethan Elliott. The combination of high spin and great extension helps Elliott's fastball play more like a 90-92 mph pitch, but a slight uptick in velocity could make a monumental difference for him.
A fly ball pitcher, Elliott will likely be impacted by his ballpark. Keeping the ball in the yard will be a huge focal point for Elliott, but he could work out of the bullpen as his slider is a devastating pitch to lefties and the fastball will likely tick up in one or two inning spurts. Elliott could be a nice swingman piece for the Padres who can spot start and get lefties out from the bullpen.
Other Names to Watch
Brandon Valenzuela – C – (High-A): Probably the 11th ranked prospect, Valenzuela has become the second best catcher in this system. A glove first catcher, Valenzuela hedges some of his offensive concern as a switch-hitter with a patient approach and gap to gap power. Valenzuela has a strong arm and is a good receiver, giving him a chance to turn into a big league backstop if the bat picks up a bit.
Kevin Kopps – RHP – (Double-A): Kopps was one of the most dominant arms in college baseball last year surrendering just nine earned runs in 89.2 innings (0.90 ERA), along with an absurd 131/18 K/BB ratio. It was more of the same for Kopps in his pro debut, carving up hitters with his ridiculous cutter. Kopps should be in the Padres bullpen at some point this year.
Ray Kerr – LHP – (Triple-A): Acquired in the Adam Frazier trade prior to the lockout, Kerr is a 27- year-old prospect, but can be a legitimate bullpen piece for the Padres on Opening Day. Lefty relievers with triple digit fastballs and a wipeout breaking ball don't grow on trees and that is exactly what Kerr brings to the table. Kerr struck out 37% of batters in the upper-minors last year.
Victor Acosta – SS – (DSL): Acosta is a guy who I admittedly just have not seen enough of to be able to rank confidently. That said, in the video I have seen from the 17-year-old switch hitting shortstop, I have been really impressed with his bat speed and swing for his age. It is easy to see why the Padres signed him for $1.8 million out of the Dominican Republic and there's a solid chance we could look back on this list in a year and laugh at how Acosta was not in the top 10.
Eguy Rosario – INF – (Double-A): Short and stocky with a great feel to hit, Rosario enjoyed a strong 2021 campaign in Double-A, hitting .281/.360/.455. Rosario is capable of playing all over the infield while producing plenty of contact and could be a solid infield depth piece for the Padres.
Tirso Ornelas – OF – (High-A): A polished hitter with intriguing tools, Ornelas had a decent season in Fort Wayne, but still offers some intriguing upside as a good athlete with a big frame and strong approach. Ornelas uses the whole field well and is a patient hitter. He should start the year in Double-A San Antonio next season and could be a high-end fourth outfielder with a shot at being an average regular.
Agustin Ruiz – OF – (Double-A): After hitting just four homers in 120 Low-A games last year, Ruiz launched 21 home runs between High-A and Double-A last season. The 22-year-old was blatantly overmatched after his call up to San Antonio, however his breakout season makes him worth a follow in 2022.