List
MLB Futures Game: Five Under the Radar Prospects to Watch
This year's Futures Game boasts a ton of talent, here are five players I can't wait to see in action.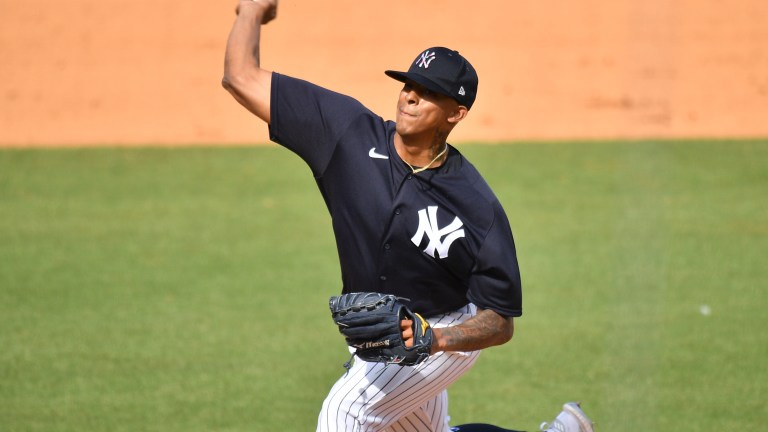 The MLB All-Star Futures Game is one of the most exciting platforms for young professionals to show off their immense talent in front of a national audience.
While many are aware of the big-name prospects, guys like Adley Rutschman and Jarred Kelenic, few have an in-depth knowledge of the minor leagues to the point that they are going to be aware of all the talent that takes the stage on July 11.
I've put together a list of five guys I'm excited to watch this Sunday. I believe everyone on this list has a high probability of reaching the big leagues, and even a chance at becoming an impact talent. These guys are must-see players for tomorrow's game.
1. Pedro Leon – OF – Astros (23-Years-Old)
Signed out of Cuba for $4 million in 2020, Leon put up monstrous stats in the Cuban National Series in the 2018-19 season where he produced a .383/.467/.789 slash line with 15 HR in only 33 games.
From what I've seen, all signs point to him being a complete player. He touts above average speed and power, and possesses a rocket arm that has received 80 grades from some. His arm strength, coupled with strong, wiry frame and freakish quickness, should allow him to stay in center field.
The Astros thought highly enough of Leon to send him to Double-A for his first minor league assignment and he has responded well with a .242/.348/.438 slash line. He's also added eight homers and 10 stolen bases in only 43 games.
The only red flag in his profile is his extreme tendency to swing and miss. Through those 43 games he has totaled 59 strikeouts, good for a 33% strikeout rate. He offsets that, to an extent, with an 11% walk rate, but the strikeouts will have to go down if he's going to be super effective at the next level.
Leon is a fantastic player, with game changing tools, and should be an absolute blast to watch at the Futures Game this year.
2. Luis Medina – SP – Yankees (22-years-old)
While Yankee's fans certainly know of Medina, he's flown a bit under the radar for the typical Yankee prospect.
Signed out of the Dominican Republic way back in 2015, Medina has spent six seasons in the Yankee's system with varying levels of success. While his 5.10 ERA in pro ball doesn't jump off the page, he has been much better this year in the time he's spent between High-A and Double-A (3.66 ERA with 78 strikeouts in only 51.2 innings).
Medina has one of the most electric fastballs in the minor leagues, routinely hitting triple digits with some natural cut. In addition to his fastball, his wiry frame and elite arm speed produces a low-80's curveball that flashes double-plus at times with a big time 11-to-5 break. He also throws a changeup in the upper-80's, giving him three distinct speeds to keep hitters off balance.
The raw stuff of Medina is insane, but, having given up 32 walks in his 52.1 innings this season, he'll have to refine his command if he wants to be a starter. Medina was able to pitch out of jams more in High-A, but the free passes have impacted his ability to keep runs off the board in his initial Double-A starts. You will be hard pressed to find a more electric arm in the minors, and Medina manages to harness his raw ability, his upside is boundless. 
3. Tyler Soderstrom – C – A's (19-years-old)
The A's selected Soderstrom with the 26th overall pick in the 2020 MLB Draft with the expectation that his bat would eventually carry him to the big leagues. The early returns could not be better as the young catcher has produced a .312/.394/.561 slash line with nine home runs and 18 doubles in 47 games in Single-A. 
The left-handed swinger has serious raw hitting tools that feature big-time bat speed and immense strength in his 6'2", 200 pound frame. He was drafted as a hit over power prospect and regularly sprays balls around the field with authority.
Defensively, his play behind the plate hasn't been great, and he doesn't have the athleticism that you see in a lot of major league catchers. Most likely, Soderstrom will end up at first base, but even if everything clicks for him behind the plate, he probably maxes out as an average defender.
The A's knew this when they selected him, betting on the projectable bat, which clearly looks to be even ahead of the lofty expectations around his offensive profile. With his advanced approach and swing, Soderstrom could be one of the first high school bats in his draft class to reach the show. 
4. Nick Pratto – 1B – Royals (22-years-old)
Drafted 14th overall by the Royals in the 2017 MLB Draft, Pratto was known out of high school as an elite hitter and fielder who had the ability to potentially hit 20 to 25 HR on an annual basis.
While the fielding held true at the next level, Pratto struggled mightily with the bat at High-A in 2019, producing a .191/.278/.310 slash line that left both the team and its fans wondering if he was going to be a bust. Pratto used the off time in 2020 to retool his swing and approach, which has more than paid dividends in 2021.
This season, Pratto is slashing .274/.405/.589 with 14 HR and 12 doubles in Double-A. He's also shown an elite ability to control the strike zone with 39 walks and only 40 strikeouts through his first 52 games. 
Armed with a silky smooth swing, plus raw power and an incredible glove at first, Pratto has all the tools to become a franchise player at first base for the Royals in the very near future. 
5. Jake Burger – 3B – White Sox (25-years-old)
It's been a long and difficult road for Burger ever since the White Sox drafted him 11th overall out of Missouri State in the 2017 MLB Draft. A consistent string of injuries have resulted in him participating in only 93 minor league games. This is primarily due to him rupturing his left Achilles tendon at the beginning of the 2018 season and not seeing the field again till 2021.
All he has done since then is rake, as he's posted a .322/.368/.596 slash line with 10 HR and 15 doubles in 42 Triple-A games. Factor in the .353/.389/.588 line he put up in a brief six-game call-up to the show and we have the makings of an offensive monster. 
Burger has battled through extreme adversity and has seemingly come out on top. This type of feel good story is something everyone can get behind. Burger is an easy guy to root for and we can't wait to see him perform at the Futures Game in Denver.