Rankings
Minnesota Twins Top Prospects
The top prospects for the Minnesota Twins heading into 2022.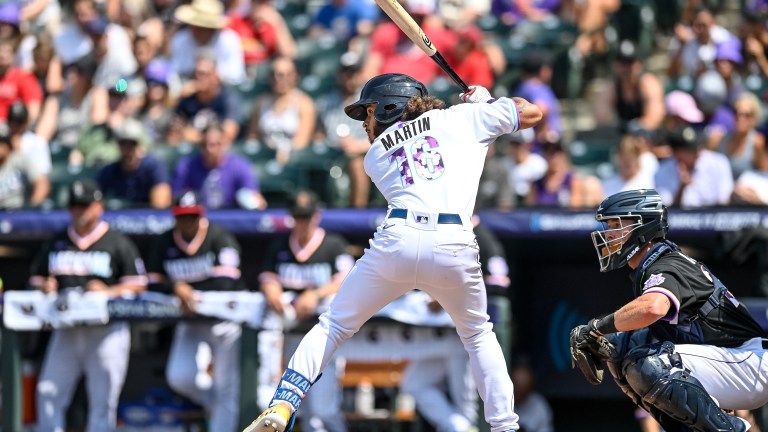 Rarely does a team get the opportunity to inject two Top 100 prospects into their system, but a trade of Jose Berrios can make that happen. The Twins system has plenty of talent beyond the newly acquired Austin Martin and Simeon Woods Richardson, even after the graduation of Trevor Larnach and Alex Kirilloff.
1. Austin Martin – INF/OF – (Double-A)
Age: 22 | Height/Weight: 6'0', 185 | Bat/Throw: R/R | 1st Round (5), 2020 (TOR) | ETA: 2023
| | | | | | |
| --- | --- | --- | --- | --- | --- |
| HIT | RAW POWER | GAME POWER | RUN | FIELD | FV |
| 55/65 | 40/45 | 35/40 | 55/55 | 35/45 | 50+ |
Arguably the most advanced bat in the 2020 MLB Draft class, Austin Martin received an aggressive assignment to begin his career in Double-A where he did not blink offensively. Martin was sent over to Minnesota in the Jose Berrios trade last year, but currently lacks a true position defensively, along with some questions surrounding how much power he can hit for.
2021 Stats (AA): .270/.414/.382, 5 HR, 25 XBH, 128 wRC+, 19.9 K%, 14.4 BB%, 14 SB
Offense
A fantastic approach and elite bat-to-ball skills have helped Martin make a smooth transition straight to Double-A, something that is rare even from the most advanced collegiate bats. Martin does a great job of picking out fastballs he can do something with early in the counts and has no fear of going deep into counts. As a result, Martin chases as little as any hitter in the minors.
There really is no question around Martin's ability to get on base and generally avoid strikeouts, but his ceiling could be somewhat tempered due to limited power output. Martin slugged just .382 last season, which did not help the pre-draft concerns about how much power he can hit for.
Martin is a very instinctual hitter and he could have been feeling things out a bit in his first season. Combine that with below-average exit velocities and you are going to struggle to do damage. As a result, there is a lot of pressure on Martin's hit tool, however it is difficult to be anything but extremely confident in that hit tool. On top of the impressive plate discipline, Martin can get to almost any pitch and does a great job of spoiling the tough ones.
"The more you watch Austin," one former Vanderbilt teammate told me. "The more you realize how much slower the game is for him than everyone else."
Even though he is not a burner, Martin seems like the perfect leadoff hitter as a guy who gets on base and grinds out at bats by seeing a ton of pitches.
Defense/Speed
While not an explosive athlete, Martin posts above-average run times and moves pretty well all over the diamond. The issue is, Martin does not really have a true position. He has gotten plenty of run at shortstop, however that does not look like a destination for him long-term; in 42 starts there last season, Martin made 16 errors. Martin as an average arm which could work at third base, though his bat would not profile well there.
The two most likely landing spots for Martin defensively will be centerfield or second base. After his trade to the Twins, Martin played a bit more centerfield than shortstop and showed improved routes and more comfort out there. Of course, that Byron Buxton guy will hopefully be anchoring centerfield for the foreseeable future, but with his injury concerns, getting Martin acclimated up the middle is not a bad idea; especially when second base is a position that will come much easier to him and he has college experience at third.
Outlook
A top-25 prospect in the eyes of many outlets, I admittedly may be a bit more bearish on Martin compared to the industry, but not because I don't think he can be a good big leaguer. Martin is a high-floor prospect who will more than likely be able to handle MLB pitching by the time he gets up there.
What is keeping Martin more towards the back third of our Top 100 list is that I am not sure there is much to dream on beyond a high-contact guy. There's plenty of value in getting on base a lot and that is why he is able to circumvent the defensive questions and alarmingly light power output to still be a top 100 prospect. A Jonathan India type of offensive profile is the hope if Martin can slug a bit more.
2. Jordan Balazovic – RHP – (Double-A)
Age: 23 | Height/Weight: 6'5, 215 | Bat/Throw: R/R | 5th Round (153), 2016 (MIN) | ETA: 2022
| | | | | | |
| --- | --- | --- | --- | --- | --- |
| FASTBALL | CURVEBALL | SLIDER | CHANGEUP | COMMAND | FV |
| 60/60 | 60/60 | 50/55 | 45/55 | 40/50 | 50+ |
After overpowering hitters at the lower levels, Balazovic was challenged to execute his pitches more at Double-A St. Paul and largely rose to the occasion, aside from some minor bumps in the road. Balazovic was viewed as a project when drafted out of Canada and has developed nicely, especially after losing out on 2020.
2021 Stats (AA): 97 IP, 3.62 ERA, 3.91 FIP, 24 K%, 9 BB%
Arsenal
At 6-foot-5, 215 pounds, Balazovic generates easy velocity on his fastball which sits at 95 MPH and tops at 97 MPH. The fastball plays really well up in the zone with riding action. Balazovic has the tendency to miss over the middle at times when trying to pitch away from righties and in on lefties due to the arm-side run that the pitch has, but his fastball command has steadily improved. With the velocity and life on his fastball, the pitch should play as plus as long as he commands it decently well.
Balazovic's best out pitch is his power curveball with sharp downward action in the mid-80s. The offering works well off of the big righty's lively fastball. The curve gives Balazovic a second plus pitch to work with and is effective against both lefties and righties.
For his third offering, Balazovic will mix in a changeup which he is still working to command, but shows some good arm-side fade in the mid-80s. Balazovic predominantly throws the pitch to left-handed hitters, however he has seen some success using the pitch against righties when he commands it.
Because of the way that Balazovic hides the ball, the pitch could play up with some deception. It is still more likely to be an average offering that is depending on his command in order to reach above average territory.
Balazovic will also mix in a cutterish slider which gives him another look. The pitch ranges from 85-88 MPH, topping at 90 MPH. It is a really unique pitch that could give him another above-average offering in his arsenal.
Outlook
With his fastball as a strong baseline and already a plus out pitch, Balazovic has been able to enjoy some decent success at the Double-A level. If Balazovic can improve his feel for his changeup and overall command a bit as well, the righty has No. 2 upside. It is probably more likely that Balazovic will slide into more of a middle-of-the-rotation profile, however I still see him as an unfinished product who can continue to improve with another year in the minors.
3. Jose Miranda – 3B/2B – (Triple-A)
Age: 23 | Height/Weight: 6'2, 210 | Bat/Throw: R/R | 2nd Round (73), 2016 (MIN) | ETA: 2022
| | | | | | |
| --- | --- | --- | --- | --- | --- |
| HIT | RAW POWER | GAME POWER | RUN | FIELD | FV |
| 50/55 | 55/55 | 50/55 | 45/45 | 45/50 | 50+ |
A second-round pick back in 2016 out of the Carlos Beltran Puerto Rican Academy, Miranda showed flashes off offensive ability early in his professional career. Added strength and adjustments to his overly aggressive approach helped Miranda break out in a big way in 2021.
2021 Stats (AA/AAA): .344/.401/.572, 30 HR, 62 XBH, 12.5 K%, 7.1 BB%, 158 wRC+
Offense
As you can see from the absurd stat line above, Jose Miranda could not have been much better last season between the two upper levels. How the 2021 season was not enough to make Miranda a consensus top 100 prospect is beyond me. This wasn't some older hitter beating up on inexperienced lower-level pitching, but rather a high-profile draft pick who figured it out during 2020's layoff.
On top of his added strength and improved approach, Miranda made adjustments to get his lower half more incorporated in his swing. The 23-year-old uses a gathering leg kick which he times up very well to get into his back hip. Miranda's improved ability to tap into his strong lower half has also allowed his explosive rotational power to shine through even more.
Miranda's barrel just lives in the zone and he has an elite feel for his swing. The infielder has always been able to spray line drives all over the field and many of those gappers in prior seasons turned into home runs with the added strength and incorporation of his lower half. After posting a HR/FB rate of just 5% in 2019, Miranda saw that number multiply by five in 2021 to around 25%.
Put simply, a much, much larger percentage of fly balls left the yard for Miranda last season than any year prior.
Prospects with top-end contact rates who develop power are generally the safest profile to see much of their production translate at the big league level.
Defense/Speed
Miranda split time between second, third, and first base last season, making the most of his starts at the hot corner. Despite seeing more action at third, Miranda profiles more as a second baseman. His arm is just average and he is a bit flat-footed at third. Though Miranda could have the offensive profile to support a move to first base, I was encouraged enough by what I saw from him at second base to believe that he can be an average defender there.
Outlook
If you couldn't tell, I am sold on the breakout from Jose Miranda. The production didn't come by chance, but rather a result of several positive factors. While Miranda is still a bit aggressive in the box, he has toned it down enough to achieve success thanks to his advanced feel to hit.
It is hard to not have confidence in elite bat-to-ball skills and above-average exit velocities, especially when a guy puts up the numbers that Miranda did in the upper levels. I see a ton of Ty France in Jose Miranda, however with a bit more ability to move around the diamond.
4. Simeon Woods Richardson – RHP – (Double-A)
Age: 21 | Height/Weight: 6'3, 210 | Bat/Throw: R/R | 2nd Round (48), 2018 (NYM) | ETA: 2023
| | | | | | |
| --- | --- | --- | --- | --- | --- |
| FASTBALL | CURVEBALL | SLIDER | CHANGEUP | COMMAND | FV |
| 50/55 | 55/55 | 45/50 | 60/65 | 40/50 | 50 |
The complementary piece to Austin Martin in the Jose Berrios deal, Woods Richardson had a bumpy 2021, however he was the youngest pitcher in all of Double-A and racked up big time strikeout numbers.
2021 Stats (AA): 53.1 IP, 5.91 ERA, 3.81 FIP, 1.54 WHIP, 32.1 K%, 14.2 BB%
Arsenal
Despite surprisingly low velocity in the 90-92 range, Woods Richardson is able to effectively throw his fastball thanks to its deception. Woods Richardson throws straight over the top, hiding the ball well as it gets in on hitters quickly thanks to its backspin type life. As a result, SWR is able to get a fair amount of swings-and-misses up in the zone despite the lower velocity.
Nestor Cortes and Ranger Suarez serve as current examples that deception and the right vertical movement profile can masque a low 90s fastball. Another thing that can help a fastball play up is a plus changeup and SWR has exactly that.
The changeup boasts a ton of arm-side fade in the low 80s and is extremely difficult to differentiate out of his hand thanks to that over the top type of release point that is somewhat reminiscent of Ian Anderson.
Woods Richardson is comfortable spinning a pair of breaking balls, with his downer curveball in the high-70s. The pitch is above-average with impressive shape and he will use it to both lefties and righties. When he commands it, SWR is comfortable throwing the curveball in hitter's counts to steal strikes and as a put-away pitch.
The big right-hander also has an average slider in the low 80s which he mostly throws to right handed hitters giving him a fourth look.
Outlook
While the stat line was not pretty for Simeon Woods Richardson in 2021, the 21-year-old has now been a main piece in two major trades, pitching for three organizations over the span of a few years with a cancelled season in between.
I think I speak for every evaluator when I say it would have been nice to see that fastball velocity tick up a bit for SWR, but the fact that he could make 90-92 MPH work to the tune of a 32% K-rate is incredibly encouraging. What was discouraging was the 14% walk rate and that is something that SWR is going to need to iron out, however he has shown feel for all four of his offerings at times.
If SWR can improve his command, he has the makings to be a solid No. 3 starter. If the velocity ticks up, he could be a frontline guy with the built in swing-and-miss that he is able to generate. If the command continues to wane, you could be looking at more of a back-end of the rotation guy, but I think he is going to land somewhere in the middle of those scenarios.
5. Joe Ryan – RHP – (MLB)
Age: 25 | Height/Weight: 6'2, 205 | Bat/Throw: R/R | 7th Round (210), 2018 (TB) | ETA: 2022
| | | | | | |
| --- | --- | --- | --- | --- | --- |
| FASTBALL | CURVEBALL | SLIDER | CHANGEUP | COMMAND | FV |
| 60/60 | 50/50 | 55/55 | 45/55 | 60/60 | 45+ |
Traded over from the Rays in the Nelson Cruz deal, Joe Ryan parlayed a great season in Triple-A into a strong MLB debut in five starts. Ryan is a safe bet to slot into the Twins rotation again next season.
2021 Stats (MLB): 26.2 IP, 4.05 ERA, 3.43 FIP, 0.79 WHIP, 30 K%, 5 BB%
Arsenal
While Ryan may not have elite stuff, his command and low vertical attack angle really allow for it to play up, especially his fastball. While his heater only sits in the 91-93 MPH range, Ryan was able to lean on the pitch heavily in Triple-A and in the big leagues and saw plenty of success.
Ryan's arm action is a bit like a slingshot as he hides the ball well before firing from his coveted low release point. The 25-year-old is comfortable spotting up the pitch on either side of the plate and can get swings-and-misses up in the zone even in the low 90s. The fastball is especially effective to right-handed hitters thanks to its late arm-side run and Ryan is so confident in his command that he will run the pitch in on righties to tie them up or set up the slider.
Ryan is extremely comfortable locating the slider to his glove-side, using it as a pitch that darts off of the plate to right-handed hitters. The pitch works off of Ryan's running fastball exceptionally well and generated high whiff numbers between Triple-A and MLB. The one catch is, Ryan will only throw the pitch to right-handed hitters.
For lefties, Ryan mixes in a curveball and a changeup which both flash above-average thanks to his command. After his call-up to the big leagues, Ryan incorporated the curveball a bit more than he had in Triple-A, using it as a pitch to backdoor lefties as well as give a third look between his fastball and changeup. It is a slower curve in the mid 70s and probably won't be much more beyond what Ryan is using the pitch for now.
The offering to watch as Ryan continues to feel out his arsenal is his changeup. The pitch has crazy horizontal movement to his arm-side and generated strong swing-and-miss numbers, however it is the only pitch that Ryan does not have plus command of. As a result, Ryan only threw it about 10% of the time in the big leagues, leaning on the curve to get lefties as well.
Outlook
Joe Ryan is a safe bet to be a serviceable MLB starter for the foreseeable future. His elite command and proven fastball effectiveness along with at least viable secondaries give him an extremely high floor.
While you can count on Ryan being a No. 4 starter for you right now, an improved feel for his changeup could take him into No. 3 territory. Ryan was a much-needed arm for the Twins and is likely to be a part of their rotation for the foreseeable future.
6. Josh Winder – RHP – (Triple-A)
Age: 25 | Height/Weight: 6'5, 210 | Bat/Throw: R/R | 7th Round (210), 2018 (MIN) | ETA: 2022
| | | | | | |
| --- | --- | --- | --- | --- | --- |
| FASTBALL | CURVEBALL | SLIDER | CHANGEUP | COMMAND | FV |
| 55/55 | 50/50 | 55/55 | 55/55 | 55/60 | 45+ |
Drafted out of VMI in the seventh round, Winder was viewed as a command over stuff guy with plenty of room for projection. Winder has seen his stuff develop since joining the Twins organization and the command has not wavered.
2021 Stats (AA/AAA): 72 IP, 2.63 ERA, 3.40 FIP, 0.94 WHIP, 29.1 K%, 4.7 BB%
Arsenal
At 6'5, 210 pounds, Winder has extremely sound mechanics thanks to his low-effort delivery which he repeats incredibly well. Winder has an above-average fastball that sits in the mid 90s, topping out at 97 MPH. Thanks to his length, Winder is able to get decent extension on his release, allowing for the fastball to get in on hitters a bit quicker.
Like most hard throwers, Winder likes to elevate the fastball to set up his offspeed, however he is comfortable going east to west with the pitch as well and threw it for a strike 70% of the time.
Winder's best out pitch is his slider which has more of a gyro type movement to it in the upper-80s. The right-hander has a ton of confidence in the pitch and is willing to throw it in any count; he also isn't afraid to throw it to left-handed hitters. While he does mix the slider in to lefties, Winder's changeup is his go-to pitch against opposite hand hitters.
While the profile of the pitch is above-average, his command of it allows it to play up to borderline plus territory. Between Double-A and Triple-A last season, Winder held lefties to a .348 OPS against the change while throwing it about 20% of the time.
Similar to some other arms in this system, Winder takes advantage of his good feel to spin by mixing in an average curveball to steal strikes.
Outlook
This is not deja vu, ironically many of the arms in this Twins system have similar profiles. Winder will be another arm in the fold for 2022 and has shown to be pretty darn close to big league ready. So far his above-average stuff has played well in the minors due to his ability to command it and repeat his release point across his offerings.
Winder is yet another safe arm with a really good chance to be a back-end of the rotation starter. I know, I've said this several times now, but these high-floor arms will help the Twins in 2022 and the organization will have a better idea of where they stack up in regards to the future.
I'd be willing to bet that Winder can hang in this rotation once he is called up next year and with further development of his secondaries could achieve No. 3 upside.
7. Royce Lewis – SS – (Double-A)
Age: 22 | Height/Weight: 6'2, 210 | Bat/Throw: R/R | 1st Round (1), 2017 (MIN) | ETA: 2022
| | | | | | |
| --- | --- | --- | --- | --- | --- |
| HIT | RAW POWER | GAME POWER | RUN | FIELD | FV |
| 35/50 | 60/60 | 35/50 | 70/70 | 40/55 | 45+ |
It has been two years since we have seen Royce Lewis on the field and the last time we saw him, he salvaged a disappointing season in High-A and Double-A with a monstrous 22 games in the Arizona Fall League.
DNP in 2021 (Torn ACL)
Offense
When the Twins drafted him first overall in the 2017 MLB Draft, they believed they were getting an uber-athletic position player with a high-floor coupled with a high-ceiling. Unfortunately things have not gone to plan for either Lewis or the Twins. After a rough 2019, Lewis broke out as the MVP of the Arizona Fall League and just as things were looking up for the young prospect, an ACL tear abruptly ended Lewis' 2021 season before it began.
Lewis' swing is full of moving parts that starts including a sizable leg kick combined with hand movement up until contact. Lewis' elite athleticism allows him to get away with the move, but it creates enough holes in his swing to where he almost certainly will need a change in order to be an impact hitter at the big league level.
His bat speed is impressive, however he often loses his connection with the ground due to his inconsistent timing from all of his moving parts. He needs to find a new way to engage his electric lower half in order to let his body control and athleticism take over with his swing.
The raw hitting tools are sizable with Lewis. He possesses all the ingredients to become a plus hitter with plus power, but it just won't happen with his current swing mechanics.
Defense/Speed
Lewis has shown he can handle shortstop throughout the Minor Leagues and has also seen time in center field, second base and third. His double-plus wheels and athleticism allow him to move around the field with ease and his plus arm strength only strengthens his defensive profile. He should steal bags at the highest level thanks to his ability to get to top speed relatively quickly.
Outlook
Lewis has all the tools to be an impact big leaguer, however he needs to iron out the kinks in his swing before we feel he can become a productive MLB hitter. He has all the athleticism and tools you can ask for from a prospect and has become a high-risk, high-reward candidate after his struggles and injury.
8. Matt Canterino – RHP – (High-A)
Age: 24 | Height/Weight: 6'2, 222 | Bat/Throw: R/R | 2nd Round (54) – 2019 (MIN) | ETA: 2023
| | | | | | |
| --- | --- | --- | --- | --- | --- |
| FASTBALL | SLIDER | CHANGEUP | Curveball | COMMAND | FV |
| 55/55 | 55/60 | 55/60 | 45/50 | 40/50 | 45+ |
Drafted out of Rice in 2019, Canterino has done nothing but dominate professional hitters, albeit in a small 48-inning sample size that has seen him punch out 76 hitters against just 12 walks while advancing to High A. Canterino's combination of an electric arsenal as well as a unique delivery make him a unique prospect heading into 2022.
2021 Stats (A/A+): 23 IP, 0.78 ERA, 0.95 FIP, 0.61 WHIP, 53.6 K%, 4.8 BB%
Arsenal
Canterino deploys a unique delivery with lots of moving parts and some effort. Despite the uniqueness, he throws strikes at a high level, starting with a mid 90's heater which he commands well to both sides of the plate. The pitch features a ridiculous amount of life and gets in on hitters extremely quick, especially with his funky delivery.
Canterino's slider shows flashes of becoming a plus pitch and he relies on the offering heavily against both righties and lefties. It sits in the upper 80's, showing good tilt and late, tight action that misses lots of bats.
His changeup also flashes plus and misses bats in bunches and is particularly effective against left-handed hitters. It shows significant velocity difference in the low 80's and features fantastic drop. A low 80's curveball gives hitter's another look and features good vertical depth and he uses it for strikes as well as miss bats on occasion.
Outlook
Canterino's arsenal is unique because of the fact that everything is moving up and down with very little horizontal movement. He projects to miss bats at the highest level, but due to his lack of east-west movement, home runs could be a hindrance on his profile at the upper levels. His ceiling is a three starter and he also has a floor or a good back-end reliever thanks to his fastball velocity and pair of bat-missing off-speed pitches.
9. Chase Petty – RHP – (Complex League)
Age: 18 | Height/Weight: 6'1, 190 | Bat/Throw: R/R | 1st Round (26) – 2021 (MIN) | ETA: 2025
| | | | | |
| --- | --- | --- | --- | --- |
| FASTBALL | SLIDER | CHANGEUP | COMMAND | FV |
| 65/70 | 60/70 | 45/55 | 35/50 | 45+ |
The biggest arm in the 2021 draft class, Petty reached 102 mph on the radar gun in high school. Petty's profile comes with a ton of risk, however it is impossible to deny his upside.
Arsenal
Petty's fastball is already off the charts. There is a bit more effort than you would probably like to see in his delivery but the frequency in which the young right-hander can sit in the upper 90s to triple digits is undeniable.
The pitch has a lot of movement as well, looking more so like a two-seam fastball because of its heaviness and arm-side run. The catalyst behind Petty's high-end velocity is his ridiculous arm speed and athleticism, which hedges some of the concern in regards to the effort in his delivery.
Petty has also shown a plus slider that has the chance to be plus-plus as he continues to develop his command of it. When the pitch is on, it can be devastating with sharp, late horizontal break.
The right-hander has also mixed in a changeup, though he understandably did not need to throw it much in high school. The change has shown flashes of potential, but will need much more refinement as Petty accumulates professional innings.
Outlook
While the track record for hard-throwing righties out of high school is a bit sketchy, Petty is a supreme athlete who has already shown at least some feel for his secondaries. There is plenty of implied reliever risk here, however his athleticism should allow him to improve his mechanics and repeat them as he develops.
10. Jhoan Duran – RHP – (Triple-A)
Age: 24 | Height/Weight: 6'5, 230 | Bat/Throw: R/R | IFA: $65K – 2014 (AZ) | ETA: 2022
| | | | | |
| --- | --- | --- | --- | --- |
| FASTBALL | CURVEBALL | SPLITTER | COMMAND | FV |
| 60/65 | 55/60 | 55/55 | 35/45 | 45 |
An elbow sprain limited Duran to just 16 innings in 2021, however the right-hander was able to avoid surgery. There's few pitchers in the minors with stuff as electric as Duran's, but durability and command questions could hold him back from his immense potential.
2021 Stats (Triple-A): 16 IP, 5.06 ERA, 3.86 FIP, 1.81 WHIP, 29.3 K%, 17.3. BB%
Arsenal
An electric fastball with big-time arm-side run, Duran is able to hit triple digits routinely, even touching 101 MPH. Reminiscent of Brusdar Graterol's fastball a little bit, Duran could end up with a similar fate. No, not pitching for the Dodgers, but settling in the bullpen.
While the fastball is electric, Duran sprays it all over just relying on the pitches ability to miss bats. With even fringe average command, the fastball could be better than plus, but there are too many non-competitive and down the middle pitches from the righty.
Despite his command issues, Duran does have a decent feel for his curveball, which has good shape and late vertical break in the mid-80s. When Duran stays on top of the pitch, it drops off the table and garners a ton of swing-and-miss in the dirt.
Duran's splitter sits in the low-90s and could be a devastating pitch, however Duran has well below-average command of it.
Outlook
With potentially elite stuff and questionable command, Duran is your classic power pitcher with a good deal of bullpen risk. The Twins need starting pitching and Duran will get every shot to stick as a starter. The injury concerns on top of Duran's inability to consistently throw strikes lead me to believe that Duran will likely end up in the bullpen, however he could have immense upside in that role.
Other Names To Watch
Spencer Steer – INF (AA): Steer broke out in a big way last season, dwarfing his four homers in his first professional season with 24 long balls in 110 games. Steer took a bit of time to get acclimated to Double-A before continuing his momentum and finishing strong. He could be an interesting super-utility type for the Twins at the big league level soon.
Keoni Cavaco – SS (A): It has been a disappointing start to the career of the Twins 2019 first-rounder, however he is still just 20 years old and has interesting tools across the board. Cavaco could be an adjustment away from breaking out.
Aaron Sabato – 1B – (A+): After a brutal start to his professional career, Sabato hit his stride in the back-end of the season, launching eight home runs in 22 games after his promotion to High-A. A 2020 first-rounder, Sabato has off the charts power potential along with some swing-and-miss.
Matt Wallner – OF – (A+): A competitive balance pick in 2019, Wallner enjoyed a strong season in High-A. Another big power bat, along with swing-and-miss profile, Wallner will be challenged to make frequent contact in Double-A, but if he can, there could be a big league corner outfielder here.
Cole Sands – RHP – (AA): A high-floor arm who enjoyed a strong season in Double-A, Sands was able to get swings-and-misses through a solid three-pitch mix. Sands could slot into the back of the rotation as soon as next season.