Analysis
The Minnesota Twins Are Quietly Building A Future Contender
Despite trading away their ace on their way to an 89-loss season, the Minnesota Twins are closer to contention than some may think.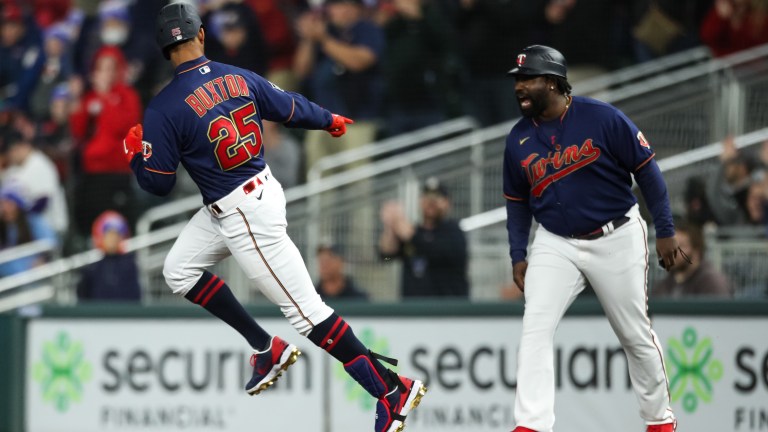 Minnesota Twins President of Baseball Operations Derek Falvey has made it clear that he does not want to use the term rebuild.
"We're going to find a way to invest in next year's team," Falvey said last October. "This is not with an eye toward five years down the line."
The Twins traded away their ace Jose Berrios at last season's Trade Deadline which undoubtedly does not help the team's outlook for 2022, but with only one more year of control at the time and an extension looking increasingly unlikely, the Twins cashed in at the 27-year-old's peak value.
It is somewhat telling that the Twins went after prospects who are closer to big league ready in that deal with the Blue Jays as well. Top 100 prospects Austin Martin and Simeon Woods-Richardson-played last season in Double-A and could be up as soon as late 2022 or early 2023.
When the Twins traded impending free agent Nelson Cruz to the Rays, they opted to take two 40-man arms from Tampa in Joe Ryan and Drew Strotman. Again, the Twins acquired two essentially big league ready arms, but this time in exchange for a rental. The Twins were able to eke out a bit more value because of the Rays 40-man logjam, making GM Erik Neander a bit more willing to "overpay" for a few months of Cruz.
The 25-year-old Ryan was great in his MLB debut for the Twins, pitching to a 4.05 ERA and 3.43 FIP in five starts, making his case to be a long-term piece in their rotation.
The other move that seems to back up what Falvey is saying is the fact that the Twins avoided the full teardown by extending Byron Buxton to a seven-year, $100 million deal loaded with unprecedented incentives.
Because of Buxton's injury history, the team would likely have struggled to net a franchise altering return for their dynamic center fielder. You know what is franchise altering though? A healthy Byron Buxton and the Twins are rolling the dice on that.
MLB GM's can often be like politicians, empty statements or words that don't match action. Derek Falvey does not fit in that bucket, the moves he made last season back up what he has been saying to the media. Rather than a teardown or "rebuild" the team is building for the future without it fully coming at the expense of present competitiveness.
Impressive Young Core
While it may be a bit of a stretch to believe the Twins will be contenders next season, I do believe the team will outperform its 2021 performance despite the departures of Berrios and Cruz.
The Twins struggles overshadowed what was a career year for infielder Jorge Polanco. The 28-year-old shortstop launched 33 homers last season while only striking out 18% of the time. Under control until 2025, Polanco looks to be a key cog in Minnesota's future. Despite not playing a ton of shortstop last year, he is capable at the position and the offensive production can help masque slightly below average defense.
Hampered by injury in 2021, Alex Kirilloff showed flashes of his major upside in 59 games last year. Between being banged up and some brutal batted ball luck, Kirilloff posted a just below average 93 wRC+, but is a big time breakout candidate for next season with a proven track record of hitting. Kirilloff could take over at first and send Miguel Sano to the bench, but if he can play corner outfield, his value would be maximized.
Though not as safe of a bet, fellow young outfielder Trevor Larnach has a ton of upside and could anchor the other corner for the foreseeable future. After a dynamite 2019 where Larnach posted a 148 wRC+ between High-A and Double-A, the 24-year-old was also limited by some late season injuries and struggles against big league breaking balls. If Larnach can even post mediocre numbers against breaking balls, he could be a 30+ home run guy with ease, boasting some of the highest exit velocities in professional baseball.
Second baseman Luis Arraez is a bit of a throwback player in the sense that he does not hit for much power at all and posts absurdly high contact rates as well as an unheard of 10% K-rate. Arraez is very similar to Nick Madrigal of the Cubs, but for a Twins team that is loaded with guys who can leave the yard, a high batting average table setter is not the worst thing in the world. I expect Arraez to be more of a utility guy moving forward, but he is also just 24 years old and under control until 2026.
Another important spot where the Twins have a young, intriguing player under the age of 25 is behind the dish. Despite some offensive inconsistencies, Ryan Jeffers showed a lot of promise for a 23-year-old catcher who was thrusted into a starting job after Mitch Garver dealt with injuries all season.
Baseball Prospectus has one of my favorite statistics to measure a catcher's defensive value called Catcher's Defensive Adjustment or CDA. Jeffers really held his own behind the dish with a 6.6 CDA, good for 11th-best in baseball. Jeffers has some work to do in regards to limiting base stealers, however in a game where stolen bases are becoming a lost art, I am not losing sleep over it if I'm the Twins.
Veterans and Trade Pieces
There is a world where it all comes together for the Twins next year and their path to contention is expedited. That sort of outcome would likely be the byproduct of a productive year from 36-year-old Josh Donaldson, an early return from Kenta Maeda and several of the aforementioned youngsters making major strides in 2022.
While his price tag of $42 million over the next two seasons may be a tad hefty, Donaldson had a quietly productive 2021, hitting .247/.352/.475, while launching 26 homers in 135 games. Donaldson has still proven to be capable defensively at third, however we will need to see if that continues to hold up next year.
Even with recent production, it's unlikely many teams will be lining up to pay an aging Donaldson more than $40 million over the next two seasons, unless Steve Cohen wants to keep breaking out the checkbook.
Max Kepler, 28, had a decent season last year, finishing with 19 home runs to go with strong defense in both right and centerfield. Affordably under control at $15 million over the next two seasons with a club option for $10 million in 2024, Kepler should be a decently valuable trade chip in a league that loves to platoon.
The main argument for trading Kepler is that he is more valuable elsewhere. If Kirilloff and Larnach are presumably starting in the corners, there is no sense in having another left-handed bat who for his career has a 113 wRC+ against righties versus a 69 wRC+ against lefties. A move for more prospect capital or a close to big league ready arm would make sense for the Twins.
Mitch Garver is a name that has been floated around a bit in trade talks, but even with the young Jeffers, I'd be hesitant to deal the 30-year-old backstop. Garver hit 13 homers in just 68 games, looking much more like the guy who left the yard a 31 times in 93 games during the 2019 season.
Even with Jeffers potentially shouldering more of the load behind the dish moving forward, I'd argue that thanks to better plate discipline and bat-to-ball skills, Garver could be a more productive first baseman than Miguel Sano. And we know he can't be worse defensively.
Given that Kenta Maeda will be returning from Tommy John surgery and unlikely to see the field until the end of the season, if that, the veteran is probably likely to stick in Minnesota.
Emerging Prospects
The Twins had a good balance of acquiring close to big league ready prospects as well as development from within their organization. Unfortunately, former No.1 overall pick Royce Lewis was lost for the year last season due to a torn ACL, and the athletically gifted shortstop will have a lot to prove with the bat next season. Aside from Lewis, it was a strong year for many prospects in the organization.
Jose Miranda was the big-time breakout prospect not only in the Twins system but maybe in all of baseball last year. The former second-round pick adding strength, toned down his overly aggressive approach, and reaped the rewards in the form of 30 homers and a comical slash line of .344/.401./.572 between Double-A and Triple-A.
The 23-year-old earned a call-up last year, however the Twins elected to keep Miranda in Triple-A where he made a mockery of Minor League pitching. Miranda is capable of playing both third and second base, so it could be fair to assume Donaldson's replacement is knocking on the door.
Calling up Miranda could allow for Donaldson to slide to DH, where he will survive the grind of the season a bit easier while Garver could split some time at first base with Sano when Jeffers is catching.
Another interesting breakout bat was Spencer Steer. A third-round pick in 2019 from the University of Oregon, Steer enjoyed a power surge as well, hitting 24 home runs in 110 games between High-A and Double-A. Steer is another bat that is capable of playing both second base and third base and the Twins even had him make 15 starts at shortstop.
Of course, the team also has Austin Martin, who put together a really strong first professional season in which he jumped straight to Double-A. Shortstop is not likely in the cards for Martin and I'd like to see him hit for more power, however the 22-year-old is as advanced of a hitter as you are going to find in the minors and could break camp next year.
There's no secret that the biggest need for this team is pitching. Especially with the departure of Jose Berrios and injury to Kenta Maeda. On the big league side, retaining Michael Pineda is a must. Pineda is by no means a frontline guy, but the 32-year-old enjoyed a solid season and gives a relatively uncertain rotation some veteran consistency and presence. Not to mention, the veteran has already expressed his desire to return to Minnesota.
The Twins did add a veteran to the fold prior to the lockout, inking Dylan Bundy to a one-year, $4 million deal. The move is somewhat of a blind dart throw as Bundy could not have been much worse last year after a strong 11 starts in 2020.
As mentioned earlier, the acquisition of Joe Ryan should prove beneficial as soon as next year as I expect the young righty to slot right into the mix. Other intriguing prospect arms who could see MLB time next year include: Jordan Balazovic, Cole Sands, Josh Winder, Austin Shulfer, and Drew Strotman.
Simeon Woods Richardson, Jhoan Duran, and Matt Canterino shouldn't be too far off, though it would be a bit a ambitious to expect major 2022 contributions form any of them.
2022 Outlook and Beyond
The Twins are undoubtedly heading in the right direction. There's a ton of exciting offense at the big league level–much of those players under control for years–and the farm system is filled with arms. Unfortunately, there may not quite be enough pitching reinforcements to help the Twins compete for a division title in 2022.
Adding one more veteran to the mix wouldn't hurt, however the team may prefer to see what it has in Bailey Ober, Gavin Jax, and others as they assess the next few years. Offensively, the Twins could get back to being that team that mashes home runs as much as anyone in the league, especially if the youngsters put it together and Buxton is healthy.
This year will be a big one for pitching development in the Twins organization. If Simeon Woods Richardson and Jordan Balazovic develop the way many think they can, the duo could be fixtures in the Twins rotation for years to come. Jhoan Duran has as good of stuff as anybody in the Minor Leagues as well and after reaching Triple-A last year prior to being shut down with an elbow strain, the electric 23-year-old could be pretty close to helping out in the Twin Cities as well with as much upside as anyone.
Taylor Rogers offers a strong anchor to the bullpen, and some of the Twins 40-man arms could offer some reinforcement in that department, though a signing or two couldn't hurt.
Regardless of the record, the Twins should be a fun team to watch in 2022 and have a clear direction. The Twins aren't tearing it down because they don't need to. This team is closer to competing than some may think.