Analysis
Biggest Breakout Pitching Prospects
After more than 600 days between Minor League seasons, several pitching prospects showed up in 2021 looking like the best versions of themselves.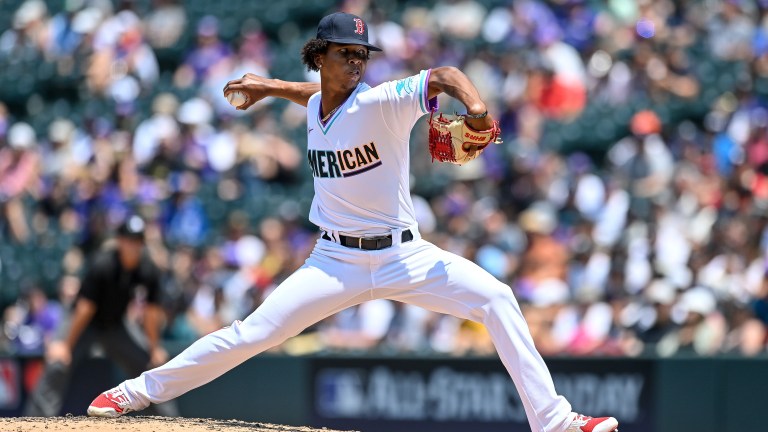 With nearly two years between Minor League seasons, some pitchers emerged in 2021 with massively improved stuff, a new looked arsenal, or huge command improvements. Some of the pitchers on this list did all three. There's no doubt some worthy breakout arms didn't make this article, because I wanted to keep it under 2,000 words, so I focused on pitching prospects who weren't really on my radar prior to the 2021 season.
Glenn Otto – RHP – Rangers – Age: 25
The oldest player on the list, Glenn Otto has enjoyed a breakout year in his fourth professional season. A fifth-round pick by the Yankees in 2017 out of Rice University, Otto made the vast majority of his collegiate appearances as a reliever. Otto showed flashes of what we are seeing now, but dealt with injuries in each of his first two professional seasons, followed by the pandemic.
The 25-year-old came out in 2021 ready to make up for lost time. Despite seeing his velocity dip into the low 90s, Otto debuted a new slider to mix in with his curveball and still effective heater. Otto's curveball has good vertical break, allowing him to tunnel well against LHP. His new slider is wipeout and gives him a great swing and miss pitch against right-handed hitters as well.
One of the many players to make major strides in the Yankees' system this season, Otto turned himself into a valuable trade chip in the package to acquire Joey Gallo from Texas. Between Double-A and Triple-A, Otto has pitched to a 3.38 ERA with 130 K's in 90.2 IP. Among qualified pitchers in the upper levels (80 IP), Otto trails only Grayson Rodriguez and Peyton Battenfield in K-BB%, posting an impressive 30.1% figure.
The improved command along with a true three-pitch mix give Otto a great chance at becoming a really solid No. 4 starter, with No. 3 upside.
Eury Perez – RHP – Marlins – Age: 18
Perez seemingly came out of nowhere for a Marlins organization already loaded with exciting, young starting pitching. Tall enough to play power forward, the 6-foot-8 Perez has impressed with his body control and ability to repeat his mechanics.
Perez earned a High-A promotion after carving up Low-A hitters to the tune of a 1.61 ERA, with 82 K's in 56 IP (13.2 K/9). The right-hander has already touched 98 MPH, sitting more in the 94-95 range on the heater, with plenty of life thanks to the ridiculous 2600+ RPMs it averages. Perez has a downer curveball which has sharp bite from his incredibly high release point. The distant third pitch is Perez's changeup, but he has showed a decent feel for it already, which is impressive given his frame and youth.
High-A Beloit will be a good test for the teenager, especially with his secondaries. Perez went to his fastball more than half of the time in Low-A, but with the extension he generates and high spin, he could get away with the high fastball usage. I expect the upper levels to challenge Perez a bit to throw his secondaries more, but when he goes to the curve, it has been more than effective. Projecting a pitcher like Eury Perez is near impossible, given his measurables, youth and already impressive polish. All I can say on Perez is let your mind wander Marlins fans, because the sky is the limit, but there is still some development to be had for one of High-A's youngest players. Perez is looking like a steal for the Marlins, who signed him for $200K via international free agency in 2019.
Brayan Bello – RHP – Red Sox – Age: 22
Another pitcher who emerged out of the ether, Bello has been a pleasant surprise for a Red Sox system that lacks pitching depth. Similar to their rival Yankees, the Red Sox have enjoyed a year of major prospect development.
Signed for just $28,000 out of the Dominican Republic in 2017, Bello came with some command questions, though he quickly answered them. Bello has posted a solid 2.4 BB/9, while showing a good feel for his fastball, slider, and changeup. There was some buzz generated around Bello at instructs, as his fastball ticked up to 93-95 MPH, and even touched 98. Bello rolled that momentum into this season, dominating High-A with a 2.27 ERA, 2.82 FIP, while striking out nearly 13 batters per nine innings.
A good feel for his changeup and slider, both of which sit in the mid 80s, has helped him rack up swings and misses, and masque his hittable heater. The velocity on Bello's fastball is no doubt encouraging, but it lacks life and could get knocked around as he climbs up the MILB ladder. The fact that Bello can mix in a changeup to allow his fastball to play up helps, but his long arm action could tip off more advanced hitters. So far, Bello has defied some of my concerns by punching out 67 batters in 45 innings since his Double-A promotion.
Sometimes pitchers say "screw your pitch profiles" and get outs despite the lack of fastball characteristics evaluators like to see. Bello might just be that kind of guy, because until I step into the box against him and split the gap, citing a lack of desired characteristics in his four seamer as a reason why he cannot be an impact big league arm is overly pessimistic when Bello continues to get Double-A whiffs regardless.
As I write this up, I am watching Bello dice through the Binghamton Rumble Ponies with a sharp, late-breaking slider that is flashing plus as well. I mean, see for yourself.
The lanky 22-year-old is what I like to call a fluid prospect. Much like Eury Perez, I am not going to bet against this kid, because he continues to show more and more. I wouldn't be surprised if Bello winds up a middle-of-the-rotation arm for the Sox. Frankly, I don't see much reliever risk. It is more a matter of whether Bello will be able to continue to get whiffs as he rises, and so far he has not showed any reason to believe he won't.
Would this be a breakout pitcher list if it didn't include a Cleveland Indians prospect? The Indians do as good of a job as anyone at developing arms, and Xzavion Curry may be on his way to becoming the latest example. A seventh-round selection out of Georgia Tech in 2019, Curry did not make his professional debut that year due to shoulder inflammation. After the 2020 layoff, Curry was able to get fully healthy and has looked fantastic in his first professional showing.
A bit undersized at 5-foot-11, 190 pounds, Curry makes up for his lack of size with impressive athleticism. Curry played shortstop in high school, arriving to Georgia Tech as a two-way player, but excelled more on the bump for the Yellow Jackets. Like many players who make the move from shortstop, Curry's athleticism allows him to repeat his mechanics easily and throw strikes. In 78 innings between Low and High-A, Curry has struck out 104 batters while walking just 12.
Curry's fastball sits in the low-90s, but has a ton of life and high spin numbers…as you can see from the way it floats over barrels in the video above. His curveball is a true 12-6, with late break. Curry hides the ball well, making his high-spin fastball and downer curve a tunneling exposé. The changeup and slider are behind his curveball, but are viable third and fourth offerings that he commands well enough to keep in the mind of hitters. While Curry may not be a future ace, he has the floor of a back-end starter, with room for more.
Matt Brash – RHP – Mariners – Age: 23
A fourth-round pick in 2019's MLB Draft, Brash had pitched just 5.1 innings in his Minor League career coming into this season due to injuries and the pandemic. Much like many of the other players on this list, Brash returned in 2021 with the improved stuff we have seen from him.
Brash sits 94-96 MPH on his fastball, topping at 101, along with an assortment of secondary pitches. Containing somewhat of a reliever risk profile due to some injury concerns and the fact that his best out pitch is a wipeout slider, Brash has quelled those concerns thanks to his improved command and ability to mix in a changeup and curveball.
Throwing from a three-quarters arm slot, Brash is able to create a ton of deception and repeat his release point well. Brash's fastball has good arm side run, generating a difficult opposite action from his sharp slider. A big development for Brash has been the feel for his changeup, which he will mix in enough for left-handed-hitters to think about. From that same release point, it can be difficult to pick up, especially when you are geared up for an upper-90s heater. Just when a left-handed hitter is thinking about pitches tailing away from him, Brash has no hesitance when it comes to using his slider to back leg a lefty.
Brash's ability to carve up lefties leaves me even more optimistic about the long term rotation outlook. If anything, Brash is actually a reverse splits guy, but righties haven't had success against him either. The Niagara University alum has held lefties to a slash line of .125/.238/.232 and righties to .224/.323/.304. While the three aforementioned pitches would be enough for Brash to have success, he mixes in a curveball that will often steal strikes early in the count, and offer another look as well.
Full disclosure, Brash is one of my most underrated pitching prospects in baseball. Spoiler alert: he will be on Just Baseball's soon to be released Top 100 Prospect List.