Analysis
World Baseball Classic: The All-Dropout Team
You could build a pretty fantastic roster using only players who have had to back out of the upcoming WBC — so that's exactly what I did.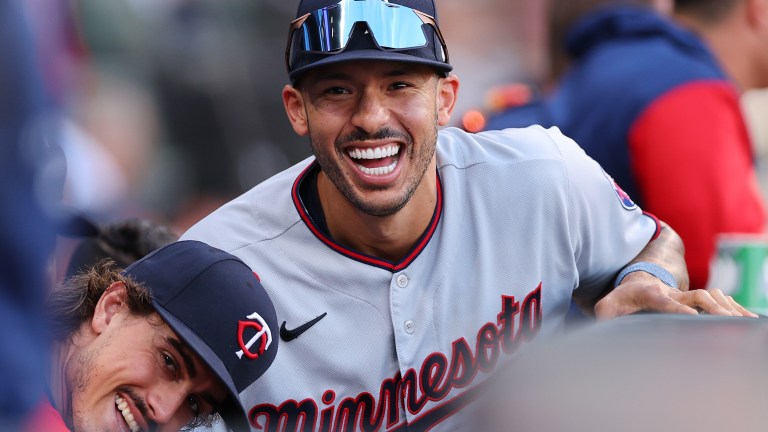 As the World Baseball Classic gets closer and closer, excitement is beginning to build. In just over a week, Cuba and the Netherlands will kick off the very first WBC game in six years.
Unfortunately, all that excitement has been diluted somewhat with the news that several star players are backing out of the tournament. Whether it be due to injuries, new babies, insurance issues, or personal decisions, dozens of players who committed to the tournament have since had to back out.
Indeed, so many players have dropped out that you could field a full team using only those names. And not just any team, but a team strong enough to compete with the likes of the USA, Japan, and the Dominican Republic.
Thus, without further ado, I present Team Dropout. This squad is already good enough to compete with the best of the best, and I have my fingers crossed the All-Dropout squad doesn't get any stronger.
The Lineup
1. BRANDON NImmo – LF
2. José Ramírez – 3B
3. Carlos correa – ss
4. Bryce HARPER – DH
5. Alejandro kirk – C
6. Seiya Suzuki – RF
7.
TREVOR STORY – 2B
8. JI-MAN CHOI – 1B
9. HARRISON BADER – CF
Catcher: Alejandro Kirk – Team Mexico
All-Star catcher Alejandro Kirk became a father this week, and as such, he's been away from Blue Jays spring training camp. Thus, the 24-year-old catcher and his team came to a joint decision that he would sit out the WBC to prepare for the upcoming MLB season.
This comes as a major blow to Team Mexico as they look to escape the group stage for the first time since 2009.
First Base: Ji-Man Choi – Team South Korea
Ji-Man Choi was reportedly very upset when the Pittsburgh Pirates denied him permission to participate in the WBC. Choi was looking forward to representing his home country at the tournament, but the Pirates preferred that he rest up following his elbow surgery this offseason.
Second Base: Trevor Story – Team USA
Boston Red Sox infielder Trevor Story was one of the first players to commit to Team USA, but he is unable to play after undergoing major surgery on his throwing elbow this winter. At this point, the WBC is the least of his worries – it's still unclear if Story will be able to play at all in the 2023 MLB season.
Shortstop: Carlos Correa – Team Puerto Rico
Like Alejandro Kirk, Carlos Correa is sitting out the WBC for family reasons. He and his wife are expecting their second child on March 11, at which point the tournament will already be well underway. Correa's joy, unfortunately, is Team Puerto Rico's sorrow; the Puerto Ricans will have a much harder time competing in Pool D without their superstar shortstop.
Third Base: José Ramírez – Team Dominican Republic
I'm cheating a tiny bit with this one, because I haven't been able to find any proof that Ramírez committed to play in the WBC in the first place. However, he was so heavily rumored to be playing for Team DR that most considered him a lock for the tournament. It came as quite a shock when the rosters were announced and Ramírez's name was nowhere to be found.
Thankfully for the Dominican Republic, their roster is so loaded with infielders that they'll hardly notice Ramírez's absence. It seems a little ridiculous to make such a statement about a player of his caliber, but that's just how stacked Team DR is.
Right Field: Seiya Suzuki – Team Japan
Seiya Suzuki is the latest addition to the All-Dropout team. The Cubs outfielder withdrew from the WBC on Monday after suffering an oblique injury. His status for Opening Day is also in question.
Japan has several options to replace Suzuki on the roster, and they remain the favorites in Pool B, but losing Suzuki will undoubtedly make it harder for them to compete against powerhouse teams like the USA and the DR in later rounds.
Center Field: Harrison Bader – Team Israel
Harrison Bader committed to play for Team Israel last summer. He has since backed out of the tournament, explaining that he'd like to focus on preparing to play a full, healthy season for the Yankees in 2023.
Israel was already a long shot in a pool with the DR, Venezuela, and Puerto Rico, and without Bader, their slim chances are slimmer still.
Left Field: Brandon Nimmo – Team Italy
Brandon Nimmo was on the preliminary roster for Team Italy, but his name was missing when the final rosters were revealed. The Mets center fielder was the star of the squad in the 2017 tournament and was widely expected to return.
Like his fellow New York outfielder Harrison Bader, Nimmo cited a desire to stay healthy and prepare for the upcoming season with his MLB team.
Designated Hitter: Bryce Harper – Team USA
It was a big deal when Bryce Harper committed to Team USA last summer. Unfortunately, the 2021 NL MVP will be unable to play after undergoing Tommy John surgery in November.
His bat will be missed in Team USA's lineup, but the Americans should do just fine without him – they have three other MVPs on the roster.
The Rotation
1. Clayton Kershaw
2. Framber Valdez
3. Luis Castillo
4. Logan Webb
5. Nestor Cortes
Clayton Kershaw – Team USA
It was a matter of insurance for Clayton Kershaw, who was denied injury coverage for the tournament. The oft-injured ace was disappointed to be unable to play, considering he feels fully healthy.
The Americans were surely disappointed, too, after losing the ace of their staff. While Team USA has a dynamite lineup, their rotation leaves something to be desired.
Framber Valdez – Team Dominican Republic
Framber Valdez expressed keen interest in pitching for Team DR but ultimately made a joint decision with the Astros to back out of the WBC. As with many pitchers, he was worried about the potential injury risk of the tournament.
Luis Castillo – Team Dominican Republic
The Dominican Republic lost two aces in quick succession when Framber Valdez and Luis Castillo decided not to pitch in the WBC. Castillo had been planning to compete in the tournament but decided to back out upon consultation with the Mariners. President of baseball operations Jerry DiPoto revealed in a pre-season press conference that Castillo would sit out the WBC.
Logan Webb – Team USA
Logan Webb committed to Team USA in December but changed his mind shortly thereafter. He claims it was a personal choice and that he decided his presence was more important in Giants camp than it was at the tournament.
Webb will be the ace of San Francisco's rotation this year after playing second fiddle to Carlos Rodón last season and Kevin Gausman the year before. He's clearly taking his new role seriously.
Nestor Cortes – Team USA
Nasty Nestor was set to play a key role in Team USA's starting rotation, but he was forced to back out of the WBC after suffering a hamstring injury. He is the only player on Team Dropout to sit out the tournament for injury-related reasons.
The Closers
Emmanuel Clase
Jhoan Duran
Jordan Romano
Emmanuel Clase – Team Dominican Republic
Emmanuel Clase is one of the best relievers in baseball, and he would have played a major role for Team DR in the WBC. However, while he was named to the preliminary roster, his name was missing when the official roster was revealed.
Like his Guardians teammate José Ramírez, Clase has not given a reason for sitting out the upcoming tournament.
Jhoan Duran – Team Dominican Republic
The DR could have had the nastiest bullpen in the tournament, with Emmanuel Clase and Jhoan Duran leading the way. Unfortunately, Duran has also withdrawn from the WBC.
The Twins reliever felt some hamstring tightness in mid-January and decided to sit out the tournament out of an abundance of caution. He still plans to be ready for Opening Day.
Jordan Romano – Team Italy
In addition to losing their offensive sparkplug Brandon Nimmo, Team Italy lost their closer too. Jordan Romano is healthy but has decided he'd like to spend spring training with the Blue Jays.
With Nimmo and Romano, Italy could have made a surprise run in the WBC. Now, unfortunately, their chances of escaping the group stage seem slim to none.