Analysis
Who's The Better Free Agent SS: Carlos Correa Or Trea Turner?
The top two shortstops on the market are set to get paid handsomely in free agency, but which one will be the better player moving forward?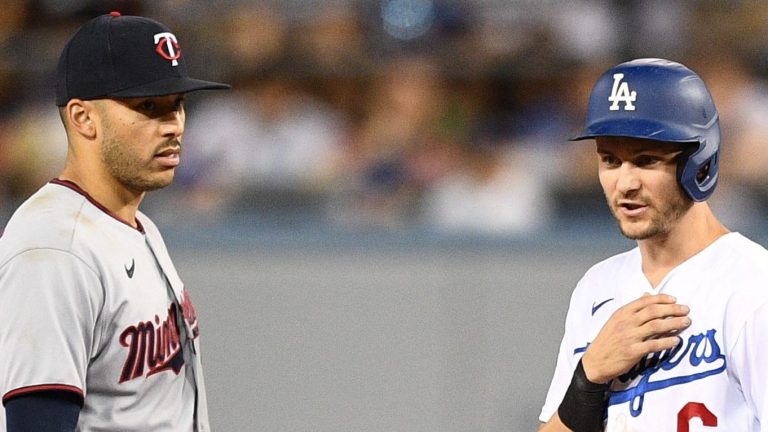 Throughout the history of MLB free agency, there might not be anything that is more alluring than signing a superstar shortstop.
One of the toughest tasks for any franchise is developing a player that can man the premium defensive position of shortstop, while still providing above-average production offensively. The opportunity to acquire one of the best shortstops in baseball is not always as commonplace as it has been over the last two years, with countless top-tier shortstops hitting free agency.
This year, the free agent class is headlined by two shortstops, who each have a long pedigree of being top performers in the game.
You have Trea Turner, who we ranked behind only Aaron Judge and Jacob deGrom in our top 20 free agents, and also had first overall when it came to the free agent shortstops. On the other hand, there is Carlos Correa, who was the top overall free agent last year and now hits the market again.
While teams cannot go wrong signing either player, it is still worth asking, which player is the better bet to remain productive over the life of the massive contracts they will receive this offseason.
Who's Got the Better Bat?
Carlos Correa and Trea Turner each made their MLB debuts back in 2015 and have since racked up over 3,500 career plate appearances. Across their careers, Correa and Turner have been remarkably similar in terms of overall production.
Through eight big league seasons, Correa has hit .279/.357/.479, with a 130 wRC+. In comparison, Turner has hit .302/.355/.487, with a 124 wRC+. Correa has hit 155 home runs, 31 more than Turner. At the same time, Turner has an element to his game that Correa does not with his speed.
Since making his debut, nobody in baseball has stolen more bases than Turner at 230. Correa has only swiped 33 bags. That extra speed has translated into plenty of runs for Turner, who has scored 78 more runs than Correa in 39 less games played.
Turner has traditionally hit for a higher average, doing so in each of the last five seasons, but Correa draws more walks to level the playing field when it comes to OBP. While Correa has more raw power, Turner has actually outslugged him in each of the last three seasons.
During that span, Turner has hit 61 home runs, eight more than Correa. He's also added 88 doubles and 11 triples, as he is able to leverage his speed to grab extra bases with ease. Overall that's 160 extra-base hits, 38 more than Correa has.
Narrowing the sample size down to the last two seasons, there is a pretty compelling argument to be made that Correa and Turner have been the best two offensive shortstops in baseball. Excluding Fernando Tatis Jr., Correa and Turner are No. 1 and No. 2 respectively in wRC+ (137 and 136), with each hitting at least 48 home runs.
Correa has drawn walks at an 11.1% clip since 2021, which is nearly twice as frequently as Turner, who has just a 6.4% walk rate. Turner's BABIP is nearly 30 points higher though, as he is hitting .312, which is the second-best mark in baseball just behind teammate Freddie Freeman (.313).
Projecting forward across the length of a long-term deal though, Correa could be the better bet, as his offense is not predicated on speed the way Turner's can be.
This year, Correa and Turner each had an expected batting average of .276, which ranked them in the 89th percentile around baseball. Beyond that, Correa ranked ahead of Turner in Average Exit Velocity, Max Exit Velocity, HardHit%, xWOBA, xSLG, Barrel%, Whiff%, and Chase Rate.
| | | | | | | | |
| --- | --- | --- | --- | --- | --- | --- | --- |
| Free Agent | Avg. Exit Velo | Max Exit Velo | HardHit% | xSLG | Barrel% | Whiff% | Chase Rate |
| Carlos Correa | 67th | 96th | 74th | 92nd | 81st | 65th | 63rd |
| Trea Turner | 48th | 86th | 60th | 72nd | 48th | 39th | 22nd |
Percentile Rankings courtesy Baseball Savant
Based on that data, Correa is making better contact, finding the barrel 11.4% of the time, compared to Turner at 7.6%. Along with making harder contract more frequently, Correa simply swings and misses less altogether, with Turner's chase and whiff rates being a bit alarming in contrast.
When it comes to raw skill, Correa should be the better player moving forward, yet Turner has consistently been more productive overall. He is second in MLB when it comes to fWAR since 2019, trailing only Aaron Judge.
Who's Got the Better Glove?
We don't have to spend nearly as much time debating the merits of these two shortstops defensively, as there is clearly a top dog between Carlos Correa and Trea Turner.
Correa is just a year removed from being the top overall defender in the sport and is the closest thing we have seen to Alex Rodriguez in his prime, as a 6-foot-4 shortstop with an absolute cannon of an arm.
Based on Outs Above Average, this was a down year for Correa (-3 OAA), but again he is a year removed from a stellar season where he racked up 11 OAA and 20 defensive runs saved. Turner's arm strength has ranked in the bottom 40 percent of the league over the last two seasons, while Correa has been among the top 30 percent.
With the elimination of the shift, defense at shortstop is going to become even more valuable starting next season. Turner's range could play up a bit without the shift, but his lack of arm strength could still turn him into more of a second baseman across the latter half of his next contract.
Who Will Be More Durable?
If Trea Turner is going to make more money than Carlos Correa in free agency, this could be among one of the chief reasons why.
Over the last five seasons, Trea Turner has played in 651 out of a possible 708 games, which leads all primary MLB shortstops. Carlos Correa has played in 527 games during that span. He has missed at least 25 games in four of his eight seasons since making his MLB debut.
After playing 148 games prior to hitting free agency last offseason, Correa missed some time this year, adding to the narrative that he is not the most durable of players.
However digging deeper, Correa only missed time this year with a finger injury from fouling a ball of his hand and from being on the COVID-IL. There is every chance that Correa can be a model of health moving forward, he's just not quite as safe of a bet as Turner is to do so.
Verdict: Who's Better?
When it comes to players this talented, we really are splitting hairs in a lot of ways. Whoever signs Trea Turner or Carlos Correa will be getting a shortstop that can finish any given year as the best player at their position and one of the best in all of baseball.
If I had to bet on one player though, with a massive contract that could reach north of $300 million, my gut would be to go with Carlos Correa.
After watching Bryce Harper carry his team through October, I would be looking to find the player that can have that level of impact in delivering a championship to my franchise if I am investing that much money in one player. While Turner could be that guy, Correa has the higher ceiling in my opinion.
We just watched him play Platinum Glove defense not long ago, and we are also talking about a player who has played in all of the big games before, carrying a career postseason .849 OPS into free agency, with 18 home runs in 79 games played.
Correa also seems to be more of an alpha than Turner, with a game that could translate better when the stakes are raised. Turner fared better in the postseason this year, hitting 6-for-18 (.333) with two home runs, yet still has a career postseason OPS of .614.
Again, there is no wrong answer here, as Trea Turner is a magnificent player, but if I had to put my money into one of these shortstops, Correa would be my first option.