Analysis
Who's Better: Cincinnati Reds or San Francisco Giants
The Reds and Giants are matched up right now in a series that has big Wild Card implications. Who would make the better NL Wild Card team?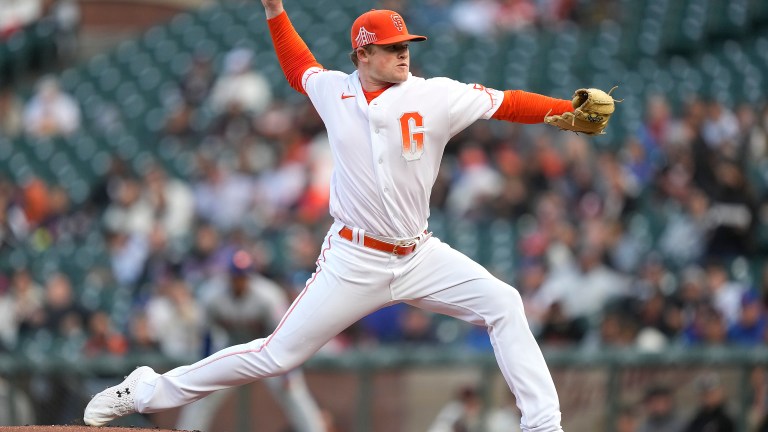 The NL Wild Card race is really coming down to the wire, with five teams vying for the last two Wild Card spots, within three games of one another.
Coming into their series against each other this week, the Cincinnati Reds and San Francisco Giants were each sitting in the exact same spot, 1.5 games out of a playoff spot, trailing the Arizona Diamondbacks for the last Wild Card spot.
The D-backs grabbed that spot from the Reds by beating them in a four-game series over the weekend. The Giants meanwhile have played the Braves twice in their last three series, losing both to Atlanta while also dropping a series against the Phillies in between.
Both the Giants and the Reds have been enduring a skid since the trade deadline and now get the chance to get right against one another in a series to begin the week. A convincing effort by either could push the other team out of the fringes of the NL Wild Card race altogether.
Two Teams on Similar Paths
Looking at how this season has progressed for these two teams, the Reds and Giants have a lot in common with how their season has unfolded. Both got off to rough starts in April, before beginning to turn their season around in May. Then in June, these were the two hottest teams in baseball.
The Giants went 18-8 in June, after posting a 17-12 month of May to complete a great stretch where they went 35-20 over a two-month span. Meanwhile, the Reds went 18-9 in June, before following it up with a 15-11 stretch in July. All told, they went 33-20 over a two-month span themselves.
Now that we have moved past the trade deadline, each of these Wild Card hopefuls has seemed to fall flat. They both entered this series searching for their 10th win of the month, having played well below .500 in August. The Giants got it, winning Monday night to bring their August record to 10-14.
When it comes to wRC+, the Giants and Reds are among the six worst teams in MLB during the month of August and the Giants have scored the least amount of runs.
On the mound, the two pitching staffs have not fared much better, as the Reds have pitched to a 5.25 ERA, the seventh-worst team ERA in baseball. Meanwhile the Giants have been more middle of the pack with their 4.32 ERA.
Both of these teams had moments this year where they were battling it out atop the division, but now it feels like both are very clearly the third-best teams in their respective divisions.
Still, if either the Reds or Giants get hot down the stretch, there is every chance they can still sneak into a Wild Card and have a chance come October. Which team is better and would be a more formidable Wild Card in the playoffs? Let's dig in and find out.
Who Better at Hitting?
If we take the time to look at the Reds and Giants team offensive stats throughout the year, it once again becomes clear how close these teams really are to one another.
| | | | | | |
| --- | --- | --- | --- | --- | --- |
| Team | wRC+ | Slash Line | OPS | HR | Runs Per Game |
| Cincinnati Reds | 95 | .247/.325/.412 | .736 | 153 | 4.78 |
| San Francisco Giants | 95 | .239/.314/.388 | .702 | 142 | 4.32 |
Through more than a 130-game sample, the Reds and Giants have posted the exact same wRC+ as team, with a 95 wRC+. This means that both teams have offenses that are just slightly below league average.
The Reds hold a slight edge across the board on their team slash line, OPS, home runs and runs per game, as their offense has been slightly better than the Giants this season. San Francisco features a more veteran-laden roster, with players who have played in big games before. The Reds have a high-octane youth-filled roster, which is ignitable at any time, but also prone to the type of prolonged slump they have been enduring lately.
On paper, the Reds have the better lineup when you run down their list of top prospects who have all come together on this team. Elly De La Cruz, Christian Encarnacion-Strand, Noelvi Marte, Spencer Steer are playing big roles currently. It's a roster that is loaded for talent. The problem is that their best rookie is currently on the IL.
Matt McLain has been the Reds best offensive player this year, hitting .290/.357/.507, with 16 home runs and 14 stolen bases. McLain leads the team in batting average, slugging percentage, OPS (.864) and wRC+ (128), while also leading the team with his 3.2 fWAR.
Unfortunately for the Reds, McLain just went on the IL with an oblique strain, which at this stage of the season, could easily become a season-ending injury as obliques are notoriously difficult to come back from quickly.
Steer has been the Reds second-best hitter, posting a 127 wRC+ and a team-best 18 home runs and 71 RBIs. Having Steer in place still gives the Reds a productive anchor, but the Reds need a lot more from the other youngsters if they want to make a Wild Card push.
Meanwhile in San Francisco, the Giants don't have nearly the top-end talent of the Reds, but they have a core of veterans who are having very solid seasons.
A lineup of Wilmer Flores, LaMonte Wade Jr., Joc Pederson, Michael Conforto, Thairo Estrada and J.D. Davis does not really jump off the page, but so many of those players have had their stretches where they have helped carry the team.
J.D. Davis got off to scorching hot start this year, helping carry the Giants in the early going. He has faded pretty significantly over the last few months, but still has 15 home runs and 60 RBIs to show for it.
The Giants have eight different hitters who have reached at least 10 home runs, three with at least 15. All three of those hitters happen to be former New York Mets, as Conforto has hit 15 and Flores has a team-best 19.
Flores has actually been the Giants most productive hitter, slashing .296/.357/.538, with a team-best 143 wRC+. Flores entered the year as a platoon masher against left-handed pitching, but has played himself into more at-bats.
Flores is third on the Giants in fWAR, trailing just Patrick Bailey and Thairo Estrada. Bailey and Estrada have been respectable offensively, but where they really bring their value is with their gloves.
Who's Better at Fielding?
Judging defense can be very hard to do, but over a sample size this large, we can begin to paint a real picture on what these teams are. Looking at Defensive Runs Saved (DRS) alone, you might think these teams are about the same when it comes to fielding.
The Reds actually hold a slight edge over the Giants with -8 DRS compared to San Francisco's -9 DRS. When we look beyond DRS to include Outs Above Average (OAA) the Giants separate themselves as the way better defensive team.
The Giants have racked up 16 OAA, the fifth-most in Major League Baseball. Meanwhile the Reds are sitting with -24 OAA, the second-worst mark in MLB, behind only the Boston Red Sox.
Looking at the combined team fWAR between these teams, the Giants have an edge largely due to defense. The Reds have been the better offensive team, but sit with a team fWAR of 10.7, compared to the Giants who's team fWAR is 14.3.
Which Rotation is Better?
The Cincinnati Reds have really struggled to find consistent starting pitching this season. Their starters have combined to pitch to a 5.35 ERA, the third-worst in all of baseball. The Giants meanwhile are on the fringe of the top 10, with a 4.13 ERA that is 11th-best.
A lot of that good work from the Giants has come from their one-two punch at the top with Logan Webb and Alex Cobb. Webb has established himself as one the most consistent starting pitchers in baseball, posting a 3.51 ERA through 27 starts this year. Webb is currently leading all of baseball in innings pitched, as he has become a true workhorse for the Giants.
Cobb on the other hand has pitched to a 3.74 ERA across 24 starts and 132 1/3 innings pitched. With Webb and Cobb being so dependable, the Giants have been able to get by with a revolving cast of characters all year. The latest to make an appearance is top prospect Kyle Harrison, who was electric in his home debut against the Reds last night.
Harrison struck out 11 batters and allowed just three hits and two walks across 6 1/3 innings pitched. If the 22-year-old left-hander can build off the momentum of this start, the Giants could find themselves with a potent 1-2-3 to enter any Wild Card series.
However, the lack of depth for the Giants is a bit concerning down the stretch, as they still have to get into the dance first. The Reds rotation on the other hand might have a brighter future, but this year it has simply been a struggle.
Nick Lodolo is the pitcher people were most excited about coming into the year and Hunter Greene started on Opening Day. Lodolo didn't pitch well when healthy and has been limited to just seven starts. The left-hander just suffered another setback while on his rehab assignment, as it is looking more and more like a lost year for the promising 25-year-old.
Greene endured injury issues of his own and has not performed to his best when on the mound either. The flamethrower currently has a 5.06 ERA across 80 innings pitched, but at least he is back in the rotation. Greene will square off against Logan Webb on Wednesday afternoon, giving himself an opportunity to begin to flip the narrative of his season.
Graham Ashcraft has been the Reds best starter this year, as he has been healthy enough to make 25 starts, pitching a team-best 140 2/3 innings. While he has pitched to a 4.73 ERA on the season, Ashcraft has turned it on as of late, pitching to a 2.49 ERA across his last 10 starts.
Who's Got the Better Bullpen?
When it comes to their pitching out of the bullpen, these two teams are once again very comparable. The Giants have been slightly better on the season, pitching to a 3.81 ERA, which is the 10th-best mark in MLB. Cincinnati doesn't trail too far behind though, with a 3.96 ERA.
If you look at reliever fWAR, the Reds and Giants are right on top of each other at 4.8 and 4.7 respectively. Those marks are sixth and seventh-best in the game right now.
The Reds bullpen is led by their closer, Alexis Diaz, who has pitched to a 2.22 ERA this season, notching saves in 34 of his 36 opportunities. Diaz has racked up 77 strikeouts in 56 2/3 innings pitched, posting a very strong 12.23 K/9.
Lucas Sims, Derek Law and Ian Gibaut are some of the top relievers who round out the Reds bullpen, giving Cincinnati plenty of quality options to set-up Diaz.
For the Giants, Camilo Doval leads the way, with his 2.98 ERA and 35 saves on the season. Doval is joined by the two Rogers brothers, Tyler and Taylor, who have each kept their ERAs under 2.80 this year. Luke Jackson and Ryan Walker round out a really deep bullpen, giving the Giants maybe a slight edge, even though the Reds might have the best reliever of the bunch with Diaz.
Who's Better?
Looking at these teams top-to-bottom, it is pretty clear that the Giants are a better team, who would pose more of a threat in a Wild Card series.
Having Logan Webb and Alex Cobb alone gives the Giants a better shot to steal a short series, especially with the arms they have behind them in the bullpen. The Reds are team with all the upside and the brighter future. They are also more exciting, as they grabbed all the attention when each of these squads went on their fantastic runs through June.
Still, the Giants play better fundamental baseball. They have the veterans who have been there before, who play solid defense and support their pitching staff with enough runs. The Giants pitching isn't elite, but it is better than the Reds.
Cincinnati will have to live up to the hype offensively, with all their young players coming alive in a playoff push to make a serious run. If they do get there though, the Reds are more likely to flame out of the playoffs than the Giants, who could make it past the Wild Card and give a team a scare in the NLDS.