Analysis
J.D. Davis Has Been the Surprise Best Third Baseman in the NL
Acquired at the deadline last season, J.D. Davis has been a revelation for the San Francisco Giants, making a case for his first All-Star bid.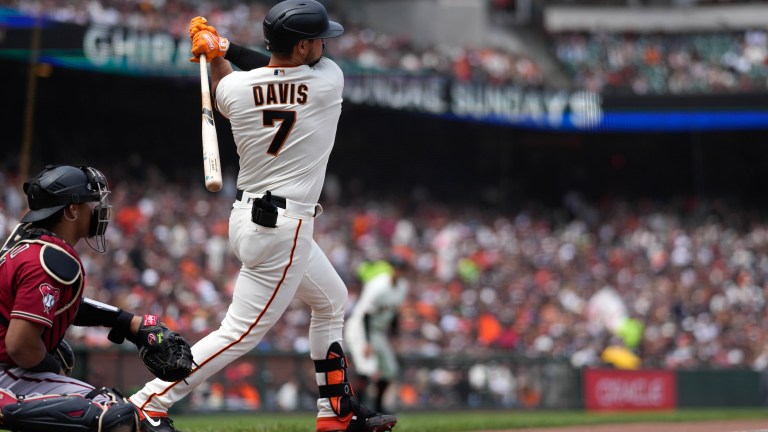 Cal State Fullerton product, J.D. Davis, has had a rollercoaster of a ride for his professional baseball career. A third-round pick who never cracked a top 100 prospect list, Davis climbed through the minors and is currently playing for his third team before his 30th birthday.
Yet here is, waking up somewhere today leading all NL third basemen in OBP (.369), AVG (.289), and wRC+ (130) helping keep the San Francisco Giants afloat in the NL West race.
Initially drafted in the fifth round out of High School by the Tampa Bay Rays in 2011, Davis decided to accept his offer to play baseball at Cal State Fullerton in hopes of elevating his draft stock.
In three years at Fullerton, Davis slashed a career .307/.394/.461 with 14 home runs and 113 RBIs in 156 games. Not nearly a Shohei Ohtani, but Davis also posted a 2.94 career ERA with 11 saves in 36 appearances with the Titans.
After grinding through the minors, Davis made his major league debut three years after getting drafted by the Houston Astros, however, his time was brief getting just 165 at-bats before being shipped to New York and joining the Mets organization in 2019.
Davis came into New York with some fireworks slashing .307/.369/.527 with 22 bombs and a .895 OPS in 140 games. The ball was flying off his bat posting a career high .220 ISO and placing in the top 10% of the league with an average hard-hit percentage of 47.9%. He spent most of his time at third base, however, he had some innings across the diamond at first base plus time in left field.
Becoming a promising bat in the Mets lineup following an outstanding 2019 season, the 2020 COVID season was a changeup Davis wasn't ready for. Only hitting .247 while slugging .389 with six home runs through 56 games, it's fair to claim his performance was disappointing. As a positive, Davis had his highest walk percentage of 13.5% in 2020 revealing some discipline at the plate.
Back to a full 162-game season, Davis completely changed his approach with a more aggressive tactic at the plate. Although this improved his average back to .285 and a .820 OPS, Davis was striking out a whopping 32.2% of the time.
He also lost all of his power, poking just five balls over the fence. His lack of home runs can be blamed on a sprained wrist which would place J.D. on the 60-day injured list. He would come back in the final weeks of the season, mainly making pinch-hit appearances off the bench.
Another frustrating start through 66 games of the 2022 season resulted in getting sent across the country to San Francisco. The Mets needed a right-handed bat to solve their problem facing left-handed pitching. Who better than right-handed hitter Darin Ruf who had a 1.007 OPS against left-handed pitching the past year. The Mets paired Ruf with three pitching prospects, displaying no special attachment to Davis' future with the club.
Ruf appeared in 28 games with the Mets hitting .152 with a .414 OPS and 20 strikeouts through 66 at-bats and was designated for assignment before the 2023 season. Here's what Davis is up to in San Francisco.
Not thinking much about the addition of J.D. Davis, Giants fans were more disappointed with their 81-win season after winning a franchise record 107 games the year before. Enter J.D.
Davis has become the Giants' everyday third baseman, which is difficult to do with this team since fully committing to their platoon-style lineup with the arrival of Gabe Kapler in 2020.
Now, he's become a popular player to cheer for at Oracle Park, crushing 10 homers with 44 RBIs through 73 games played this season. He's on pace to pass his career-highs in home runs and RBIs which he produced in his explosive 2019 season.
Davis has put his name in the same breath as other premium bats around the league with a higher AVG, OPS, and wRC+ than All-Stars Marcus Semien, Wander Franco, and Vladimir Guerrero Jr this year. With All-Star talk heating up, his case to start at the hot corner for the National League is honestly better than most, but unfortunately the voting didn't break in his favor.
Still, Davis absolutely deserving of making the All-Star team and should be the first man off the bench to replace the starter at third base.
One last note on soon-to-be All-Star J.D. Davis. His glove has improved drastically this season which has been key for the Giants who hold a league-leading 58 errors. Outplaying all third basemen in a hand full of hitting categories while simultaneously placing in the 94th percentile in outs above average is the craziest part of his season. He's doing it all!